For all of us in the States, Happy Thanksgiving. There are quite a few things to be thankful for in regards to our blog.
Stranded in Toronto recently celebrated his third blogiversary, and acknowledged seven bloggers. What I love about him, however, is he did it his own damn creative way: by giving each blogger a colored lightsaber. We received purple (my favorite color): "purple for their creative…and dare I say two twitter-crushes of mine that I was very happy to meet at Eroticon USA in Atlanta last year. Their stories are fun and very creative…their pictures are ones that make it difficult to keep a guy's laptop flat on his lap."
If you haven't read his incredible stories, I suggest you do so. He also hosts A Darker Flame.
Also, I just wanted to say thank you, ST, for your kind words. I had so much fun meeting you last year as well, and good to know that the laptop is in jeopardy from time to time. You definitely inspire my own writing, as I now am not afraid to go towards more Sci-Fi or the darker places in my erotica, and I have you to blame…erm, thank. And I'm excited to learn we celebrate our blogging anniversaries so closely together.
Molly's Daily Kiss recognized us in her top twenty for the year, and from this powerhouse blogger, we are beyond humbled. Molly is such strong presence in the small community of sex bloggers, as she runs Elust and Sinful Sunday. I don't know how she ever finds the time. She is always supportive, and gives fantastic constructive criticism; not to mention she has amazing photographs and writes some pretty hot stories. Her husband is also a wealth of information and always willing to help others with tech advice.
When we met her, it was certainly a fangirl moment for both of us sisters. And she posed something I hadn't fully realized: we are the only siblings that we know of that blog together: "I think this blog is completely different in the sex blogging world, but if I am wrong please do let me know, because to the best of my knowledge this is the only sex blog written by siblings. A and M are sisters. M is a military wife and A is single (ish) and between them they write about their various relationships, kinks, experiences with a smattering is really good erotic fiction thrown into the mix. If you are new to their blog make sure you check out the 'about' pages about each sister as they will give you a great insight into both ladies and their respective lives. I have been reading this blog for a while but this last year has really seen them settle down into their blogging style which is one that I find myself increasingly enjoying."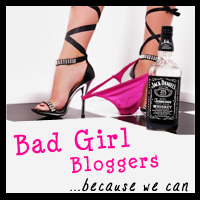 My Sex Life with Lola was gracious enough to give us this sexy Bad Girl Bloggers award. What I love about this and Molly's list is that giving a list of bloggers is not only recognizing those that they enjoy but they also open up the potential to find someone new to enjoy reading. I love this community, and am thrilled to be recognized on any list; I also go through any list I come across to discover new people to read and support. We are truly a small, but supportive, community. HH and Lola not only support us with comments, but they listed a whole 25 bloggers to discover, where the rules only ask for 3-5.
Already I am seeing many bloggers reaching out and tipping their hat to others. To help discover new bloggers, I'm naming those and one more seasoned blogger who hasn't received this award, yet. It is no way even close to those I read all the time, and I started at the beginning of the alphabet and only choose three. In the spirit of making lists and supporting others, the rules for this badge are:
RULES: If you are a recipient, please choose 3-5 female bloggers who write about sex (or post sexy pics of them selves, or both) that you admire and award them by passing on the award photo above and the rules.  Also, give a brief explanations of why you love those bloggers so much.  Be sure to notify your favorite bloggers that they got the award!
A Sexy Woman of a Certain Age She writes: "I'm a 52-year-old divorcee living in Los Angeles, where the streets are lined with sparkly young women. When my marriage ended after twenty years of unfulfilling, vanilla sex, I figured my chances for a sexual awakening were slim." I found her through a recommendation of another blogger, and fell in love with her honesty and self reflection. She's new to me, so perhaps others can find and discover her blog.
Curvaceous Dee is certainly not new, and is exceptional at Scavenger Hunts, as both a participant and host. I love her photos, every single one shows a happily confident and beautifully sexy woman. She was one of the first to support our blog with comments, and is such an amazing person, so I wanted to recognize her even though Molly has already done so. I sincerely appreciate her presence in this community.
Evie the Rabbit is also new to me, she writes: "I am a slut, and this is a wonderful, beautiful thing, and there is no shame in this, there is no shame in my journey, and there is only beauty in opening my arms and welcoming lovers in between my thighs." I like her self reflection. I find myself turned on by erotica, but what goes on in self contemplation makes me relate to the writer. She analyzes quite a bit, and I find myself relating. What is so funny is that while this post was waiting a few days in draft, Evie nominated us!
**I would also like to let Molly, Stranded in Toronto, and My Sex Life With Lola know that I am an avid reader of theirs and if I made a top list, they would be included.
**The list that started it all was Rori's from Between My Sheets, who tirelessly creates a list of 100 bloggers to discover whom create great content on a taboo (there's a reason many wish to remain anonymous) topic.