Porn doesn't have to be just about looking at explicit pictures or artwork or watching videos or live cams. It can also be more interesting, more interactive, with you actively engaged in the porn content.
Such as when playing porn games, for example!
Ever since I was an adolescent (technically speaking, younger than I should have been), I've been interested in adult sex games. They combined two of my favorite things in the world at the time: video games and porn. With school as my only obligation, I had plenty of free time to devote to this hobby, and boy did I take advantage of that.
Of course, the early adult sex games were not as high tech as the ones we have now, but I still enjoyed the illicitness of it, the thrill of unlocking an achievement or completing a mission and getting a porny reward.
Even though I have much less time for games today, I still like to unwind with a playthrough that will fire me up and both keep me entertained and get me hard.
Why I Love Playing Porn Games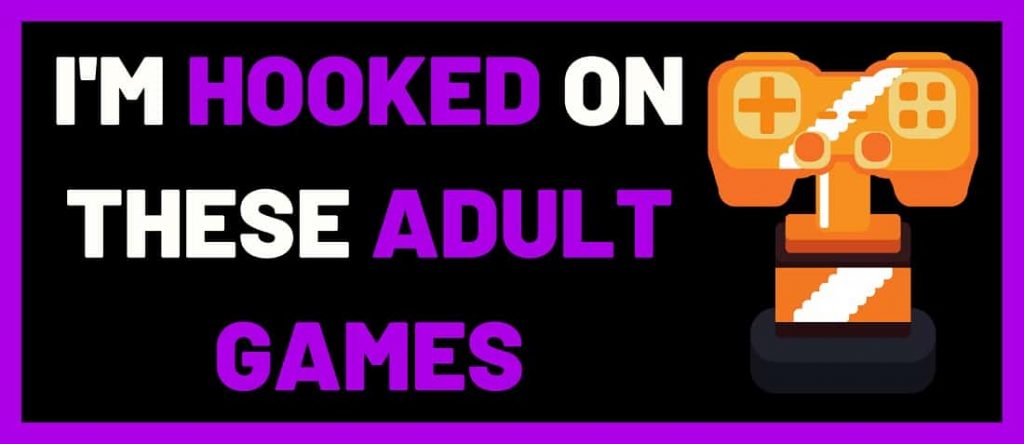 The thing about porn games is that it's not just about sexual pleasure. Whereas these games do get me horny, more often, it is about the mix of the immersiveness of the game itself and the sexy scenes I encounter on the way. I like the gaming aspect as much as I like the porny aspect.
Porn games help me relax, take my mind off of the stresses of the day, and they serve as a great warm-up for masturbation or even sex if I'm feeling like it.
Their role in my life is not much different than that of regular video games. The only exception is that after playing a sex game, I'm more inclined to get my rocks off either by myself or with my girlfriend.
Speaking of, you should know that sex games aren't just for the guys.
My Girlfriend Loves Sex Video Games Too!
That's right, Tiffany also plays sex video games! Sometimes she does it in my presence and sometimes by herself. She is also a big fan of video games in general, even though she prefers simulations and puzzle games over action and adventure.
When I'm playing porn games, I don't always get turned on. It depends on the game and the type of erotic scenes it offers.
However, when my girlfriend plays porn games, she is always in the mood for sex after. No matter what the style or the premise of the game is, it doesn't take long after she exits the game before she is all over me.
I find it cute and amazing, and I can't say that I mind when a video game gets her going enough for her to crawl into my lap and start undoing my pants.
The Most Addictive And Best Adult Sex Games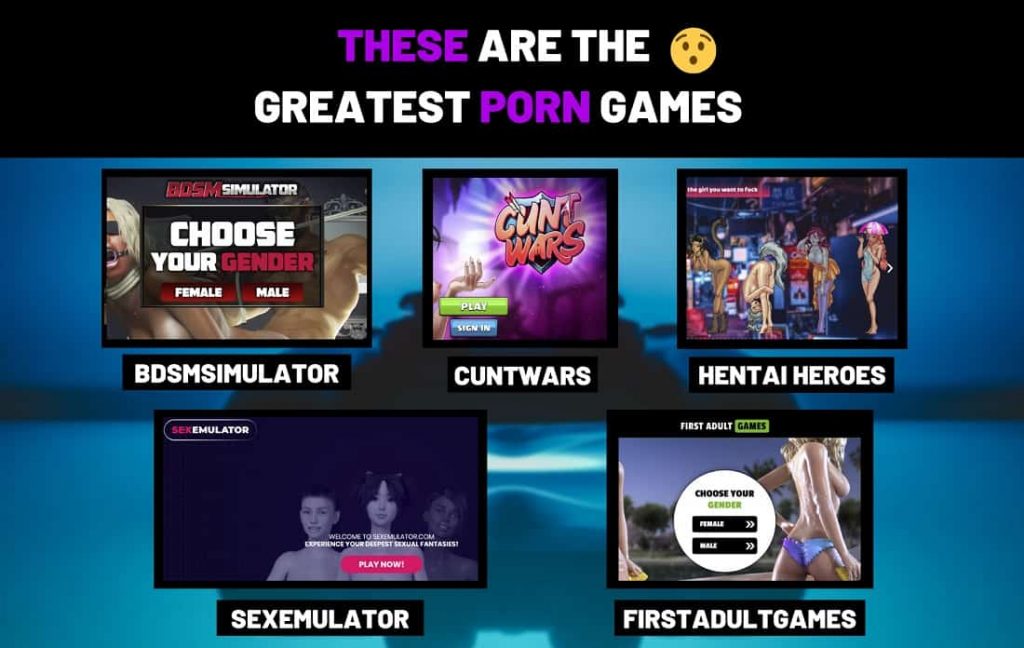 I price checked for all the best prices and deals for all the games mentioned in this article on the: 04/10/2023
Now that we've covered the benefits of playing sex games (as a couple or solo), it's time to dig deeper into my favorite titles. Here I will describe what they're about and what you can expect from the games so that you can start your own adult sex game journey. Trust me, it'll be an unforgettable experience.
My all-time favorite game is the Sex Emulator. Here, you get to create the girl of your dreams and play with her, however you want. You can choose her ethnicity, hair color, the size of her tits, and what kinks she's into the most. Once you settle on that, you can then choose the setting you want her to be in and start the simulation.
Through smooth 3D animation and superb voice acting, the Sex Emulator allows you to ask the animated babe to suck on a dildo, to massage her tits, to spank her ass, to slide a toy into her ass, to cover herself in oil, and even more extreme plays such as those involving furries and tentacles. You do need to make a profile to access all of this, but man, is it worth it.
Don't get confused when you type in First Adult Games into Google, I'm talking about firstadultgames.com here. While the Sex Emulator offers you shots of a solo girl, in this collection of games, you will actually get to see a lot of action. You can choose whether you want a selection of softcore, hardcore or extreme titles. (I usually choose hardcore or extreme because wow, the things you get to see there…).
These games let you pick your partner, and it can be a vixen with huge tits, a slim Asian girl, a shy rich socialite or many more. All of them are done in 3D that is insanely well-designed. The facial expressions are realistic, the bodies move in the right way, and the textures are highly detailed.
Other Games (On the Same Site):
Here are some of the other games you'll find on FirstAdultGames
Set in a dystopian world, Apexxx Legends is a world of soldiers, lone gunslingers, women with weird eyes and superhuman powers, and so much sex that you won't know what to do with it. My personal favorite is when the characters don't even get to strip out of their armor in their desperation to get that orgasm, it's beautiful to see.
If Japanese culture were to take over the world, the universe of Fucknite would happen. Filled with weird cosplays and furries, neon colors and mascots eager to have young girls ride them, you get to explore this strange and lust-filled space. If you choose your way carefully, you get to witness all sorts of kinky sex.
Have you ever wondered what Star Wars would look like if it were full of porn? Thanks to Star Whores: Rise of Skyfucker, you no longer have to wonder. Bend over a sexy female stormtrooper, watch Rey getting double-teamed by two dicks, and finally realize your fantasy of ravishing Princess Leia. There is nothing you can't do in this amazing game.
I definitely saved the best for last. Bangerlands 3 is one of my all-time favorite titles on First Adult Games because I'm a sucker for its steampunk universe. The sex scenes here can get pretty extreme, and the game style is visually extremely satisfying. Beware that many a shemale awaits in this game, as well as some tentacle action and many, many quirky and horny characters.
To put it simply, Narcos XXX is what you'd get if Grand Theft Auto was slightly more crime-infested and a lot pornier in nature. At the start of the game, you get to choose what character you'd like to play as, Pablo, Valeria, or Horatio. These three are members of a drug cartel, and everything you do in the game reflects on the business.
The main goal is, of course, to preserve your business and even expand it to new areas. However, the story is packed with treachery, deceit, mind games and you'll soon find that you have no idea who you can trust. I love this element of intrigue in the Narcos XXX, and the highly explicit porn scenes are an added bonus.
With an obvious play on Assassin's Creed, Assassin's Seed Orgies is what the original game would be like if it had sex in it. Explicit, delicious sex. On your journey, you will come across hot women eager to help you relax and destress, but you will also have opportunities to watch other men – and even women – take advantage of these chicks.
The story itself is pretty basic, far from the complex intricacy of Assassin's Creed, but the graphics greatly make up for it. I would maybe like a bit more adventure to balance out all the porn, but if porn is what you came here to see, then that is what you will get.
Hentai Heroes is an anime sex game, or a hentai sex game if you will, all done in 2D. It is a visual novel style, meaning that you point and click and read through the dialogue. I admit that the artwork is not the best here, but it is also not the worst, and the sex scenes are good enough to tickle your senses.
In the game, you play as a dorky, flustered guy who has to build his own harem. You get to level up, use energy which replenishes over time, and of course use the money for buying cool items and sex toys. Everything in Hentai Heroes is a bit over the top in that anime style you're used to, but it makes the game so much fun! I played this game for hours and did a crazy review of it.
I also did a post of the best hentai video games, I love hentai and it is honestly one of the best posts we've created.
Nutaku is a widely popular hub of porn games of all kinds. It features free games that you can play in your browser, quick and easy, but it also has a big selection of games you can purchase, download to your computer, and play to your heart's desire. From action and adventure to simulations to visual novels to puzzle games – everything you find on Nutaku has that lovely porn flavor.
The titles you will find here are Harem Heroes, Chick Wars, Fap CEO, Booty Calls, Pocket Waifu, and more. Some are softcore and not so explicit – featuring just hot anime girls with their boobs exposed – while others can be quite intense and with realistic 3D animations. Whatever your favorite game style is, you'll definitely find it on Nutaku.
Red Bed Seduction gives you a taste of the Wild West with its cowboys, rural desert towns, and big-breasted whores and tavern-keepers. In the game, you play John, a gunslinger who both takes down bad guys in the region and has an intense love-hate relationship with Bonnie, a blonde bombshell who likes to take it from behind.
Other female characters in the game are Abigail, a whore who has her eyes set on John and would love nothing more than to serve him, and Annie Strokes, who is all about Bonnie and is desperate to eat her out. With this combination of characters and the outstanding 3D animation, you will have hours of fun playing the Red Bed Seduction.
The interface of Sex Gangsters may appear cluttered and confusing at first, so pay close attention during the tutorial. (If you get distracted by the naked women with their legs spread open for you, that's okay.) In this 2D game, your playboy father gives you money to conquer girls, and your job is to have sex with as many of them as possible.
The artwork is a bit exaggerated, but not low in quality, which is what I appreciate. The downside to Sex Gangsters is that you quickly spend your energy and need to replenish it, which either happens over time or you need to use the premium currency. However, whenever you do have energy, it is an entertaining porny little game to spend time on.
For all you fetishists out there who are tired of seeing softcore and vanilla game scenarios here is something more extreme in every way possible. In the BDSM Sex Simulator, you get to own a dungeon. A real one, with chains and sex toys and shackles and torture devices and sex machines and so much BDSM paraphernalia, it will take you hours to try it all out.
In the game, you get to bring girls of all kinds back to your dungeon and have your way with them. The most common scenarios are the ones where the girls are submissive and you are the dom, but there are even girls who like to be the dominant one, especially towards other girls. The scenarios you can play out in this game are limited only by your imagination.
Cunt Wars is a game I couldn't stop playing when I first discovered it. It wasn't so much about the porn – though the porn is great – as it was about the style and the aesthetic and the incredible fantasy of it. In Cunt Wars, you enter a fantasy world with numerous women in need of your help and protection.
You play a board-style fight game against evil bosses and lords who want to attack your realm and steal your 'bitches', as they're called in the game. While the art and the nudity of Cunt Wars are top-notch, it is also a game that requires you to think and develop strategies to defeat your opponents. Food for both your dick and your brain! I also did a post of the secrets about cuntwars, that you need to check out.
As far as sexy, interesting porn games go, Fap Titans is not my favorite. The gameplay consists of you clicking on monsters in the designated window until you defeat them. That's it, that's the game. These monsters don't even fight back, and if you hire enough heroes, then you don't even have to click on them. You can simply watch their health deteriorate over time.
The other thing that I mind with Fap Titans is the obvious lack of porn. Yes, the anime girls you see and the heroes you hire are busty and with thin waists and slim figures, but they're also fully clothed at any given moment. The game does eventually reward you with some explicit images, but it takes way too long and it's way too boring to get to them.
With a somewhat silly premise, the Pussy Saga's story begins with a hot fairy who is suddenly transported into your room. She is holding what looks like a dildo and has obviously been masturbating. Her problem is that someone kidnapped her queen, and you need to, conveniently, have sex with many women in order to help.
Before you get to see the 2D babes in action, however, you need to take them out on dates. These dates require you to match shapes in a mini-game, three or more of a kind, which is a nice pastime. However, you need to get through the convoluted story and complex instructions before you get to any type of explicit, which is a bit of a turn-off.
Now here is a porn game to end all porn games. People behind the Life Selector are downright geniuses and I won't be told otherwise. This game is essentially interactive porn featuring live porn actors. That's right, it's not animated in any way! In this game, you get to choose who you play, and everything you do is shown in your POV.
You get to meet new and interesting people (smoking hot babes), seduce them through choose-your-own-answer type questions and then have sex with them just the way you like it. When things get heated, you can ask your girl to give you a blowjob, to bend over, to spread her legs, anything you can think of. Life Selector is truly a groundbreaking adult sex game!
My Favorite Adult Sex Games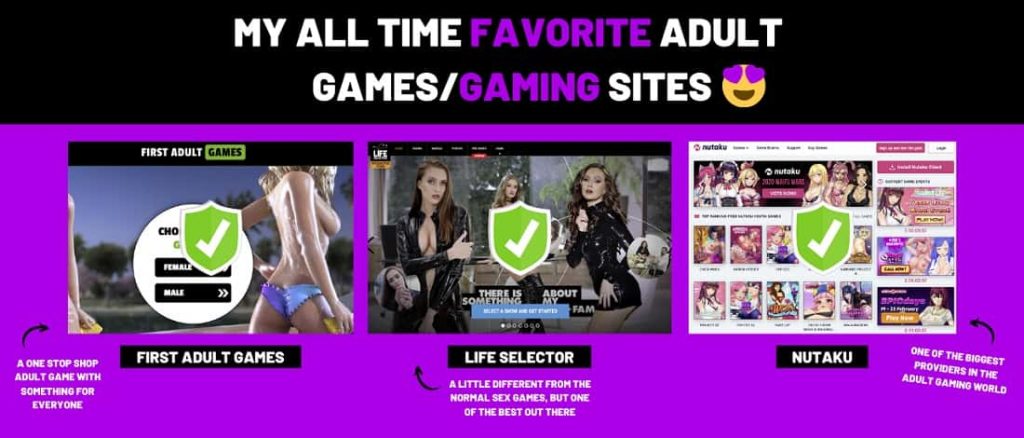 The three sites that you shouldn't skip when first venturing into the crazy yet hot world of adult sex games are:
While the others may be a hit or a miss for you and your gaming and porn preferences, the chances are you will find exactly what works for you in these three places.
My Girlfriend's Favorite Sex Game: While I prefer something with more action and adventure and where you as a character are directly involved in the sex, Tiffany enjoys games that are slower. She prefers puzzle games and those where you don't actually take part in the porn action, but rather play mini-games to get rewarded with sexy content.
This is why her favorite website to find sex games on is Nutaku.
Questions About Playing These Porn Games
Here are some of the questions I had about these porn games before I had given them a shot.
Do These Porn Games Cost Money?
Some of them do and some of them don't.
You can find sex games that are free and will forever be free. Nutaku free games, Hentai Heroes, Pussy Saga, Cunt Wars, Fap Titans are just some examples of such games. You may have to make an account for a few of these, but these accounts are very much free.
However, for the more elaborate games, you will have to either make a one-time payment and download them to your PC, or you have to subscribe to a monthly membership in order to play online as much as you want. It is up to you whether or not you want to set aside some money for porn games and how much.
Do You Need A Good PC To Play These Games?
Absolutely not! That is one of the best aspects of these porn games!
They are either browser games, meaning you don't have to download anything and the quality of your gaming experience is only dependent on the quality of your internet speed, or they are games you can download, but you don't need a powerful machine to run them at all.
How Often Do I Play These Games?
I'd say… a couple of times a week for a couple of hours? I do have a job, and a home, and a girlfriend, and a social life, and I also like playing regular video games and watching movies and doing many other things, so I don't have too much time to devote to porn games.
The good thing is that my girlfriend plays the games around the same amount as I do, so we sometimes have joint porn gaming time in our house.
What Are Porn Games?
It seems a bit redundant to answer this question now, but if you don't know by this point, then here's what a porn game is.
A porn game is a video game that is explicit in nature, which means that it features naked people, sexual acts, foul language, kinks and fetishes, often even drugs and alcohol and other illegal substances.
These games can be cute, hot, dark, mysterious, suspenseful, and they come in as many genres as regular video games do.
If you're an adult and you haven't tried sex games yet, now is the time to check them out.
Are These Games Addictive (Highly)?
I'm not sure where this question comes from, but no. Porn games are not any more or less addictive than regular games. If you are in control of your life, if these games are just something you use to chill out after a difficult day, then there's no reason to believe you will get 'addicted' to them in any way.
Can You Play As A Woman In Any Of These Games?
Yes! Many of the sites I mentioned offer games where you can choose to be a female character. You can then have sex with both male, female and trans characters in the game if the game has them. Like any other aspect of entertainment, porn games have also come a long way in terms of inclusivity, which is a wonderful thing.
Now, Your Turn…
Which Is Your Favorite Adult PC Game?
Let me know in the comments!