Ladies, you know that for us porn doesn't come just in the form of visuals. Oftentimes, we don't need pictures of naked people, videos of couples having sex, or even porn games with sexy artwork. To get turned on, we don't need to tickle our lizard brains. Our minds are complex, and for that truly titillating pleasure that satisfies all of our needs, we require something that makes our imagination run wild.
Now tell me, have you ever tried reading erotic stories?
No, I don't count Fifty Shades of Gray here. That book series, while insanely popular and definitely porny, misses the mark when it comes to BDSM and safe practices of that particular lifestyle. For that, it has been permanently banned from our household.
For this review, I'm talking about erotic stories written by regular people who aren't looking to publish them and make money off of them. Rather, they choose to post their stories online for free, for everyone to enjoy, and for you to potentially get off to.
One such site is ASSTR, where you can find thousands and thousands of erotic stories to read at your own leisure.
What Is ASSTR.org?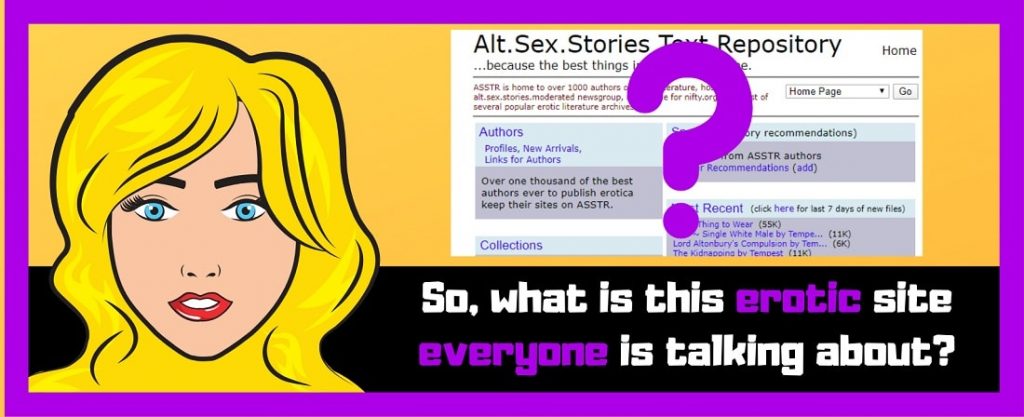 ASSTR is short for Alt Sex Stories Text Repository. Put simply, this is an archive of countless works of erotic literature, with over one thousand authors, a moderated newsgroup, and even a source for great instructions and guides on how to perform specific sexual acts. (More on that last one later.)
It is a site you log into to find a juicy story to read, where romance and sex are intertwined and where the words on the page leave you breathless and hot under the collar. There are no illustrations, but I'm sure your imagination can provide for that.
Site Appearance And Organization
The site layout is pretty simple and unassuming. Since ASSTR has been up for a long time, probably decades, it is understandable why it is so underwhelming. However, I don't go there for its UI anyway.
On the landing page, you can choose to browse through their author list, to see their most recent stories, to look through reader recommendations or perhaps donate to the site to show your support.
The most glaring and obvious downside is that there are no categories for you to easily find what type of story you'd like to read.
Every work has keywords attached to it that let you know exactly what type of kinks it offers, but there is no way for you to sort the works by these keywords, which complicates things.
What Is Happening To ASSTR Right Now?
Frankly, it is unclear what is currently going on with the site. The last bit of news that's up on its feed is from 2017, where the mods have announced they are working on rebuilding the site. During this process, one of the main features that won't be functional is that authors won't be able to add new stories.
It seems as though they have never fixed this issue, and ASSTR hasn't had an influx of new stories since 2017. Which is a damn shame.
However, the stories already published are still online, and you can read them to your heart's desire. I know I come back to some of them whenever I'm feeling like reliving the intense pleasure they give me.
If you wish for a more active archive of erotic stories, though, take a look at my list of sites that are similar to ASSTR below.
Sites Like ASSTR (My Favorite Alternatives)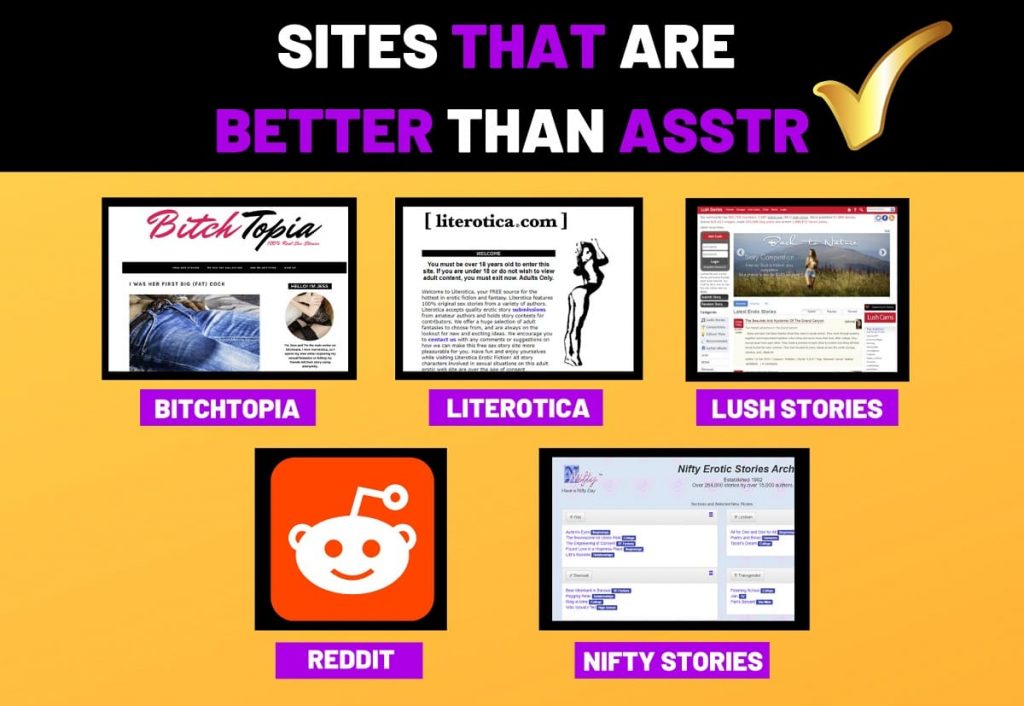 It doesn't hurt to have more than one option for your favorite type of porn. On this blog, Chris and I offer many choices for cam sites, for amateur porn sites, and even for porn games, so it is only natural that I have gathered a cool list of sites hosting erotica literature. They vary in content size and the categories they offer but nevertheless, here are some of my most favorite ones.
Literotica
Aside from ASSTR, Literotica is one of my favorite erotic story sources to visit. At first glance, it is as basic in design as ASSTR is, but all I'm looking for is good writing, anyway. And Literotica provides this in abundance. Unlike ASSTR, this site is still active, and you will find new stories and even new categories added regularly.
Yes, I mentioned categories. While ASSTR isn't so good with organizing its content, Literotica makes it easy for you by offering categories. These include BDSM, Erotic Horror, Incest/Taboo, Loving Wives, Non-Human, even Interactive Stories where you can choose your own adventure! If you're not drawn to ASSTR, Literotica is more than a worthy alternative. If you like Literotica you can check out some sites like it.
Bitchtopia
Bitchtopia is a blog run by a person who introduces herself as Jess. No one knows exactly what Jess looks like, but I choose to picture her as a luscious curvy lady who is an expert at seduction. She is the main writer of the sex stories on her blog, but she also accepts stories, from those people she personally knows and whose stories she can verify as true.
This is a thing I love about Bitchtopia – the sex stories you will find here are all 100% true unless it's somewhere clearly stated that they are not. Jess goes to great lengths to ensure her readers get authentic experiences, and there is something infinitely more alluring in reading erotica with the knowledge that it's not fiction.
Sex Stories
I talked about sexstories.com before, and every time I mention it, I can't help but take a jab at its horrifyingly blue design. The moment you open the site it attacks you, and I have no idea how anyone could ever read anything on such an intense background color. Fortunately, in the sidebar to the left, you can change the site palette to a standard black and white, much to everyone's relief.
Sex Stories is a lot more forthcoming when it comes to helping their readers find what they like. The stories here are sorted by Genres, such as Diary, Fantasy, Poem, True Story, etc., but also by Themes, like Bestiality, Boy/Boy, Fisting, Latex Fetish, Snuff, Threesome, and really dozens more. An effortlessly easy way to get exactly the type of story you like to read!
Juicy Sex Stories
Juicy Sex Stories isn't just about the porn but about the romance as well. The site favors a feminine, gentle approach with its soft red color scheme and cursive, flowery font. However, don't be deceived by this somewhat vanilla design – Juicy Sex Stories is full of kinky writing like you've never seen before.
It is a highly active site, with new stories added every day, and they're sorted into categories for easy search. Some of my favorites are Cuckold Stories, Love Sex Stories (I'm a romantic at heart, what can I say), and of course, Swinger Stories. You will find many more here, and it serves as a great supplemental erotica literature site.
MCStories
While most other sites on this list include various categories and a wide range of genres, MCStories is really all about one thing: mind control. The full name of the site is The Erotic Mind-Control Story Archive, and boy oh boy, will you find some hardcore gems here. Due to the immoral and/or illegal premise of most of the stories, needless to say that none of them are true.
While all of the writing here features mind control in some form, it is also categorized according to the kinks that show up beside the mind control. That's how you get Cannibalism, Exhibitionism, Lactation, Robots, Time Stop, and many other categories that you can sift through and find what you like.
Lush Stories
This is a large community that boasts almost half a million members, thousands of which are online at any given moment of the day. Lush Stories is home to nearly sixty thousand stories, as well as sexy images, blog posts, and forum posts. While the site may look cluttered and spammy, it is actually not that difficult to navigate once you take a moment to adjust.
What makes it easy to start your journey on Lush Stories are the categories right at the top of the left-side menu. You get to look through Editor's Picks and Recommended Stories so you have a clear place where to start. If you're not in a position to read, the site also offers Audio Stories for you to still enjoy erotica as much as you want.
True Dirty Stories
True Dirty Stories surprises with its dark, grunge aesthetic. I have to admit that at first, I thought I accidentally ventured to a horror story site or something similar. The concept of True Dirty Stories is a bit different than that of the other sites here. You don't get to read full-on novel-like erotic stories, but rather short accounts of real-life sexual encounters.
Or at least they are promoted as real-life. The site actually hasn't been updated since 2010, meaning over ten years ago, but all of its archive is still online for you to browse through. If you don't have much time to read stories that are thousands and thousands of words long, then these short and juicy erotic bites will just do the trick.
Adult-Fanfiction
The entire concept of fanfiction is that this writing is not about original characters. Rather, it is about characters that already exist in other published works, such as anime characters, Harry Potter characters, Marvel characters, and more. And Adult-Fanfiction is a place filled with explicit stories involving any combination of these characters. If you've ever wondered what Naruto's and Sakura's sex life looks like, now is the time to find out.
Adult-Fanfiction doesn't seem to have been updated since 2018. However, if you find Member Tools in the menu, and select Searching for stories?, the site will take you to a forum where all the stories reside in the form of forum posts. This isn't an ideal source of erotica – or fanfiction for that matter – but it is interesting to check out if you have nothing better to do.
Reddit
Reddit is a goldmine for any type of content. No, literally, any type of content. Whether you're looking for pictures of bunnies and cats, gluten-free recipes or a breakdown of all of Lord of the Rings movies in their extended versions, you will definitely find it here. This includes porn content, as well.
While Reddit may not be ideal for long-form writing, it is a great source of erotic stories written in the form of confessions (as you will see in my suggested list of subreddits) or short one-shots that you can read without having to dig through the posts for the other installments. For the best erotic literature experience on Reddit, check out the subreddits below.
r/SluttyConfessionsr
r/gonewildstories
r/eroticliterature
r/sexstories
Nifty Stories
ASSTR serves as a mirror site to Nifty, among other things. Nifty Stories was established in 1992, and it has over 250 000 stories written by 15 000 authors. The stories are divided into Gay, Lesbian, Bisexual, and Transgender sections, and all of these come with their own sets of categories you can continue narrowing your search with.
Nifty Stories is nowhere near abandoned. The site is still accepting stories, as well as donations that will help keep it up in the future. I don't often come here, but when I have a thirst for non-heterosexual stories, Nifty is where I first visit. I love the division of stories by sexuality, and I'm always looking forward to finding hot new titles to read.
My Favorite Erotic Sites
When it comes to this type of prose, we all look for different things. It's not like in regular porn videos, where you just want to see your kink on screen. It's also about the writing style, the flow of the dialogue, the narration, how the story develops, and how the characters get together. It's natural that every story and even every collection of stories has readers who will love it and who won't be so thrilled by it.
So I encourage you to visit each of the sites on my list and explore as much as you want in order to see whether it is a good fit for you or not.
If you're curious about which sites I like the most, they are Bitchtopia, Literotica, and Reddit.
The Best ASSTR Stories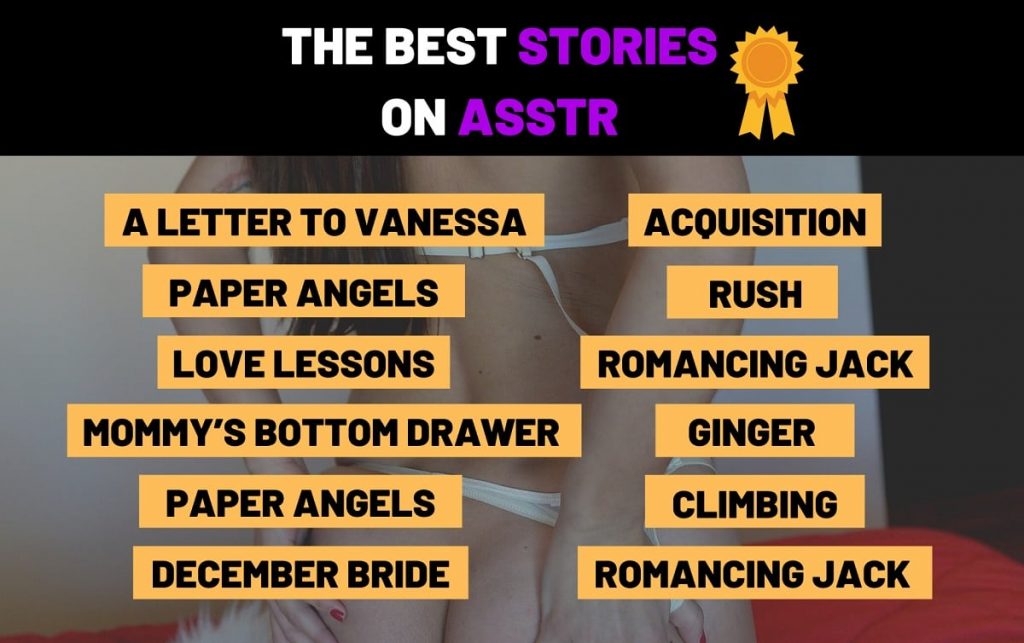 To start you off, here are some of my favorite titles on ASSTR:
A Letter to Vanessa by Katie McN
Acquisition by Headhunter
Paper Angels by Margie Donnadieu
Rush by Virago Blue
Love Lessons by Candy Kane
Romancing Jack by Souvie
Mommy's Bottom Drawer by Pervitron
Ginger by John Jameson
Climbing by Poison Ivan (poisoniv1)
December Bride by Shon Richards
A bit of warning: it might get frustrating, trying to find popular or highest-rated stories on ASSTR, simply for the reason that the site doesn't have any way of sorting through stories based on these criteria. They do have a Top 100 stories list, but it is currently unavailable, and likely will be for some time.
Moreover, their search isn't the best either, because if you type in the name of a story title, it spews out results that contain any (or all) of those words in no particular order. Needless to say, this site would require a lot of work if anyone were looking to upgrade it.
Not all is lost, though! There is a relatively simple way for you to get your hands on a list of recommended stories, and it goes like this:
On the landing page, click on Site Map on the left side of the screen.
Scroll down to Fine Desserts.
Ta-da! Click on All-Time Favourite Stories List, and you'll get a curated list of the best of the best stories on ASSTR.
If you click on Story Index, you'll get links to all the stories mentioned in the list, which also includes the stories from my personalized list here. Enjoy!
The Most Popular ASSTR Categories
I'm not sure if this is something that got lost over the years or has never really existed, but one of the main cons to ASSTR is that it doesn't have any categories. The stories are labeled with keywords, but you can't actually use the keywords as filters to refine your search.
The site makes it hard for you to find what you like to read, and that is mostly why I prefer other erotica sites over ASSTR. It's just too much effort to have to dig through other people's recommendations and the Most Recent stories in the hopes of finding something that looks good to read.
Considering how the site has been lacking in new content and news, as well as that some of its most important pages are down (such as the Top 100 page), I don't think ASSTR is getting categories any time soon, which is a shame.
My Feelings On ASSTR
In conclusion, my feelings on this site are mixed.
I want to like it, I really do, but I can't get past some of the structural flaws that the site has.
The Good
The stories you will find here, such as those in my list of recommendations or on the site's own list of recommendations, are truly out of this world. They're often not just about the sex, but also about the places, the people, the relationships between those people, and so much more.
These are actual novels that people have written and uploaded for you to read for free, and they happen to feature erotic scenes and even fetish sexual acts that will get you both excited and eager for more.
Some of the stories I've read on ASSTR have stayed with me for a long, long time, and I come back to them often to re-read and remind myself of what great writing is all about. They transport you and spark your imagination like nothing else, and I guarantee that it'll be hard to find stories of this quality anywhere else.
ASSTR is full of written masterpieces, and you would do yourself a favor by at least glancing at the ones I listed here. I promise you won't regret it.
If you are curious about writing your own erotic stories, then you should definitely check out ASSTR's FAQ section. Aside from tips on how to format the stories for the site, they also have articles you can check out on how to enhance your writing. These include titles such as How to Write Sex Stories Good, Sexual Synonyms, and Facts of female anatomy for the male sex story writer.
If you're looking to polish your writing, here is where you can do that.
In the same section, you will also find tips and tricks on how to improve your sexual techniques. Titles such as Deep-Throating Guide, How to Eat a Pusy, How to Suck a Cock, How to Suck a Strap-On, Male Masturbation Techniques, and more will tell you everything you need to know about these specific skills and how you can get the most out of your playtime with your partner.
The Bad
All of that being said, the user experience on ASSTR is abysmal. It is confusing where you should even click to enter the site (because you will find different stories on the FTP directory and on the website, to make matters even more complicated), and don't even get me started on what goes on once you're in.
No categories, a poor search system, no top stories lists, not even top authors lists make the experience a rather dull one if you're new to the site.
So, while I love the writing and some of the amazing stories I've read on ASSTR, because of its bad organization, it is not at the top of my list of erotic literature sites. I would advise trying out any of the others on my list of alternatives (and my list of favorites!) before you venture here in search of the story titles I mentioned. That way you will already have a good idea of what you like to read and what works for you, and you won't get too impatient with the way the site doesn't like to cooperate with you.
Happy reading!