Everyone loves a good blowjob. I love getting head; my girlfriend loves giving it, and watching blowjob videos is one of our favorite pastimes. Sure, I might be more into those pretty chicks slobbering on monster cocks, but when a scene is good, my girl gets horny just as much. That's why I've gathered a list of the best premium porn sites, and there are some good free options as well.
The Best Premium Blowjob Porn Sites
Let's start with the premium blowjob porn sites (if you want the completely free ones, then scroll down to the next section). These are the highest quality, have the most amount of unique content and if you have the cash, these premium sites will give you content that you've never seen before.
In Order Of The Best Premium Blowjob Sites:
---
If you were to get just one premium subscription, it should be a Blowpass one, without question. Their scenes feature all the hottest pornstars at the moment, and the production quality of every video is insane. Apart from getting more than 150 pages of unique scenes, buying a subscription also gives you access to Throated, MommyBlowsBest, OnlyTeenBlowjobs, and 1000 Facials. If that's not a blowjob deal of a lifetime, I don't know what is.
---
Cock Sucking Challenge prides itself on featuring more than 4500 scenes with almost 3000 hours of runtime over 8 different websites. That's an impressive amount of content for a network of premium websites that feature nothing but blowjobs. Depending on your point of view, it's either a pro or a con that Cock Sucking Challenge offers videos from a couple of years back. You get to see a host of breathtaking pornstars from that period that is harder to find nowadays.
---
Swallowed is a premium porn site in the blowjob niche that focuses on a particular style of dick-sucking pornography. The girls always wear the skimpiest outfits and naughtiest lingerie. There are plenty of double-blowjob threesome scenes. And everything is usually shot extremely close up, giving you as much detail of all that drooling on cock and balls. It's hard to say how many videos there are, but the site's been producing content for years and is still uploading regularly.
---
With a name as dirty and straightforward as this, how could you not check out This Girl Sucks? You can gain access to a plethora of gorgeous young babes choking and gagging on the largest cocks in the adult industry for just $1 a day. And if you opt for a longer membership, you get discounts. There are blondes, brunettes, redheads, Latinas, and everything in between.
---
BJRaw is a premium porn website that aims to produce the highest-quality videos, which, on the other hand, feel realistic and amateur, hence "raw" in the name. My girl and I love watching these together as action feels more genuine and something that the two of us could do. Every scene comes with a set of photos, and you can download a trailer even if you don't have a subscription. Annual membership offers the best deal at a mere $9.95 per month.
---
If the idea of gloryholes gets you going like nothing else, then head on to Gloryhole.com. As an experimenting couple, we've had our fair share of gloryhole action in our lives, and it's always been incredibly fun. There's something kinky about complete strangers not interacting with each other except through a hole, where it all boils down to cock-sucking and fucking. The scenes are mostly blowjobs, but not exclusively. And that's not a bad thing.
---
Big Gulp Girls is all about the naughtiest babes being confronted with the biggest cocks. If you're into rough and messy face-fucking and deepthroating, then look no further. There are currently 450 scenes, but each one is made to blow your mind. However, if you get a premium membership, which goes as low as $8.25 for a yearly subscription, you get more than 1500+ exclusive scenes and the option to download anything.
---
Swallow Bay has a unique approach to making porn videos, where it's all about skimpy lingerie, colorful lollipops, and bubbly ball pits. With a mere $19.99 bucks a month, and even less if you opt for a longer subscription, you get 5+ updates every month, exclusive scenes, UHD videos, and even VR 6K action. They fuck in addition to blowjobs, but since when was that a bad thing?
---
The name is pretty self-explanatory with DeepThroat Sirens. These lustful ladies do their best to take the biggest schlongs in the adult industry all the way down their tight throats. If ordinary blowjobs aren't enough and you want to see those babes choking and struggling with monster cocks, this is the place. There are more than 1300 models, 2000 videos, and 600.000 photos. For $8.25 per month on an annual plan, that's more than worth it.
---
TheDickSuckers is a plain and simple site that offers exclusive, premium blowjob videos with lots of gorgeous pornstars, POV action, big cocks, and messy cumshots. The quality goes up to stunning 4K. You can watch everything on every device. And their premium subscription gives full access to ManoJob and Mr. POV, too. That's a lot of bang for your buck.
---
Now here's something a bit different from the rest of the list. Ghetto Gaggers is all about blowjobs, deepthroating, and messy facials, but that's not the whole point. The premise of every scene on this hardcore premium XXX website is that it's filmed by a hung white guy who goes around looking for naughty ebony chicks to fuck their throats and cum on their faces. The quality goes up to 4K, and you can get a yearly membership for a measly $90.
---
PureBJ gives precisely what it says it does. It's all beautiful babes, huge cocks, and passionate dick-sucking. There are tons of POV scenes, but some spice things up with varied angles, threesomes, outdoor action, and more. There's a free trial after which you can get a yearly membership for as low as $0.33 per day.
---
We Like To Suck is a premium blowjob porn site that focuses on bringing you the sexiest European girls in steamy action. The scenes are 100% exclusive, and while the majority of them are blowjobs, don't be surprised if you run into hardcore fucking or rough anal. One year sub is a mere $4.16 per month.
---
Whenever you feel the need for top-tier dick-sucking by mature and experienced ladies, head on to SeeMomSuck and marvel at their amazing collection of premium blowjob videos. They have housewives, MILFs, grannies, and stepmoms, all horny and aching for fat meat down their throats. If you're lucky, you might get a deal for a premium membership at a mere $7.90 per month.
---
POV Blowjobs offers exactly what the name of the site suggests. It's all hot and horny broads who are experts at dick-sucking. You'll find the hottest and most popular pornstars in their galleries, all giving head in immersive, POV-shot videos that take you straight into the action. With a little bit of suspension of disbelief, you'll feel as if it's your own cock they are sucking. And there are more than 500 scenes.
---
GloryHoleSecrets is another premium porn site that features this kinky niche. This one is exclusively about blowjobs that end up with big, warm, messy mouthfuls. Explore their vast galleries of pics and videos that feature both famous pornstars and naughty amateurs who simply love sucking dick on camera.
---
OnlyFans BJ Accounts
OnlyFans is one of the better platforms if you're looking for exclusive, high-quality premium porn. It features content you won't find anywhere else from creators that suck dick for a living and are, therefore, amazing at it. We're in the process of writing an article about OnlyFans and all the best accounts for bj content, will update here when it's out.
---
Blowjob Subreddits
Another different kind of website where you can go looking for blowjobs is Reddit. There are countless subreddits covering a variety of kinks and niches, and many feature all kinds of cock-sucking adventures. Just like with OnlyFans, we've also covered this in a big list of all the blowjob-related subs on Reddit. The upside to Reddit pornography is that it's totally free.
---
The Most Popular Free Tube Blowjob Porn Sites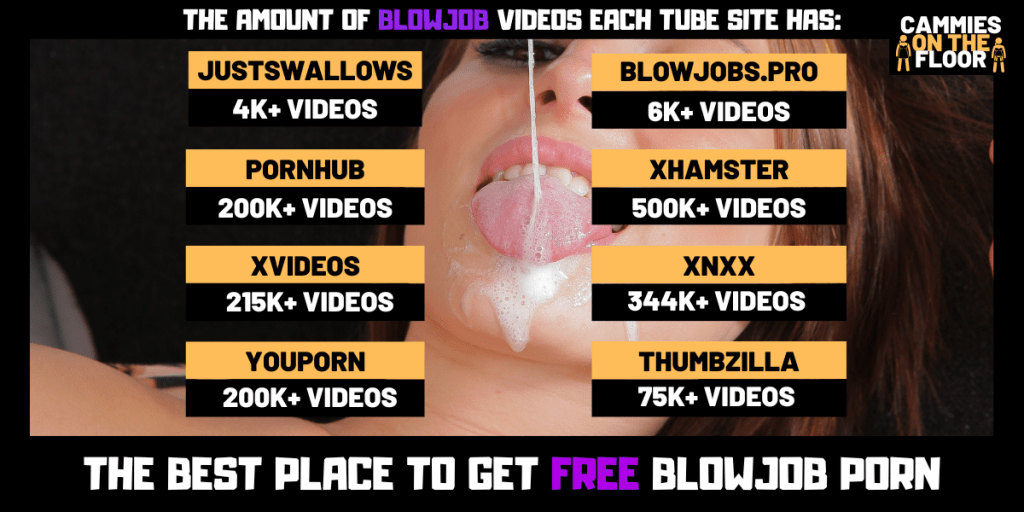 Premium porn sites offer the best blowjob scenes that you'll ever see. Still, you don't have to pay a dime to enjoy proper dick-sucking on the internet. Here are free alternatives in the form of tube sites where you can explore countless blowjob videos with both pornstars and amateurs.
JustSwallows.com is a free tube that, unlike other, more general websites, focuses solely on swallowing cum. That means a lot of blowjobs, but you'll also find some fucking here and there. It's a new site, so the content is fresh, and even though there aren't thousands of videos, they are high-quality.
Blowjobs.pro is a free tube that is exclusively about blowjobs. If you just want to watch chicks giving head and don't care about those big cocks going into any other hole, then this is one of the best free alternatives to premium blowjob sites. Plus, they have more scenes than I could count.
Pornhub is pretty much a staple in any free porn tube site list. With more than 200 thousand videos, plenty of which are made exclusively by Pornhub's creators, it's free blowjob heaven over there. And then there's the Pornhub premium, which features better content than a majority of other paid sites out there, making it yet another viable option.
XHamster features almost half a million blowjob videos. As one of the most famous free tubes in the world, XHamster is a more general website that features every kind of kink and porn category in existence. Still, their free blowjob collection is impressive and one of the biggest that you'll find.
If you know about XHamster and Pornhub, then you probably know about XVideos as well. Famous for being easy to use and having a massive amount of free porn videos, XVideos has more than 215 thousand blowjob scenes. Once you dive into their galleries, you'll hardly need to go anywhere else.
Continuing the tradition of showing free porn tubes that are easy to use and offer countless videos, we have XnXX. With more than a dazzling 340.000 dick-sucking clips in their collection, this place is a staple for any experienced porn aficionado.
YouPorn has existed since 2006, but it has kept up with the times, and it's one of the most modern-looking free tubes on this list. YouPorn belongs to the Pornhub network, so you know that the quality of content is there. There are almost 200 thousand blowjob videos in there, so it would be difficult not to find something you'd like.
Thumbzilla is a sleek and modern-looking porn search engine that can quickly take you to more than 5 million XXX videos. Out of those, at least 75 thousand involve good, old cock sucking. The quality of scenes goes up to HD, and you can see every video's rating and view count to help you decide what to watch.
---
List of VR Sites That Have Lots Of Blowjob Content
VR videos are the latest and greatest of what porn has to offer. They provide unmatched immersion and unprecedented experience. There are many different VR porn sites, and a majority of them have blowjob scenes. Here are a few websites to get you into this stuff.
VRPorn.com: VRPorn.com is one of the top players in the industry, and it prides itself on being the number one VR porn site in the world. You can watch their scenes with any system. As far as blowjobs go, there are more than 6400 of them. And you can all but feel those wet lips wrapping around your boner.
SexLikeReal: Next up on the list is SexLikeReal. There are 120 FPS videos, 6K 200-degree ones, and even stunning 8K scenes. The best thing about it all, however, is that there are more than 11 thousand blowjob clips. That's so much that you'll never go back to regular dick-sucking porn that you watch on a flat screen.
VRSmash: Another place worth visiting if you're into VR and want to take full advantage of modern technology is VRSmash. With more than 3800 virtual-reality dick-sucking scenes, you'll have a blast browsing and enjoying their captivating content. An amazing thing about this website is that it offers free previews which can last for several minutes, which is sometimes enough for a quick fapping session.
POVR.com: Last but not least, we have POVR.com. It's another one of those sites that lure you in with sexy and steamy free previews before you grab a premium subscription to watch breathtaking virtual reality deepthroating and facials. And there are more than 7800 videos that do just that. A free trial lasts for two days, after which you can get a premium membership for as low as $9.99 per month.
My Favorite BJ Content Site
Blowjobs.pro is unbeatable if you want lots of free but high-quality blowjobs without slogging through a bunch of other uninteresting categories. If we're talking about premium stuff, nothing beats BlowPass, since it gives you both unprecedented quality and a number of different websites under one subscription. Finally, VRPorn remains unmatched for virtual reality porn in general and blowjobs as well.