The more I watch porn, with my boyfriend or alone, the more I find myself interested in femdom. I'm lucky he's as open-minded as I am because we've been dabbling in this kinky practice, and we're constantly trying new stuff out. As a result, our porn needs have been increasing, and we're constantly on the lookout for something fresh, naughty, and exciting. So far, I've come up with a vast list of free and paid adult websites that feature femdom action. The list has a bit of something for everyone, and I guarantee you'll find plenty of stuff to watch and enjoy.
Great Femdom Porn Is Hard To Find
While porn exists in every corner of the internet, and it's not exactly the hardest thing to get to, quality porn still takes some time to find. That goes doubly so for kinkier fetishes such as femdom. If you want the excellent stuff, you'll either have to pay money for premium subscriptions, or you'll have to spend hours scrolling, browsing, researching, and going back and forth from one free tube site to the next. Fortunately, I'm here to guide you and share my increasingly extensive knowledge of online femdom porn.
My Favorite Paid Femdom Porn Sites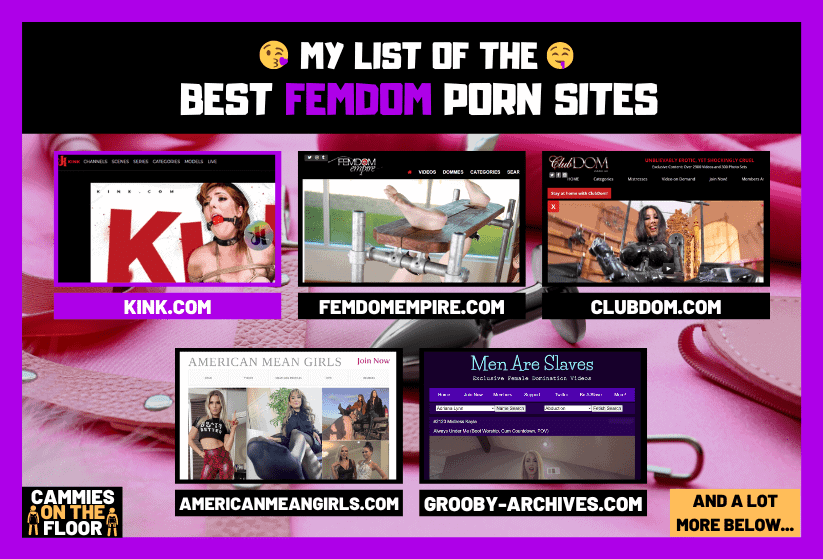 If you want the best of the best, there's no denying you'll have to get a premium membership at one or more paid porn sites. There are a lot of genres I can watch without going premium, but this particular kink is best experienced in high-definition and when it's done by people who know what they are doing. After all, becoming a good dominatrix takes time, and you can't tell just about any pornstar to dominate a guy or another hottie and expect the scene to make a demanding viewer like me wet.
You know I always love to start things off with a bang, so I'm mentioning Kink.com right off the bat. Kink is my go-to porn site when I'm looking for high-quality femdom porn. They have been in the business for more than two decades, meaning there's a ton of content to go through. With more than 13,000 femdom and fetish scenes to satisfy your dirty needs, you'll never run out of stuff to watch and masturbate to.
FemdomEmpire is another magnificent premium porn website that has thousands of videos. You'll find some of the most popular pornstars in these galleries. Names like Kendra James, Chanel Preston, or Isabelle Deltore should probably ring a bell. I particularly love that scenes push the boundaries of this fetish. It's not all mild femdom. There's lots of pegging and bondage as well as rather naughty cuckolding. They claim to be the world's most popular femdom website, and I have no reason to think differently.
With more than 2,900 hardcore femdom porn videos, ClubDom is another gold mine for us dominatrices in the making. All kinds of scenes feature everything from fetish, latex, and leather outfits to kinky sex toys and perverted contraptions. More often than not, male slaves will end up tied up, chained, and whipped into submission before dominant chicks fuck them with massive strap-on dildos. The scenes on this website are a perfect combination of eroticism and sexual cruelty.
Another premium porn site with more than 2,700 videos is AmericanMeanGirls. I like this place because it has a different feel to it than the rest of the femdom websites. It's almost as if it's run by many femdom girlfriends who love to fuck around and dominate guys for pleasure, and I'm digging that kind of lifestyle. All of their content is split into three massive categories. You have your regular slave videos with all the kinks and perversions. Then, there's POV action for those who want more immersion. Finally, you can take a peek behind the scenes with BTS clips.
MenAreSlaves.com
MenAreSlaves is pretty open with what they are all about. There are around 2,100 exclusive femdom videos. I had a blast going through these galleries and watching all those meek subs tied up, gagged, chastised, teased, and more by all those stern mistresses. There's everything from foot worship to spanking, whipping, group domination, lesbian action, and more.
One particular dominatrix, Goddess Kitra, has a website within a MenAreSlaves.com network dedicated to nothing but her content. GoddessKitra.com features a ravishing brunette hottie with a killer body and sexy tattoos who loves making videos of herself, her slaves, and her personal, collared pet. She's one of our favorites because there's so much variety to just one performer.
Another website within the MenAreSlaves network worthy of mention is FemaleWorship.com. This one takes a more seductive and sensual approach to female domination. The end goal is for a woman to experience ultimate pleasure, so there's lots of pussy licking, body worship, passionate kissing, and more. I guarantee my female portion of the audience will love this website even if they aren't into femdom. And I see guys jerking off more and more to female-friendly porn.
Europeans always find a way to spice things up, even if it's already a particularly perverted activity. That's why I go to GermanMistresses.com if I want to see how rough and hardcore femdom can get. Plenty of dominatrices on this website are tall and busty babes with lots of tattoos and piercings, sporting an imposing presence. Whether they opt for face-sitting or they decide to shove those stiletto heels inside guys' assholes, those slaves can't say no to the mistresses. There are more than a hundred intensely perverted femdom scenes.
MistressKym.com
Mistress Kym is me in a parallel universe. MistressKym.com is a one-girl show, and it's an authentic one. There are more than 200 4K videos on this website, all featuring this lavish hottie who decided to turn femdom into a lifestyle. As a result, she gained the trust of more than 50,000 people, all eagerly awaiting the next scene where she dominates her partner. I mean, the girl even filmed her life in chapters, depicting how a kinky couple who started dabbling with soft femdom turned into him being her 24/7 slave.
SubbyHubby.com shows you that some men were born to be obedient and submissive. On the other hand, some women know how to put those slaves to good use. With more than 1,200 HD femdom videos in these galleries, you'll have a blast exploring what it's like when chicks are in charge. Most scenes have one or more guys being submissive, but there are also clips where ladies dominate other ladies during erotic lesbian femdom.
Cruel-Furies.com turns things up a notch and increases the punishment level. The girls on this website don't believe in mild or gentle femdom. They are all about tying guys up or restraining them completely and then flogging and spanking those bodies into absolute submission. If you're an absolute beginner to the whole BDSM ordeal, thread carefully. However, I know that the more I watch their scenes, the more I'm into them. The levels of domination here are off the charts.
Sado-Ladies.com is here to put some class and elegance into femdom. Don't get me wrong, the scenes are all hardcore and perverted with lots of sexual torment and domination, but these ladies do it with style. More than a hundred hours of glam babes in tight latex and leather use whips, clamps, belts, and more to punish their slaves. Some scenes and photo galleries feature captivating costumes that elevate the experience to new heights.
TheEnglishMansion.com
TheEnglishMansion.com is an old-school porn website that has existed for more than two decades and brings back memories whenever I visit it. While the site's look looks dated, that's where its charm lies. Plus, decades of experience also mean a ton of content. There are more than 800 hours of hardcore femdom pornography in these galleries. Couple that with over 30,000 photos, and you get to watch how femdom has evolved since the beginning of the 21st century.
Submissed.com
Last but definitely not least, on the list of premium femdom porn sites is Submissed.com. This one is not strictly femdom as it has everything from girls dominating guys to vice-versa. There's even hardcore lesbian domination. Still, there are at least 800 femdom videos where submissive guys and chicks fall prey to a strong dominatrix. What I particularly love about their videos are the settings. It's always bondage, whipping, and domination in some abandoned building, a prison cell that's falling apart, an old asylum, and more.
VR Femdom Porn
VR porn is the latest and greatest in the online adult industry, enabled by technological improvements, and I'm all over it. Just put those goggles on, and it's as if you're actually there with a kinky domina going to town on you. Granted, most femdom scenes put you in a submissive's POV, so they are more suited towards my boyfriend, who likes experimenting with the genre with me, but I enjoy them nonetheless.
SexLikeReal.com is one of the biggest in the VR porn world. They are famous for providing many scenes in every porn category imaginable while still maintaining top-tier quality. You'll find all kinds of virtual reality scenes in these galleries, but we're here for femdom. With more than 200 videos of perverted mistresses in tight corsets, leather, and latex, it doesn't get much more realistic than this unless you do it for real. Also, the variety is insane. Dominatrices can be both teens and MILFs, blondes, redheads, and brunettes; there's light roleplay and hardcore domination, and more.
Another website on the list that specializes exclusively in VR content is VRPorn. Considering virtual reality is all they create, you know you can expect nothing but the best stuff. Just like the previous website on the list, this one also features all kinds of different categories. However, VRPorn offers plenty of stuff for free. There are a couple of dozen femdom videos. Some are just a couple of minutes in length, while other videos are complete scenes with more than twenty minutes of 180 degrees pure femdom action.
KinkVR
If you need another premium VR place with some of the best videos globally, check out KinkVR. BDSM porn doesn't get much more authentic than what this place offers. Considering BDSM is a vast genre, there are all kinds of clips so that you can be both dom or sub. Those looking for pure femdom action can marvel at almost a hundred scenes that blur the boundaries between reality and fiction. Put your headset on and dive into the world of perverted femdom.
VRSmash
VRSmash is amazing because it lets you enjoy previews before deciding whether to go for a premium subscription. There are numerous femdom scenes ranging from verbal domination to bondage, toy-play, handjobs, blowjobs, etc. Some clips are just a couple of minutes long, while others offer upwards of half an hour of dirty femdom entertainment. You can filter the content based on the field of view and whether you want just 180 or stunning 360 degrees. And those free previews available to unregistered visitors are a godsend.
XHamster Femdom VR
Being one of the free porn tube sites with the biggest collection of XXX videos on the internet, it's only natural for XHamster to have a VR section. There might not be as many female domination VR clips on XHamster, but they are there for free, and you can watch them right now. If you like what you see on a free XHamster femdom clip, you might decide to follow the link and grab a premium subscription to continue down the dark and pervy VR femdom road.
SpankBang
SpankBang is another website that functions similarly to XHamster. It's a massive free tube with more videos than you could count. If you look up femdom in their VR section, you'll run into tens of thousands of porn videos. The number is dazzling but keep in mind that their algorithm might not be the smartest, so it mixes all kinds of stuff. It's all VR, and a lot of it is domination, but not everything is femdom. I've discovered that after running into a hardcore POV gangbang with a poor blonde MILF getting dicked down. Now, I didn't mind watching that, but be aware it's not all VR femdom.
Pornhub
Speaking of famous free porn tube sites that have all kinds of hardcore XXX content, it wouldn't be fair not to mention Pornhub. Their virtual reality section currently has 125 femdom videos, which vary in the scenery, mistresses, action, and more. You can find soft handjobs on one page and rough virtual pegging in a threesome on the other. There are even ball-busting and golden showers, so be sure to check the galleries as they have everything, and it's free.
VRGalaxy
VRPornGalaxy.com is a gold mine of VR pornography that we stumbled upon by accident one day. It has some of the best, highest-quality virtual reality scenes that you can watch for free. On top of that, there are countless amateur shorts and shorter clips that are just as kinky and erotic. The femdom category comes with a few pages of various videos that go from solo domination and masturbation to blowjobs, handjobs, lesbian domination, strap-on dildo fucking, pegging, etc.
I created this list of the best VR porn sites, has everything from free to premium.
The Best Free Femdom Porn/Tube Sites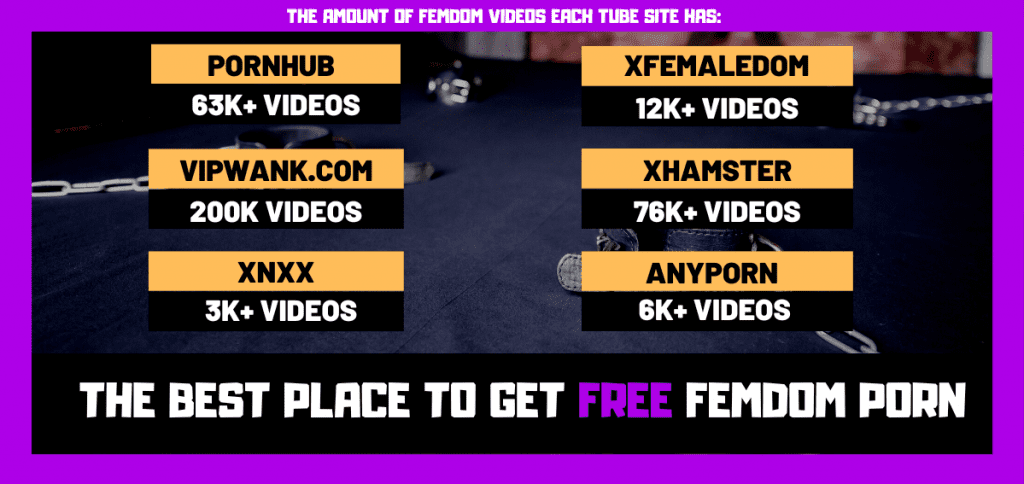 Most people go for free porn whenever possible. I'm not an exception. Even I visit free tubes daily. I've turned to premium stuff only after exhausting every other free option and realizing I want more. Nevertheless, there are plenty of free XXX sites with tons of femdom content.
Pornhub is the biggest and most famous in the free adult entertainment industry. With 63,000+ femdom videos, it will be a while before you even think of going somewhere else. Not only are these clips absolutely free, but they are also high-tier when it comes to quality. Some even offer premium entertainment at no cost.
XHamster is in the same boat as Pornhub, as a veteran in the industry. With 76,000+ scenes, it's a fine addition to anyone's collection.
XFemaleDom is a different kind of tube than the first two as it focuses on female domination exclusively. No need to wander around and slog through porn you're not interested in, as it's all femdom.
VIPWank.com, on the other hand, is a porn aggregate website that gathers content from countless different tubes. There are more than 200,000 videos in these galleries.
If you've heard of Pornhub and XHamster, then you probably know about XVideos and XnXX. Both of these free tube porn sites have been around for years now and have thousands of hardcore femdom clips to offer. And, finally, there's AnyPorn, with currently 39 pages of femdom content. It's another free site, but it looks and feels quite different from the rest, which is always neat as it can spice things up while looking for that perfect vid.
Which Of These Sites Do I Use The Most
Kink.com and FemdomEmpire.com are must-haves for any femdom wannabe. These are both mine and my boyfriend's go-to for some dirty fun. We're also finding VR more and more enjoyable, and nothing beats SexLikeReal in that department. And if we're talking free stuff, few can beat Pornhub in quality, but XFemaleDom is perfect if you want to jump right in without much hassle.
Did I Miss Your Favorite Site? I don't know whether it's just me getting more interested in the genre or if femdom is growing in popularity, but new femdom porn sites keep popping up left and right. If I missed your favorite place or there's something you think we should check out, then be sure to let us know in the comments. I know other readers won't mind having more sites to explore as well.