Show me someone who doesn't love lesbian porn, and I'll show you a liar. Even I, a girl, can't stay calm at the sight of two beautiful ladies going down and dirty. I guess there is some truth when they say that all girls are at least somewhat bi. And my boyfriend definitely doesn't mind watching lesbian porn with us, so I made a comprehensive list of some of the best sites we've been using.
Good Lesbian Porn Is Really Difficult To Find
When it comes to lesbian XXX content, it can be challenging to find really good stuff, even though there's so much of it. Of course, I'm talking from the female perspective since the majority of pics and videos out there are tailored toward men. Plus, plenty of websites have mixed content, with only a smaller proportion of it being lesbian. And as much as I loved occasional action with two bimbos mindlessly eating each other out and fingering, I do have a refined taste when it comes to lesbian pornography.
The Best Lesbian Porn Sites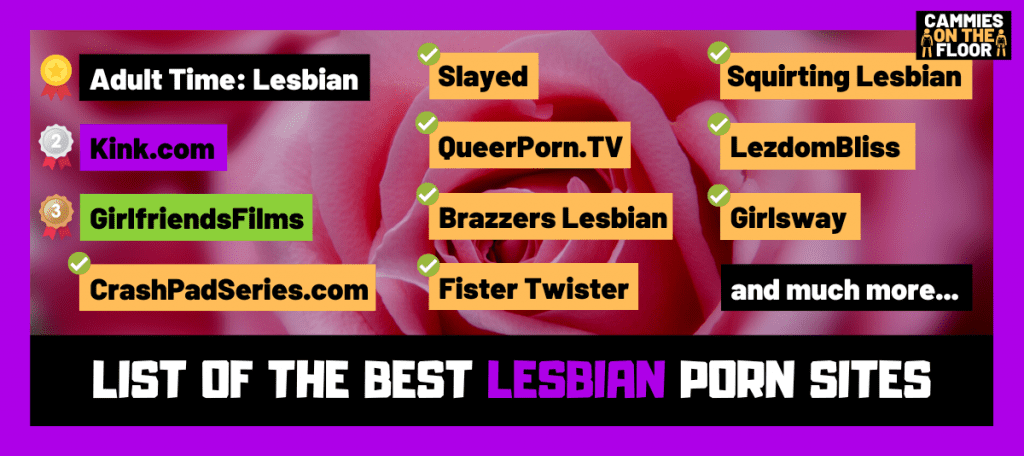 Here's a list of a bunch of sites that I've enjoyed both alone and with my boyfriend. You won't make a mistake visiting any of the places mentioned. It will all boil down to your tastes and preferences.
---
To start off with a bang, we have Adult Time and its lesbian section. Adult Time is a massive, premium streaming service that's pretty much like mainstream platforms such as Netflix and similar. Except this one has some of the highest quality adult scenes and videos that I've ever seen. Just like the rest of their content, lesbian videos are incredibly well produced and acted with steamy action that will blow your mind.
---
Kink.com (Over 4000 BDSM Lesbian Scenes)
Kink.com is on the fetish side of things, but who doesn't love a bit of bondage in their lives? With more than 4000 lesbian scenes in the BDSM genre, you'll have plenty to satisfy all those perverted needs. I know a bunch of people who aren't into BDSM even the slightest, yet Kink lesbian videos are their favorite. Definitely give this premium site a try.
---
GirlfriendsFilms is the first website on the list that's exclusively lesbian. It's a high-end premium porn site that features all the most popular and beautiful pornstars in the industry. The variety of scenes is incredible, and there are multiple new uploads every week. Explore a variety of lesbian categories that involve anything from sensual lovemaking to ass licking and foot fetishes, and enjoy shorter scenes or longer movies.
---
Girlsway is a part of the Adult Time network, except this one is solely focused on lesbian content. For a small monthly fee, you get a premium subscription to the largest network of porn content that has over 300 channels offering episodes of unprecedented quality. It's hard to find better lesbian sex, regardless of your tastes and preferences. Both my man and I always go back to this network as it has something for anyone.
---
Slayed is another larger network of multiple websites in one. However, it's their lesbian stuff that I want to focus on. And that stuff is absolutely banging. The girls are top-notch. They all look gorgeous and often wear expensive lingerie, jewelry, and makeup. Lesbian scenes go from erotic and passionate to rough and hardcore. Plus, there are new scenes every week, so you can always look forward to fresh lesbian content.
---
QueerPorn has a variety of content tailored exactly towards the queer portion of the audience. It's not all lesbian videos, but the majority are. And those scenes are unlike anything else I've found on the internet. It's all about raw sexual energy and pure passion that these babes bring to the table. That should come as no surprise, considering these aren't regular pornstars acting to be lesbians but actual lesbians going down and dirty.
---
No list of premium porn sites would be complete without Brazzers. And while Brazzers is famous worldwide for its massive collection of high-quality XXX videos in every genre imaginable, it also has a considerable number of lesbian scenes in its galleries. Brazzers lesbian videos are all about the hottest and most popular pornstars, all kinds of kinky scenarios, and intense action that is guaranteed to make you orgasm.
---
How could you not be interested in a porn site with a name as interesting as Fister Twister? As the name suggests, this one is all about fisting in lesbian porn. I particularly love the contrast between the elegant website design, beautiful scenery, and slender, lovely girls who then shove whole fists in each other's pussies. Video quality goes up to a stunning 4K. It's definitely a unique place worth your time.
---
As a squirter myself, I know the immense pleasure that gets you to squirt, which is why I can't recommend Squirting Lesbian enough. If you like intense, passionate, and vigorous lesbian fucking and don't mind when things get a little messy, this is the premium website for you. Not to mention you get a whole network of websites when you grab a Squirting Lesbian subscription.
---
LezdomBliss is a big, bombastic, in-your-face premium lesbian porn site with the most popular pornstars who fuck in glamorous locations. These scenes are all about sexy lingerie, glam dresses, skimpy bikinis, busty MILFs, and petite teens. I particularly love the way the website looks modern and minimalistic, which makes browsing easy as it puts content in focus.
---
Now, here's a premium porn site that's more focused on the feminine aspect of lesbian action called TheLesbianExperience. It's all the bit as good as other premium XXX websites on the list, and it has all those famous and breathtaking pornstars, but the goal of every scene is to show true chemistry between performers and the intense lesbian lovemaking that would happen between real lesbians in private.
---
CrashPadSeries is a lesbian porn site that came to be inspired by an indie dyke feminist porn movie called The Crash Pad. A premise in the movie was that there was an apartment, and anyone with a key was allowed in. Once inside, there was everything from masturbation, blowjobs, and pussy licking to anal, rimming, threesomes, and more. CrashPadSeries continued the tradition with dykes making intense, steamy, and passionate lesbian porn.
---
She Seduced Me is a premium lesbian porn site with an interesting premise. It aims to show what happens when curious straight chicks get seduced by lesbians. It's a premise that turns both my boyfriend and me on immensely. As a bi-curious girl, I always wanted to be the one to spoil some straight cutie and show her just how good I could be. And this place is all about that experience.
---
As far as popular names in the lesbian part of the adult industry go, VivThomas sits at the top of the list. This guy is an expert when it comes to filming girl-on-girl action, and his premium website is a no-brainer for anyone who wants high-end content. VivThomas explores truly sensual and erotic lesbian lovemaking. The website has everything from photo sessions and scenes to full-length movies.
---
Lez Crush differentiates itself from other premium porn sites on the list by making content that feels real. Everything from camerawork to the scenery is designed to make you feel as if you're watching two or more amateur lesbians going down and dirty in the comfort of their bedroom, dorm room, or similar. The only difference is that instead of watching low-res, poor-quality videos, they have top-tier imagery.
---
Abby Winters is not your usual kind of premium porn site. It features young amateur women who explore their sexuality alone, with other girls, or with their boyfriends. As a result, not all content on this site is lesbian, but it's all worth it if you want genuine chemistry between performers and passionate scenes that aren't pure, mechanical fucking.
---
PinkLabel prides itself on featuring independent erotic adult films. It's a premium site that requires membership for full access but that lets you watch hundreds of indie films. If you're tired of formulaic porn scenes where everything feels similar, then check this place out. Every video offers something new, both in the acting and directing departments. It's not all lesbian stuff, but that's never a bad thing.
---
MixedX is another of the Adult Time network partners. That should instantly tell you the degree of quality you can expect from this place. A gorgeous blonde veteran in the adult industry, Christina Shine, is the face behind the content that explores girl-on-girl sexuality through various taboo topics. If you want a bit of cinematic flair in your lesbian porn, look no further.
---
AllHerLuv is a website that offers award-winning erotica. If you want to see what it's like when the hottest and most famous pornstars go down and dirty in various taboo scenarios, with a capable director behind the camera who knows what they're doing, then this is the place for you. Some scenes depict random hookups or college adventures; others deal with stepmoms and high-school reunions.
---
OnlyFans
Finally, no list of premium porn sites would be complete without mentioning OnlyFans. While this isn't a lesbian porn site and not even a regular porn site at all, it still has some of the sexiest babes on the planet, and the pics and videos that they produce always get my boyfriend and me going. That's why we've made a whole separate post that talks about all the popular Lesbian OnlyFans accounts.
Completely Free Lesbian Porn Sites
Of course, nobody says you have to spend money to enjoy erotic lesbian porn. There are plenty of free alternatives that sometimes offer the same quality as premium sites. You might have to endure an ad here or there or go through some lower-quality videos before finding the good ones, but it's all worth it in the end.
---
Pornhub Lesbian – 31k+ Lesbian Videos
As one of the biggest and most famous free porn tube sites in the world, Pornhub's lesbian section is absolutely massive. There are pages upon pages of videos that go up to HD in quality and span across every lesbian genre imaginable. Plenty of premium production houses upload their finest videos here as promo material to get you on their website, yet here it's all free.
---
Xvideos Lesbian – 54k+ Lesbian Videos
Xvideos is another massive free porn tube site with an endless supply of porn videos. Their lesbian category offers more than a hundred thousand results. Some clips can last less than a minute, while others are full-blown hour-and-a-half movies. It's our go-to place for quick and easy lesbian action.
---
XHamster Lesbian – 114k+ Lesbian Videos
XHamster is similar in look and feel to Xvideos, and it's just as good when you want quality lesbian action without having to pay. With more than two thousand pages in the girl-on-girl category, it would take you multiple lifetimes to go through all that pussy licking, fingering, and scissoring.
---
HQPorner Lesbian – 4800+ Lesbian Videos
HQPorner aims to provide premium quality for free. As a result, this XXX tube site has far fewer scenes and videos than others on the list. On the other hand, five thousand or so scenes are nothing but pure quality and high-definition lesbian shenanigans. It's the closest you'll get to a premium lesbian website without paying.
---
Lesbify – 184k+ Lesbian Videos
Lesbify is the first fully-lesbian free tube on the list. It looks like a classic tube with the landing page featuring a bunch of captivating thumbnails. You can scroll up and down until you find a scene that makes you wet, or you can use the search bar to go through more than a hundred thousand erotic lesbian videos.
---
LesbianTube.tv – 14k+ Lesbian Videos
To expand on the collection of free porn tube sites that offer exclusively lesbian content, we have LesbianTube.tv. The landing page is packed with countless thumbnails leading to provocative categories within the lesbian genre. You can enjoy everything from homemade lesbian fucking to strapon, old and young, Japanese girls, teens, grannies, and more.
---
Literotica – 20k+ Lesbian Stories
Literotica is a different kind of porn site that is all about erotic literature instead of porn videos. Some of the stories here made me cum harder than any XXX video ever did. The stories aren't exclusively lesbian, but that's only a plus in my book since the variety is insane, and there's so much to read that your mind will explode.
---
Reddit
It wouldn't be a complete list of porn places worth visiting on the internet if Reddit wasn't somewhere in there. As one of the biggest sites of all time, Reddit has countless adult subs in any genre imaginable. Naturally, there are tons of lesbian subreddits to explore and masturbate to. As a matter of fact, we have a whole post on lesbian porn subreddits for you to check out.
Lesbian VR Porn Sites
When it comes to immersion in porn, it doesn't get much more real than VR. And if it's lesbians you're after, you'd be happy to hear that the vast majority of VR porn sites have a lesbian category. We've made a big, handy list of all the better VR porn sites for your convenience. Here are a couple of honorable mentions that have rather large lesbian collections.

VRPorn.com: VRPorn is a titan in the industry, featuring a variety of different porn categories and all those hot and famous pornstars. And since we're talking about lesbian porn, there are hundreds of top-tier scenes that will make you feel as if you're in the middle of those lesbian sexcapades and orgies.
POVR: A great thing about POVR is that it has both free and premium content. There are more than a thousand scenes in the lesbian category that range from HD to 4K, 6K, and even 7K quality. You'll be surprised at just how much you can get for free. But the best stuff is behind a paywall.
SexLikeReal: It's hard to find a website that offers the levels of realism that SexLikeReal does. With a focus on quality, expect a lower amount of videos than the competitors have, but rest assured that every single scene is filmed to absolute perfection with those lustful lesbian babes giving their all in front of the camera.
Which of These Sites Do I Use The Most (My Favorite)?
If you're asking for my personal favorites, I have to put Adult Time as one of the best. The quality is unmatched, the girls are beautiful, and every scene is unique. Kink.com is just as amazing when I want to spice things up in the BDSM area, and it's the one I love watching with my boyfriend. Finally, GirlfriendsFilms is the most female-friendly and is my go-to place for pure, feminine girl-on-girl action.