As you may know, I am a big fan of adult games, I find them arousing, and fun to play, and they bring me a different kind of satisfaction than what I get in normal video games, of which I am also a devotee. I guess you could consider me a bit of a geek when it comes to gaming in general and where adult gaming is concerned, I am just as much of a nerd. I enjoy discovering new adult games, I revel in a great story, and I love the erotic visuals as much as I enjoy the game to be exciting and filled with exotic gameplay.
There's something about kicking back and relaxing and going on a voyage of eroticism, your mind taking you into another universe where you get to experience different characters and feel yourself becoming aroused as you explore a game. Now, if you throw a VR headset into the mix things get even better and I wanted to share my very favorite virtual reality porn games, some are paid and some are free, whichever you choose, you are about to be taken on a journey like no other into an immersive and unforgettable world of VR porn games.
Best Paid & Free VR Porn Games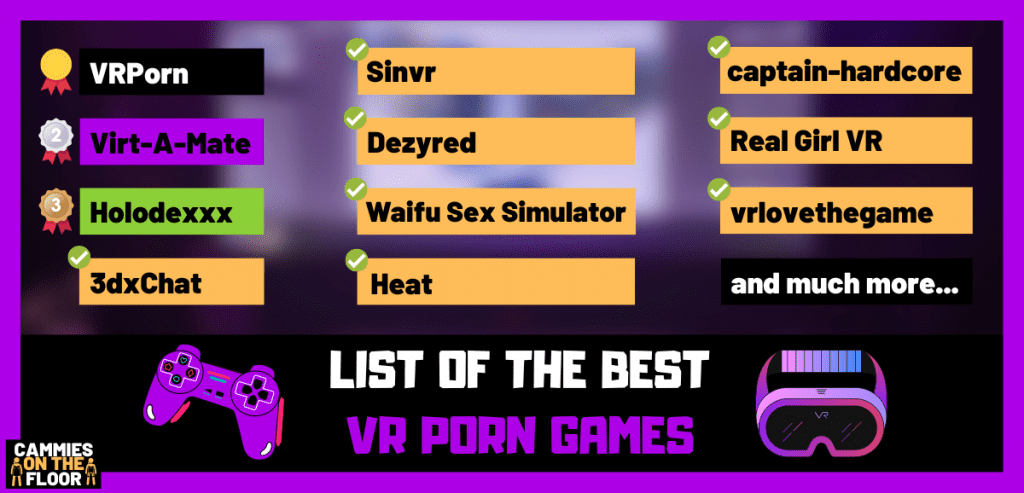 VRPorn – The Best VR Porn Gaming Website
If you want the best VR gaming experience, it's got to be here. I can't recommend this site enough, this is where most of the best VR porn games go (along with the best VR porn too). There are so many virtual reality games to be enjoyed, on a quick and easy-to-use platform and in many different categories so you can play as a bdsm master one day and as a beach hunk servicing a lost maiden the next.
There is a new game added every single day so you always have something to play on any VR device you have. Something that is also noteworthy is that the games are all immersive, richly detailed, and always have the best stories and experiences ready for you to explore.
This game is a little different from the last however, it is definitely worthy of its spot on this list. It is a virtual reality sex simulator, with richly detailed graphics, it's extremely realistic and the sex is insanely accurate and mesmerizing. Created by an indie developer (MeshedVR), this adult porn game has been a huge success and it continues to pull in new adult gaming lovers daily once you check it out, you will see just why people adore it and can't get enough of its realism and advanced VR techniques.
Up third on my list is this marvelous VR porn game, the graphics are incredible, it's fully interactive, and it uses 3D scanning to create the most realistic and true-to-life VR pornstars imaginable. It is being constantly updated and new features are constantly becoming available. I have a feeling that this game is going to just keep getting better and better, ensuring an unbelievable 3D word with 6-DOF technology (6 degrees of freedom meaning you can track both rotation and position making VR sex so believable),
3dxChat (Supports Sex Toys)
This is an interactive adult game that allows you to explore a vivid and unique world however you like. Interact with other players, have jaw-droppingly hot sex, and create bonds as you enjoy realistic sex and sex chat with others. It's fun to play, there are lots of players always online and it even supports sex toys so you can enjoy even more pleasure from your sexual interactions.
If you enjoy female domination or even if you don't and you just want something kinky and exciting to play, this dominatrix simulator is awesome. It's an immersive adult game with interactive dialogue and the ability to respond to your mistress's naughty commands. Obey her and be rewarded or don't and see what happens…
You can play this game with or without VR although I do think it's better with a vr device to hand. There are so many characters to enjoy, from milfs to vampires to everything in between, play with your new sinning girls with great attention to detail and live out your sexual fantasies in your very own dungeon and in the privacy of your own home.
This website has three games available at the time of writing this and they are great fun. The games are ultra high-quality (8K), offer 360-degree video, and have the best pornstars starring in them.
Double Trouble: With incredible 360 viewing pleasure, HK quality, and a fun and immersive multiple choice story, this sexy and more-ish vr game is not to be missed.
Womanizer: Find yourself always running into the hottest women and enjoy choosing your own horny fate with each decision causing a reaction, everything is in your womanizing hands.
Agent 69: Transform into a top secret agent and complete missions with hot, incredible women who cross your path along the way. It's a really fun, new game and if you enjoy vr games with real people, any of these three choices will be perfect.
Hentai content to the extreme, this sex simulator is erotic, detailed, and works on all VR headsets which is a huge plus. Create your own scene, your own female, and enjoy the realistic sex, the 360-degree views, and the incredibly interactive hentai scenes. This game is super arousing and you can have a lot of fun with it. Some people have commented on the design flaws of this game however, I have never really had any trouble with that.
Virtual mate (Virtual Sex Toy And Game)
The technology that this system boasts is incredible, it's like a fleshlight, except with the addition of a game and VR compatibility. It even comes with the ability to 'warm-up' for added realism, it syncs up to the highly erotic and realistic 3D Vr game with story-mode or quick mode where you can connect with your playmate instantly. It is actually the world's first virtual intimacy system, highly sensitive to your strength, speed, touch, and depth. Definitely worth checking out if you want extreme realism and something you can keep on coming back to.
Heat (Extra kinky Furry Style VR Porn Game)
It may not be everyone's choice but I wanted to make sure everyone got something they wanted from my list. If you're a furry or you enjoy furry adult games, this is going to be perfect for you. Visit multiple locations across the map, enjoy glory holes, penetrate your furry, use toys on them, thrust into them, kiss them, and even enjoy water sports with them too amongst a whole host of other ways to play this sexy furry-inspired adult vr game.
Explore space aboard your craft and encounter the hottest and sluttiest babes the universe has to offer. I love sci-fi games, I find with VR, sci-fi really brings you out of reality and into a world unknown, with no expectations and no ties to the real world. This vr game (which also works as a normal game) is not just great at giving you hot visuals and incredible sex scenes, the game itself is really fun too, something I love to see with adult games.
You don't need a VR set to play this game although it does make it more immersive. This game is a sex simulator that allows you to watch and interact with the hot women you find in each different location and scene. Everything is highly animated, with 3D models as well as the ability to completely control the hot sex you have and the environment you're in.
A strategy VR game with hentai themes throughout, there's sci-fi, hot women, a sandbox mode, and great actual gameplay that features squad tactics and missions to complete. The game is completely uncensored and highly detailed and some even claim it to be the most erotic and professional sex gameplay they have ever experienced.
It's not the most high-quality game that we have seen but it works well and it is adored by many for its virtual reality simplicity. You follow the story through where you are seduced by Aida, who thanks to the developer's constant updates is always changing, we have seen pubic hair added, as well as more realism and even anal insertion.
A terrific uncensored fantasy game set in a universe that's ruled by magic and sensuality. Casually unlock special features, fuck incredibly hot animated female elves, enjoy casting spells, solve puzzles, and immerse yourself into this mystical realm of sexual possibility and adventure. This game takes you into another world and captivates you from the start.
Created your own 3D avatar in this social simulator that allows you to experience love and life within the virtual reality universe. Enjoy a totally unique and crafted experience, explore the world and most of all, enjoy the uncensored sex and kinky scenarios you will most likely find yourself in. You can even use compatible sex toys to really take the experience to a new level, something both me and my girlfriend love.
A simple and fun VR game that won't break the bank. If you enjoy blowjobs or if you just wanted to add a blowjob simulator to your collection, this one is iconic. You have full control of the actions, it's easy to use and allows you to blow your load down a nice, warm and horny throat whenever you need it most.
Control the tempo using hand-tracking, listen to Jana's tough commands, and obey her as she leads you through some wonderful sexual scenarios. I have blown many loads with Jana. She has so many different positions to choose from, she's so sexy and fun to play with. The game is easy to learn too, which is always a bonus with virtual reality.
Honorable Mentions: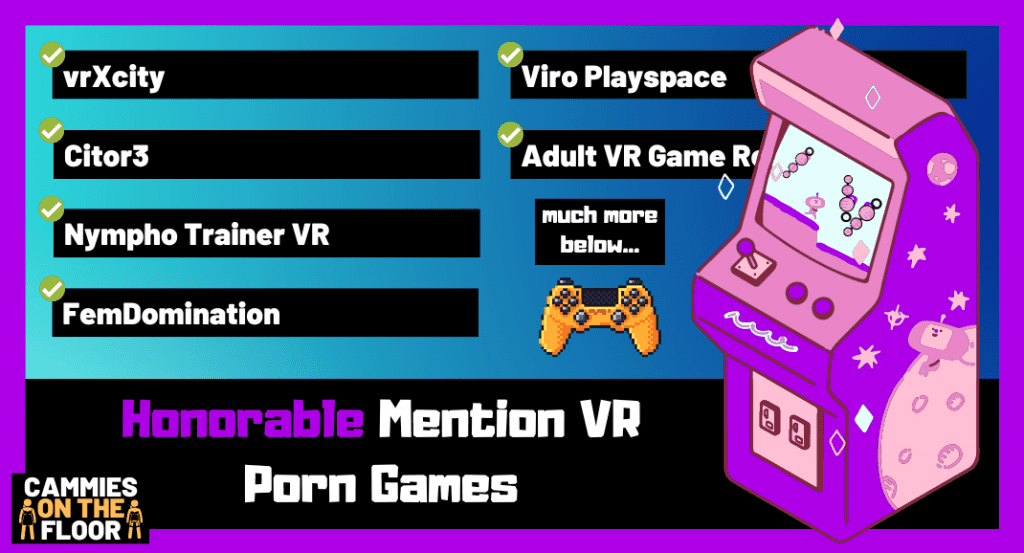 Although these games didn't make it onto my main list, I did want to mention them because as far as VR porn games go, they are most certainly honorable and deserving to be mentioned for those of you still searching for the perfect porn game:
vrXcity – You're the producer and today your task is to find the perfect pornstars and shoot the best movie.
Machine Ruin Self-Destruction Masturbation Life of the Sky Temple – Can be played with or without VR, in this game you control the pleasure and your goal is to induce the best pleasure and free your target.
Nympho Trainer VR – Hentai-inspired, bdsm-themed sex simulator where a cute anime girl needs to learn from her master as you please her however you wish.
Sexbot Quality Assurance Simulator -After a thermonuclear war women were put close to extinction, that's where sexbots came in and now you're there to assure all future sexbots pass quality and standard control.
FemDomination 1 and 2 – If you like female domination, this game is great fun. You are under the mercy of a femdom mistress and you must obey or pay the price.
Citor3 – Try and resist the temptations of this dominatrix doctor as she tries to cure you of your ailments or don't resist and enjoy her sensual seduction.
Viro Playspace – A virtual social club with a twist, touch is encouraged, live out your fantasies, explore alone or with other players and immerse yourself into the wonderful world of virtual reality.
Adult VR Game Room – Here you manage a research lab where you create sexbots, you can interact with your creations and share them with the busy multiplayer world too.
VR Kanojo – A social simulation game with lots of backstory, great graphics, and a nice payoff, it doesn't just let you jump right into the sex which builds anticipation and a lot of desire during gameplay.
VR Porn Videos: If you also want to mix your gaming with some videos, we created this list of all the worthwhile vr porn sites.
Sites That Host VR Games
There are some sites out there that host most of the VR games that I have mentioned, if you wanted to check those out by yourself, these are all of the top sites with VR porn games available:
VRPorn: Not only do they host a huge selection of actual VR porn they also have lots of VR porn games for you to play too. This site is definitely my favorite and has so much choice, there's always something new to watch or play with VR and most games and films can be played with any kind of VR headset.
Nutaku: Primarily featuring Hentai-themed games, this VR gaming platform is innovative and filled with incredible choices the website itself works flawlessly, and it's so easy to find the right game for you.
Wet Pussy Games: A completely free hentai gaming site, there are a lot of games to be enjoyed here. As it's free you do have to contend with pop-ups and ads however it is worth it as you can have hours of free fun playing these steamy, arousing games.
Steam: Steam is a gaming platform for all kinds of games, not just porn games. It has a great selection of VR adult games, along with reviews and an easy-to-use platform that makes downloading games a breeze.
Which Games Do I Play The Most?
I have a membership to VRPorn so I use a lot of the games they have listed, I find their selection to the best as there's something for every sexual craving I get and I also mix between virt-a-mate and holodexxx too. I do also play a lot of the sex simulators regularly that I mentioned when I just want something quick and easy to play.
I actually have quite a big collection of free and paid VR games that I go between because I find unlike normal porn games or just regular video games, VR games really depend on my mood and my arousal and what I'm feeling like. Virtual reality can be so immersive and so I like to get the game right as otherwise, I can feel quite out of sorts when I am horny and just looking for the right game.
The Ultimate VR Porn Experience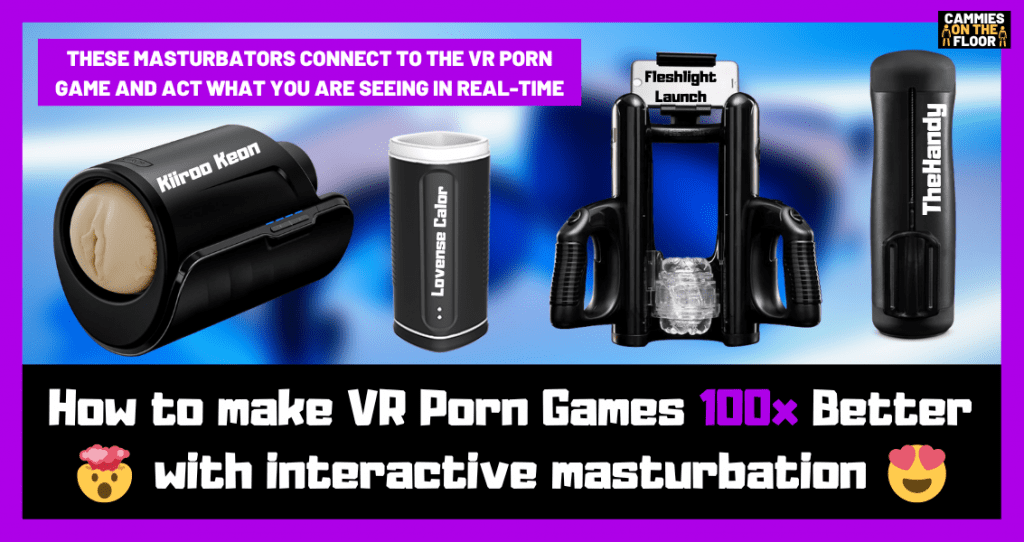 Virtual reality porn viewing is incredible on its own but you can make it even better. I like to have my girlfriend ride me or give me a blowjob as I am watching VR porn (I do the same for her and she loves it), or I use interactive toys.
Interactive Sex Toys like the Kiiroo Keon, Lovense Calor, Fleshlight Launch, and TheHandy, work with websites like LikeRealSex and a few other VR porn sites offer porn that connects with interactive sex toys and allows you to watch the porn while the sex toy does what is happening on the screen. It's not a game, but it's probably the most immersive VR porn experience I've had so far, so thought it was worth a mention.
I also do know a few of the games above have it enabled, but it's not a massive feature in the gaming side of VR yet. I think it will take a little more time for the games to all catch-up and introduce it to their games.
Questions About These Games That I Had
Virtual reality games can arouse a lot of questions, especially when it comes to the headsets and how you actually get them to work. I had loads of questions before I started playing the regularly and so I have answered the burning questions that I had but if you have any more for me, leave them in the comments below and I will get them answered for you. As somebody who plays VR games all of the time, I am confident I have had any issues you may be facing and more!
Do All VR Headsets Work With These Games?
The game will specify the type of VR headset that is compatible with the game, if it's not immediately obvious look in the section labeled 'specifications'. A lot of the games I mentioned are compatible with all headsets however, there are some headsets that work better than others.
The headsets that work best with these games:
Oculus Quest 1 and 2
Oculus Go
HTC Vive
Playstation VR
Smartphone VR With Goggles (not the best, but can work well).
Microsoft MR
Gear VR
These are the most common, you do need to double-check compatibility and do your own research however these headsets are the most common and do work well with VR porn games.
Do You Have To Download All The Games Mentioned?
Some are playable online and some have to be downloaded, this will be obvious when you click the game you want as it will allow you to download or access the game on their website via a login. Downloading games is easy, just make sure you download from the creator's website or a trusted source and make sure you check the specifications of your device and ensure you can play the game with your hardware.
Playing games online is easier as there's no installation and all you will need is an internet connection, however downloading games ensures you don't have to remember a login or even a website to play your favorite game again.
Do Any Of These VR Porn Games Work With Interactive/Teledildonic Sex Toys?
Yes! LikeRealSex and VirtualMate both work with interactive sex toys, this takes virtual reality porn gaming to a new level of immersion. All games that are compatible with sex toys or teledildonic sex toys will be clearly displayed, they want you to have the best experience when gaming and so make sure to look out for the notice and have fun!
If you have any vr porn games that you want me to try out, make sure to leave them down below for testing!