It's time for another random chat site review!
This whole concept – of two people randomly assigned to each other either based on nothing at all or just a handful of keywords or preferences – started with Omegle back in 2008. Since then, random chat sites exploded all over the web and people came flocking to this revolutionary new way of meeting strangers.
It wasn't soon after that similar sites made only for adults and with adult themes in mind started springing up everywhere. That's how today we have Dirty Roulette, Jizz Roulette, and others. (Find more sites on my list below.)
For people who love cam sex and sex chats like my girl and me, these are a revelation.
Which brings me to the topic of today's review: a random chat site very creatively named ChatRandom.
Let's see what it's about!
So, What Is ChatRandom?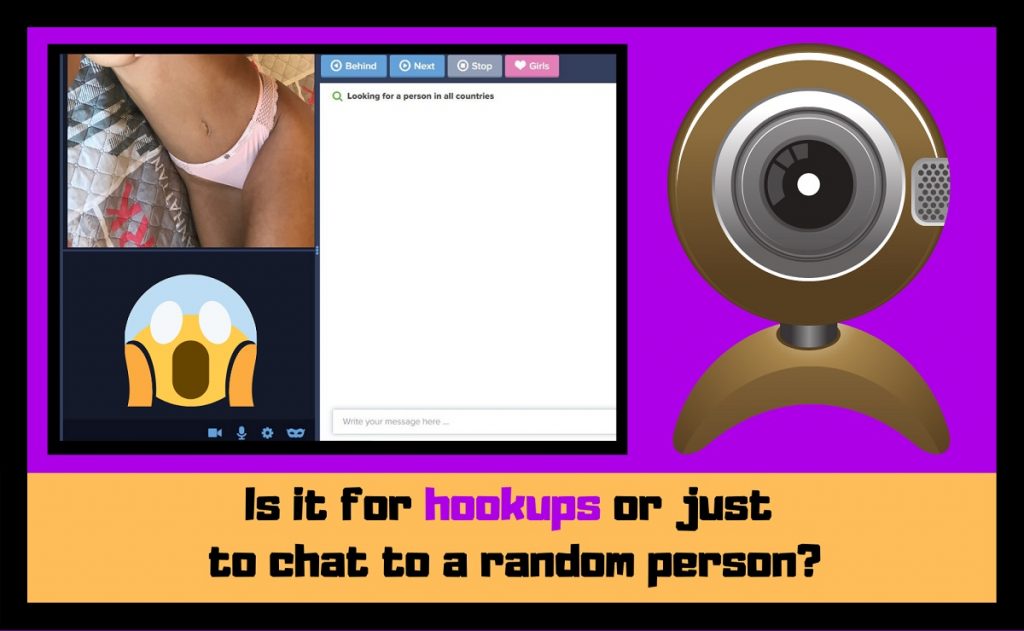 ChatRandom is an alternative to Omegle. It was released not two years after Omegle and thus belongs in the category of the earliest random chat sites that are still online. This makes it tried and true and quite trusted overall.
The site enables you to video chat with strangers in a blink of an eye. You don't have to make an account – all you need to do is click on 'Start' and you're already chatting!
That being said, the biggest drawback to ChatRandom is that it is not limited only to adults. Teens and adolescents also have access to the site and, even if you do get paired with an adult, it's not a guarantee that they're looking for quick cam sex.
ChatRandom encourages genuine relationships and friendships, and while there is a fair share of kinky users, it is not all about sex. In fact, on occasion, you will get a warning that you're not allowed to stream porn, nudity, or vulgarity on the site. (As long as the other person is comfortable with it though, you should be good. So far, we haven't had any problems.) Keep this in mind as you look for a potential partner to jerk off with.
What ChatRandom Looks Like (Screenshot)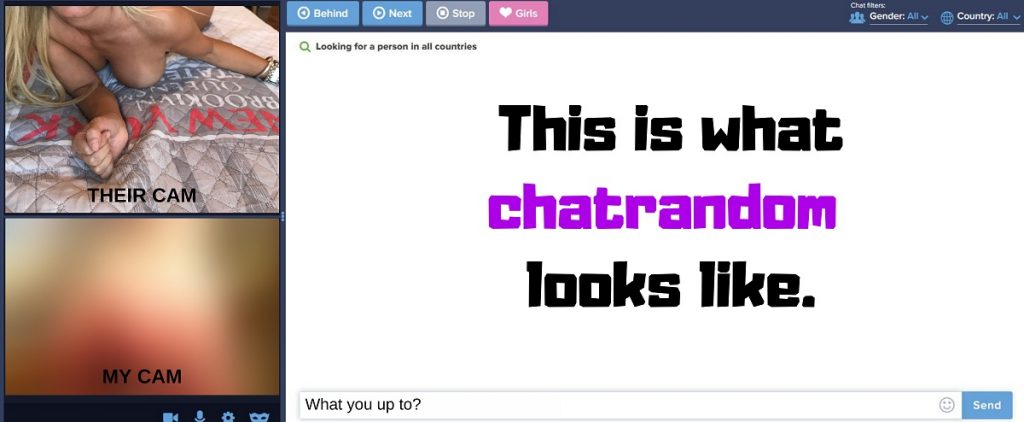 Even though it has the word 'random' in its name, this site isn't completely that. You do get some minimal control over who you get paired with, which is a good thing.
Once you start, you are welcomed to the Chat Rooms with a window that prompts you to select what you'd like. You get options like Chat With Girls, Random Video Chat, Random Gay & Bi, Just Friends, College Chat, Random Singles & Dating, and more. I love the specificity here because it allows me to be a bit more selective with who I randomly get. You can also choose which country you'd like your partner to be from.
When you get a person assigned to you, the chat window itself is pretty simple. There is a large text chat frame along with the person's and your webcams on the side. You get to turn your webcam on or off whenever you like.
If you're not happy with who you got, you can just click Next and move on. However, the site encourages you to spend some time chatting with whoever is on the other side.
My Girlfriend & I Love Cam Sex And Sex Chat (Together & Alone)
It is no secret on this blog that my girl and I are kinky people. We regularly visit cam sites, pay for private cam shows, meet strangers online to have offline threesomes and foursomes with, and we also love playing porn video games. We love all things sex and as such, we also enjoy hooking up with people on sites like ChatRandom for quick fun.
You can choose whether or not you want to use ChatRandom as a solo male, a solo female, or as a couple. It's not always that we use it as a couple; sometimes I use it by myself, and sometimes my girlfriend likes to relax with a random person of her choice.
Our favorite, however, has to be chatting with another couple. We love swinging and partner-sharing, and meeting other couples who are just as open in their relationship as we are is a huge turn on. ChatRandom may not be the best place for meeting couples like these, but it has been known to happen.
Some Sites Like ChatRandom (Where We Go When We're Bored Of ChatRandom)
Price Checked: All the sites below have been price checked for the best deals and free trials on the: 04/10/2023
If you find yourself unenthused about ChatRandom or would like to see what else is out there for any other reason, this list might be useful. I've put together similar sites – some random chat sites, some random cam sites – for you to check out. Not all of them are amazing, as you'll see by my short descriptions, but I'm sure you'll run into one or two that are right up your alley.
Slutroulette is a cam site. This means that you're not paired up with strangers who want a bit of naughty one on one chatting, but professional cam models who are there to put on a show for a wider audience. You are not the only person the model is in contact with unless you pay extra for a private show.
However, as a random cam site, Slutroulette is a decent choice. There are categories you can choose from, such as Teen 18+, MILF, Couple, Big Tits, Redhead, Ebony, and more. When you click on a category, a random cam girl from that category shows up. It's nothing special, but it is a decent cam experience. Making an account on Slutroulette is free.
Now, this is more in line with what ChatRandom is. Flingster is a chat site with a focus on adult dating. This means that anyone you meet here is looking either for a casual hookup (online or offline) or perhaps even for a long-term relationship. (But most people are just looking for a fling, as the name of the site implies.)
Flingster is completely free to use. You can use your webcam, text chat, and microphone to talk to others. The site goes above and beyond to ensure your safety through the latest encryptions and even special virtual face masks that you can wear and not be recognized.
My girlfriend and I love using SkyPrivate. I absolutely love it. This is a cam site in a way, only it's nothing like the standard cam sites you regularly visit. SkyPrivate offers you a selection of incredibly beautiful, hot cam models. You can read about them in their profiles and then when you find one you like, you can arrange a private show with them.
These shows are held through Skype. For a hefty price (these are not cheap!), you get to schedule a private cam show at a specific time in your busy day, and your favorite cam model logs on to help you get off. Isn't that just an amazing concept? We don't use this one too often because of the cost, but we like to treat ourselves to a SkyPrivate show every once in a while.
In its core, JerkMate is similar to Slutroulette. It has a slightly better, more user-friendly interface. Once you open JerkMate, you are met with a cute robot assistant who asks you all sorts of questions about your preferences when it comes to cam models. The site's algorithm then chooses the model you'll like the most.
Random cam sites are convenient when you don't want to waste too much time on choosing which stream to watch. The randomness isn't perfect, as you sometimes get a model that doesn't fit your tastes, but all you need to do is click the 'Next' button to move on. JerkMate is a good choice if you're looking for an unconventional cam experience.
Jizz Roulette is exactly the same as Slutroulette. They have the same features, the same random cam site principles, and they even share the same UI. However, unlike Slutroulette, where you can find both male and female models, Jizz Roulette is all about the gay guys. If you like a good male show, this is where you should be.
I admit that I personally haven't used this one much because I am not too into watching male models. However, my girlfriend gave it a thorough analysis for me and said that the models found here are insanely hot and that she was adding it to her list of must-see cam sites. So there's that. Jizz Roulette is all about that gay goodness.
In many ways, Coomeets is considered a worthy Omegle alternative. This is an online chat dating site where people come to meet potential partners, whether for just sex or for a romantic relationship as well. The premise is simple: you log on, get paired up with a random person, and start chatting!
While Coomeets is cool for meeting new people, it is not specifically meant for online sex. Sometimes, you will stumble on someone who is more interested in meeting in person or perhaps going on a date. This is why we're not regular users of the site – because we're mostly looking for online sex – but it doesn't mean you can't make good use out of it.
FapChat is on this list only for me to warn you about staying away from it. While it may look like a legit chat site on the surface (and may is a strong word here because it looks spammy almost right away), this is actually a scam that will try to get you to sign up for some other dating site (not for free).
Namely, when I tried signing up for FapChat, everything seemed to go smoothly. Then I got a confirmation email, and the link sent me to a different website that has nothing to do with FapChat. This is where I realized that FapChat is fake and that its purpose is only to draw you into that other site. Don't fall for it. Just avoid FapChat any way you can.
Shagle immediately charmed us with its simple yet creative name; love the combination of 'Omegle' and 'shag'. So funny. Additionally, this is also a decent site to find someone who wants to get down and dirty with you through a webcam. It has over two million members, so you are sure to find someone who works for you.
This site allows you to filter people by gender – whether you want to chat with girls, guys, or couples – and you can also meet people from different corners of the world. We especially love this worldwide option because there is something exceptionally hot in having online sex with a foreigner. If they speak English, that is.
Amazon's Alexa states that ChatSpin is one of the fastest-growing apps of its kind. It has thousands of users who log on every day. The average age range of ChatSpin users is between 18 and 25, meaning a younger crowd, and I love that there is almost the same number of women as it is of men. This is not something you often see on chat sites like these.
ChatSpin is easy to use on your mobile phone, whether you have Android or iOS, and it would be great if it were sex-oriented. However, ChatSpin encourages friendship and dating more than casual or online hookups, so it might take a while before you find the right person to have cam sex with.
Even though Meet In Chat is a small community – barely over fifteen thousand registered users – so far, it has garnered amazingly positive reviews. Meet In Chat users are thrilled with the selection of chat rooms since they are all meant only for adults, and the number of open and friendly women you can meet here seems larger than on other sites.
The chat rooms on Meet In Chat can be about mature ladies, about latex lovers, and about any other kind of kinks. They're well moderated, meaning there is no rudeness or abuse, and you can easily block anyone you don't like. Meet In Chat may not be hugely popular, but it is a site worth checking out.
Which Of The Above Will You Find Us On?
Out of all of the sites on my list, the ones my girlfriend and I visit the most are Slutroulette, Flingster, and SkyPrivate. SkyPrivate, especially, is where we love to book shows for special occasions because their models are insanely skilled.
Sometimes we go on Coomeets, but not too often. The sites I already mentioned are the ones we use the most (and like the best).
Our Impression Of ChatRandom After A Week (Is It Legit?)
Yes, ChatRandom is legit. You can start chatting with people without registering and if you do decide to make an account, you don't have to pay anything to have full access to the site's most important features. Neither my girlfriend or I have made accounts on ChatRandom and yet we had no trouble chatting with people as much as we wanted to.
When it comes to the safety of your information, ChatRandom is great because it doesn't ask you for any.
It Takes Jerking Off To Another Level
Just like a cam site or any other random chat site, ChatRandom offers you the unique opportunity to meet people who want to have cam sex right away. They could be as horny as you are, and sometimes you might even be greeted with a shot of a penis or tits before you even get to know the person.
Jerking off with someone watching you or masturbating along with you on the other side of the connection makes for a lot more interesting private time. It doesn't matter if you are single or part of a couple – including a horny stranger in your session might just be what you need to raise your kinkiness to a whole new level.
You Have To Try The Cam4 Feature
Cam4 is a feature that allows you to chat with four strangers at the same time. This is not something I would advise for beginners, as it takes skill and a relatively calm demeanor to be able to juggle so many people at once. During Cam4, there is a group chat where everyone is included, but you can also chat privately with each person.
To be honest, my girl and I don't really use this for chatting. We start a Cam4 session, chat only as long as it takes us to see whether everyone is down for watching us have sex, and then we just go for it, which brings me to my next point.
Fun If You're An Exhibitionist
If you enjoy showing off yourself or your partner, this is a good site to do it on.
People love to watch. That's just a fact. Watching porn, whether professional or amateur, live or recorded, is in our blood. More often than not, when you present someone with the chance of watching two people having sex, they're going to jump at the chance.
This is what we most often do on ChatRandom. We have sex while strangers watch.
You guys already know that we love it when we have an audience. We love putting on a good show and satisfying each other at the same time as we satisfy those who are watching us.
ChatRandom and the Cam4 feature, in particular, are a godsend for kinky souls like my girl and I are. If you wish for a little spice in your regular playtime, this would be my honest recommendation.
Are There Women Who Use This Site? (Ratio)
There definitely are women who use this site! As with most other chat sites like these, there are more men than women (sadly), but that doesn't mean you can't find a hot girl. My girlfriend and I are mostly interested in other girls for cam sex and, so far, we've had no trouble finding them.
ChatRandom offers you a convenient button on the top of the chat window; it's bright pink and it says 'Girls'. Click on it to get connected with females only. This will make everything a lot easier for you.
(You can also choose whether or not you want to connect with just guys or just couples in much the same way.)
Another Way To Have Cam Sex & Meet Other Kinksters
I've mentioned it a few times, but one of the best ways to meet another couple, solo female or solo male, is to join a kink dating site like Adult Friend Finder. That way, you get to know someone, form a bond with them, and you can maybe even arrange to have Skype sex regularly.
From our vast experience, we've found that Adult Friend Finder works the best, but you can also try Alt.com and Ashley Madison. We've had some success there as well.
Dating sites like these are more intimate than random chat sites. They allow you to make a profile and specifically list what you like and dislike. This increases your chances of finding the exact type of partner you're looking for.
You can get to know someone, form a friendship or more, and you get to have regular cam sex (and sometimes even offline sex) in the entire process. It's a win-win all around!
Verdict (TL;DR)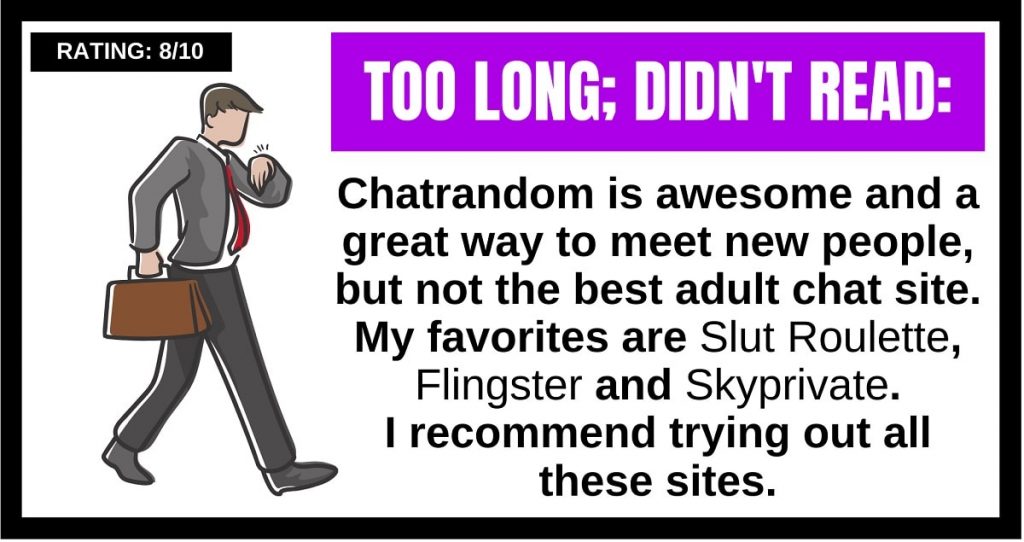 While ChatRandom offers a lot in terms of anonymity and convenience, it's not our number one random chat site. The reason for this is mainly because ChatRandom isn't geared for adults or for sex and/or dating specifically.
It promotes itself as a chat site in general, and the lower age limit for its users is 13. This means that you can easily stumble upon a high schooler on ChatRandom, which is not ideal.
However, it has given my girlfriend and me some amazingly erotic experiences. Once we make sure that the person on the other side is older than 18 and down for something dirty, that's when the real fun starts.
So my advice would be just to be careful. You can definitely meet kinky people who will want to play with you, but before you jump into anything outrageous, first check whether or not this is what they want in the first place. Otherwise, enjoy your time on ChatRandom!