BDSM is defined as a sexual exploration, a practice, a lifestyle and/or any other similar terms by those who happily engage in it. It is an acronym from phrases bondage and discipline, dominance and submission, and sadism and masochism. Overall, it is considered a spectrum of extreme sexual kinks that involve power play and pleasure derived either from causing pain or experiencing pain.
It's not for everyone, that's for sure.
When Tiffany and I first started thinking about BDSM, we were hesitant and we weren't even sure what BDSM exactly entailed. But we were curious, sure of our relationship and our mutual desire to try new things, and thus we started roaming the web for sources that could help us.
It's easy to get lost in all the information once you dig deeper into the matter. So many sites, blogs, forums, chatrooms are out there to help you with your BDSM journey.
One such place used to be CollarSpace.
What is CollarSpace?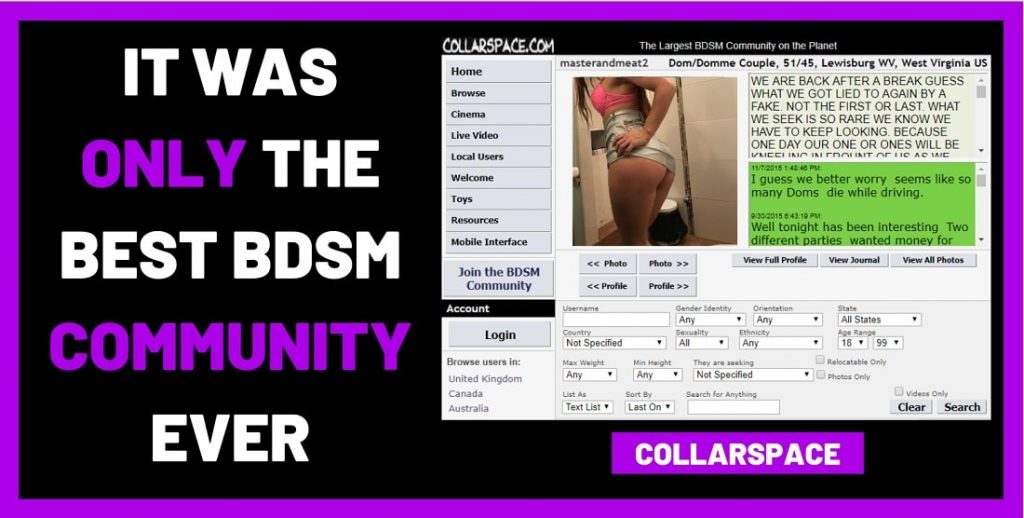 Rather, a better question would be: what was CollarSpace?
This was an online community for BDSM enthusiasts who gathered here to post personals – meaning ads on what they were like and what they looked for in potential partners – but also to share stories, experiences, and ask questions if they had any concerns. It featured a chatroom, live video streams, and an abundance of information about safety when it comes to these sexual practices.
It was one of the best websites of its kind – and likely one of the first, given the simple, outdated layout of its page.
What Happened To CollarSpace?
Essentially, CollarSpace is closed for new people and those who are looking to join the community. My best guess is that it has been bought by Alt.com, which then didn't shut it down but did prevent new members from signing up and further increasing the site's numbers.
If you try to log in or sign up, CollarSpace redirects you to Alt.com.
You can, technically, still try to make an account. If you're so determined, visit this link: https://www.collarspace.com/bdsm/register.html and fill out the form, though your new profile will likely not get approved.
Everyone who already has an account on CollarSpace can still use it, you just can't make a new one.
My Review Of CollarSpace
What's left of the site is still good and usable.
There are people online at any given moment, looking for BDSM buddies to chat with, connect with and maybe even meet with in real life. You can even find users near you by clicking on the Local Users button.
The Cinema feature is no longer in function, but in the Live Video area, you can watch a random live stream from a cam site, usually Chaturbate. (Though if you're looking for live cams, you should definitely check out a real cam site rather than see what CollarSpace decides to show you.)
Since I'm not one of the lucky people who already have a CollarSpace account, I can't exactly tell whether the chatrooms work or not. Maybe they even do.
In the Resources area, even without making an account, you have access to useful information. You get to learn about SSC (Safe, Sane, and Consensual – the driving principle behind BDSM), about the terminology and important words and phrases to keep in mind, about how to protect yourself both in an online community such as this one and in regards to your health.
CollarSpace even has a link that leads you to a website you can buy sex toys on.
However, the fact remains that without an account, you won't be able to meet those who are advertising their kinks on the site.
CollarSpace used to be one of the best places for BDSM fetishists to hang out. It was open and welcoming, judgment-free, and it was relatively easy to find what you were looking for.
Do People Still Use It?
Despite the site's drawbacks and obvious lack of fresh meat, it is still active and over three hundred thousand people log on each month.
It's simple to navigate once you get past its basic, uninspiring design. However, it does come across as spammy – especially in the way, it's constantly trying to get you to sign up for Alt.com.
Because of all this, even though it used to be the go-to place for BDSM enthusiasts, today other sites have taken those top spots. I have browsed through all of them – or the vast majority, anyway – and made accounts on most because I like to try new things and expand my horizons when it comes to online places where I can meet new people.
So if you're curious about good alternatives for CollarSpace, take a look at my extensive list of similar kink sites below.
Sites Like CollarSpace (Alternative Sites Where All The Kinks Are Hiding)
I price checked for all the best prices and deals for all the dating sites mentioned in this article on the: 04/10/2023
So, CollarSpace is gone and you need somewhere else to fill that big void it left? I feel that and had the same experience. So, I checked so many different sites and nothing lived up and I keep testing and then after a few months, these were the sites I was still using and loving.
Throughout this review, you will notice that not many of these sites are up to date when it comes to their layouts. The same can, fortunately, not be said for Fetish.com. My personal favorite, the moment when you open it it's obvious that its creators are investing time and money into the site, which immediately makes me feel better about what awaits me once I log in. (Or sign up, if you're not already a member.)
On Fetish.com, you can search for users based on the fetishes they like, you can chat with them or read their posts on the forum. This site makes it ridiculously easy for you to take your relationships to another level and actually meet someone in person. All you need to do is make an account, upload some sexy pictures to draw attention, and start browsing!
Despite what you may have heard, OkCupid is not just about dating. While it appears as a regular, cutesy dating site that promises to find your soulmate, in fact, this is a great place to find a kink partner. OkCupid doesn't discriminate in any way, whether by gender identity or sexuality and certainly not by what you're into in the bedroom.
Once you make an account here, you get asked loads of questions. Answer these truthfully, and try not to skip them. These will help you get matched with people who are into the same stuff as you are. OkCupid is remarkably accurate in its matches, and my girl and I have met more than one sexual partner for our playtime over the years.
FetLife

(Great for socializing)
Despite having written an entire review focused solely on FetLife, here I will present to you just why it is one of the best sites for BDSM fans to flock to. It is a community of almost 8.5 million people, making it impossible for you not to find someone who is into the same fetishes as you are. Don't get disheartened until you've tried FetLife.
The best thing about this site is that it is 100% free. And I mean, 100%. You do require an account to access the site itself, but it doesn't ask you for any credit card information or restricts any features until you sign up for a membership. This is a paradise for everyone serious about their BDSM activities, and it mustn't get passed up. I did a full review of Fetlife showing off some amazing features and secrets about it.
Collarage functions similarly to CollarSpace, or how CollarSpace used to be, but its appearance is even worse if that's possible. It seems as though this site is much more suited for mobile phones than it is for desktop viewing. Honestly, the landing page itself is enough to turn me off completely.
However, if you look past this, you will find that Collarage may be a good supplemental site for finding sex buddies. You have to make a free account, and then you can search through their database of users according to their age, gender identity, sexuality, orientation, country/region, ethnicity, and more. Overall, it's not the worst site of this type out there.
At first glance, Bondage Pal looks simple and easy to navigate, and that is all I'm really looking for in dating sites. You can sign up without giving your credit card information, and everything that the site offers is completely free. The emphasis here is, as the title of the site suggests, on finding a BDSM partner, either for a long-term romantic relationship or casual sex dates.
One of the downsides to Bondage Pal is that it's not a large community. It has approximately one hundred thousand members, which isn't many compared to the more popular sites, but is still plenty enough for you to find a good person for your adventures.
So that you don't hold it against me that most of these sites are US-centered, here is one for our friends across the pond: BDSM Date is a supreme source of all sorts of great, kinky people based in the UK. It is structured as a board for personal ads, where subs and doms advertise their services in hopes of striking someone's fancy.
The registration on BDSM Date is free, and you can search through their database by using all sorts of filters: gender identity, orientation, location, age, marital status, height, weight, likes and dislikes, and others. It also shows which users are verified, meaning confirmed real people, which adds a nice layer of safety to everything.
Reddit Personals
If you're into amateur porn, BDSM, cuckolding and hotwifing, swinging, or really any other type of porn, especially the one where you'd like to meet new people to try new things with, then you must be on Reddit.
The beauty of this site is that everything is allowed, as long as it's properly labeled and restricted to minors. There are thousands of subreddits devoted to BDSM and different fetishes, and here I'm just going to mention a few of my favorite:
A community with almost two hundred thousand kinksters, this is a hub meant for discussion, help, and conversation in the BDSM world. If you have any issues, you'd like to hear other people's opinions on, here is the place to present them.
Different than BDSM Community, Dirtyr4r stands for Dirty Redditor for Redditor, meaning that here is where you post your ad about what you're looking for or maybe browse through those already posted to see if someone catches your eye.
This subreddit is similar to the previous one. However, whereas Dirtyr4r hosts over three hundred thousand members, BDSM Personals is a relatively small community, with barely 87 thousand Redditors joining in on the fun.
This is where the kink comes out for everyone to see it. Featuring pictures of lovely subs and doms (though usually subs), you get to witness other people's sexual endeavors through their explicit pictures and stories. If you dare, you can even post your own!
Fetster is another website that could use some visual updating, but it's not bad when it comes to collecting people who are into different subsets of BDSM. If you're interested in discipline, domination, control, cuckolding, feet worship, pegging, rope play, or many other fetishes, you should sign up for Fetster.
Making a profile is quick and easy – and free! – and you'll find content such as photos, videos, a blog, classifieds, groups, a forum, and even events that are organized either online or at an actual location. This may not become your primary source for finding partners, but it's a great help.
I have to admit that I'm partial to The Cage. I love how it looks, I love how easy it is to click through it, and most of all, I love how active it is! At any given moment of the day, there are people posting on the forum, replying, uploading new blog posts, creating new kinky dating ads and so much more.
This is such a great, open community that it left me in awe the first time I ventured here. It even has a Magazine section, where you will find a ton of resources and information on SSC, BDSM, tips on how to get started and similar. If you're a BDSM newbie, I highly recommend starting with The Cage.
Kink.com (If you're after the porn side of BDSM)
All of the sites I mentioned before Kink.com were about the BDSM communities, where you can find like-minded people, where you can turn for advice or where you can ask if you're having any type of problems. Well, Kink.com is a little different. Kink.com is all about porn.
And no, don't worry. The porn you will find here is nowhere near the tame, almost gentle, stuff you'll find in Pornhub's BDSM category. Kink.com prides itself on extreme fetishism, humiliation and pain of the subs like you wouldn't believe (though all within the limits of sanity, of course). So if you're looking to just get off to some good ol' BDSM porn, my best advice would be to visit Kink.com.
Should You Try Alt.com?
You will notice that in my list, I haven't mentioned Alt.com, the site which supposedly is now the owner of CollarSpace.
This isn't because Alt.com is a bad site, by any means. In fact, my girlfriend and I had some great hookups we've met here.
But Alt.com is different from CollarSpace. It is different in design, it is different in features, and it is also different in terms of cost.
Namely, one of the most important aspects of Alt.com (and one which makes many people opt-out), is that it requires you to sign up for a monthly subscription in order to access most of the site. The only thing you can do here for free is to check what type of people there are in your area, using a tiny hack I talk about in my full review of Alt.com.
This review is also where I talk about why Alt.com not being free is actually a positive thing. It helps maintain the website, helps the creators provide you with more high-quality content and features, and it filters out the people who are not serious about their BDSM inclinations and the creepers who have no true respect for the lifestyle.
So what exactly can you find on Alt.com? You can find chatrooms, forums, blog posts, as well as galleries and galleries of photos and videos of BDSM fans, just like you sharing their various experiences.
Above all, Alt.com is meant as a dating site. Here, you will find profiles of people looking for long-term partners and for short-term sex buddies, and I'm sure that it won't take long before you run into someone you click with instantly.
In short, if you're looking for another CollarSpace, you won't find it on Alt.com. But in itself, Alt.com is a great place to dive into and find people that suit you in terms of their looks, personality, and fetishes.
You can see my full alt.com review, if you want to know a little more about this site.
The Ones That I Use The Most
It is perfectly understandable that even with all of what I've laid out for you here, you're still not sure where to begin. Which site is the best site?
The secret is that none of these are the best. Some of them will work for you better than others, but all of them have their own set of flaws.
However, I might be able to help by revealing the top 3 sites I use the most. They are, in no particular order:
OkCupid is great for dating and looking for partners you will want to see more of, not just as a one-time hookup. Now, I'm in a committed relationship, so I'm not looking for a partner of that kind, but when Tiffany and I were searching for someone more permanent to add to our routine – someone we could really get to know and come to trust and who will become our friend and not just a sex partner – we turned to OkCupid.
And it wasn't long before we found a match!
Fetish.com offers a similar experience to CollarSpace. You make your ad with any information you feel comfortable sharing about yourself, specify your fetishes and what you're looking for, and then it's just a matter of time before someone sends you a message. You can also easily search through the other members in this huge collection of personals. Fetish.com is not exactly the same as CollarSpace, but in my opinion, it's an upgraded version. What CollarSpace would have looked like, had it been remastered and allowed to continue growing.
Finally, I chose FetLife because the sense of community on this website is unlike anything you will ever encounter.
In general, online BDSM communities are mostly accepting and warm and eagerly welcoming new people into the fold. But there is something about FetLife that stands out, this specific brand of togetherness that you feel when you interact with its members, that neither my girlfriend or I have found anyplace else.
Final Verdict (TL;DR)
TL;DR: it's a bummer that CollarSpace is no longer supporting new members. It was a great spot to join if you wanted to hang out with people who had the same kinks as you, even though it wasn't anything impressive design-wise.
However, just because you may not be able to sign up for CollarSpace doesn't mean that you should give up on finding a BDSM community that fits you.
As you saw from the many, many examples I've listed here, there is an extremely kinky website out there for everyone. You just have to spend a little time investigating each of them to decide whether they feel right for you or not.
Remember what the final goal here is: to have fun! Relax, be open and honest (and safe!), and there's no reason why you won't have an amazing time wherever you decide to settle in!