The popularity of cuckolding and hotwifing has been on the rise in recent years. For the uninitiated, this is the practice of 'sharing your wife', with slight differences between the two terms.
Cuckolding is when a wife (or a long-term girlfriend) has sex with a man who is not her partner, while her partner watches or is forced to watch. There is an emphasis on the humiliation or degradation of the husband here. He is submissive to the other man, called the bull, who is an alpha and superior to the husband in some form. Cuckolding can also be called cucking.
Hotwifing is similar, in the sense that a woman from a long-term committed relationship is having sex with someone else (with her partner's permission), but it doesn't have to include that note of power play. Wife sharing can also fall under the category of hotwifing.
When you're first starting out in this amazingly hot world of sharing partners, everything can seem a little overwhelming and confusing. So before you take actual steps to make this fantasy come to life, why not spend some time in the communities of people who have the same fantasy?
Reddit is a social media network where everyone can find what they like. This includes porn and all of its subsets, of course. So it is no surprise that Reddit is chock-full of subreddits created specifically to cater to the needs of those in the cuckolding community.
I have singled out some of the best ones to start browsing through to familiarize yourself with just how this world functions so that you have an easier time planning your own adventure.
I also did a post of cuckold/hotwife chatrooms, which is a must-read for any cucks/hotwifes/bulls.
These Amazing Cuckold Subreddits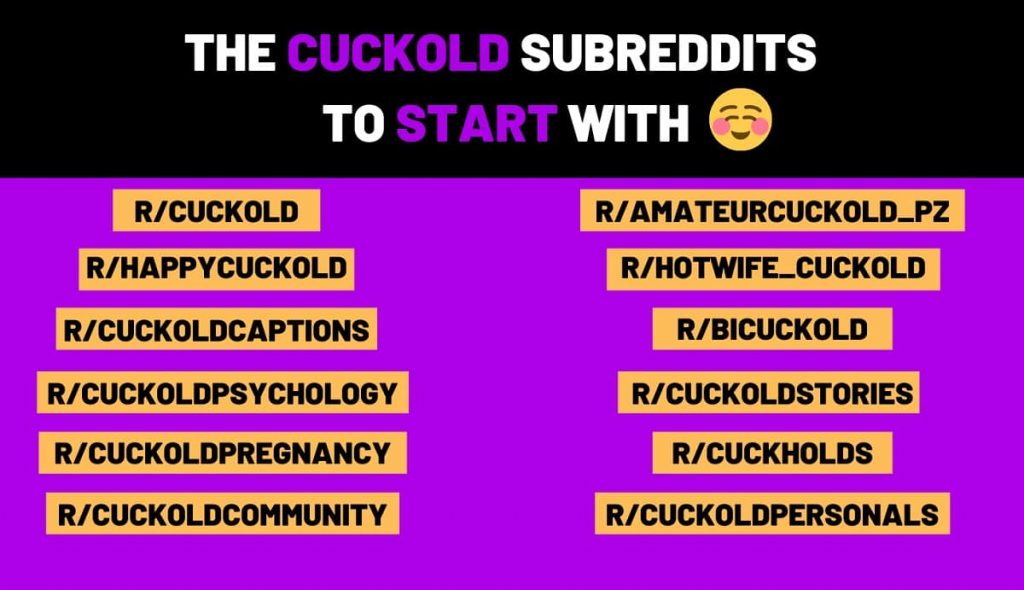 For the best cuckold experience, start with these subreddits:
r/Cuckold
This is a glorious place for everyone involved in the cuckold/hotwife lifestyle to share their stories. Redditors are encouraged to post pics and videos, so you will find loads of explicit content when you venture into this subreddit. The best thing is that all of them are homemade and amateur because these are real people living out their fantasies just like you want to do.
r/happycuckold
Unlike other subreddits on this list, happycuckold is not as regulated and not as strict with what you can or cannot post. Here you can share pics of your wives with their bulls, or you can simply post a seductive picture of your girl and ask what other users would like to do to her. Moderators mostly seem focused on discovering new and exciting subreddits regarding other porn categories, which can be a good or a bad thing, depending on your preferences.
r/cuckoldcaptions
Cuckoldcaptions is looking for a specific type of pic. The posts here are usually pictures made by bulls who caption them with something dirty and degrading to send to the cuckold husband and get him going. It's a bit difficult to discern which pics are real and which have been taken off the internet, but you'll find plenty of cuckold inspiration here, that's for sure.
r/CuckoldPsychology
This subreddit is a place less for porn and more for seeking advice and connecting with like-minded individuals. People ask questions such as, "How did you first tell your partner about your cuckold fantasy?" and, "Is the fantasy better than real-life experience?" and similar. If you need help or want to talk something out about your cuckolding journey, here is where you should post.
r/CuckoldPregnancy
As the name of the subreddit suggests, this is a place for a specific kink within the cuckold community, and that is getting impregnated by the bull. You will find pictures of pregnant wives getting fucked by bulls, as well as various captions and stories about husbands who don't think their children are their own. A great source if you're into this fetish.
r/CuckoldCommunity
The CuckoldCommunity is largely focused on looking for potential partners. Whether you're a couple seeking a bull or a bull interested in having sex with someone's wife/girlfriend, you might find what you're looking for in these personals. Make sure to mention your general location so that others can know whether it works for them or not.
r/cuckoldstories
While the stories you will find in cuckoldstories are NSFW, there aren't any explicit pics or videos right off the bat, so you should be fine browsing these even in public. No way to tell if the stories shared are true or not, but that doesn't really matter when you're deep in your love for cuckolding and eager to hear what others have gone through.
r/Cuckholds
Designed for 'Bulls, Cuckholds and Cuckqueens throughout the world,' this subreddit is where you might find your future partner for cuckolding. Yes, it is awkwardly spelled, but the picks here are juicy and enticing, and there are countless of husbands, wives, and bulls looking for people to help them fulfill their fantasies.
r/CuckoldPersonals
Pretty straightforward in terms of their purpose, the CuckoldPersonals are exactly what their title says – a place for you to post what you're looking for in hopes of finding it. Various posts are tagged by Hotwife-Wannabe, Bull, Cuckold-Wannabe, and Couple, so that you can filter through them and maybe find a match.
r/amateurcuckold_pz
Amateurcuckold_pz is only about the visual. They're not interested in stories or ads of any kind, they just want to enjoy pics of wives in various explicit positions. You can also find an occasional video or GIF, though I have to admit that the selection is a bit poor here. Other cuckold subreddits might do better in terms of porn quality.
r/hotwife_cuckold
While the description of this subreddit says that it's intended for those who enjoy hotwifing or a cuckold relationship, the lack of verification required doesn't make it any different than a regular porn subreddit. Most of the videos you will find here are linked from porn sites, so there's no real connection to other members of the cuckold community.
r/bicuckold
Focusing on bisexual cuckolds, this is, in theory, a great subreddit for those who enjoy not only watching their wives but admiring the bulls as well. However, the pics and the videos are obviously taken from porn sites, which greatly diminishes the thrill of real-life encounters associated with this fetish.
The Best Hotwife Subreddits
Now that we've established some great places for cuckolds, let's venture into the hotwife communities.
r/Hotwife
Hotwife is the go-to subreddit for sharing photos and videos of your wife servicing other guys. Check out the rules for posting before you do so because this is not the place where you can post a pic of your solo wife just because she's hot. The posts need to have a clear connection to the hotwife lifestyle.
r/HotwifeVideos
HowifeVideos is similar to the previous subreddit, only it's all about those explicit clips of lovely ladies being fucked by guys who are not their husbands. You can even encounter stories of real redditors meeting up and filming each other, which puts a great personal spin on the entire experience!
r/wifesharing
Here is a subreddit where you can post pictures of your wife in various positions, whether simply nude or during a sexual act. It is also a place for you to enjoy pictures of other people's wives who participate in the same type of lifestyle. All of the pics here are original and amateur, with that special homemade flair that we all love.
r/hotwifetexts
Hotwifetexts is meant for texts that wives send to men who are not their husband (usually containing a juicy picture of some kind), or texts of wives to their husbands talking about what they were up to with their bulls. You may find some random porn content, unfortunately, but mostly the texts posted here are impossible not to devour all in one go.
r/cheatingwives
The cheatingwives doesn't necessarily have to do with only the hotwife lifestyle, but also with everything regarding the fantasy of a cheating wife. Read true accounts of adultery, as well as look at thrilling pictures and videos meant to seduce a person outside of the marriage. I have to admit this one is somewhat less exciting than the previous hotwife subreddits.
r/WouldYouFuckMyWife
Put simply, this is a community where you have the opportunity to show off your wife or girlfriend. Post a picture of her, with her permission of course, for the redditors to see and comment on, and perhaps even masturbate to. Definitely check out the rules and guidelines before posting, since this is a highly regulated subreddit. (Which coincidentally makes it of high quality at the same time.)
r/slutwife
Slutwife is where you get first row tickets to wives that are into all kinds of kinky stuff. It doesn't have to be related to hotwifing necessarily, although there are plenty of shots of wives getting it on with men who aren't their husband while the husband watches. Lots of explicit images and videos for you to peruse through.
r/HotWifeLifestyle
HotWifeLifestyle is one of my favorite subreddits because it has a little bit of everything. It has pictures of hotwives, as well as long accounts of what went down between the wife and the bull, usually told by the husband. It is also a great community to seek advice from and talk about issues related to the lifestyle, if you happen to have any.
r/fuckmywife
Similar to WouldYouFuckMyWife, this is also a subreddit for you to post pictures of your wife either by herself or having sex with you or even someone else. An incredible selection of gorgeous ladies for you to feast your eyes on, and a welcoming and supportive community if you get the urge to post a picture of your own wife and see what others think of her.
r/hotpast
Not really related to hotwifing, hotpast is for those who like to fantasize about sexual encounters that happened before they got together with their partner. Meaning, all the sex your wife or your husband must have had before they ever met you. Lots of amazing stories and even some pictures of partners from times gone by.
r/wifeshare
Abundant with pictures of wives and girlfriends of all ages and from all walks of life in amazingly explicit situations. Usually posted by their partners, these ladies gave permission for their bodies to be shared online, and are even excited to get some positive comments, so don't hesitate to dole out praise if you like what you see!
r/gwcumsluts
Unrelated to hotwifing or cuckolding, gwcumsluts is a subreddit devoted solely to pics and clips of women covered in cum. Whether it's their face or breasts or ass or other parts of their body, if cum play is your thing, then you shouldn't pass up this sensationally naughty subreddit.
r/wifepictrading
This subreddit is all about sharing pictures of your wife, but not only for getting feedback on what others think of her or would like to do to her. This is also for meeting new people and exchanging pictures with them directly. Show off your wife and get to see someone else's. Who knows, you may even find great partners for swinging or wife-sharing like that!
r/Hotwifecaption
While Hotwifecaption is a great idea, similar to cuckoldcaptions, it isn't strictly regulated, so you find a lot of generic porn screenshots coupled with impersonal captions. There are a few gems here and there, of obviously real photos from real people, but overall, the unregulated porn diminishes the quality of this subreddit.
r/stupidslutsclub
This club is, again, not quite in the realm of hotwives or cuckolds, but it is a fetish place that prides itself on having a couple of hundred thousand members, as well as on the fact that they are entirely judgment-free. If you're into getting hurt, degraded, and humiliated, this is the best community for you.
Other Hotwife/Cuckold Websites You Need To Check Out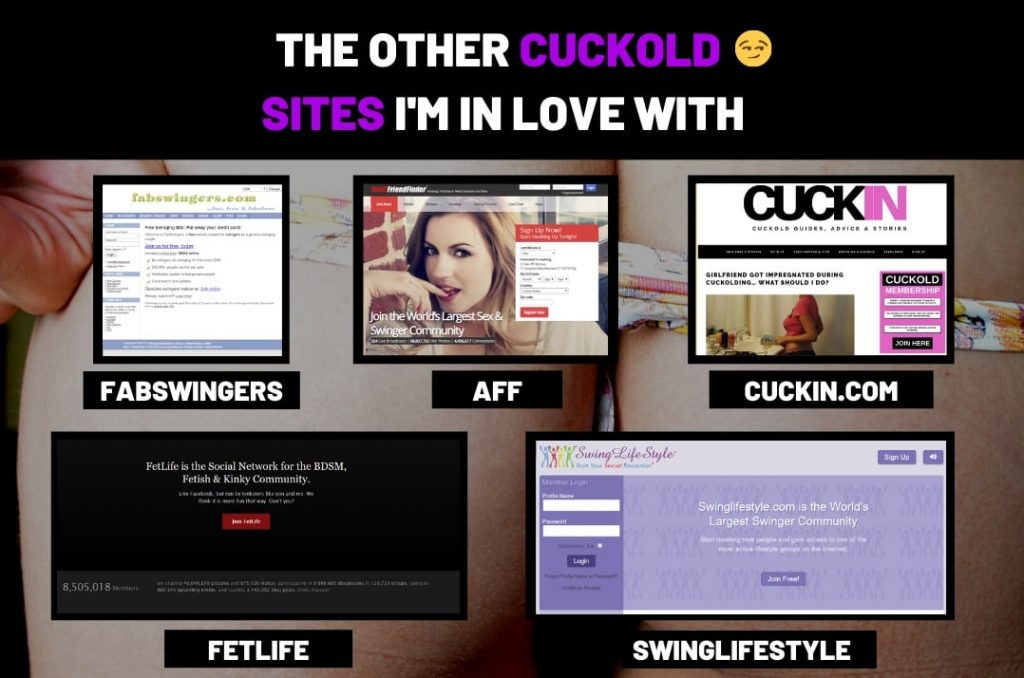 Aside from subreddits, here are some other websites you might want to take a look at when it comes to this type of lifestyle:
FabSwingers
This is a great website for couples looking for other couples to have fun with. If you're into wife-sharing or any other type of extra-marital play, then you shouldn't hesitate to make a free account on FabSwingers. The best thing is that it is organized by country (Australia, Canada, Ireland, New Zealand, the UK, and the USA) so that you have no problems finding swingers in your area.
AdultFriendFinder
I talked about AdultFriendFinder before as my go-to site for finding partners for my boyfriend and mine's sexual fantasies. It's a great (free) place to meet people and arrange all different kinds of hook-ups. You know that Chris and I have been swinging for about two years now, and this is our favorite spot for finding like-minded people.
SwingLifestyle
SwingLifestyle offers you the chance to start your sexual revolution, as they proudly declare! This is a useful place to meet swingers and couples willing to spice up their sex lives. It hosts blogs, forums, groups, clubs, allows you to sort swingers by state, then provides you with swinger stories and articles to read as much as you'd like. Truly a swinger paradise.
FetLife
While other websites outlined in this review are mostly vanilla, as much as partner-sharing can be described as vanilla, FetLife is meant for all of you kinky souls out there. It is a social platform designed for those who enjoy BDSM as well as a wide range of fetishes. With over eight million registered members, you are sure to find a kindred spirit in this kinky heaven.
Tinder
You may think Tinder is just for horny students looking for one-night stands (or for people seeking long-term relationships, which is less likely to happen), but I assure you it's not just for that. If you set up your profile correctly and are upfront about what you're looking for and what you need, there are a number of people who are more than happy to help you live out your sexual fantasies.
Cuckin.com
Cuckin.com is a blog created to provide cuckold guides, advice, and stories. You will find an abundance of resources here, from true stories about cuckolding, then hotwife and cuckolding gifs and captions, then full-on guides and advice on how to become a cuckolding couple, with plenty of reading material to get you started.
You can also check out this full guide I did on cuckold dating sites, it's amazing a must for any cuckold/hotwife.
Some Other Subreddits You Might Enjoy
Congratulations on getting through everything I've offered you so far! If at any point in time you realize that you're lacking material and want even more hotwife- and cuckold-related content, check out these subreddits:
r/Swingersgw
r/swingersr4r
r/chastity
r/RandomActsOfBlowJob
r/Swingers
r/dirtyr4r
r/Femdom
r/MassiveCock
Top Tips for Cuckolding and Being a Hotwife Newbie
My boyfriend and I have also been newbies at some point, not even that long ago. Cuckolding and hotwifing was something we always knew we wanted to explore; however, it took us a while to finally make that first step.
Before you start posting ads for a bull or finding a partner to satisfy your urges, there are some things you need to consider first. Especially if you are married or in a relationship with a strong foundation.
Set Ground Rules
Sit down with your partner and discuss what you're comfortable with and what you aren't. These rules can range from anything like 'no cumming inside of the wife' to 'no sleepovers' to 'no sex without the husband present' and so on. Just because some rules work for some people, doesn't mean they will work for you, so make sure to tailor them to your preferences.
Once these ground rules are set, follow them. No exceptions. The purpose of hotwifing and cuckolding isn't to cheat or mistreat your partner in any way. In fact, it is quite the opposite. It is a chance for you two to bond over something kinky that you both love, but that is unconventional in terms of everyday relationships.
Explore and Learn
As I've mentioned before, take your time to get to know the community. Learn the essential vocabulary so that there's no confusion. Find out where you can share stories, where you can ask for advice, where you can post ads. These can be any of the subreddits you found here or forums and chat groups designed for these purposes.
Be respectful to everyone you encounter. If someone gives you a bad vibe, cut them off or even block them. Again, the goal here is to have fun and get to know a side of you and your partner you haven't seen yet. Lean into it, and don't let anything hold you back!
Simulate
Before you find a bull to play with your wife, why not try a cuckold simulation? There is a simple method called The Webcam Method outlined in a Cuckin.com article. It includes finding a male cam model for your wife, then watching her masturbate in a private show with him.
If you find that you are getting aroused and liking what you see, then the chances are that you will get the same thrill from watching her have sex with a real man in the same room as you. Definitely head over to Cuckin.com and read the detailed instructions on how to set up the simulation before your first cuckold experience.
Communicate
Finally, communication is key! All throughout this process, you must be open and honest with your partner. If at any point either of you decides they're uncomfortable with what's going on, you need to end it. Unless you want to end your relationship, but that is a whole other discussion at this point.
While these fetishes may sound outrageous for most, they are, in fact, quite popular and something many people engage in. If you're ready to dip your toes into cuckolding, follow the tips outlined above, and you should have no problems creating a great experience for yourself.
Enjoy!
Put Your Favorite Cuckold/Hotwife Site In The Comments
I have told you mine, now I'd love to hear yours, so let me know your favorite subreddit in the comments below. I read them all.