Gone are the days of trawling the web looking for arousing and exciting browser and mobile porn games. Back in the day you would be redirected to spam sites, be plagued with ads, and end up with a virus that would take out your computer in a few minutes. It was a mess but luckily things have changed and now we get to feast on incredible adult games, safely and in abundance.
The most glorious outcome of all is that the games you can play nowadays aren't just big boobs and clicker games (unless you want that), there are whole genres to explore from fantasy maps to explore with hentai hotties to life simulators where you choose your adventures and date horny babes, there's even cuckolding games and netorare games, something I never thought I would see happen in all of my years of adult gaming.
The cuckold and NTR games I am about to show you are all safe, mostly free to play, and will scratch that cuckold gaming urge that we all have inside of us.
I'm A Big Cuckold Porn Game Fan, Actually, I Love Everything To Do With Cuckolding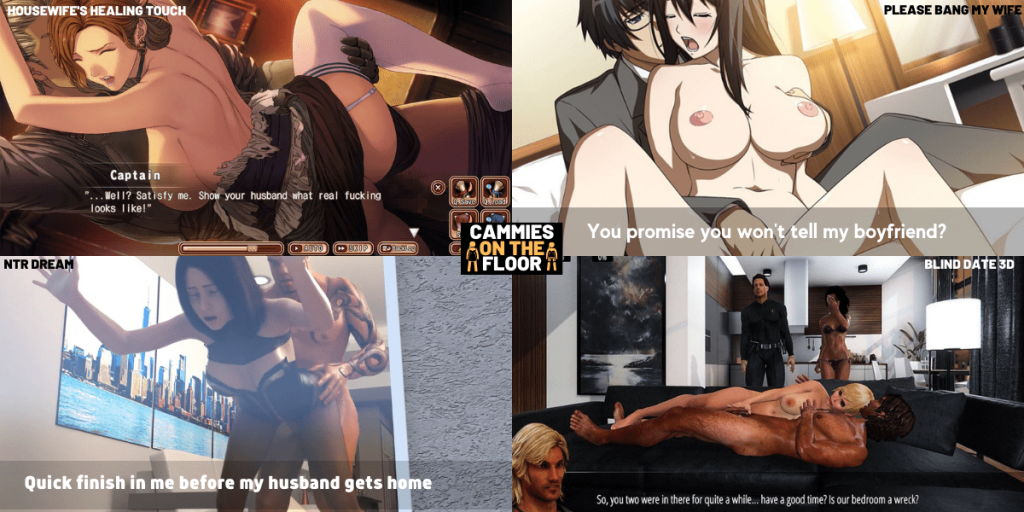 Give me cuckolding porn, cuckolding images, cuckolding videos, cuckolding games, anything and I will devour it. It's also known as NTR or netorare in the gaming world which is basically the Japanese version of a cheating spouse, a lot of games are NTR themed as lots of gamers love the hentai aspect of adult games and combine that with the netorare undercurrent.
For me, a good cuckold game has lots of exciting gameplay, cuckold sexual scenes, or imagery, it's not complicated to learn and it turns me on in a way that only cuckolding can. It's not a lot to ask but you would be surprised how many games don't tick those boxes and haven't made it onto my ultimate cuckold game list.
Another thing that is really important to me, (after losing many computers to viruses back in the day) is safety. I like to know that the game I have chosen to play isn't going to infect my device or corrupt my hardware, I like to know that ads are minimal, transactions are safe and downloads aren't riddled with nasty viruses. All the games I have included on my list are safe to play, tried and tested by me and my girlfriend who also adores adult porn games. If you want to check out even more porn games we have tried out together, on one of the biggest and safest adult gaming platforms, this is our huge list of the best Nutaku adult games.
My Favorite Cuckold/NTR Games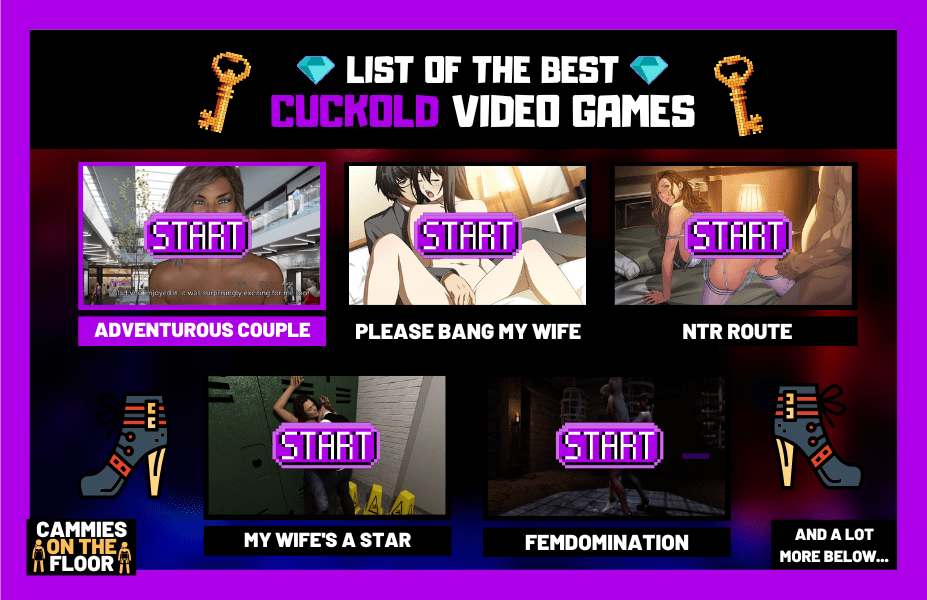 It has been so much fun making this list, picking hundreds of games apart, and making sure they tick the right boxes. Enjoying cuckold and NTR games is sometimes difficult, lots of developers ruin the games with updates or more often than not don't quite capture the essence of cuckolding but the games below are sure to satisfy every cuckold lover and netorare fiend. Let us know your favorite pick down below!
We are kicking things off with a paid game, however, hear me out, it is so worth it. First of all, you can pick the price you pay, the developer has created the game with price tiers in mind so you can pay as little as just a dollar a month or just over 20 bucks for ultimate access. The game itself is incredible, you are married to Anne and after admitting that you had fantasized about her sleeping with other people, she is all for it. This game doesn't focus on the belittling or humiliating sides of cuckolding, simply a man, looking to share his wife with horny individuals. It's an original story with amazing graphics and a mesmerizing plot, and on top of it all you are supporting a small creator making our cuck dreams come to life.
This netorare adult game may cost a few bucks but it is worth it. It's a sex-filled adventure visual novel game where you find out your wife has been cheating on you with another man and although deceived, you are wildly turned on by the state of your marriage. Once you start playing you are taken down an arousing and intense path of sex and cuckolding whilst being blessed with jaw-dropping and incredible hentai sexual imagery. This game isn't for the faint-hearted but any cucks who have dreamed of this scenario will be more than turned on.
A Housewife's Healing Touch (NTR Route)
Become the village's plaything or remain faithful to her ordinary husband? Rui has a choice and as her husband, you must save her from becoming the slut. Enjoy this action adventure adult game that's plagued with visual novel mechanics, you will find impregnation, milf imagery, sex scenes, and a netorare backbone gliding throughout this game, and to top it all off lots of forbidden love and even multiple endings so you can come back and again and again to enjoy.
This adult game is made by another indie developer who has created something utterly amazing. Created with a passion for the adult industry, in this game you play as both the man and woman who are engaged to one another, making decisions and ultimately choosing your fate. The woman is a celebrity and her fiance is her talent manager, it's a twisted tale of sordid affairs, industry secrets, orgies, wild sex, and more.
FemDomination Chronicles Chapter 1
If you enjoy femdom in any aspect, make sure to check out this game. It's highly animated and immersive, and on top of all of that, it works with VR. It's a curation of 360-degree sexual experiences, you can select the type of adventure you want, perhaps it's focused on hardcore BDSM or maybe you're more into something lighter, whatever you pick, it's so arousing and makes you feel as if you are really in the room with a hot, femdom mistress. Customize your experiences and relax as your balls are drained and your mind is blown (you also don't need VR to play although it does make it more intense). If femdom games intrigue you, check out this huge list of the best femdom games that we made.
Described as a dark fantasy tale, seeds of Chaos boasts RPG alongside a captivating and more-ish storyline. Remain a hero or become corrupt as you make decisions and become an active part of this story, dictating your narrative and the direction you go in. Enjoy tons of nudity, enchanting cuckolding, and NTR themes as well as a style rarely seen in adult games.
Horny, sensual and riveting, sound fun? well, feast your eyes on this indie creator game, the typist. This is another visual novel game where you live as a couple living on the cusp of what to do with the rest of their lives, this is an interactive novel game where every choice has a consequence, will you explore with other people, enjoy threesomes, perhaps you will stay together and just live out your fantasies in the bedroom? whichever you choose is the right choice and with characters to explore and different storylines, this game is a really fun way to spend some time.
This free game is a fun way to spend a few hours and get lost in the fantasy of being a hotwife and making raunchy decisions for her. With witty and sexual dialogue, this visual novel game sets you up as a horny nymphomaniac who finally falls in love and wants to do things properly this time, however, old habits die hard, and keeping her on the straight and narrow path isn't going to be easy. Succumb to being a hotwife and cheating on your love or keeping things casual and under control, what will you do?
This is another visual novel game and it is guaranteed to get your heart racing and your cock throbbing. Name the characters to give them a personal touch (perhaps naming the female lead after your wife to feel as if you're being cuckolded), follow this casual story, and embark on a sensual and arousing adventure, one where your faith and trust are put to the test. Will you cheat on your new spouse? or is it just a one-time thing? it's up to you to decide and with delightful animated kinky sex scenes, your NTR dream will be brought to life.
This dating simulator game is a lot of fun, it has a free-roaming mechanic which really gives you the freedom a lot of us crave in dating sims and brings it into the 21st century. You are a nerdy guy who has found himself with two hot roommates, you get to meet lots of different characters with lots of different flavorful personalities as well as embark on a journey to date, flirt and have sex with all of the people you meet. You of course have to seduce them first but you are in total control and you have all of the power.
How I Met Your Whore Mother v0.2
This game was a bit of a wildcard but I really wanted to include it. It's a parody of the actual show 'How I Met Your Mother', you play 'Ted', the male protagonist on his venture to find the right woman for him. You sleep with all of the hot girls you meet, embarking on all kinds of fantasies including cuckolding and NTR scenarios. It's casual, fun, and very arousing.
This RPG is extremely more-ish, play as 'Keita', who is spending his summer with his childhood friend 'Ryoka'. The Japanese setting and undercurrent are extremely apparent in this game and it inspires all netorare experiences as you progress. NTR is huge in Scars of Summer, it is basically the entire plot of this game, you help out your childhood friend, picking guys for her, enjoying her fun, and getting off on her adventures.
With striking visuals and perfected details, this adult cuckold game is a real winner. This game is essentially a dating simulator, it allows you to explore, date, seduce, and even have multiple outcomes to your choices. You start off falling in love with your best friend's wife, which is never an ideal situation to be in. From there you get taken under their wing and you get to meet their friends, where it's up to you what happens next. Will you end up with your best friend girl? or will you sleep around, only yearning for her? With NTR and cuckold throughout, this game will make a great addition to your cuckold gaming library.
Custom Order Maid 3D2 Sweet Little Devil Bundle
Crowned one of the best games with animated sex scenes and one of the best dating simulators, you cannot go wrong with this incredible adult game. You now own the Empire club, the most elite and exciting club in town, you must build it from the ground up with the help of your hot hentai employees who want this to work as much as you do. Discover, unlock, and explore new possibilities and fuck. Manage your resources, build up your empire, and enjoy everything your hentai hotties have to offer. Enjoy Japanese, NTR, and cuckolding themes too, nothing is off-limits here.
Make sure to check out the best free adult mobile games here.
Developed by an erotica story writer, this indie developer has transferred his exciting and arousing writing skills and put them into a tantalizing adult game. You play as Stacy a slutty wife who wants not only her husband between her legs but any man that will take her. This game is on patreon and you are free to pay as little as two bucks for it, which is a steal in my opinion.
This is an interactive multiple-choice text simulator that is packed with a ton of flirty messages and pictures you can receive. It's RPG meets erotic storytelling, with multiple-choice answers and questions, you can pick who is sending you the messages and lead the conversation in any way you see fit. With a normal version and a bull version, this game is a lot of fun to pass the time with. This game really reminds me of some of the steamy cuckold chatrooms you can find here.
This is a free-to-play game, one that will suit all cuckold and wife-sharing enthusiasts. Embark on this RPG clicker venture and enjoy sharing the love of your life with other men, women, and couples. It's casual and easy to play and you don't have to download it, play in your browser, and relax through this fun game.
A visual novel adventure game with artwork rarely seen in adult games, hand-drawn hentai, and completely uncensored graphics. In this game you play as a delivery driver who finds an apartment building filled with horny and unsatisfied housewives, you love to please, and now your job is to satisfy them all. With unique personalities, desires, and relationship statuses, this game is filled with NTR, cheating, humiliation, corruption, and more. I love the artwork in this game, it elevates it to a whole new level and makes jerking off a real treat.
Become a peeping Tom in this simulation game, as the apartment supervisor have access to the apartments across the block and you can't help but spy on the residents, film their sexual encounters, and enjoy the naughty and uncensored couplings they get up to. This is a simple game and yet it's so rewarding and satisfying to play. As a sex simulator with H-scenes and a Japanese-style theme, you can't go wrong when scratching that NTR urge.
This RPG game is a little different in graphics from the others on my list but it is a worthy contender nonetheless. Available in both English and Japanese for a tailored experience, Lady Lawren wants to help the person she loves but she finds herself in possession of an erotic adult book. She must not get sidetracked but it's so easy to get lost in the world of sex, will plenty of NTR, anime, and cuckold scenes, this filthy game is a must-play.
Play as Roy, a hero, who must choose a woman to wed in a month. Roy has choices to make and one wrong move will have him transformed into a cuckold with the woman he loves chosen and taken by another man. With tons of events to play, NTR on-screen events, and a time limit, this game is no walk in the park and if you play it right, you will end up very satisfied indeed.
Make your own decisions in this RPG, start out in Japan as Ayame, until you meet a handsome American who you fall in love with, promptly moving to the USA with him. Will you remain faithful or be led astray in the land of the free? This game is set in a contemporary world and remember, all is not as it seems.
A visual novel with adult themes, a gripping story, and multiple-choice, this game is a great way to spend a few hours. You play as the beautiful Ashley, you must decide if you're good or bad with the decisions you make, are you naughty or nice? that freedom is yours as you parade through the world and enjoy a ton of kinks, including cuckolding, corruption, teasing, and more.
A Couple's Duet of Love & Lust v0.5.3
An immersive and interesting adult game where you as a couple face life's challenges head-on. Moving to a new suburb will either make or break you as you are tested on loyalty, your love for one another, and how far you will go before calling it quits. Experience cuckolding, threesomes, interracial sex, and more in this raunchy RPG.
This game is a lot of fun, you play as a cuckold trainer who is faced with different sets of people all looking for a cuckold to come and meet with them, you can choose between women, men, and couples and enjoy different scenarios for each of them. It's a clicker game with multiple-choice answers that are extremely dirty and rewarding.
Play as a cuckold, (by the way, your name is actually 'cuckold') be humiliated, teased, and disregarded by your wife, work hard and give all of your money to your wife's bull, and watch her enjoying her life as you just get to watch it from afar. This game isn't for the faint-hearted but takes the cake as a fun and humiliating cuckold simulator.
Another patreon game, this one is a story-driven visual story game where you play as a student discovering their kinks and fetishes. You decide what happens in this game so you can sway it in any way that you see fit, and enjoy everything from public sex to cuckolding, your choices have consequences and it's all on you.
The Cuckold Video Games I Spend The Most Time Playing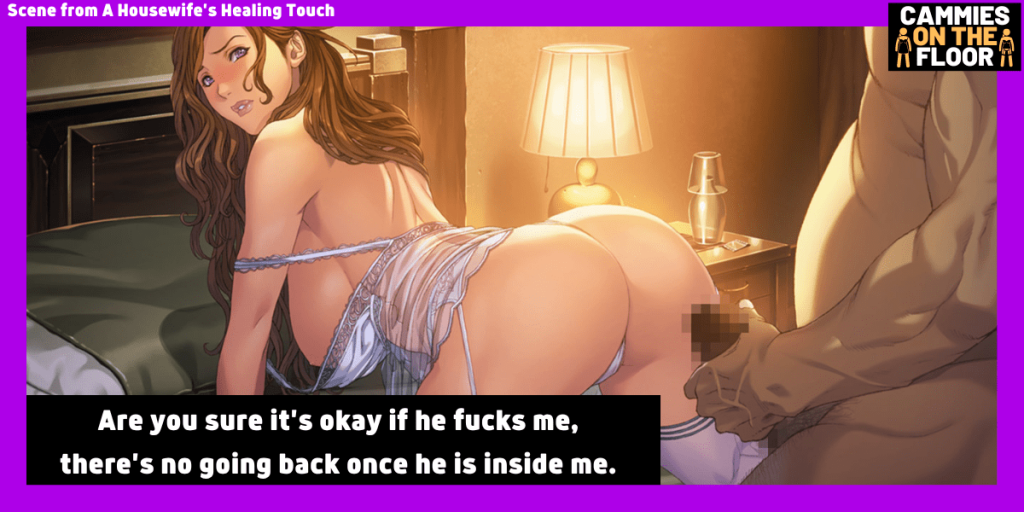 It's no secret that I love adult games, porn, and just about anything sex-related so it's fair to say that I spend a fair share of my time on these games. I have a variety of games I like to play but from this cuckold game list my favorites would have to be please bang my wife, the imagery and general theme of the game ticks all of the right boxes for me, I also spend a lot of time playing A housewife healing touch it's naughty, NTR at its best and a little different from some of the others. I also really love to play Femdomination, it really gets me off when I need something a little more intense and I love how customizable it is.
Too Long; Didn't Read (Breakdown)
If you want a quick breakdown, here it is. In this article I talked about all of the best cuckold adult games that are out there, these games all have some NTR (a Japanese term for cuckolding also known as netorare), cuckolding, cheating, or just general humiliation themes running through them. Some of these games are free and some require a small fee to support the creators.
All games are hosted on sites that I have used myself, all are safe and secure to play, with my biggest props for safety going to Nutaku and VR porn. My favorite and most played cuckolding games are: Please bang my wife, A Housewife's healing touch, and Femdomination.
Other honorable mentions are NTR Dream and custom order maid 3D2.
Let me know your favorites down below!