There are countless ways a couple can spice up their sex life: from incorporating sex toys to trying out cam sites, to role-playing, to including other people in their bedroom. It's already common knowledge on this blog that my boyfriend and I are very open and curious when it comes to all things sex-related, so it shouldn't be a surprise that we've tried basically all of these and then some.
Today's topic is swinging, or partner-sharing. Swinging typically involves two couples, or four people, and various combinations of them. It can be swapping wives or each couple having sex as normal but in the same room as the other couple or even orgies. The only limit is your imagination (and inhibitions) and how far you're willing to go to make your fantasies come to life.
Finding partners for swinging is incredibly easy nowadays. Thanks to the internet, all you need to do is find a great website that allows you to post personal ads and answer to ads from other people, and you're all set!
In this post, I will give an in-depth review of one of the most popular sites for swingers, and that is FabSwingers. So kick your feet up, grab a glass of your favorite drink, and read on!
What Is FabSwingers?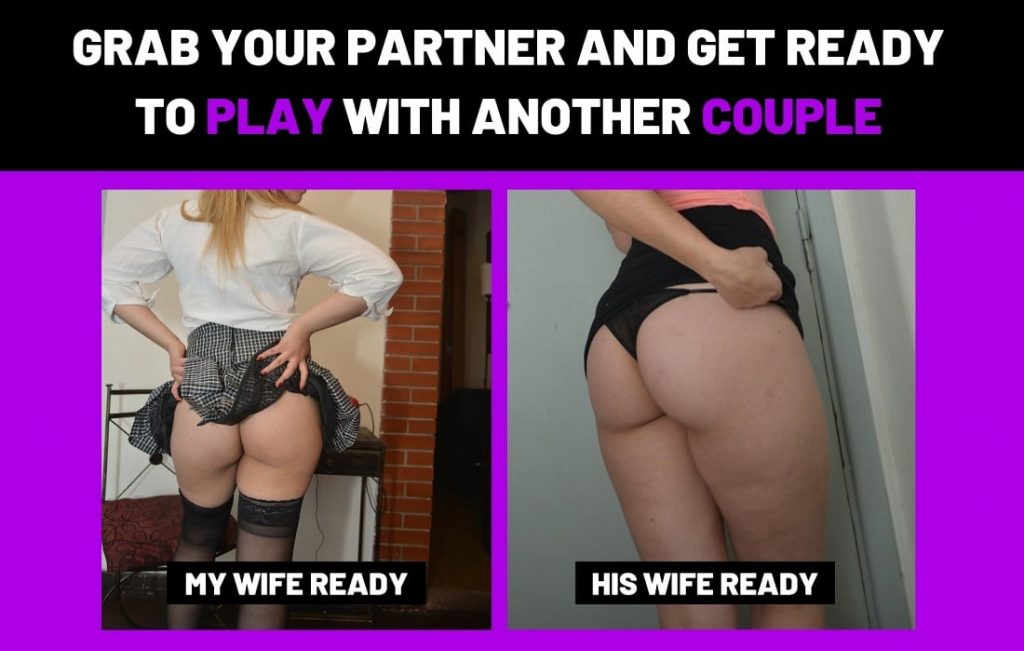 Essentially, FabSwingers is a site for people of all kinds to meet others who are willing to have casual sex and fulfill their sexual fantasies. It does have the word swingers in the title, but it's not only related to swingers. Singles can also post their offers and what they're looking for, especially if their needs involve things like threesomes or cuckolding and hotwifing or different kinds of kinks.
To access the site – any section of the site – you need to make an account. However, signing up for FabSwingers is free, and you don't need any additional payments to find the type of partners you're looking for.
Making an account is as simple as though you are making a profile on Facebook. And the best part is that on FabSwingers you can make one profile for a couple so that it's easier for other users to identify you and contact you if they're interested.
On FabSwingers, you will find a forum, chatrooms, clubs, offers to meet up, and hundreds of thousands of people from English-speaking countries wanting to hook-up.
I'm not kidding. The current stats are that FabSwinger has approximately half a million users from the UK alone, with several tens of thousands online every single day. If that fact isn't enough to get you to join this community, then I don't know what is.
Sites Like FabSwingers
I price checked for all the best prices and deals for all the swinger websites mentioned in this article on the: 06/08/2020
Before we venture further into the contents of FabSwingers, let's take a look at some of the alternatives. All these sites are similar in some ways, yet different in others. Just like FabSwingers, they all have their pros and cons, which I will do my best to outline in each case.
Arguably one of the largest swinger-specific websites, the SwingLifeStyle has it all: forums, stories, articles, groups, clubs, and a few thousand members online at any given moment of the day. Here is where you can meet couples in all age ranges and from all walks of life interested in having just as much fun as you are.
To enjoy all of the features, you will need to make a free account beforehand. Then you can take a look at the photos and videos other sexy couples are posting, and engage with them in hopes of arranging a meet-up. SwingLifeStyle also offers the chance to sort the swingers by state so you can find people near you more easily.
If you've read my other posts, you'll know that AdultFriendFinder is one of my favorite places to look for partners. It doesn't matter whether or not you're looking for someone for a threesome, for a casual hookup, or for a couple to join you and your partner. AdultFriendFinder has it all.
It takes only a minute to make an account on this site, and it's completely free. You gain access to a forum, blogs, live chats that include webcams, pictures and videos of other members that are often explicit in nature, and so much more. The community as a whole is so welcoming and relaxed that you won't be able to resist joining it.
Alt.com is a website that helps you connect to swingers all around the world. I'v used it for a while, it's not as popular as adultfriendfinder, but it's still a good site for finding other singles and people involved in the lifestyle.
I've talked about it a few times and even did a review of it, so you should check that out. I go on and off alt.com, I love it, but I'm usually more active on adultfriendfinder. However, you can create a free account and start looking for people in your area right away, which is a nice feature.
This is a forum specifically designed for swingers or couples who like to meet and have sex with other couples. It's free to browse through and read, meaning you don't even have to make an account, but in order to post, you definitely need to sign up. There are over one hundred thousand members on the Swingers Board, so you know it's a large community.
The topics you will find here include Bisexual Swingers, Swinging Do's & Don'ts, Polyamory & Swinging, Naturally Free – Swinging and Nudism, Risks of Swinging, STD & Safe Sex Issues, and more. One of my favorite threads is where people share swinging mistakes from their real-life experiences. It helps you learn a lot before you even start!
FetLife is arguably the largest website on this list. With somewhere around 8.4 million members – yes, you read that correctly – there is absolutely no way for you not to find what you're looking for. Of course that not all of these members are active, but there's no denying there's an obvious draw to this kinky site.
And kinky it truly is. Namely, FetLife is meant as a social platform for those who are in the BDSM, Fetish & Kinky community. It is not made for regular swingers or 'vanilla' sex. FetLife is great for cuckolding and hotwifing, and sharing partners if it involves BDSM play of any kind. So if you're into some extreme experiences, don't skip this glorious kinky heaven. You can also check out these sites like Fetlife, it's an amazing list.
With an obvious play on the word Facebook, Fuckbook is envisioned as a social network with no holds barred. Like Facebook but naughty. It's a great concept in itself, but Fuckbook fails in its execution, which is why its reputation has suffered over the years.
First of all, while it advertises as free, Fuckbook actually doesn't allow you to communicate with other users if you're not paying. Second of all, it doesn't have much in the way of support, and it offers no tips on how to preserve your safety on a site like this or when meeting other people in person. Overall, I wouldn't recommend anyone signing up for Fuckbook for swinging unless you truly have no other choice.
Unless you've been living under a rock, you've heard of BiCupid. You maybe even have an account here! Well, the good news is that you can use that account to find couples to play with. BiCupid is originally conceived as a dating site for bisexual and bi-curious people but has since opened its metaphorical doors to pretty much anyone who is friendly and open-minded.
On this site, you can message other members, search for what type of partners you're seeking, upload photos and albums and browse through pictures of other people, get dating tips, and similar. Since the site is also focused on dating and not just sex, my advice is to be direct about your desire to swing, so that no one feels like they're wasting their time talking to you.
Okay, the Swingers Club List may have a bit of an outdated appearance, but it is actually an invaluable asset if you prefer meeting people in real life as opposed to online. The Swingers Club List is exactly what it says it is – a directory (list) of clubs tailored to fulfill swingers' needs.
You can search through clubs by the state if you're in the US, or by country, if you're outside of the US. Each club profile has reviews of the club, its contact information and operating times, as well as whether or not it costs something to get in. Sometimes, meeting a potential couple to swing with is so much more thrilling in person, so why not give any of these clubs a try? You won't know if it works for you until you try it.
SDC stands for Seek yourself, Discover together, Create moments. With a bit of a hippy tagline like that, it went up almost 20 years ago as a swingers dating site. In fact, SDC also launched the Swingers Club List I talked about above, to help couples from all over the world find suitable sex buddies.
However, since its inception, SDC became so much more than a swingers dating site. Here you will find information on almost anything regarding sex – from guides on how to give your partner a great orgasm, to podcasts, to reviews of sex toys, and other. With over 3 million members, SDC is definitely a resource worth checking out.
Before you even enter the site properly, on the landing page itself, you're met with explicit pictures, so be careful when opening True Swingers in public. There's a fair bit for you to explore as a guest, such as getting to know the site's features, how people's profiles look, and you even get to access galleries of hundreds of explicit photos.
However, to actually see the pics in full and to contact people, you need to make a free account. True Swingers has as many members as an average swingers forum or a well-populated subreddit, but it offers a lot more. Here, you will find chatrooms, a forum, the galleries I mentioned, and you can browse through members' profiles until you think you've found a good match for your escapades.
Reddit is a go-to spot for many who are seeking adventurous lovers, so here are some of my favorite subreddits that you should definitely take a look at before you decide which community to join:
Tinder

(Can sometimes be a gem)
Okay, yes, I know what you're thinking: Tinder, seriously? Isn't that a place for horny 20-somethings to send illicit dick pics and booty-calls at three in the morning? Well, yes, yes it is. However, it can also be a lifesaver when you're looking for swingers.
The obvious downside to Tinder is that you can't make a profile for a couple. Some other apps and websites specialized for swinging, cuckolding, and hotwifing are great with this, but not Tinder. So if you want to meet someone for partner-sharing, you'll have to dig deep and somehow clearly advertise what you're on the app for.
While Ashley Madison has a bit of seedy reputation to it, it's actually not a bad site to meet people willing to engage with you. There's that whole story about it encouraging adultery and affairs, but that might not be a big issue in the case of swinging. After all, you're looking for a couple in an established relationship, not a single person.
Unlike other options on my list, Ashley Madison is home to polyamorous couples as well. You might not meet two, but three (or more) people who are eager to get down to business. This is even more relevant if you yourself are a part of a polyamorous relationship and are looking to share partners with someone else.
My Favorite FabSwingers Alternative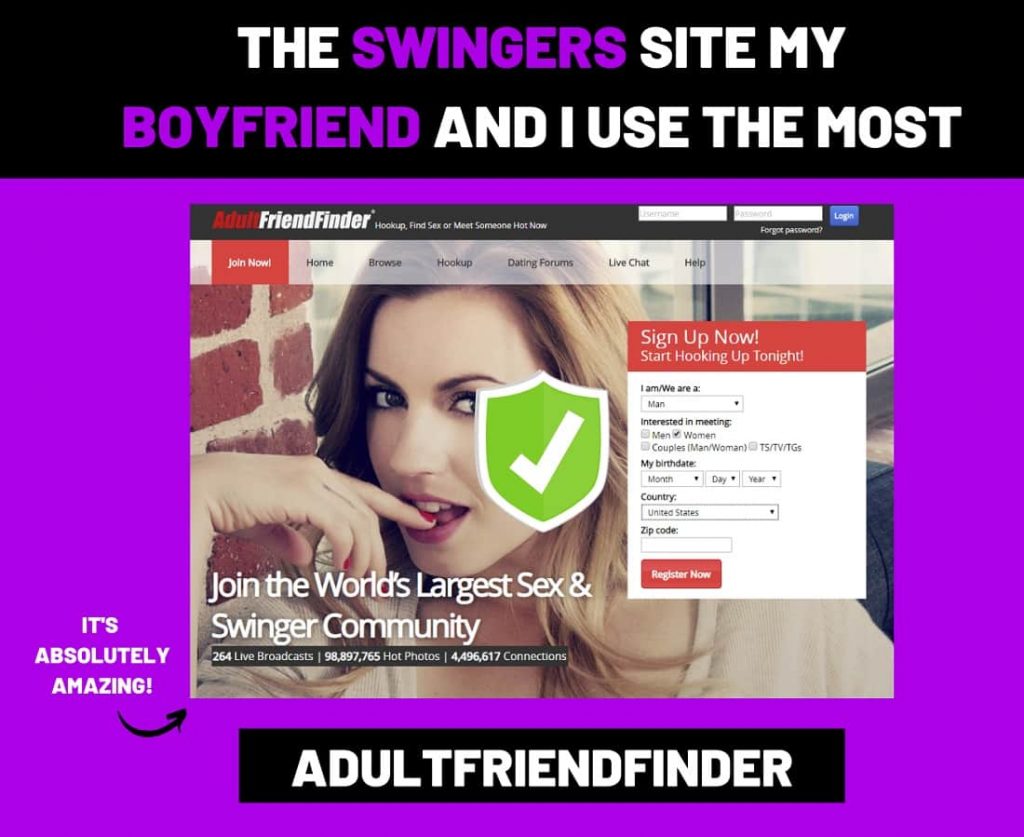 Out of all of the listed sites and apps, I have to single out AdultFriendFinder as the site that my boyfriend and I use the most. When we first started swinging, or even thinking of swinging, this is where we first made accounts. To this day, we see no reason why we should switch to some other site as our main source for bulls or couples.
The reason for this is that AdultFriendFinder makes it incredibly easy to strike an arrangement. People registered here are the same type of people as you are – fun and flirty and open to all sorts of fantasies and experiences.
It only takes a couple of messages to see whether someone works for you or not. If they do, you might want to dive deeper and discuss details. If they don't, then you move on, no harm, no foul.
Regardless of what type of partner-sharing you're into, AdultFriendFinder will help you find the right people to make it happen.
MY Explicit FabSwingers Review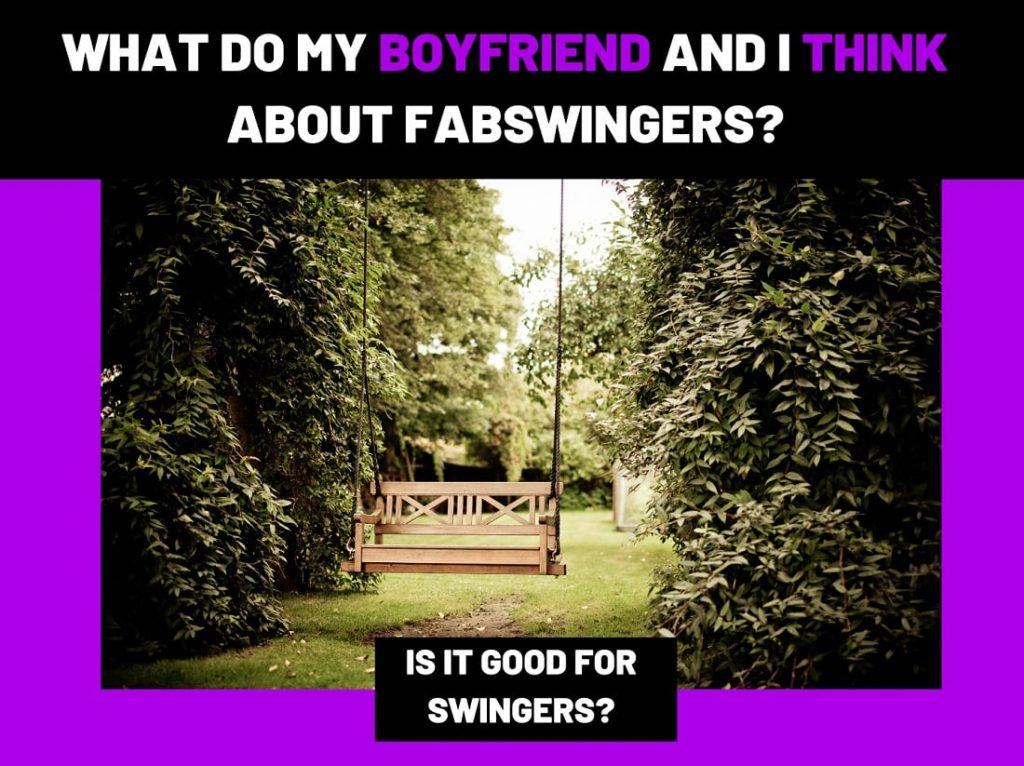 Now that we've covered all the bases when it comes to the swinging and your options for finding other couples let's focus on what you're really here for: the detailed review of FabSwingers. Why don't we start with all the good stuff, meaning why you should sign up for this site in the first place?
What you get when you sign up
As I mentioned earlier, there's no part of FabSwingers that is free for you to simply click through and peruse. Right off the bat, you need to make an account to gain access to it. Which can be both a good and a bad thing.
The bad thing is that it likely deters many from joining it because of this. The good thing is that the quality of people who do join and participate is higher precisely because of this filtering system.
Here's what awaits you once you sign up:
The Forum
Swinger Chat
Pictures of other couples
Dating (finding men, women, couples)
Clubs
The forum and chat on FabSwingers work exactly like anywhere else. You can post questions or personal experiences, ask for advice or help, or just generally connect and chat with people who enjoy the same fetish as you. FabSwingers members are positive and welcoming, and they're always eager to learn more about their fellow swingers and hear their stories.
The pictures of other couples you will run into are likely very explicit in nature. Be aware of this if you're browsing the site in public. The pictures make it easier for you to gauge whether or not someone is your type or sexually attractive to you, so there's more to it than just masturbation material.
One of the best – and most commonly used – features on FabSwingers is the dating part. This site categorizes people by men, women, and couples looking for sex partners. A feature I particularly love is called 'Meet Today', where you will find people willing to meet with you as soon as possible if the distance allows it, of course. FabSwingers makes it super easy to reach out and arrange a hookup.
Finally, it is also the host of a swingers club directory. While a neat idea, the directory lacks reviews and is mostly focused on clubs in Nevada and California if you're from the US. This is one of the parts of the website I wish they would pad more, since I know quite a lot of people enjoy meeting potential partners and other swingers in real life rather than on a message board.
How much does it cost?
The main draw of FabSwingers is that it's free. At least it says it's free before you even sign up, right?
Well, the great news is that it's true. To make an account on FabSwingers, you don't need credit card information or to make a payment of any kind. You just fill in your details, state your partner and sex preferences, and you're pretty much set!
However, there is the option of premium access that the site offers. This doesn't involve membership or monthly payment; rather, it's a 'site supporter' membership. Meaning that if you donate to the site, you unlock some new features.
My personal opinion is that you absolutely don't have to give any money to enjoy FabSwingers to the fullest. The small features you get with donating to the site don't enhance or alter your experience here in any way, so if you're strapped for cash, you don't have to worry about this at all.
Which Countries Does FabSwingers work in?
At the moment of writing this review, FabSwingers is available in six countries: Australia, Canada, Ireland, New Zealand, the UK, and the USA. Once you choose your country, you can select the state or county to narrow your search and find local swingers.
This could be a negative side to the site since some other options I talked about here are also hosts to international swingers from all corners of the world, but it is what it is. If you're from any of these six countries, you will greatly enjoy the benefits of FabSwingers.
Overall Feelings On FabSwingers
Overall, my personal assessment of FabSwingers is that it deserves 7.8/10 stars.
I'm deducting some stars because it doesn't let guests look through the site before making an account and because there is a distinct lack of events or even people willing to date right away.
FabSwingers is a growing community, but you won't find many active users or those willing to use the 'Meet Today' feature. This isn't a particularly bad thing, but it does make me question using FabSwinger as a primary dating source.
Perhaps it would be best to make an account on one or several other sites as well (such as AdultFriendFinder) and use FabSwingers as a support search, so to speak. A supplement to your existing online presence, if you already have one.
All in all, it doesn't hurt to sign up for FabSwingers or to start chatting with its members. Remember my golden rules of interacting with potential hookups online: be polite and friendly, stay safe and smart, and if anyone's ever rude to you, simply block them.
With these simple tips in mind, you should have no problems finding playmates no matter what site you end up on! Enjoy!