It's that time of the day, folks. We're back with another closer look at a porn game that I spent an embarrassing amount of time playing. What can I say, I was off work for a while and by now, you know that video games – both regular and porn – are what keeps me sane when I have nothing better to do.
I have been playing video games, the regular kind, ever since my family first got a computer when I was a kid. We were all using it on and off and it was set up in the computer room because that was a thing. That's where I first discovered the joys of letting go of the real world for a moment and embracing a virtual one, where you can be whoever you want to be and do whatever you want to do.
Sometime later, on the cusp of 18, I realized there were such things as porn games. Games with explicit content! What a revelation! By that time, I already had a computer in my room and was able – and happy to – masturbate to these games to my heart's desire.
Now that I've given you a brief overview of my video gaming history, why not venture on to the topic of this review?
Let me introduce you to Fap CEO, the porn game you will never get enough of!
What Is Fap CEO?
Fap CEO is a hentai game, meaning that the porn art you will find here is done in the Japanese anime style. It is a clicker/idle game with some elements of a dating simulation, which means the gameplay is ridiculously easy and doesn't require a lot of brainpower.
While I do love games that engage my mind and make me work for it, when I'm tired, it's great to just open up Fap CEO, sit back and enjoy the juicy content.
The premise of the game is as follows:
You're the CEO of a budding video-chat empire. Your job is to grow your business by hiring new employees, earning more money, and having sex with as many hot girls as you can throughout the process.
To help you with this, your secretary Amber is there to guide you and provide you with much-needed moral, emotional and, of course, sexual support.
Fap CEO is a free game, or rather a freemium game. You don't need money to play it, but there is a premium currency that will enable you to move faster through the story and level up more quickly.
There's A Gay Version (Man Stream)
If chicks aren't your thing – or if both chicks and guys are your thing – then you might want to take a look at the gay version of Fap CEO, which is called Gay Fap CEO or Man Stream.
The game storyline is exactly the same, with the only difference being that instead of Amber you get Fred as your free-spirited secretary willing to please you in every way possible. The setting of the game is also a bit different, in that it is not as pink and cutesy but darker and more industrial in tone.
Where To Play Fap CEO For FREE?
The best place to play Fap CEO is here, the online porn game platform that should by now be a part of your regular porn site rotation.
Nutaku is an amazing place where you can sign up and make an account for free and then play any browser game you want. (Also for free!) You can also play mobile games or downloadable games, though the latter ones usually come with a price tag.
Seriously, if you're interested in adult games and want to know what the absolute best site for them is, the straightforward answer is – Nutaku.
It's Also Available On Mobile Phones
You can play Fap CEO in your computer browser – if you're logged into your Nutaku account, your progress is automatically saved every 30 seconds – or you can play it on your mobile phone.
However, as with most Nutaku games, this one is available as an app only for Android. If you wish to play it on your iOS phone, then you'll have to do it through your mobile browser. The game is well-optimized for the mobile browser, so you should have no problems.
Fap CEO Gameplay Pictures & My Experience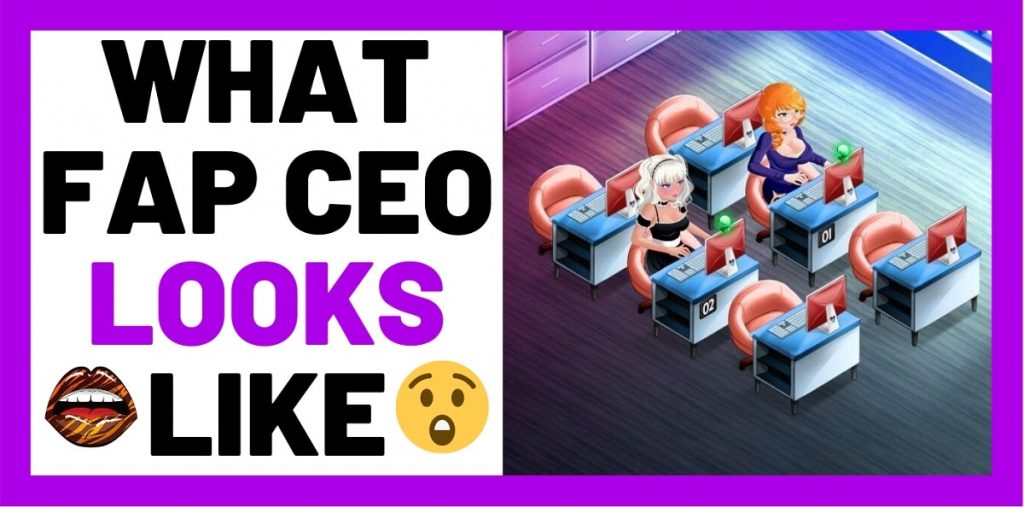 At the very beginning of the game, you meet Amber, who is your secretary and your designated hand-holder throughout this whole experience. She provides you with information on how to hire new employees, how to level them up, where to check your inbox and messages from the hot girls you hire, and how earning money works.
In your company, there are desks for your girls to work at. You can hire Amber, then a sexy high school student, a shy artist girl, a maid who is eager to please, a MILF who knows all about sex, a dominatrix teacher, and even a catgirl! The list of new girls to unlock and meet is seemingly endless.
You grow your budget by leveling up your girls and increasing your idle revenue, but also by clicking on them when it's time for their private shows to get money faster.
The dating sim part of the game happens in your inbox. This is where you go through the story of each girl, get to know them, and are rewarded with extra spicy porn pics. The explicit content is mind-numbingly juicy, easily enticing you to keep coming back for more. You have a limited number of replies, however, (2 at the start), and this somewhat slows down your progress through these stories.
A task list on the left-hand side of the screen is an easy guide on what you should be doing next. Once your girls reach a certain overall level, you will be able to sell your company and start a new one, uncovering a whole host of additional interesting features. (My favorite being the opportunity to decorate your own office space.)
Are There Any Cheat Codes or Mods?
To be honest, I never looked for these. The game makes it so easy for you to advance that I haven't had the desire to cheat my way through the story or my company's progress. You even get the premium currency for free by leveling up, completing tasks, and unlocking achievements, so there's no need for you to spend actual cash or look up any mods or cheats for the game.
If you're still determined to do it, however, keep in mind the dangers of spam sites and potentially downloading malware that could harm your computer.
Other Games To Try If You Like Fap CEO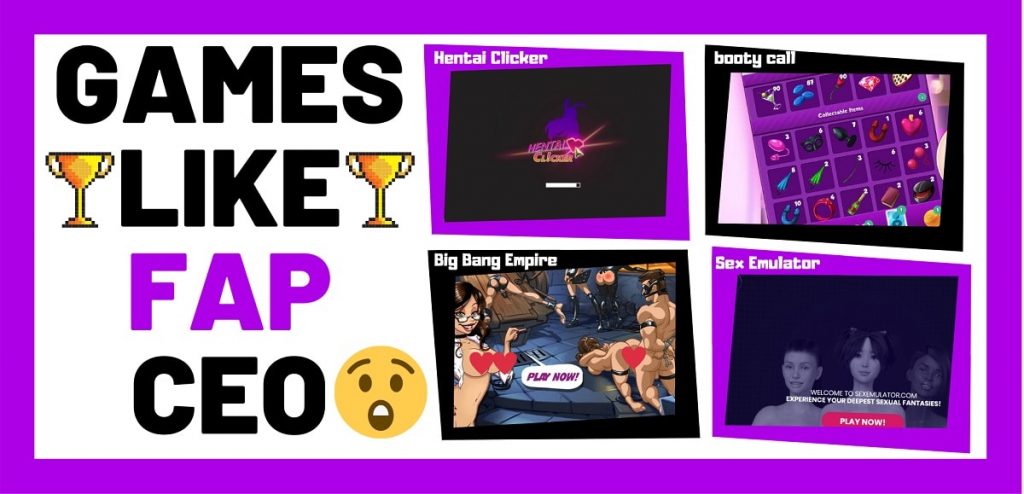 I price checked for all the best prices and deals for all these games like fap CEO in this article on the: 04/10/2023
Fap CEO is one of a kind in that it is a perfect blend of hentai porn, interesting storylines, and laid-back gameplay. There are a couple of other games similar to it, though they have their own slight differences. Here is hopefully a useful list of games you can play if you enjoyed Fap CEO, some of which are in the same category and some of which may open up whole new porn game worlds for you.
Even though I never wanted to be a pornstar in real life, the idea of becoming one in the Big Bang Empire got me hooked! In this game, you get to select your porn character, choose your skillset, and slowly build your career from a fluffer to a porn legend. Pick a porn studio to join, network with your colleagues, and produce porn scenes!
The style of the game has a little bit of everything. It is over the top, not meant to be too realistic, and it has elements of both Western cartoon design and hentai. Big Bang Empire is regularly updated with additional content and events that you get to participate in with thousands of other players.
One of the main reasons why I love Booty Farm so much is its incredible artwork. I have no idea who the genius artist behind these sexy illustrations is, but if I ever find out, I am willing to send them a monthly gift for the rest of their life because of how happy they've made me. This game is worth playing just for the hot art you'll unlock.
Gameplay-wise, it is a combination of a dating sim where you answer questions from hot girls and try to win points and a farm management game where you grow crops and take care of livestock in a small town. I know it sounds a bit weird, but it's probably the best porn game you'll play this month, if not this whole year.
Pocket Waifu is almost exactly what its title says it is – a game where you have a wife in your pocket (in the game), and where you have to treat her right, take care of her, and shower her with gifts in exchange for blowjobs, handjobs, and mind-blowing sex.
This is a simulation game that allows you to customize the girls you meet, dressing them up or down, as well as to decorate your apartment so they'll feel more like at home. It is story-driven and has fun mini-games for you to play. Not the most exciting game, but a decent option if you have nothing better to do.
Thanks to the likes of Fap CEO and Hentai Clicker (see below), I'm slowly coming around to clicker games. However, one game that I still don't like is Fap Titans. Here, you get to slay monsters by clicking on them and to unlock sexy female heroes who will fight these monsters when you're idling.
I am not a fan of the rough artwork that leaves a lot to be desired. The gameplay is too simple because all it requires from you is to click. The dry, brown user interface isn't for me and, overall, I wouldn't recommend this game unless you have absolutely no other choice.
Kinkoid Studio made two of my favorite games: Harem Heroes and Hentai Clicker. Both are set in the same world, the Haremverse, and they feature some of the same characters. In Hentai Clicker, you click on sexy girls to get them to orgasm. This earns you points and allows you to level up.
Yes, it is a clicker game, but it does have some dating simulation parts, much like Fap CEO. Its design and artwork are amazing, and I love the explicit pics that you get. Hentai Clicker is nothing revolutionary in the world of gaming, but it will keep you happy for quite a long time.
In Fake Lay, you get to play whoever you want to play. You can be a porn producer, a cab driver, a masseur or any number of other fake jobs you can get to seduce hot girls and convince them to sleep with you. The goal here is to film the girls and earn money for your movies.
I wasn't so thrilled about Fake Lay at first because it was too cartoonish for me. However, once the story picked up, I found myself eager to continue playing it just to see what happens. So if it doesn't grab you at first glance, don't worry. Maybe it'll grow on you like it did on me.
This has to be one of the cutest games that I still enjoy playing. The design of Booty Calls is extremely hentai, meaning that here you will find all the big-eyed and big-boobed girls you've always wanted. It is a casual dating simulation where you need to take girls out on dates and have sex with them.
This serves the purpose of helping a mermaid who was just recently turned into a human, Andriella. She will guide you through the game and your dates with other girls and, in turn, you will provide her with a secret ingredient she needs to stay human. A win-win situation!
This is a dating sim in the form of a dating app. It has some fantasy elements to it because you play a guy who has been cursed to spend all eternity in hell. To get yourself out of this, you need to seduce all seven angels in the game and be all kinds of kinky with them.
7 Angels comes with over 500 adult pictures for you to unlock. You get to meet random fictional girls, improve your skills, and complete challenges. Some of the interactions are done in the visual novel style, and you're expected to make good decisions throughout the game, so be smart about it!
Sex Simulator is a game that is actually not like any of the others on this list. It isn't on Nutaku, and it isn't a hentai game. It's not even 2D, to be exact. Sex Simulator is a simulation more than anything, an interactive porn platform where you get to play with a naked girl.
You can choose what this girl will look like, the color of her skin and hair, the size of her boobs, and what porn skills she will have. Then you get to see her in all sorts of positions and situations by clicking on commands such as Anal, Spanking, Blowjob, and others. While not a game per se, the Sex Simulator still offers a lot of adult fun.
The Game I Play The Most Right Now (From The Above List)
From the games I talked about here, the ones I play the most at the moment are Hentai Clicker and Booty Farm. I love their gameplay, I love their stories, and I can't get enough.
If you're looking for something a bit different, then you can't go wrong with Sex Simulator. You're guaranteed hours of porny fun with that interactive 3D platform.
My Review After Playing This Game For Hours
I always say on this blog how I'm not a fan of clicker/idle games. They're often uninspiring and dull in their gameplay and storylines, and even their porny rewards are somehow lacking.
Fortunately, none of this is a problem with Fap CEO. While it is largely a clicker/idle game, it has so many other interesting features added to it – including the sexy inbox where you chat with your girls – that there's always something fun to do.
I love increasing my profits, chatting with girls to get more of their sexy pics, decorating my office, and even buying shares at the stock market and doubling my budget! The fact that there are many little tasks and achievements for you to complete makes you feel that much more accomplished at the end of the day.
The artwork of Fap CEO is a bit too saturated for me, and oftentimes a little sloppy. I don't mind this too much, though, because all the important porny bits are there. The girls are hot and busty, and they're more than eager to spread their legs for you. While I have seen other games with much better art styles, Fap CEO is not low in quality by any means.
Finally, the only major flaw I could find is the fact that you don't get many replies at the beginning. (Or ever, if you're unwilling to spend your premium currency.) Two replies maximum with a recharge rate of one reply per hour is just too damn slow for me. I get that the creators tried to limit the number of porn pics you can get and slow down the progress through the story, but I feel like they overdid it.
That being said, you can save up premium currency by completing tasks and increase your maximum number of replies, which makes things a bit easier.
Tips & Guide To Playing Fap CEO
My biggest tip for you would just be to sit back and relax. Enjoy your time with these sexy girls! Fap CEO is the type of game where you don't have to think too much. Don't stress out over whether or not you should give this answer or that answer, this or that gift… In the end, you'll still be treated to plenty of delicious hentai porn.
The same goes for your company's growth: all you need to do is understand the basics of how to level up your girls and you'll be on your way to success in no time!
The only thing I'd point out maybe would be to save your premium currency for something special. (Unless you're okay with buying it for actual money.) I used it only for increasing the maximum number of my replies since this is the one part of the game I wished would be faster. You decide what is important for you and what you'd like to spend your rubies on.
Questions I Had Before I Played This Game
Fap CEO Wiki & Reddit Page
Even though this isn't required, you can always take a look at the game's wiki page or the official subreddit dedicated to it.
The wiki will provide you with more insight into what the game looks like and what you can expect from it. There is information about the skill tree, the girls you can unlock, the office decorations you can collect and so much more.
The subreddit is a community of about 3.3 thousand members and it is active enough. You can use it to ask questions about the game or discuss possible game bugs, as well as to meet others who enjoy playing it. However, if you wish for a more or less instant response, joining the Fap CEO Discord server might be a better option.
Is Nutaku The Only Place To Play?
For the purposes of this review, yes, Nutaku is the only place to play Fap CEO on. If you google the title of the game, you will find other sites offering the Android app for download, but I honestly wouldn't trust them. Fap CEO was officially published by Nutaku, and that's where you should go to play it to be safe.
Is There A Guide To This Game?
Other than the overview of the game you can find on Fap CEO wiki, there is no comprehensive guide that I found. Again, the reason for this is probably that you don't need much of a guide. In the first few minutes of following your secretary Amber's instructions, you will already get everything you need to know to have a great time playing the game.
Where Can I Find a Gallery?
In the game, you can find a gallery of all the pictures you unlocked by going into your inbox and clicking on the photo icon in the top right corner of your screen (next to the X). I love how you can sort your pictures by the model, by your favorites, and by category! The categories are Big Boobs, Penetration, Pussy, Small Boobs, Solo, and so much more. Not many games offer this luxury, and Fap CEO really went above and beyond.
System Requirements (Can You Play It?)
To play Fap CEO on your computer, you can use any platform and any OS. The supported browsers are Microsoft Edge, Google Chrome, Mozilla Firefox, and any other that is compatible with HTML5.
As for your graphics card, any one with more than 2GB of RAM should be enough to run this game without any issues.
When it comes to system requirements, Fap CEO is not a demanding game at all.
Did I Miss A Game?
If I failed to mention a game you know (and maybe love) that belongs in this review, please drop its title in the comments so I can check it out. Thanks!