Feeling kinky? Want to try something new, something exciting and a little unconventional? You've come to the right review then, my friend, seeing as here I'm going to talk about the enticing world of BDSM and similar fetishes, all through describing the glorious site that is FetLife.
My girlfriend and I have had our fair share of these kinky experiences in our decade-long sex life, and I know how intimidating it can seem at the beginning. We had no idea what to do, where to turn or how one even became a member of the BDSM community. Did you have to apply somewhere, go through training, receive a badge?
Okay, no, we didn't go that far.
But the truth is that, once you decide that you'd like to try some roleplaying, some bondage, perhaps some rough sex or power play in the bedroom, by yourselves or with other people, it takes a while to find where to begin.
So I'm going to make it really easy for you: begin with FetLife.
What Is FetLife?
FetLife is largely promoted as a social network for those who are enthusiastic about BDSM and different fetishes and kinks. It has over 8.4 million registered members (no, that is not a typo), and is arguably the largest online community of its kind.
If you want to learn more about the kinky side of things, then FetLife is the place to make an account on. The best part is that it is 100% free, and there are no features of the site that are off-limits to regular, non-paying members.
There is really no reason for you not to join. FetLife was one of the first sites my girl and I signed up for during our humble BDSM beginnings, and we've never looked back.
What Does The Inside Of FetLife Look Like?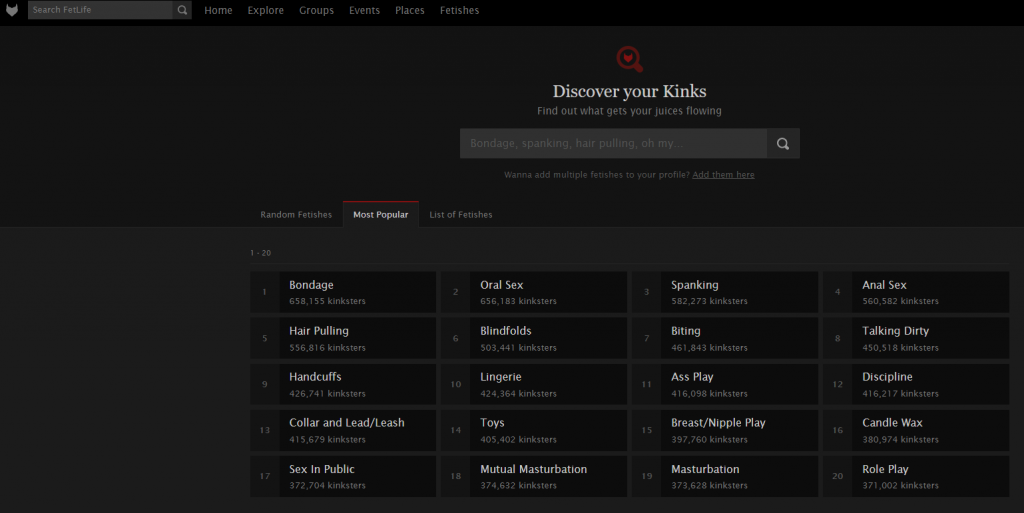 Once you sign up for FetLife, you should set up your profile. Much like the social network platforms you're used to (like Facebook), you get to upload a profile picture, share personal information (see my later section on safety for tips on how to stay secure at the same time), and you can create an entire About Me page that supports HTML customization!
The best part about the FetLife profiles is that there are specific fields for you to list your fetishes and other fields for your limits.
Fetishes are, of course, what you're into when it comes to sex, and limits are where you draw the line and what type of fetishes you would rather avoid. This is a useful piece of information to have when you're looking for potential sex partners.
On FetLife, you have a dashboard where you can see what the people you follow and have added as your friends are posting. There are status updates and loads and loads of NSFW pictures, so be prepared for varying degrees of porn whenever you log in.
You have the option to write blog posts about your thoughts and stories and experiences, read content from other users, and even join discussion groups for specific fetishes and/or locations.
What Is FetLife Used For?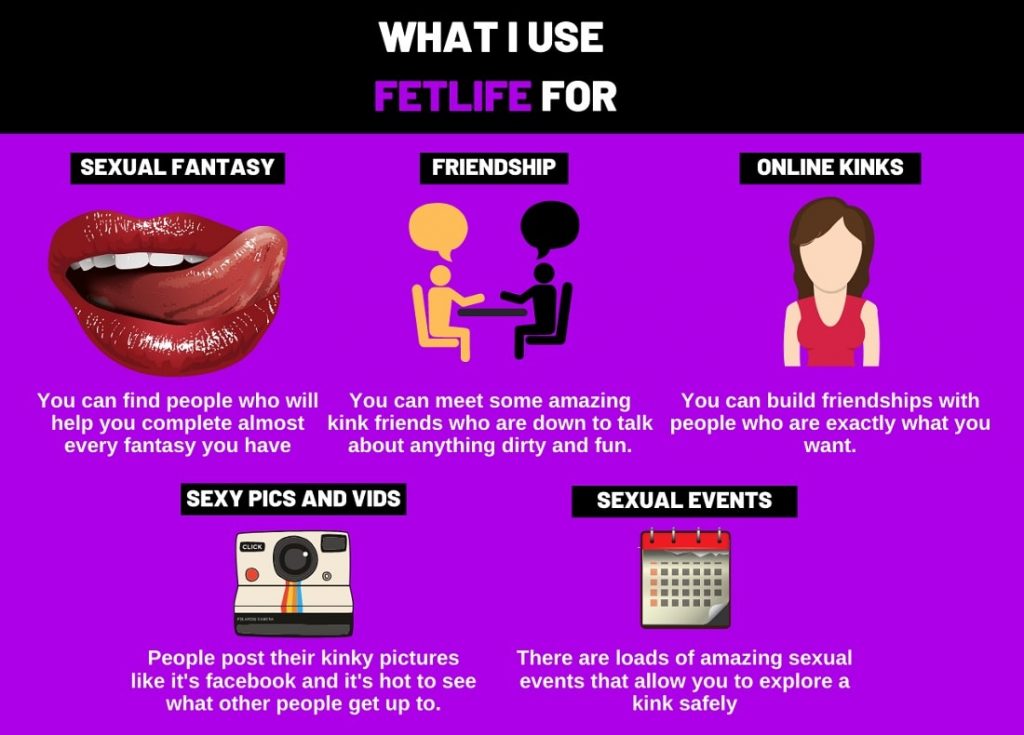 It might seem silly, but even people who use Fetlife all the time, usually miss out on massive parts of the site.
So, what are some amazing things you can do on this site?
Finding People To Help With A Sexual Fantasy/Fetish
The main purpose of FetLife is to connect those who are looking for partners to play out a specific sexual fantasy or fetish. The community is so vast and so inclusive that you are sure to find people for almost every fetish known to man. It's incredibly easy to get in touch with someone who might be a fit for you and send them a friendly message.
Building Kinky Friendships That Help You Explore Kinks
Members on FetLife often organize meetups based on a certain kink, and these places are a great way to meet like-minded people. You can see them in person, have a drink, talk about your experiences and get to know those who have the same sexual preferences as you do. Hurrah, for making new friends!
Making Online Friends with Other Kinks
If you wish to explore and/or experiment, if you're curious about what other people are into and maybe want to broaden your own kinky horizons, FetLife is the ideal place for that. Thanks to Skype meetups and groups I mentioned before, organized in a forum layout, you can join any kink community you want. For example, there are groups set around:
Curvy women and the people who love them
Submissive women
Rough sex
Sadists and Masochists
Riggers and Role Sluts
And that's just to name a few off page one. There are over 6000 pages of groups, each with thousands of comments and discussions. If you're looking for an extensive source of content, you've certainly found it on FetLife.
Explore Pictures and Videos from Real Kinks
The amount of amateur porn you will encounter on FetLife is out of this world. Users love to share their sexual escapades, often backed-up by visual aids, and there won't be a dull moment on your feed. You can look at albums and albums of sexy images and watch hours of homemade kinky videos that your fellow fetishists created and uploaded.
With a strong emphasis on extreme kinks, FetLife is an amateur porn haven.
Finding Sexual Events
Once in awhile – actually pretty often – you will see an announcement about a sexual event happening. Hopefully, you live in a place that could be close to any number of these events that are organized on a semi-regular basis.
These can be simple meetups where you can get to know potential sex buddies, or they can go further and turn into real-life orgies. In any case, if you're eager to dive into the community (and perhaps get some orgasms at the same time), you should consider attending an event near you.
Sites Like FetLife (Where I Go When I'm Bored Of FetLife)
I price checked for all the best prices and deals for all the sites mentioned in this article on the: 04/10/2023
Okay, that was a bit of an exaggeration maybe, because I rarely – if ever – get bored of FetLife. But if you wish for some other suggestions where you could meet solo people or couples to play with, or if you want to take a break from the kinky stuff, here are some other options for you to try out.
Would any review on this blog be complete without Tiffany or I mentioning Adult Friend Finder? Probably not. But yes, this site is our all-time favorite when it comes to dating sites and places where we find partners for our sex games. It is easy to navigate, easy to meet other people on, and it's similar to FetLife.
Adult Friend Finder is abundant with kinks and fetishes of all kinds. It is not a fetish-specific community, but if you're upfront about your desires, you shouldn't have any problems finding people who will want to play with you. On Adult Friend Finder you can create a blog or read other people's blogs, upload pictures, and even have a webcam live chat with users who catch your eye. A great all-around experience!
OkCupid

(Really Kink-Friendly and My Second Favorite)
Okay, so you might wonder – what the hell, Chris, OkCupid is a site where people hope to find their one true love. How am I supposed to find a fetish partner in a place where everyone is looking for their soulmate? Well, you clearly haven't spent enough time on OkCupid.
Namely, despite marketing itself as a site where you might meet your next big love, OkCupid is surprisingly kink-friendly. So many people – and I mean, so many people – are just looking for someone to have fun with when it comes to casual, alternative sex, and you won't make a mistake by signing up here and digging into all the juicy stuff that OkCupid offers.
Alt.com

(Amazing All Round)
Speaking of alternative sex, have you heard of Alt.com? If not, you should definitely give it a go. This site is similar to FetLife in many ways, including the fact that it mainly focuses on BDSM, bondage and other fetishes. It doesn't matter if you're single or part of a couple (or a group!), because there will always be a kindred kinky soul on Alt.com for you.
The main difference between Alt.com and FetLife is that Alt.com isn't free, and it requires you to subscribe to a membership to access the site. I explain exactly why this is a good thing in my full review of Alt.com. If you decide to enter this enticing world of power play, it will only be a matter of days before you find your first potential sex buddy. If you want some sites similar to alt.com, then you need to check this out.
Collar Space used to be a lifesaver for everyone who got their freak on in bed. From those wanting to become sex slaves to those looking for sex slaves, from subs and doms to people with fetishes for all different types of toys and medical equipment… Literally, anyone could advertise their services or desires on this simple, frankly poorly designed website.
However, Collar Space hasn't been maintained in years. Its 'live video' section is a random show streaming from Chaturbate, and most of its users haven't been on in years, even if their profiles are still up. The site mostly redirects to Alt.com, so this is your PSA that Collar Space is, for all intents and purposes, no longer in effect.
TheCage

(Good BDSM Community)
The Cage is visually not as impressive as FetLife or Alt.com. It seems a little outdated and its landing page is cluttered – it might take you a few moments to orient yourself in confusion. However, once you get your bearings, you'll discover that The Cage actually has a friendly, welcoming BDSM community that is willing to chat and help you with any problems you may have.
On this site, you will find blogs from other members to read, a forum to participate in (some current topics are 'Where to start if you're a newbie?', 'Reasonable Limits and Ruined Orgasms', 'Married or single subs?', and so on) and even personals where you can advertise what type of partner you're looking for. If you're unsure of what BDSM actually entails or if it's a place for you, make sure to read through The Cage's Information & Resources section on everything you need to know about the lifestyle.
If we're already judging sites by their design, then FetSter is… underwhelming. I'm sure that anyone with the basics of HTML and CSS nowadays can put together a much more impressive website than this. Fortunately, however, we're not here for the eye-catching UI and UX, but for the potential that the site holds.
In order to access all the important parts of FetSter (photos, videos, blogs, classifieds, the forum, groups), you need to make an account. This account is 100% free, though, so your budget won't suffer. Then you can get into browsing through the content and discovering new people who may want to share their fetishes with you (or let you share yours with them, however you like).
This is a site that introduces you to a kinky sex app. Its landing page is simple, with an intriguing column of text on what the best practices are when it comes to BDSM, what you should be on the lookout for and what are the dos and don'ts. It even has some blog posts on BDSM topics that seem interesting at first glance.
However, if you click on any link leading away from this site, you are met with spam. More ads about the same app, questions seemingly intended to gauge your tastes but actually leading nowhere, and generally, site behavior that I don't appreciate. There is nothing good for you on this site, and so there's no reason for you to bother with it or its 'app', which may not be a real, existing app anyway.
No, this isn't a joke. If you're already not familiar with Reddit's porn and fetish communities, you need to get up to speed. This social network hosts subreddits of all types, as you may well know, and it should come as no surprise that you can find a community for just about every kink under the sun.
Of course, these subreddits are for adults only, but they are a great source of information and new people. You get to read stories from others who engage in the same fetishes as you, watch their videos or look at their pictures, and connect with them through comments and replies. For free! Overall, Reddit is one of the best options on this list for integrating yourself into a BDSM community.
Sites That Deserve A Mention:
Strapondating (Pegging and Femdom)
Findspankingpartners.com
ChastityMansion
BDSM.com
Whiplr
My Current Most Used Kink Social Media/Dating Sites
If we disregard FetLife for a moment, the dating sites that my girlfriend and I use the most to find our sex partners are Adult Friend Finder and OkCupid.
In truth, we use all the good and active sites from my list on and off, but these two are the ones we love the most and always return to.
Questions About Kinky Social Media Site Fetlife
These are the questions I wanted to be answered when I first joined. I found them out myself and thought I'd share.
Is FetLife Safe?
The good thing is that you have to make an account on FetLife in order to communicate with others. Sure, there is always the possibility that someone has a fake profile or hasn't uploaded their own picture, but it still gives you the feeling of enhanced safety.
Here are some key things to do or not to do to make sure you are as secure as possible on sites like FetLife:
Don't post pictures of your face, just of your body if you want to share explicit photos.
Talk to people on Skype (preferably on a video call) before meeting them in person.
Don't meet anyone you're not sure is real or not.
Don't give too many personal details. Go by a nickname first, and then see how the relationship develops.
Trust your gut when it comes to people. If someone is giving you a bad vibe or is being too insistent or too creepy, cut them off. Block them and/or report them, and don't give them a second more of your time.
Meet those who have good reviews and lots of friends on their profiles. Reliable people are usually those who have already been playing for a while, and it's easy to gauge whether or not they're genuine with one look at their profile.
How Can I Find You On FetLife?
Me, personally? Well, that's not an easy feat, I have to say.
Because I'm not interested in simply meeting anyone, I don't give out my profile information on sites like these. To come across my profile on FetLife, you need to be active when it comes to the fetishes I also share.
I do talk to many people who could potentially be a match for me (and my girlfriend, because I am in a committed relationship and I don't do anything she would be uncomfortable with), but to bother building a relationship, I need to feel some attraction to either your physical appearance or your personality (preferably both).
So, who knows? If we run in the same kink circles, we just might bump into each other on a site like FetLife soon.
How Do I Pay For FetLife?
One of the unusual – but awesome – things about FetLife is that it doesn't require you to sign-up for a membership you have to pay for every month.
Rather, if you choose to support the site, you can make a one-time donation in any amount of your choosing to unlock the content that is restricted by the paywall. This includes scrolling back to see all of the pictures you've ever 'loved' (meaning 'liked', in Facebook terms), going deeper into your friends' feed history and gaining early access to new features. It also includes watching videos uploaded by other users!
If you decide to become a regular contributor, you can sign up for some form of a monthly payment, the pricing for which you will find on the site itself.
However, the tricky thing is that FetLife requires you to wire the money, as opposed to the regular credit card/Paypal payment methods. This is a bit annoying, and it's one of the reasons it took me so long to become a site donator.
Thankfully, you can access the vast majority of the site features for no cost at all.
Help, No One Is Getting Back To Me
So you joined a dating site such as Adult Friend Finder, OkCupid and/or FetLife. You've set up shop, maybe you've sent a few messages and are hoping to get responses from people soon.
Only no one is replying. It's been days, a week, a couple of weeks maybe, and it's becoming clear that the people you've messaged aren't even in the mood for messaging you back. Why is that?
Without beating around the bush: you need to up your game.
Your profile is likely not attractive to others, and you need to remedy that. Here are a few things you could do:
Upload a good body picture (lingerie or clothed)
Perhaps put together a whole sexy album
Be honest about what you're looking for
Be honest about what you yourself are like
Aim for a relaxed, friendly tone
Making first impressions on a dating site is no different than making first impressions in real life. Whereas in real life you can smile and show the other person that you're actively listening and make them laugh with your jokes, here your profile is the one that does that for you. So make sure it reflects who you are as a person!
And lastly, don't be needy. Sometimes, people are just not interested. And that's okay. Don't bother them, move on, and soon you'll find someone else who will be happy to chat and perhaps even meet with you.
How Can I Delete My Account (Removing Myself)
So you've gotten tired of FetLife. Or perhaps someone from your real life, like a friend and/or family member, discovered your guilty pleasures. Either way, you've decided to remove yourself from the website and wish to participate in its kinky community longer.
To delete your account on FetLife, click on the top-right menu and go to Settings. To the right, there should be an option to deactivate/delete your account. If you're doing this on mobile, you'll have to scroll down a bit.
If you ever change your mind, remember that you can make another account again free of charge!