Having a partner who meets all of your sexual needs is a godsend. I can't even begin to describe how lucky I am that I have my boyfriend, who has been open and accepting of my kinks (as I have been of his) practically since the moment we started sleeping together.
We have tried many new things, some of which we loved so much and have incorporated into our regular playtime and some we weren't such a big fan of in the end. Sex is all about being inquisitive and relaxed and having fun and experimenting! You never know if you'll like something until you actually try it.
That being said, sometimes you may get the need to include a third person or a couple or even a group in your sex life. Depending on where you're at in your relationship, you might want to consider having a talk with your partner about possibly finding other people to play out some fantasies with you.
I have, again, been fortunate in that I found a guy who is as open and accepting as I am, and he never had any issues with us potentially finding other people to sleep with, either separately or together.
This is how we ended up on different cam and dating sites, and how we stumbled upon Flingster, as well.
What Is Flingster?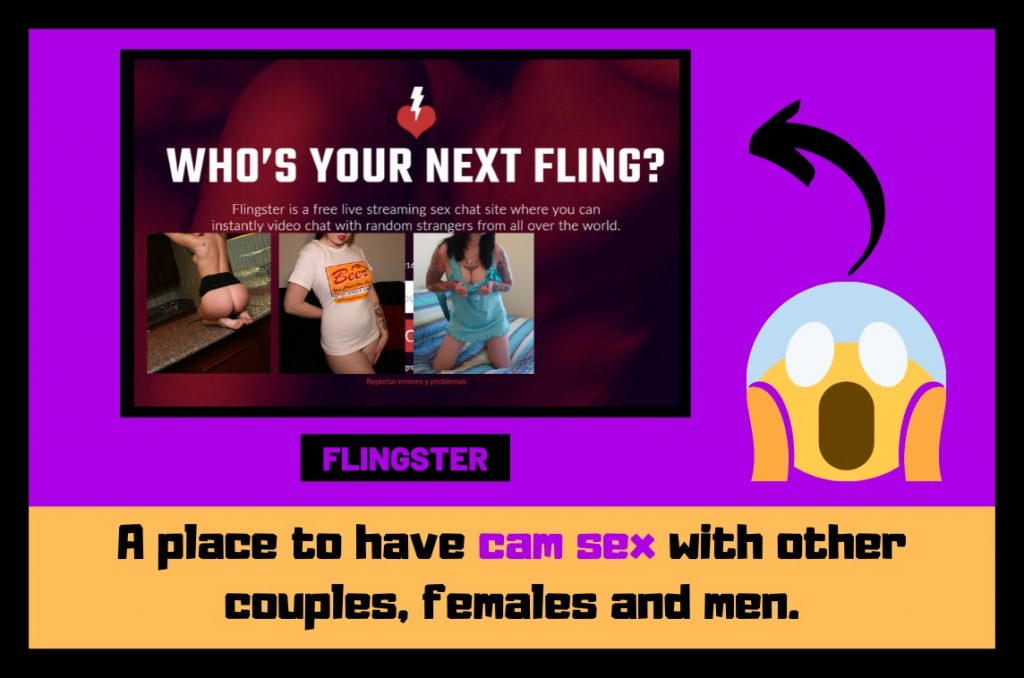 Flingster is a casual online dating site, where you can connect with random strangers instantly (without even making an account!), and start chatting with them without preamble. It is perfect for finding flings, future sex partners, friends, and possibly even long-term romantic partners.
Overall, Flingster is not a highly specific dating site where you make your profile and list all of your likes and dislikes and kinks, but it rather works in a more general way. You get paired with people completely randomly and, without paying for a premium membership, there aren't any filters you can use for increasing your chances of getting a suitable partner.
How My Boyfriend And I Use Flingster
One of the things we love about Flingster is that it is so easy to use. You simply activate the chat and see who you get on the other side! It usually takes us only a couple of minutes to decide whether or not the person is down for what we want to do or if we should search for someone else. Not everyone on Flingster is looking to have online sex right then and there, and that's fine.
Our favorite thing to do is ask whether or not the other person is willing to watch us have sex. We're really into exhibitionism or having strangers watch us play with each other, and this gets us off like nothing else.
You'd be surprised how many people are willing to do this just for the sake of some porny entertainment.
Sometimes, we also practice mild forms of partner-sharing. For example, if I find a dude I hit it off with, maybe I'll have cam sex with him while my boyfriend watches off to the side. Similarly, if he finds a girl that works for him, maybe I'll be a spectator in their lovely mutual masturbation session.
While it may look like there's not much you can do with just one person watching you through a webcam, you can actually get as creative as you want to!
My Experience Using Flingster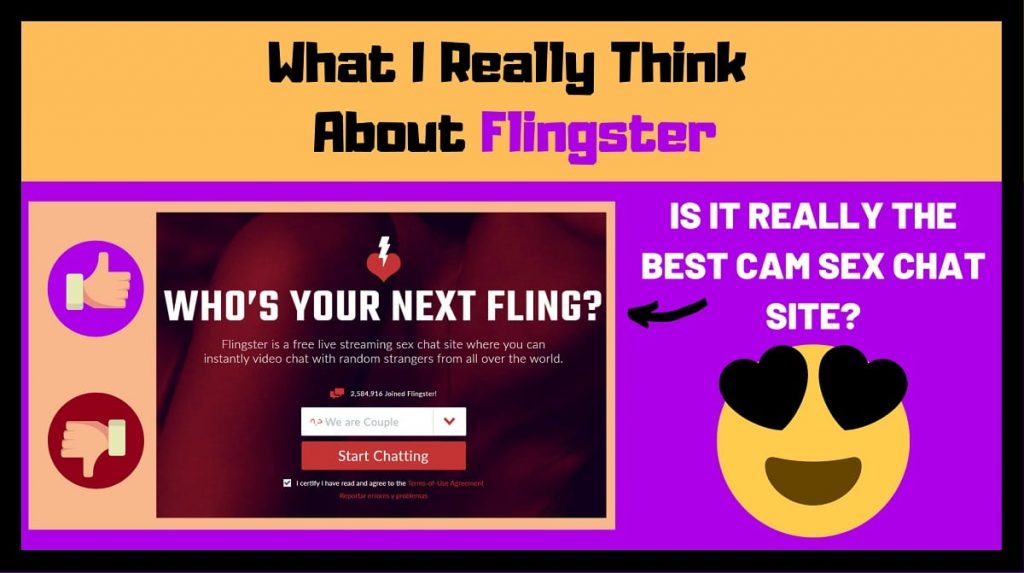 The first time we used Flingster, we weren't really looking to have cam sex right away. We were just feeling out the site, wanting to see what people we might meet, whether or not they would be interested in something naughtier somewhere down the line.
However, that very first time we opened the chat, completely unexpectedly, we saw Seth. Or at least he introduced himself as Seth. Young, attractive, with sharp blue eyes and a perpetual smirk on his lips, I liked him instantly. What can I say, I'm weak for conventionally handsome guys.
I think my boyfriend sensed my immediate infatuation with our chat buddy because he started steering the conversation to more liberal topics, asking about kinks and preferences and being a little playful even.
I admit I got wet just from hearing my boyfriend essentially brokering a voyeurism/exhibitionism deal with the first hot guy we met on Flingster.
It wasn't too long after that that we positioned our camera just so next to our bed and decided to give Seth a good show.
The whole experience was out of this world. I don't remember ever being so horny in my life, because while I was being touched and kissed and squeezed by my boyfriend, I was acutely aware of Seth's eyes on us, and later his heavier breathing as he himself started masturbating.
It goes without saying that after our fun time was over, an hour or so later, we were all too eager to exchange contact information with Seth and arrange another session like that. He has now become one of our best friends and sex partners, long-distance at least, and we're still chatting with him at least once a month.
Not a bad first experience, I have to say. Not bad at all.
Benefits Of Flingster
Here's the things that make this site awesome:
Easy to find a cam sex buddy
Be as anonymous as you like
Spices up sex with your partner
Fun text chat
Free to use
No strings attached hookups
Reasons Why I Don't Like It
There are only really two reasons I don't like flingster.
Not many filtering options
Easy for fake users to sign up
Is Flingster FREE?
Flingster is completely free! To try it out and for casual use, you don't have to make an account even.
If you want to be a little more serious, you can create a free profile where you can offer more information about yourself. This profile becomes visible to other users only when they successfully match with you in the chatroom.
Finally, to unlock some features of Flingster, you can pay for a premium membership. These features include two filters you can narrow your potential chat buddies by, gender and location, as well as AR Face Filters you can use to conceal your face.
In my opinion, these premium features are not required for you to enjoy Flingster to the fullest, and thus I don't think it's necessary to dip into your budget for the premium account.
Sites Like Flingster (Other Sites You'll Find Us On)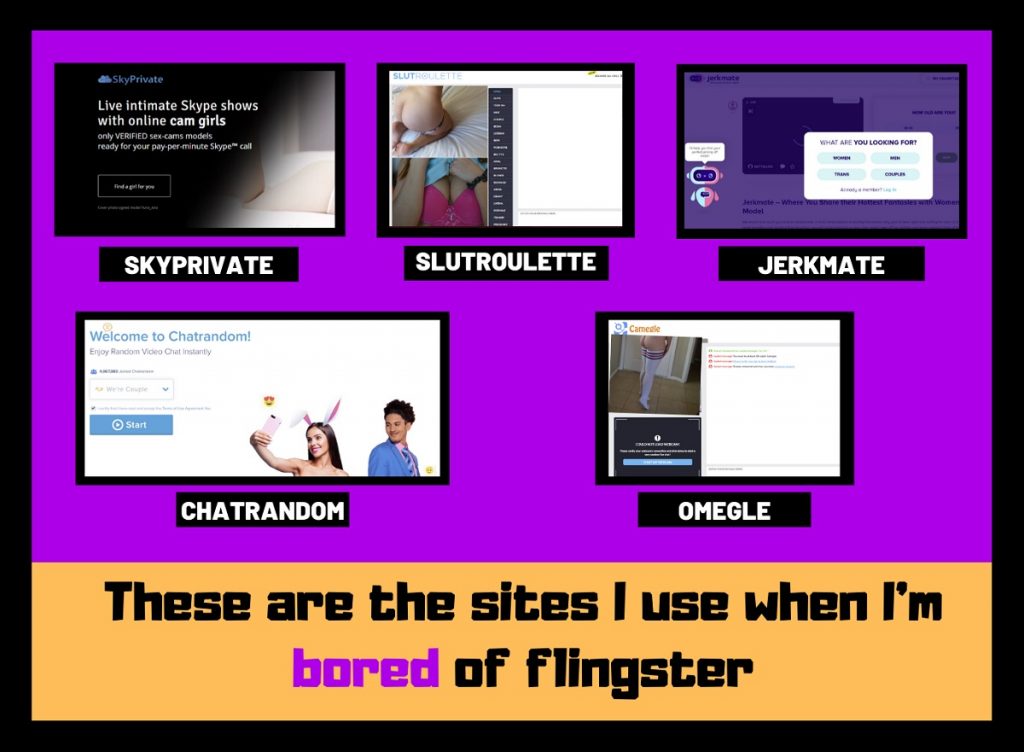 I price checked for all the best prices and deals for all the chat sites in this article on the: 04/10/2023
Flingster is a cool site that makes finding people for easy sex a breeze. However, it is not the only one of its kind. If you aren't charmed by it or if you wish to see what similar alternatives are out there, here is a neat list for you to scroll through.
This isn't exactly a cam site or a dating site. SkyPrivate is a service, for lack of a better description, that connects you to models willing to perform private shows for you on Skype. That's right, these are one-on-one shows catered solely to your needs and scheduled to work with your busy days.
I find this a revolutionary concept in camming. You no longer have to depend on the models that are currently online on a random cam site, but you can actually get in touch with someone you like and arrange a private show anytime, anyplace. Of course, this comes with a higher price tag, but I love this innovative approach.
SlutRoulette works similarly to Flingster. You open the site and are instantly greeted with a live cam of someone, typically a girl, on the other side of the connection. There are categories you can choose your models from, but the person you get within that category is largely random.
However, unlike on Flingster, this isn't a one on one conversation. Rather, the person you get is a professional cam model who is there to put on a show. There is no personal connection here, as for the model to actually engage with you, you need to either tip them or to pay for a private show with them. This is all fine and dandy, but it's not the same as Flingster and its intention of bringing people together for the purpose of casual cam sex.
With a bit of a funny name, CooMeet is a place where you can meet girls in random chat matches. It promotes itself as an online dating site, with their girls all verified and beautiful, as the site itself declares. CooMeet comes with a moderation system, HD streams, and an easy way to meet new and interesting people.
Much like Flingster, CooMeet offers almost complete anonymity, so you don't need to reveal any personal information if you don't want to. However, CooMeet also requires you to make an account to start, and this account is just a free trial, after which you'll need to subscribe to a membership. It's your call whether or not you think the site is worth investing money in. (I personally think you can get the same from other, free, sites without spending any cash.)
JerkMate is easily one of our favorite cam sites. It is different than Flingster in that it is a place where you watch cam models strip and have fun on camera – not regular people – but it is still a great porny time nonetheless. At the very start of your JerkMate journey, you are greeted by its robot assistant, asking you about your preferences and tastes so it can pair you with the best model available.
Without making an account, there's not much you can do on JerkMate. But an account is free, so there's no reason for you not to do this. If you're not interested in private shows, then you are free to watch the public ones for as long as you want. However, if you'd like a show tailored to your kinks, then you'll need to loosen your purse strings like on any other cam site.
I also did a full review of JerkMate, which shows you my full experience and gives you some other alternatives.
ChatRandom is Flingster, but with a bit more options for filtering what type of people you get paired up with. The method for assigning your chat buddy is largely random, only here you get to choose the country you'd like your new friend to be from, and whether or not you're interested in men, women, or couples. This makes the whole process a lot smoother.
Additionally, ChatRandom has an app that is available for download, so that you can easily find cool people to talk to even when you're just on your phone. The desktop website also offers chat specific for gay men and cam4 chat, which is cam chatting with four people at the same time. Talk about innovation!
While it looks like an adult chat site at first glance, Meet In Chat is actually a lot more than that. It offers opportunities for one on one sex chats, but it also has a wide range of public chatrooms – over fifty of them! – where you can just casually talk to interesting people on all sorts of topics. This is a great way to build online friendships.
Moreover, Meet In Chat promises to allow you to express yourself and build your online presence. Once you make an account here, you can write blog posts, post your artwork for others to see and create an in-depth profile about yourself so that people who are looking for partners like you can easily find you. It's very much a chat site and a dating site wrapped up in one.
I'll be honest – the first time I opened Nude Chat, I thought it was a spam site. The red color was way too loud for me, and I didn't know what to make of the basic, outdated design. Based on the landing page alone, Nude Chat doesn't instill much confidence. However, it is a great adult equivalent to ChatRoulette, Omegle, and similar sites.
Nude Chat is precise and down to the point; if you want to have online sex with random strangers, this is where you get it. You can specify whether you want to take part in the nude chat, in chats with girls or chats with guys or if you want to meet for sex in real life, which is a whole category on its own. I haven't had much experience with Nude Chat, but it does seem like a cool place to at least tryout.
Behold, the OG of random chat sites! Omegle is probably a name you've heard of, and for a good reason: it is a site where people have been connecting with strangers for over a decade! Keep in mind that this old-school nugget isn't just about porn. It has a 13+ section, an 18+ section that is monitored, and a completely separate unmoderated section. So choose your chat rooms wisely.
If you're looking for something quick and dirty, then the unmoderated section might be the best choice. Omegle allows you to enter your interests, and it will try to match you with other people who have the same interests (but are otherwise totally random). This site can be a hit or a miss, so my suggestion would be to use it only if you have no better options. (Or are quite bored.)
You can see our full review of Omegle right here.
I appreciate the professional, modern aesthetic of tempocams.com, but it's not the type of cam site that immediately grabs your attention. Its function is like that of JerkMate and SlutRoulette, where you're paired with a model who is doing a live show. You can chat with the model, but without tipping them or in any way encouraging them financially, it's not likely you'll get a response.
Tempo Cams offers sections for girls, guys, shemales, and hentai, though I'm not sure how that last one works and honestly, I'm not curious to find out. If you'd like a cam site that randomly assigns you a model with or without some filters, JerkMate is still the best place to turn to. Tempo Cams wouldn't be my recommendation.
With a dark layout and hot pink letters, you know that ISexyChat means business. It is an adult chat service, completely free and anonymous, and it promises that you can be as kinky as you want to be in the chats. Whether you're dominating, submissive, nasty in any other way, ISexyChat will welcome you with open arms and find you a suitable partner to chat with.
This site has categories like Sex Chat, Gay Chat, Lesbian Chat, Roleplay Chat, and General Chat. There are also sections where you can trade your Skype and Kik names and also pictures of yourself and/or your partners (if your partners give permission, of course!). ISexyChat is not a bad place to be at if you're into getting it on hard and fast.
Where You Will Find Me On The Sites Above (My Favorite)
My personal favorite site to meet hot strangers on is SlutRoulette. It's direct in that you're 100% sure that everyone on there has sex on their mind, and what can I say, I'm a sucker for the sites aesthetic. I love the distinction between hetero, gay, and lesbian chats, which keeps things a lot more organized.
If you're looking for cam sites that work on the random cam principle, then JerkMate and Coomeets are definitely the winners here. My boyfriend loves JerkMate in particular, and I have to say I'm partial to it as well.
Before you make your final decision on which site works for you or not, make sure to try them all! We all have different tastes and expectations, so if something works for us, it doesn't mean it'll work for you, and vice versa. Take your time and have fun playing around with all the options!
Another Option For Meeting People To Have Cam Sex With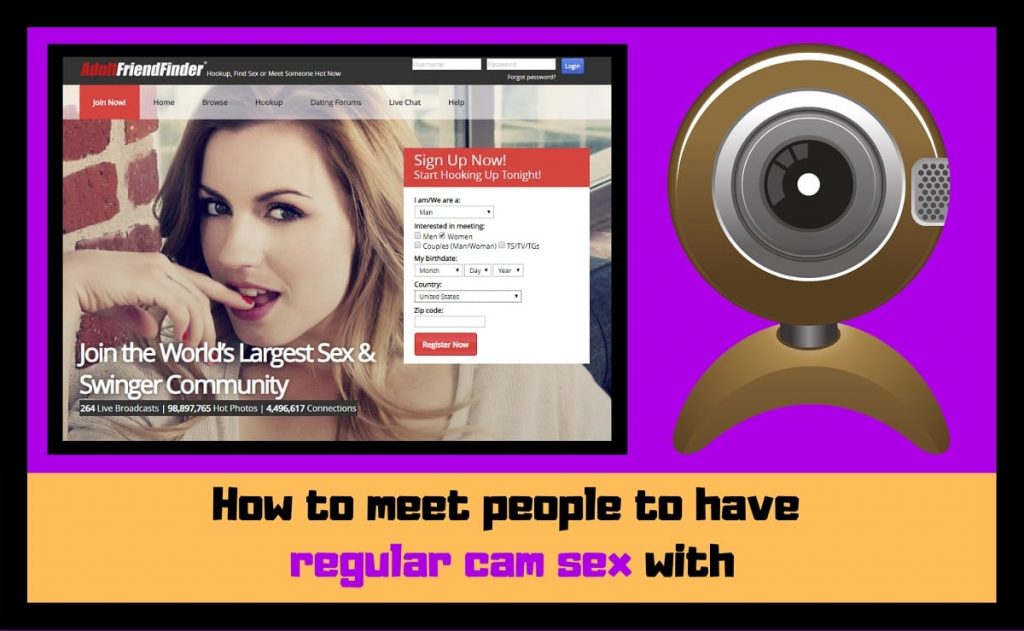 As I mentioned earlier, other than these random cam chat sites, you can also use dating sites to find people who want a quick online fling and nothing more.
As long as you're honest about what type of relationship you want to have – whether one-time, casual or long-term – you should have no problems finding the right partners on dating sites.
Here are some I use most often:
Adult Friend Finder
OkCupid
AshleyMadison
FetLife
How To Meet People on a Dating Site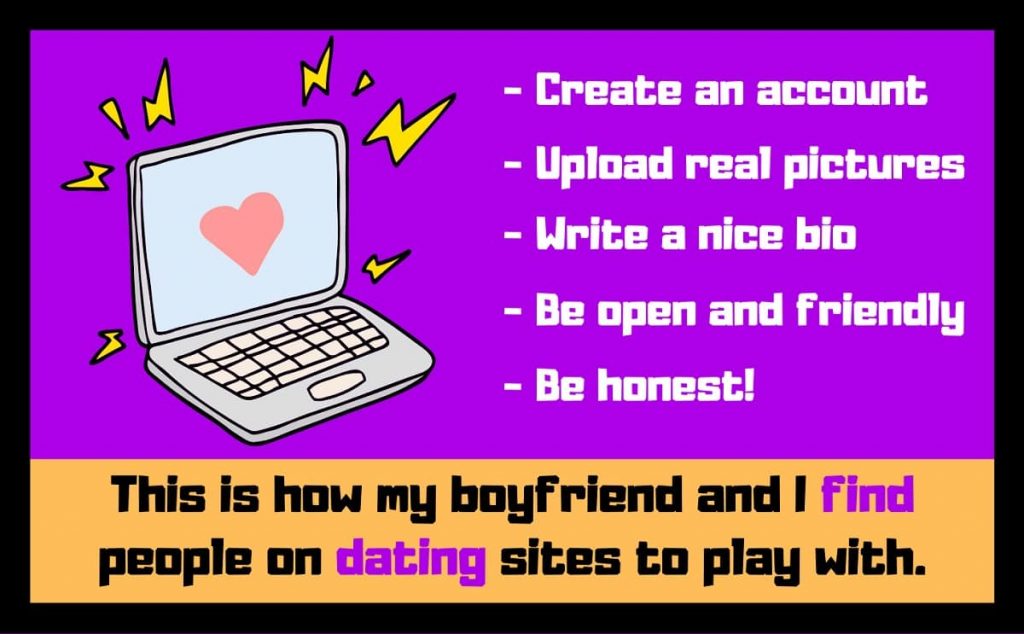 I've used most of the good dating sites and here are my tips that you can use to get more hookups.
You can find us on Flingster and others like us by doing the following.
It goes without saying that you need to make a profile on a dating site; to make a profile, you have to sign up for an account. Fortunately, most dating sites are completely free to sign up for.
While this is not mandatory, you are more likely to attract potential partners if you have a nice profile picture, or even if you upload an album or two which show off your personality and looks.
When you're describing yourself, go for a tone that best conveys what you're like in person. Be funny and cheerful and even quirky if that's your thing! Additionally, don't forget to list some likes and dislikes, turn-ons and turn-offs, so that people know what you're into before they even talk to you.
If you're looking for partners, do your best to talk to everyone. It only takes a short time to figure out if you and the other person are on the same wavelength. If you're not, there's no harm in moving on. But you'll never know if you don't first start chatting with that potential someone!
Lastly, don't try to deceive. I've heard of stories where people lie about their age, or where they upload old pictures of themselves where they thought they looked better… This isn't cool. You want to be accepted for who you are right now, so be honest every step of the way!
These are just some general tips and tricks that I've found work best when you're starting off on dating sites. My boyfriend and I had a lot of success doing this, and over the years we've formed long lasting relationships with many people, both sexual and not.
Don't be afraid to be yourself. Remember to be respectful to everyone, and if someone is giving you a hard time, you can easily block them. Good luck!
Verdict (Would I Recommend It?)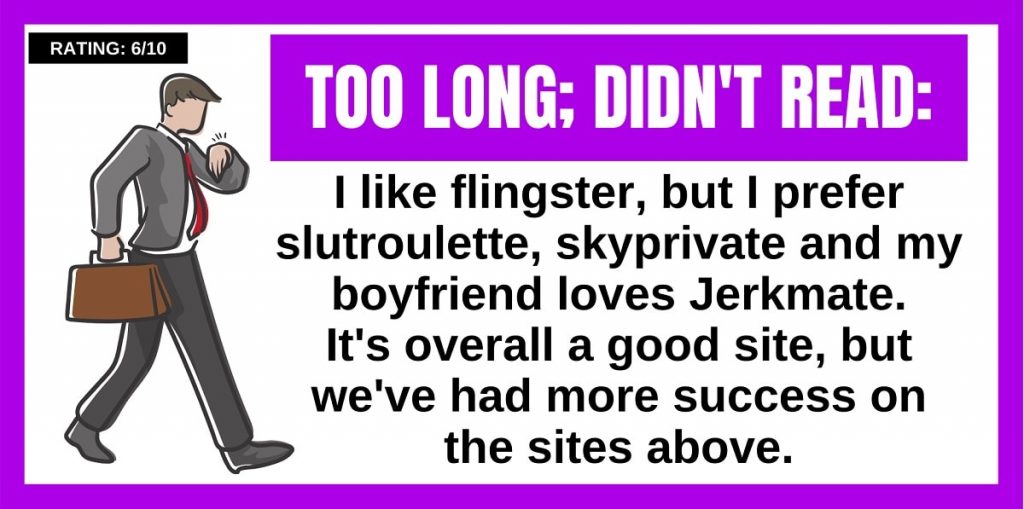 TL;DR Flingster is a cool site for casual hookups and cam sex on the spot. Only two people that my boyfriend and I met here (one of them being Seth, dreamy sigh) we continued keeping in touch with, while all the others were just passing entertainment. Which is their purpose, in the end.
If you're just looking to have some immediate release, Flingster is perfect. If, however, you're looking for a more steady partnership, whether just sexual or also romantic in nature, and especially if it involves some more extreme kinks, perhaps it'd be best to search elsewhere, like slutroulette or if you have the money Skyprivate.
I hope you enjoyed this, let me know your favorite cam chat site in the comments, we're always looking for new ones to try.