Having a foot fetish has become a lot less taboo nowadays and although it can still sometimes be misunderstood, it is a lot more mainstream than it ever has been, that being said though, finding good foot porn is still a task, especially the free stuff like I am showing you today in this massive and exclusive list. Finding good content on Reddit is easy but with so many subreddits to explore, it can be a minefield. You don't need an account to join Reddit, it costs nothing and you are free to enjoy so long as you follow the rules of each sub.
If you love feet or just testing the waters because you had an inkling for feet in your pants, these totally free feet subreddits are going to satisfy every naughty craving that you have. All were tested out and researched thoroughly by one foot-lover for another.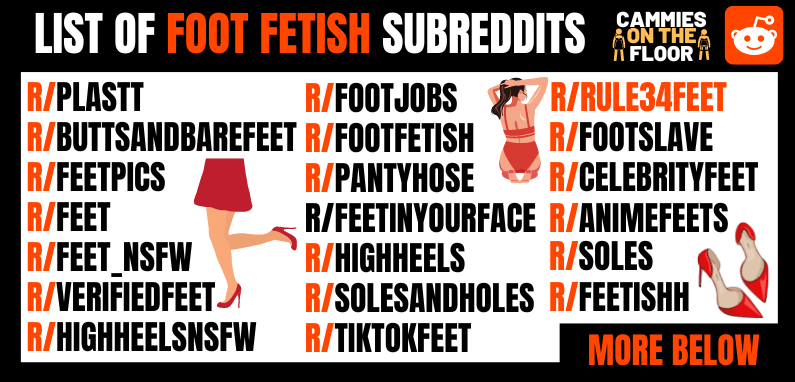 In Order Of The Most Active (Highest Members) Foot Fetish Subreddits:

r/PLASTT – 740k+ members
The most popular subreddit on my list, PLASTT is an acronym for pussy, legs, ass, smile, toenails, and tits. It's a pose where at least 3 out of the 6 named components are featured in the picture or video. It's hot, there are guaranteed feet in the famous pose and you get to have fun searching for how many components of the acronym feature in the content at the same time.
---
r/ButtsAndBareFeet – 620k+ members
As simple and as unique as it gets, this is a subreddit dedicated to simple content featuring female butts and their pretty bare feet. It's packed with drool-worthy pictures and never-seen-before snaps that will make your love for feet grow even bigger as you scroll through the seemingly endless amount of porn.
---
r/feetpics – 490k+ members
Just want plain feet? pictures just focused on tootsies? Well, this subreddit is your first stop with only feet pictures available from females in all kinds of different locations, naked and dressed, with just their pretty and bare feet to show.
---
r/feet – 370k+ members
Similar to the subreddit above, this one focuses on just female feet. It's very popular and there's always something new to see, with cute feet constantly being shared and uploaded, getting your fix of sexy feet couldn't be easier. Make an account to comment and upvote, which is always completely free.
---
r/Feet_NSFW – 295k+ members
Enjoy risky and definitely NSFW content as amateurs and professionals share their intimate feet pics, including pictures of their hot naked bodies and upskirts too. Everything goes, the only rule is your content must include your feet so make it as intense as you like so long as your feet show.
---
r/VerifiedFeet – 270k+ members
Verified models (so you know the person posting in the original submitter), this subreddit is all about feet in their most arousing state. Included are solo feet pics, naked feet pics, and feet in see-through and seductive stockings and pantyhose. There's so much to enjoy that looking through this thread will never get boring.
---
r/highheelsNSFW – 260k+ members
If you prefer your feet to be slipped inside a sexy heeled shoe, you'll love this subreddit. It's all totally NSFW and highly arousing, sexy women all dressed up in their birthday suits, showing off their precious feet in just some towering heels that accentuate their toes and soles expertly.
---
r/footjobs – 235k+ members
Footjobs is a sensual and passionate moment between a couple. In this subreddit, you can join thousands of other footjob lovers in sharing their homemade footjob porn pictures, videos, and gifs. Await thousands of verified users arching their bare soles around a throbbing cock, waiting for that dribble of cum all over their expectant toes.
---
r/FootFetish – 225k+ members
Another super popular subreddit where all kinds of female feet are put on display for every member to enjoy. Filter by popular, newest, and highest-rated, and enjoy the incredible foot content uploaded every day by users and appreciators.
---
r/pantyhose – 220k+ members
Some of us love to see cute feet inside some 'barely there' pantyhose and this sub has captured that preference and ran with it, making sure all of their content is strictly hot women in pantyhose, showing us their feet in all different kinds of outfits and sensual positions.
---
r/FeetLoversHeaven – 230k+ members
They say that paradise is on Earth and for members of this sub, feet content doesn't get much better than this, made for those with insistent foot fetishes, it's a steamy subreddit with so much original feet content, you won't know what to do with yourself.
---
r/FeetToesAndSocks – 170k+ members
Love feet? loves toes? love socks? well, you will love this thread. At the time of writing this, there are almost 200K members and it's still growing, it's quite a niche preference but it works and the content uploaded onto this sub is verified and always enough to turn me on.
---
r/FeetInYourFace – 160k+ members
First created in 2017, this popular sub holds a very happy place in my heart. Each submission is in POV style with the woman's feet being at the forefront of each post. Feet in your face is the style this thread likes and boy do they deliver!
---
r/HighHeels – 140k+ members
More SFW than the last high heel subreddit we visited earlier on in this list, this sub is dedicated to heels, wearing them, adoring them, and discussing them with plenty of videos, gifs, and pictures of ladies wearing their favorite sleek heeled shoes.
---
r/MissionarySoles – 121k+ members
Simple yet effective is how I would describe this bonder-inducing sub, it's dedicated to women in missionary positions with their bare soles facing the camera. The videos and gifs that get shared here are always incredible and give you a delightful foot lovers POV.
---
r/solesandholes – 108k+ members
Straightforward and uncomplicated, soles and holes is a sub dedicated to women in explicit pictures and videos showing both their feet and their holes to the camera. It's hot, seductive, and very alluring.
---
r/TikTokFeet – 105k+ members
This is quite a niche subreddit, however, there is some really great content to be enjoyed on here. It's filled with TikTok videos and TikTok lives of women showing off their feet, it may just be about feet or they may be somewhere in the video, so there's plenty for everyone to enjoy.
---
r/Feetishh – 104k+ members
There is no nudity to be found on this subreddit, feet-only. It's a friendly community filled with others who enjoy feet and feet only, a lot is left to the imagination on this sub but it is still as erotic and arousing for foot fetish enthusiasts.
---
r/FootSlave – 100k+ members
If you love humiliation, domination, slave roleplay, and obedience, you're going to love this subreddit. Although content isn't verified, there are so many postings of hot women, showing off their feet and demanding your attention.
---
r/CelebrityFeet – 91k+ members
Find any and every celebrity and pictures of them and their feet on this thread. Filter by most popular or most rated and enjoy a vast selection of celeb feet pics!
---
r/AnimeFeets – 88k+ members
If you like anime, specifically anime porn, this sub is for pics of anime toes, soles, and feet. Find all kinds of different characters and scenarios in HD-anime detail at the end of your fingertips.
---
r/soles – 86k+ members
If the sole is your favorite part of the foot, you need to check this out. It's filled with just that, female soles posted by enthusiasts and feet lovers. You will different colors, different sizes, and different types of feet all over this page.
---
r/rule34feet – 81k+ members
Rule 34 is when something exists in real life or in the made-up world, such as video games, the internet will make sure there is a pornographic depiction of it. On this sub, rule 34 exists in the form of feet on our favorite anime, cartoon, hentai, and cosplay characters.
---
r/ebonyfeet – 76k+ members
Verified amateurs share their feet pics on this sub and the only rule is that all feet must be those of black women. Nudity isn't a requirement here but it is always welcomed, so if you enjoy black female feet, this is your sub.
---
r/FootjobCum – 74k+ members
Love footjobs? well, this sub is filled to the brim with videos and pictures of women getting cocks off to completion. Footjobs galore await as you enjoy thousands of footjob posts with an always satisfying ending.
---
r/Rate_my_feet – 72k+ members
This is the place to really pay attention and rate the feet of amateurs who love to post their feet to be judged by feet enthusiasts. Make an account to rate and comment and let the poster know what you really think of their footsies.
---
r/TGirl_Feet – 65k+ members
Tgirls are girls who have cocks and this subreddit is mesmerizing pictures, gifs, and videos of Tgirls showing off their feet and usually their naked or half-dressed bodies too. It isn't for everyone but for those it does apply to, they love it!
---
r/FootTalk – 59k+ members
This sub has a much of a community feel to it, it's a place to exchange fantasies, pictures, and stories of female feet. It is a judgment-free zone and the moderators work hard to ensure a smooth and friendly safe space for feet lovers.
---
r/FootFetishExperiences – 57k+ members
Only verified females can post their hottest and most alluring content here. Created in 2020, this is a super popular sub with so much foot fetish content to enjoy from hot and horny amateurs.
---
r/PublicFeetPics – 46k+ members
If you love feet and you love seeing feet in public, this thread is packed with real women posing in public with their feet on display. It's not as graphic as some of the other subs we have explored but it is definitely worth a look.
---
r/ToeSucking – 45k+ members
If you have an affliction for 'feet oral', enjoy this sub. It's videos, pictures, and gifs of hot women sucking their own toes or having their toes sucked. Watch as their eyes roll and their bodies loosen to the wonderful sensation of toe-sucking.
---
r/BlackBrownFEET – 45k+ members
Anything involving feet goes here, with women of color being the stars of this sub. So long as you're a woman of color, you can post and submit your content, everybody else is free to comment and rate their findings.
---
r/CumOnSoles – 45k+ members
A subreddit purely to show off toes and feet covered in freshly splattered cum, it's a popular sub with so many postings, including pictures and videos, that finding cum on feet content will never be difficult again.
---
r/heels – 43k+ members
No nudity, no lingerie, just feet in heels, women strutting their stuff and posting it online for all to enjoy for free, as it always is on Reddit. Enjoy women wearing stockings, pantyhose, socks, and just bare feet in cute shoes.
---
r/FootFetishTalks – 39k+ members
This sub is a little different from the others that we have seen so far. There are no pictures or videos allowed, this is just a place to discuss and share foot fetish experiences in typical NSFW fashion.
---
r/CosplayFeet – 29k+ members
Cosplayers can be seriously sexy, especially when done right, and these horny gals all want to dress up as their favorite character and then show off their feet at the same time.
---
r/FeetUpCowgirl – 28k+ members
It's specific yet it works flawlessly, it isn't as active as some of the other subs we have seen but there is plenty of good stuff to keep you entertained, more specifically videos and gifs of women riding men in cowgirl with their feet on his thighs.
---
r/feetexpo – 27k+ members
A perfect place for women to post their feet, big, small, dirty, clean, bare, in stockings, nylons, socks, and just about in any other state. If you're a female and have feet, you're free to post and if you're respectful and love feet, you're free to join and comment at your pleasure.
---
r/bigfeetgirls – 27k+ members
We see a lot of small and dainty feet featured on foot fetish sites but this sub changes all of that, it's for big feet only, women with larger feet, showing them off to those of us who prefer something a little bigger to feast on.
---
r/solesandface – 26k+ members
A little safer for work than some of my other suggestions, this subreddit is for photos of women only, showing the soles of their feet and their faces! It's simple yet it works with thousands of members who all love the same thing.
---
r/cumonyourfeet – 26k+ members
Filled with female feet awaiting their splash of male love! pictures, gifs, and videos of feet being covered or already coated in sticky, warm cum and there is so much of it to enjoy!
---
r/Feetup – 24k+ members
Nude women with their feet up in the air, what is there not to love about this? It's intimate, explicit, and guaranteed to turn you on and keep you busy for a few hours.
---
r/FootjobBlowjobCombo – 24k+ members
Not the easiest of sex acts to master, the footjob and blowjob combo is tricky but yet there are women all over the world mastering it and posting their triumphs here.
---
r/dirtyfeet – 23k+ members
Smelly, dirty and unkempt is how some of us love our feet and this sub is filled with women showing off their less-than-perfect toes, get ready for some seriously filthy feet and enjoy every minute.
---
r/BBWFeet – 22k+ members
If BBW (big beautiful women) is more your style, check this sub out. Body positive and with a craving for some curves, these posters don't hold back when it comes to bigger women and their feet.
---
r/highheelsfetish – 21k+ members
We have seen a few heel fetish subs on my list but this one is a real must-see, focusing on the heels rather than just the feet, we get a lot of varied and interesting content to absorb.
---
r/palefeet – 17k+ members
We have seen black feet, dirty feet, small feet, and big feet, and now it's time to shine a light on pale feet, a subreddit dedicated to women showing off their pale toes and soles, all for us and all for free.
---
r/BJFEET – 10k+ members
In South Korea, a streamer is referred to as a 'BJ' a broadcast jockey (much like a DJ ie disc jockey), and this subreddit is filled with South Korean BJs showing off their feet on stream and in other forms of arousing content.
---
r/AnkleSocksGW – 14k+ members
Ankles socks on pretty feet is the main theme of this sub, filled with women showing off their feet encased inside ankle socks, simple, easy, and a real winner for ankle sock lovers.
Want Something Better Than Foot Fetish Reddit Porn?
If you want even better than Reddit foot porn, check out these incredible foot fetish porn sites, all are purposely made for the foot fetish lover, featuring nothing but non-stop foot porn. If you want something more personal, be sure to head over to our Foot fetish OnlyFans (coming soon) post where we highlight all of the top amateur foot fetish creators.
If you have any questions or you want to leave your favorite subreddit down below, please do!