Alright, ladies and gents and gender non-conforming people, strap in and get ready for a wild ride. With this review, I am going to summarize everything I know about cam sites – and trust me, in my years of experience with this type of sexual content, I have seen quite a lot. The purpose here is to enlighten you about this innovative, revolutionary way of consuming porn and to bring you over to the dark side. We have lube, HD streams, and hours upon hours of sexy fun.
I ventured into this world of personalized shows by myself a long time ago. Long enough for me to not actually remember the exact year. I have always been a fan of cam girls, of the friendly, approachable way you can talk to the person on the other side of the screen as opposed to your traditional porn stars.
Fortunately, in my mate-seeking journey, I came across Tiffany, who completes me in every way possible but especially when it comes to sex. Watching cam shows has since become our thing, and it's still one of our favorite activities to engage in in the bedroom.
So! Let's start from the top by answering one of the more pressing questions:
What Are Cam Sites?

Cam sites have been around for at least fifteen to twenty years now. Ever since the invention of the webcam, you could say. Essentially, this is where everyday people, like you and me, can sign up to be cam models. As models, they perform various sexual acts in front of their camera, in the privacy of their home or whatever location they choose, live for the audience all over the world to watch.
It's kind of like regular porn if regular porn were streamed live and not pre-recorded.
These streams are called shows, and there are different types of shows on different cam sites, as you will soon discover.
Shows come with their own rules and guidelines and chat rooms so that you can connect both with the models and other viewers.
The camming world has grown into a vast community that is largely diverse, laid-back and accepting of all different kinds of people and different kinds of kinks.
Before I start describing some of the most popular cam sites out there, I'm going to emphasize the one that is my most favorite, and that is Chaturbate.
My All-Time Favorite Cam Site (Chaturbate)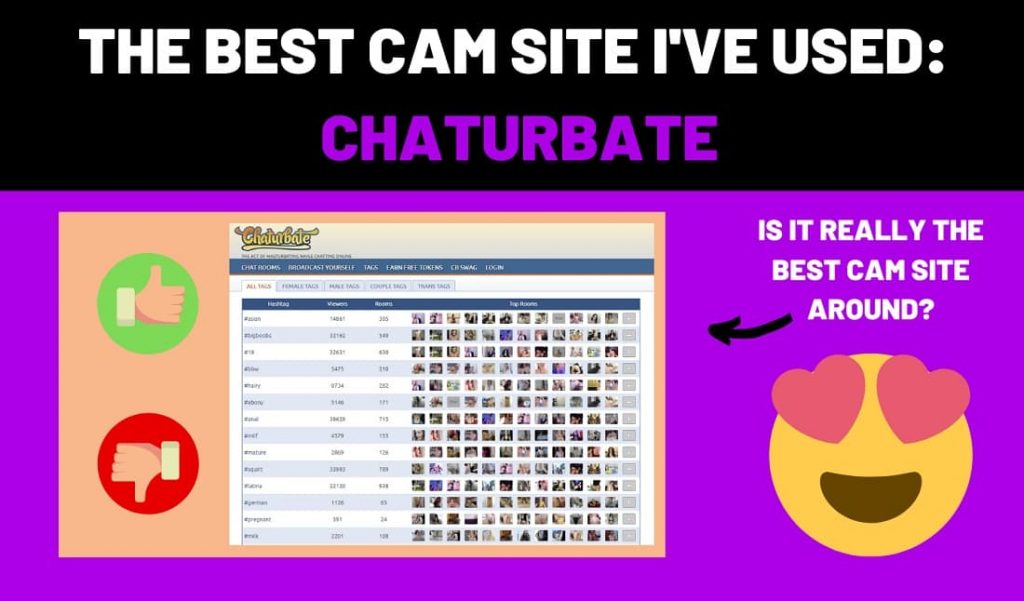 There are several reasons why Chaturbate is my favorite cam site, so I'm going to list them in no particular order:
Gorgeous, friendly models
Large number and variety of models
No annoying ads or pop-ups
Not too expensive
Relaxed and welcoming atmosphere
I am a simple guy who enjoys simple things. I like my cam girls to feel real and authentic, not necessarily to be worthy of a Playboy cover. When I'm kicking back with my girl and watching a cam show, I like to have the impression that the person on the other side is having fun too, that this is not just a chore for them
When it comes to this sense of easy camaraderie between the model and the audience, there is no cam site that can beat Chaturbate.
Sure, it has its flaws, such as the difficult way of setting up the cam2cam feature, but to me, no other cam site even comes close.
How much does Chaturbate cost?
One thing that is great about Chaturbate – but that is also not exclusive to Chaturbate – is that its public shows are free. You don't even have to make an account! Simply enter the site, click on the show that catches your attention first, and enjoy!
However, if you want to interact, meaning if you want to participate in the model's goals for the public show, or if you want to initiate a private show – or perhaps even spy on it – you will need to purchase tokens.
As of this moment, here is the price list for tokens on Chaturbate:
100 tokens = $10.99
200 tokens = $20.99
400 tokens = $39.99
550 tokens = $49.99
Free Tokens on Chaturbate
If you go premium on Chaturbate and verify your credit card, you get your first 200 tokens for free! That is about $20 worth of tokens!
Not only that but with each purchased package, you get a certain percentage of tokens for free. So if you buy 200 tokens, you get 5% free, for 400 it's 10%, and for 550 it's a bonus of 21% free tokens! The bigger the package you purchase, the more free tokens you get.
The Chaturbate models you will love:
Here are some of the best and hottest models on Chaturbate for you to explore:
Mila_Chaturbate
Caylin_Chaturbate
Doxie Chaturbate
Bunni buns
Marcelinee
Emilybrowm
The Other Best And Most Trusted Live Cam Sites
I price checked for all the best prices and deals for all the cam sites mentioned in this article on the: 28/11/2020
Here we go, it's time to show you the other best paid and free cam sites, I hope you're ready!
If you've never been on LiveJasmin (sites like livejasmin), you need to remedy that right this instant. This cam site is the best of the best, at least in terms of the appearance of their models and the quality of their shows. On LiveJasmin, you are entering the world of porn stars putting on live shows just for you, and no other cam site can match that.
At the same time, because of this high standard LiveJasmin upholds, it is one of the priciest cam sites to leave money at. Personally, I don't care much about the sleek, professional feel of the site, so I often opt for those which are more focused on amateur performers.
This is a relatively new cam site that breaks away from the typical cam site grid design. It has a modern interface and even a funny robot assistant to guide you through what you want to see. At the very start, you are asked about your preferences in terms of gender and appearance, so that JerkMate can match you with the perfect streamer.
However, the main reason why JerkMate is rarely on any top lists is that it requires you to make an account even to watch the public shows. The account is free, but why should you go through the sign-up process when you can watch public shows on most other cam sites account-free? Keep up with the times, JerkMate. I did a post of the secrets about JerkMate, you should totally check it out.
ImLive

(Best Budget)
You will notice that ImLive has been highlighted as my Best Budget selection. This is because the private shows on ImLive are some of the cheapest – if not the cheapest – you will ever pay for. The private show also includes the options of two-way audio and cam2cam sharing, so you will definitely get your money's worth.
Though with the low cost also comes slightly lower quality. Recently, ImLive introduced HD streaming to its platform, but the shows aren't clearly labeled if they're HD or not. In addition to that, they have a loyalty program that sounds beneficial, but it takes a long time to climb up the ranks.
Cam4 is a safe-haven for anyone who loves amateur performers, such as myself. The models you will find here are your cute next-door-girl types, though a few sensual minxes slip through as well. Cam4 has a great social aspect, which is exactly what I like, and all of their shows are in HD.
One of the reasons I don't frequent Cam4 so much, however, is because it is packed with ads. Your browsing and watching experience is greatly diminished by incessant pop-ups, so you are bound to get frustrated and opt-out at some point during your time here. (Though premium members have the option of removing these ads once they purchase credit.)
Okay, so this technically isn't a cam site. While on cam sites, you can interact with the model (if you have tokens) and this interaction ends when one of you logs off, the purpose of Adult Friend Finders is for you to find, as the name suggests, an adult friend. Meaning a partner for sex, for swinging, and similar.
Adult Friend Finder has a live broadcast section where people who aren't afraid of exposing themselves share their nudity and their sexual preferences with the audience. You won't be able to see much as a free member, but you will see enough. If you want a hook-up or even more than that, this is a great place to try and find a similar, open-minded person.
Another place that isn't a true cam site, VoyeurWeb is primarily a picture archive. Here, amateur ladies from all walks of life and all corners of the world gather to show off their naked bodies for you to enjoy. They take pictures of themselves indoors and outdoors and post it on VoyeurWeb for a chance to win a cash prize.
This site has recently released a section where it promotes live chats with cams. You are required to make a (free) account to access it. I didn't explore this option further, seeing as there are other cam sites I dedicate more of my time to.
Back in the day, ManyVids (Clip sites like ManyVids) started out as a platform for models to pre-record videos of themselves performing various sexual activities and upload them for the world to buy. It is still mainly that type of website, but it has also rolled out its MV Live section that is now in the beta phase. 
The good thing is that you can watch public shows for free without making an account. The bad thing is that there aren't many models online at any given moment, and what bothers me the most is that the preview of the show (before you click on it), doesn't actually match what's currently going on in the show. For that click-baiting, MV gets a huge minus from me.
CamSoda is a relatively new cam site, but it has quickly reached the very top of any Best Cam Sites list. The reason for this is that CamSoda offers a wide selection of models and shows, and is the best bang for your buck. It isn't the cheapest, but for not a lot of money, you get many cool features, such as two-way audio and cam2cam in private shows.
CamSoda also offers free tokens when you verify your card and with large token purchases, helping you choose their site over any other. However, it is not so great when it comes to customer support, as it can take a while for anyone to get back to you if you're having an issue. I did this guide and review of CamSoda, that you should check out if you're interested in Camsoda.
On BongaCams, most models hail from Europe. You will find Russian girls, Romanian girls, Hungarian girls, and more. They are usually decent at English, but this limits your interactions with them somewhat. BongaCams has great video quality of their streams, and you can even activate cam2cam in the free public chat.
That being said, BongaCams is pretty pricey, without matching it with quality. The high cost of LiveJasmin is justified, as this website also maintains high standards of their models and shows. However, this isn't the case with BongaCams, which is less strict about their content, and it makes me wonder why they're so expensive in the first place.
Cams.com stands out among the rest thanks to its special features like Connexion and Buzzmode. Connexion offers you the ability to simulate sex with your model. If you purchase a sex toy that matches hers, called Lovense Max, then you get pretty close to having sex with the model while she streams and uses her own Lovense Nora.
Buzzmode is a neat little option that allows you to tip your model just by clicking on their show frame. This makes it simple and easy for you to tip, but it also makes it simple and easy for you to lose tokens if you accidentally click on the window unintentionally. So if you activate Buzzmode, be careful where you're clicking.
Other Webcam Sites That Deserve A Mention
Here are some of the other cam sites I use, there not as good as the above, but still amazing.
At first glance, Camversity is just like any run-of-the-mill cam site you have ever visited. It looks modern and easy to navigate and it comes with the standard systems: free public xxx shows, private shows, tokens, even free tokens upon signing up, and all that jazz.
The downside to Camversity is that, at second glance, it is still just like any other run-of-the-mill cam site you have ever visited. I haven't spent much time on this site, mostly because I didn't see anything intriguing enough to keep me there. However, their models are beautiful, so you might want to explore a bit more.
Not all of the sites listed in this review are about the female models or focusing on straight male clients. Flirt4Free has a strong gay community, and it's a great site – if not the best one – if you are looking for hot guys who put on great shows for the camera. Flirt4Free is a gay cam site standard at this point, and if that's your speed, you shouldn't skip it.
The obvious downside is that it's low on female models as well as couples, and there is a point system to the website that could discourage those who are not regulars. However, the fact still remains that if you're interested in a steamy gay show, Flirt4Free is the place to go.
If you're familiar with ChatRoulette or Omegle, you'll understand the basic premise of SlutRoulette: you log on and based on the category you choose, the site randomly presents you with an ongoing live show. You can choose whether or not to keep watching (and engage), or if you want to click on 'next' and see what other show you'll get.
SlutRoulette deviates from the standard cam site design and concept, and that can be a good thing. However, this year things have changed for this site. SlutRoulette offers only random models from Streamate, which is a different cam site. If you wish for an authentic random sex chat experience, you should look elsewhere.
All of the sites described here are mostly tame and vanilla. Masturbation, some sex toys, mostly pretty girls who strip and like to chat. However, things change with My Dirty Hobby. This is a hardcore fetish cam site, where shows can get pretty kinky pretty quickly. If you're an adventurer at heart, this will become your favorite go-to cam spot.
That being said, My Dirty Hobby is a rare hardcore cam site and it comes with its disadvantages. These include high prices, even for open chats, and the fact that there aren't many fetish models out there. It's still the best in its category, but overall it may not be the best experience.
Royal Cams
Royal Cams runs on the same platform as BongaCams. However, it is nowhere near as popular as BongaCams, though the models you find here are mostly European models as well. It is a decent cam site, though without any special bells and whistles.
I have to admit that I have trouble figuring out the point of this website, as it is largely the same as BongaCams. If you discover something that is different and/or interesting that you think I should check out, please let me know.
Which of The Above Is Best for A Cam Model?
Okay, so I talked about your options if you want to watch a sexy live show. But what happens if you want to become a model? Camming is a great way to earn some extra cash on the side – or it can even become your sole source of income – without too much effort. All you have to do is be open and friendly and unafraid of showing off your sexual skills, and you're in!
Fortunately for you, I have also done my research in terms of which cam sites offer the best money if you want to start camming. So, here are my results:
It's only natural that the website that charges the most also pays their models the most. LiveJasmin offers 30 – 60% of what the viewer paid for the private show, plus an additional 20% if the model brought the viewer to LiveJasmin.
However, LiveJasmin also has high criteria when it comes to their models, so you need to impress them in terms of your appearance and the quality of your show if you want to be a regular model here.
CamSoda models get between $0.05 and $0.055 per each token spent on their show. This means that if you're camming for CamSoda, you can get from 50 – 55% of what your viewers spend on your shows.
Chaturbate is easy on the math. Here, you get 5 cents for every token, meaning 20 cents to every dollar spent on your shows.
Keep in mind that nothing is really stopping you from working at all of these cam sites. If you want to build your business, there is a lot more to consider than just which site pays the most, but this is a topic for a different post.
How To Make The Most Out of These Cam Sites
It's not that simple, if you want a really good time, then you need to learn these amazing tricks.
Start with the free options and find the models you like
Before you start buying tokens and spending money, definitely take a look around first. Plenty of cam sites offer free public shows (and those that don't are, frankly, not worth your time), and you should take advantage of that.
Snoop around, browse through the tags and categories, discover the models you like. Relax and enjoy the shows on offer, because there are hundreds of them at any given moment in time. Get used to how the site works, chat with the models if the site allows it, and see how they respond.
Invest in your favorite model
If you find a model, or two or three or more, that you're drawn to and whose shows you watch regularly, then it's only polite to tip them. Get yourself some tokens and tip them however much you want. After all, camming is a job and good models deserve to get compensated for it.
Some models don't ask for much, and if you do give tokens, it opens up a world of private shows, mutual masturbation, private texts, you name it.
All of that brings your experience to the next level, and trust me when I say that it really pays off to invest in the model you like the most.
Learn to talk to models
If you wish for the model to perform something for you, especially in a private show, ask for what you want exactly. Try not to beat around the bush. Of course, don't be rude, but consider it a business transaction. You're paying the model to get a specific service from them, and so both of you should step away from that transaction happy with what you've got. (However, no model is obligated to perform something for you if they're uncomfortable with it.)
Overall, whenever you're interacting with a model, be kind. Remember that they are people too and they are at their workplace, so be respectful. Also, remember that a compliment (and a strategic tip) goes a long way.