When you're young and inexperienced, online porn sounds like the best thing ever. With loads of free options, videos, pics, and games to browse through, you feel like the king of the mountain, easily spending every minute of your free time masturbating to gorgeous porn stars getting it on.
However, sooner or later, this fascination with porn starts to wane. You gain more sexual experience, you realize there is more to sex than just fake moaning and unimaginative scenarios. You realize that you want to feel good, but you also want the other person(s) to feel good, and perhaps engage with you in some way.
That's where cam sites come in. For decades, cam sites have been lurking in the background of the porn industry, and have only recently started getting more attention.
My personal view is that cam shows are so much better than your standard porn videos, for several reasons:
The person in front of the camera is performing live
They're real and approachable
If you want, you can easily strike up a conversation with them
And arrange a private show for yourself
You get none of these benefits with regular porn, and this is also why you should give cam sites a go if you haven't already.
JerkMate is one of the many websites of this kind out there, and this review is all about deconstructing what you will find once you enter it.
What Is JerkMate and how does it work?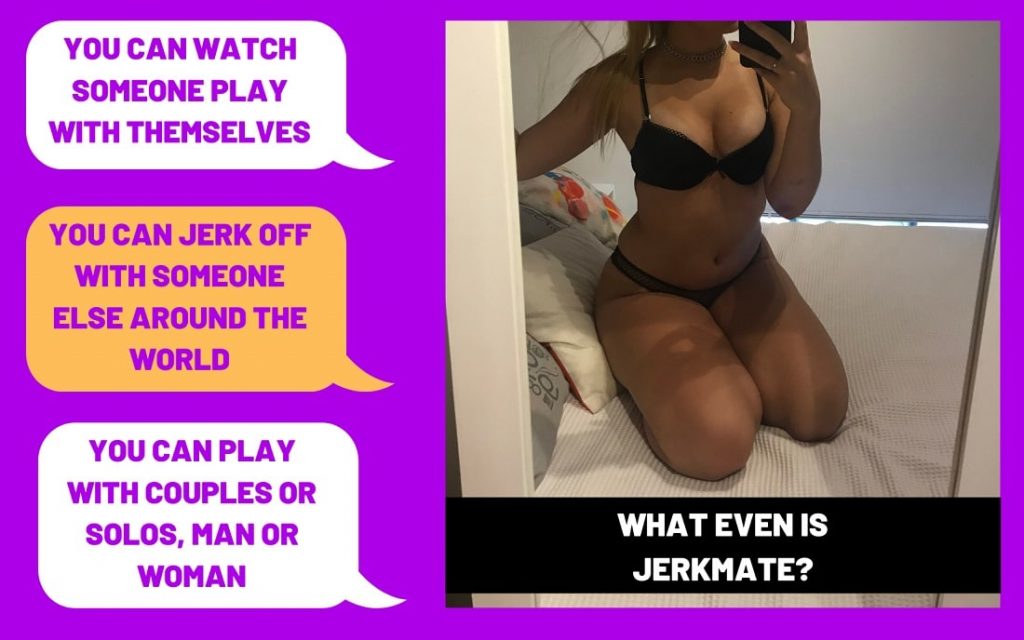 JerkMate's motto is Never jerk off alone. As taglines go, I'd say this one gets the point across. Even though there's nothing wrong with jerking off alone, it's always so much better with some type of company. And who better to provide you with that company than JerkMate?
So, the site's premise is to provide you with a suitable partner for you to masturbate to or with, however you want to see it.
You open the site's landing page, and you are instantly greeted with a window showing a girl who is streaming live. She may already be performing some sexual acts or, more commonly, she is just sitting around and chatting.
A fair bit of warning: don't be fooled thinking that, just because you don't see the chatbox right away, you are the only person privy to this cam girl's feed. JerkMate is a bit of a jerk in this manner because they want you to believe that you and the girl are automatically 1-on-1. You're not, and, as is the case with any other cam site, private shows cost extra.
Model Selection
JerkMate has its own mascot, a robot assistant that is cute in design. At the beginning of your JerkMate journey, it asks you about your gender preference, about the ethnicity you like, the color of the model's hair, their body type and similar. Through this series of questions, the site tries to match you with your ideal model.
Once the model's stream shows up, you can decide whether or not you like what you're looking at, or if you want to pick another one.
Another way to choose a stream is to scroll down to the tags listed near the bottom of the landing page. By clicking on a tag, JerkMate will randomly provide you with a model's stream from that tag.
This tagging system isn't perfect, as there don't seem to be many live streams on JerkMate at any given moment. It's hard to judge the exact number of their online models because there is no familiar grid system, as you may have seen on other cam sites. Rather, if you click on a tag, such as Couples or BBW for example, you may not get exactly what you want simply because no one in that tag is currently doing a show.
Types of Shows
There are four types of shows on JerkMate:
In theory, a private show is what you get the moment you enter the site, or rather the moment you sign in. (It's free to make an account on JerkMate.) When you chat, the model chats only with you, and when you turn on your camera, she sees only you. Again, in theory.
In practice, even before you log in, you can see that the model is reacting to other people's chats (that you can't see) and clearly typing on their keyboard in response. So you may be the only person in the chat room, but the model is looking at multiple of those at the same time, and it's not likely that their attention is devoted solely to you.
If you want to get some alone time with your model – real alone time – then you want to initiate an exclusive show. This is where there are no other people behind the scenes, no distractions, and you're paying the model to perform a sexual act you have hopefully agreed on beforehand.
However, exclusive shows are also pricey, so you will likely need to set aside a few bucks for this special treat.
Gold shows are shows that you share with a few other members. A model sets a credit goal in her show, and if that goal is reached, then whoever participated in reaching that goal gets to enjoy a gold show. Essentially, this is like an exclusive show, only there are several of you watching it.
Finally, the spy shows are those where you spy on an ongoing private show. You can see everything and hear everything, but you can't participate or chat with the model in any way.
The Realest Jerkmate Review (Must-Read)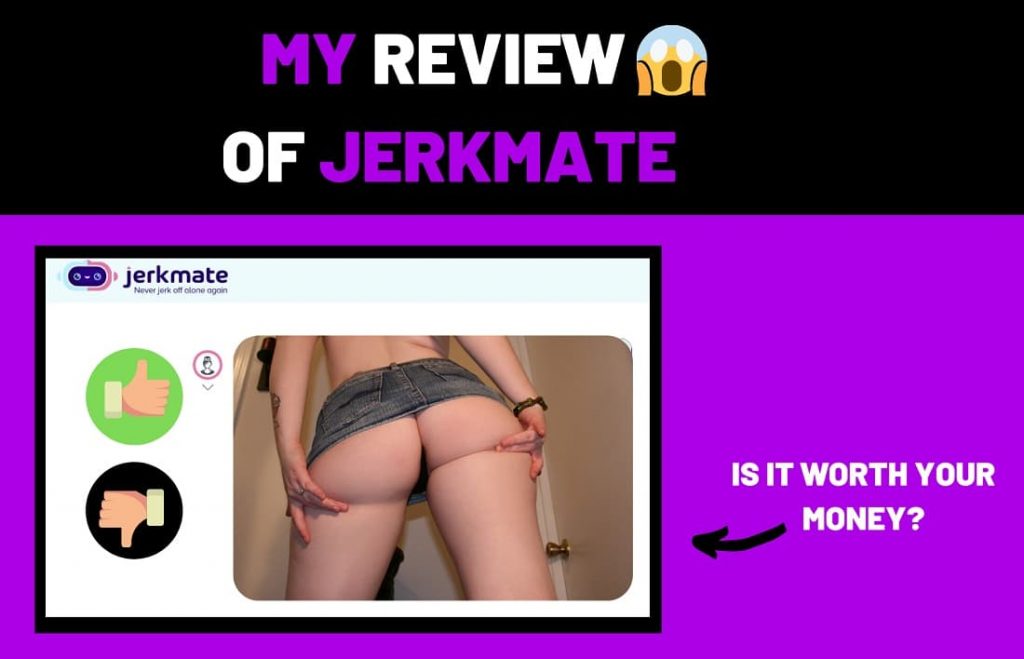 The quality of JerkMate's streams is always HD, which is a refreshing break from some other cam sites.
Their mobile site is just as sleek and easy to navigate as their regular website is, so you won't have any problems watching your favorite models even when you're on the go.
The problem I have with JerkMate, or one of the problems I have with JerkMate, is that it doesn't have any clearly displayed FAQ or support pages. I like to know what I'm getting into even before I make an account, and especially before I give any money. I like to know what the structure of the website is, and what they can offer at what cost.
JerkMate sorely lacks in transparency, and that's why it is not my favorite cam site overall.
First, Is Jerkmate Safe/Legit?
This depends on your definition of the words 'safe' and 'legit'. It is safe in the sense that no one will force you to do anything you don't want to, or force the models to do anything they don't want to do. It is also legit in the sense that they won't take your money without providing you with a service for it.
In terms of safety and security, JerkMate is no more or less safe than most other widely-frequented cam sites on the web. Once you purchase credit, you can spend it on all the sexy shows you want without worrying that someone will take more money than you're willing to give.
How Much Is Jerkmate?
JerkMate advertises as free. Signing up for an account on JerkMate is free. However, in order to enjoy any type of show, from private to exclusive to gold to spy, you need to purchase credit, or 'gold'. Gold is also used to tip the models and encourage them to fulfill your requests.
Most models have a gold menu in the form of a list of sexual acts they will perform for gold, for example, 5 gold for a flash, 10 for using a sex toy, 15 for anal, etc.
It is worth noting, however, that you also get rewards based on the number of active days you have, so the more money or time you spend on the website, the cheaper everything is.
The Cost of 1-on-1
The prices of the shows depend on how much the models themselves charge. Some charge $8 per minute of a private show, all the way to $15 – $20 per minute of an exclusive show.
Thankfully, there are also those on the cheaper end of the spectrum, with $3-4 per minute for a private show.
Either way, JerkMate belongs to one of the more expensive cam sites out there.
However, there are loads of free rooms you can watch without paying anything, and when you sign up, you usually get an offer to unlock $5 free. This isn't much compared to other cam sites, but it does allow you a taste of what premium JerkMate feels like.
Additionally, men are a lot cheaper than female models and usually are just around the $2 per minute mark.
The 1-on-1 Shows Are The Best Thing I've Experienced
So I realize my review of JerkMate so far hasn't been overwhelmingly positive. The truth is that I have a love-hate relationship with this site, and it's not always in the cool, Hollywood-like way.
However, I will say this one thing: the private shows I've had on JerkMate have been some of the best I've ever experienced in my life. And I have paid for hundreds of private shows over the last decade.
The advantage here is that, because there's an emphasis on exclusiveness and because you're giving more money than usual, the models are extremely devoted to you. They are business people, after all, and they recognize a client they can profit from.
Not only that, but JerkMate models are quite friendly and open to many things. I don't think there has been a single request I've asked them to perform for me that they have refused.
So it may take a while before you find a model that you like and hit it off with. It may be more expensive than other places, but, in the end, when you're ready to pay for that private or exclusive show, you will definitely be getting your money's worth.
Would I Recommend It?
Truthfully? After all, that's been said and done, JerkMate doesn't even make my top 10 list of favorite cam sites.
There are some positives to it, as you may well have gleaned from my review, such as approachable models, easy site navigation, and HD streams.
But to me, the negatives greatly outweigh those positives.
And I want to like JerkMate, I really do. I think it has a lot of potentials if only other cam sites weren't so much better at bringing people in, helping them feel at home, and openly sharing with them what awaits them in any given type of show.
Because that is ultimately what I dislike about JerkMate: the secrecy. If I'm going to invest money somewhere, I need to know what it's all about. Instead of making me jump through hoops and try and figure it out myself, I wish JerkMate were more direct and clearly describing what I'm paying for.
So, because you may want to sidestep this one, here is a list of some other – in my opinion, much better – cam sites that are worth your time.
Other Amazing Sites Like Jerkmate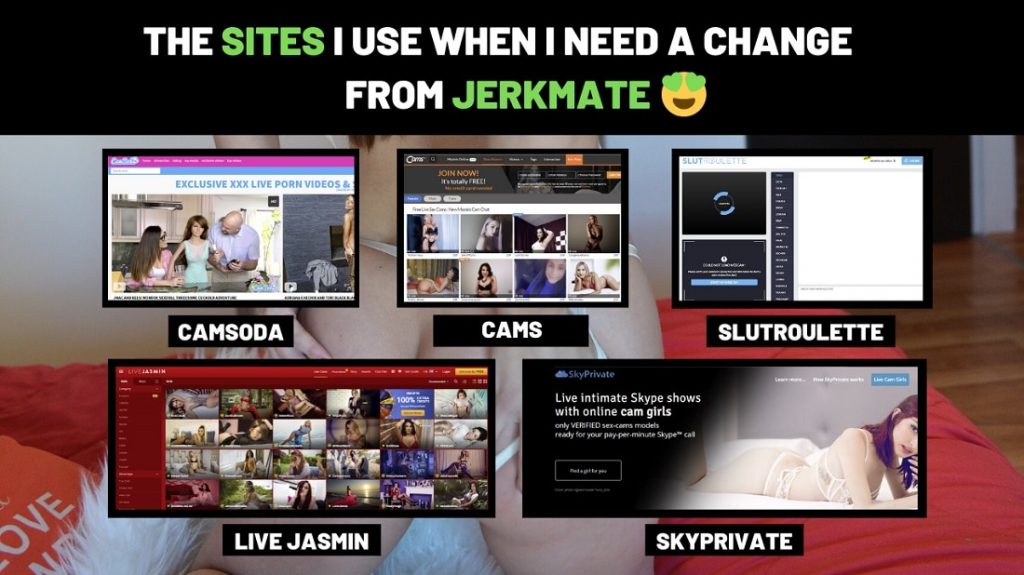 I price checked for all the best prices and deals for all the cam sites mentioned in this article on the: 28/11/2020
The list starts with my all-time favorite cam site – Chaturbate – but the rest come in no particular order. Feel free to check out each one and see if it works for you because, after all, not all of us have the same preferences or the same expectations when it comes to cam shows.
There are plenty of reasons why Chaturbate is the best cam site for me, and here I will list only a few.
First off, it is incredibly easy to use, as you are greeted with a grid of currently live sessions the moment the site page loads. Secondly, unlike JerkMate, its public shows are actually and completely free, and you can even chat with the model during them.
And finally, Chaturbate cultivates a warm, accepting atmosphere. Their models are beautiful and friendly, and it is easy to connect with them. It's no secret that I use cam sites together with my girlfriend often, and the two of us love finding a model to play with us.
Chaturbate does have its disadvantages, most notably that it's difficult to set up cam2cam even in private shows, but to me, these are flaws that are easy to ignore.
This is my full review of Chaturbate, with everything you need to know about it.
SlutRoulette was envisioned as a porny version of ChatRoulette or Omegle. You make a (free) account, you log in, and the site randomly assigns you a model to chat with. You may choose whether you like this model and engage with them, or whether you want a different one. The only thing you have control over is the category the model falls into.
The first time I tried this, I was thrilled by the concept. It is similar to JerkMate, only less confusing. SlutRoulette takes the choice away from you, saving time that you would spend on endlessly browsing through the models until you land on something you think you may enjoy.
However, recently SlutRoulette has changed the way it functions. It no longer hosts any of its own models, but rather it randomly provides models from Streamate, which is a different cam site. This means that the models work on two cam sites at the same time, SlutRoulette and Streamate. This doesn't always make for the hottest of sessions, and it caused a decline in SlutRoulette's reputation.
Now here is something a little different. SkyPrivate isn't an online platform. Rather, it is a service that provides private 1-on-1 sessions with sexy models from all over the world through Skype. That's right, you've read it correctly: through Skype.
It goes like this: you create a SkypeID and load it with funds. You sign up to SkyPrivate and choose a model you think you'll like. You connect with her, arrange a show, and discuss with her what you'd like to see during the show.
When the show time comes, you give her a call on Skype, and the show starts! As with most private shows, it's charged by the minute.
So I admit I actually never tried this service before. I'm not sure how the model selection process works, but it certainly sounds convenient to be able to schedule your shows as you please. If you're a busy person juggling several things at once, perhaps this way of indulging in your pleasure may be just what you need!
Cams.com is a simple site where you will find a wide selection of models, both male and female. It boasts special interactive features I will talk about, and its streams are in full HD, which is great to see. If you become a premium member, you enter a loyalty system that gives a lot of rewards and can save you a ton of money.
The first interactive feature on Cams.com is Connexion. Most models on this site use a sex toy called Lovense Nora. You can purchase Lovense Max, which is a fleshlight essentially, and remotely connect to the model's Nora. This enables you to simulate sex with the model, and it is an experience that you shouldn't pass up.
Another feature is the Buzzmode. This doesn't have much to do with your pleasure, but rather with convenience. When you activate this mode, you can tip the model simply by clicking on their stream window. However, this way, you may also accidentally lose tokens if you click by mistake. So be mindful of your mouse while Buzzmode is active!
Make way for the all-powerful LiveJasmin! This cam site deserves a welcome like no other. The moment you open the homepage, you know this is a place of elegance, class, and five-star treatment. All the LiveJasmin models are stunningly beautiful, and their shows are as much about the aesthetic as they are about sex.
If you're looking for quality, LiveJasmin is where you find it. They are very particular about the models they accept on their platform, and all of them are porn-star-level hot. Their profiles are abundant with professional pictures, and their shows are mind-blowing.
However, with luxury comes a hefty cost. LiveJasmin (my livejasmin review) is one of the most expensive cam sites out there. But if you feel like you can treat yourself once in a while, then this is definitely the place you should turn to. It will be worth every single cent.
The most obvious disadvantage of MyFreeCams is its design. Seriously, the user interface of this site is ancient, dating back to the early 2000s. However, once you get past the jarring and often confusing appearance, you get to enjoy one of the first cam sites on the web, which has, over time only grown in popularity.
I already did a whole review on MFC, so here I'm just going to summarize its main pros and cons. MFC has a vast selection of models, predominantly women. They are beautiful and genial, and you can easily strike up a conversation with them. It is also a site that is ad-free, which is a relief.
The main con of MFC is its ugly interface. The second negative feature I would point out is that it doesn't offer any free tokens when you sign up. In addition to that, it also doesn't offer any benefits to those who regularly visit the site, which can be a bit of a turn off in the long run.
I have used MFC for years and this is my review of it, perfect if you want to know more about myfreecams.
CamSoda (Second Favorite)
In my detailed review of CamSoda, I outlined exactly why my girlfriend and I love using this site. It has a look and feel similar to Chaturbate, and it is also the best site in terms of cost and value. For relatively little money, you get great premium features, including two-way audio and cam2cam in private shows.
CamSoda is easy to use on the computer, but even easier on mobile. It really makes it quick and simple for you to choose the show you want to watch and tune right in. It offers free tokens when you sign up, and it also offers free tokens whenever you purchase a large number of them.
It stands to reason that even CamSoda isn't perfect, however. The site could benefit from more HD streams, and it is difficult to filter out the shows you're not interested in. Moreover, their customer support is poor, so if you have a problem with the site, you might have to wait a while before you get it resolved.
Leave your experience of JerkMate In The Comments