Finding games to play online is easy but finding games that allow you to step into the deep, fantastic, and erotic world of female domination is tricky, there is a lot of trash out there and you can feel as if you're wasting your time, going round in circles and looking for the perfect femdom game to play.
Luckily, I love online sex games and I have created a list of the very best female domination-inspired games out there right now. I hope you enjoy it, let me know your favorite femdom game in the comments down below.
I Have Played Hundreds Of Dominatrix/Femdom Games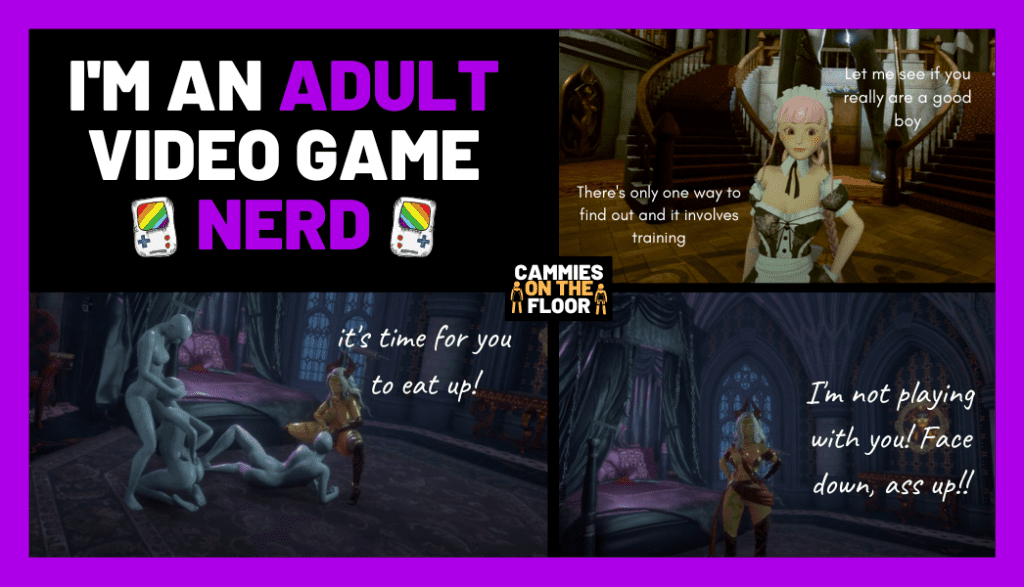 I am currently hooked on Femdom and BDSM games (list of all the BDSM games I recommend/have played), my girlfriend knows how much I adore online sexual games and she even introduced me to some of the games on the list below. I find it so much fun to get lost in a world of fantasy, a world where I can play out my desires and find arousal in small things. You're probably like me if you're here and this list has everything you're going to need to enjoy the very best femdom games I have played.
List Of My Favorite Femdom Games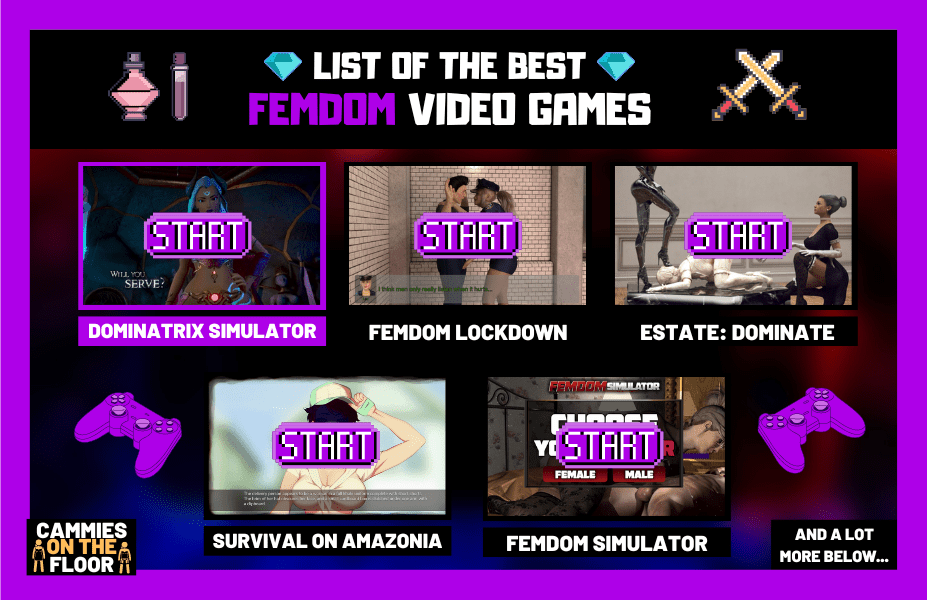 We like to try and test everything we recommend and these games below have been absorbed by me, become a part of my everyday routine and I am loving them. If you have any you want me to try that aren't on this list, pop them in the comments below for me to try out, we love getting new recommendations.
I wanted to kick things off with something amazing, these two bdsm/femdom virtual reality games are meant for those of you with VR machines. They can be played without but of course, they are more immersive with a headset.
Dominatrix Simulator: Roleplay and listen to your mistress's commands, obey her orders, be punished or be good, and be rewarded. This is a free-choice game with lots of erotic imagery and sensual femdom outcomes.
FemDomination Chronicles: You can play either chapter 1 of this game or chapter 2 and enjoy a bundle of BDSM experiences. You choose your path, you will be dominated and it will be very kinky and a lot of fun.
This game has multiple paths to choose from, with multiple choice questions that determine your fate as a male. You're caught by the police (two female hotties) and you have to beg for their mercy, choosing how it all is going to work out at every step. You will be humiliated and dominated through your screen and it is incredible.
Set in a fantasy world, this land is ravaged by evil monsters, and you, a priest, along with a team of hot adventurers must join forces to defeat these monstruous invaders. Each decision you make carves a path for you and making sure these hot heroines know you're worthy of joining them is just the beginning. It's hot, it's erotic, and a heck of a lot of fun. It's a very immersive game and one that always leaves me with a raging boner.
An independent game maker has created a universe of bdsm flash games for you to enjoy. This game maker has the mind of a genius, your mind is your own in this game of submission, order, and female dominance. Work as household staff all summer long and pay off your family's debts if you submit. It's exciting, it's kinky and you can play releases 1 and 2 for free on Discord, which is a great way to see if you like the game and hopefully support an independent developer.
Kinky with elements of masochism, lots of hentai, jaw-dropping femdom, and intense bdsm this game is not to be missed. It's a high-quality, novel game that will lead you down a pathway of exotic adventures, mystery solving, and endless erotic punishments. Can you handle it?
Sweet Dreams Succubus: Nightmare Edition
With incredible erotic artwork and a story that takes you through plenty of twists and turns, this game is a budget-friendly way to enjoy a sexy online game without breaking the bank. All that our sexy main protagonist wants is cum and vitality from her prey and she will go to any lengths to achieve that, and you make all of the decisions as she appears to you and leaves you with nothing but choice.
You find yourself on a strange island, in the middle of nowhere. You have to survive and as you craft your new life in this foreign land you are given the option to romance four different women all of varying races. Fight, forage, build, have sex, and access uncensored romantic scenes. Enjoy your new life with lots of different characters trying to kill and fuck you.
In a land dominated by women, you are the inferior sex – a male. The land is in constant conflict due to the rivalry between the three powerful queens and you are requested to be the one to bring peace, a valiant knight who wants to restore peace to the people. It's not a quest for the faint-hearted, be prepared for magic, fantasy, kink, and of course, plenty of female domination.
I would take this option as the wildcard on my list, it's a femdom simulator, a place where you can play as a submissive sex slave or as a femdom dominatrix who will use her powerful dominance over you for hours at a time. The graphics are incredible, the gameplay works flawlessly and I love the options you get to play different types of simulation modes. It's a lot of fun and free, so I would definitely recommend giving it a try.
A little bit different from some of the other options but I think this game is incredible. With rich gameplay, exciting combat, a story mode, and the ability to play as a female with a useful cock. I say useful because there are a lot of erotic couplings in this game and not just with other guys and gals but with monsters and slimes too. The game is constantly updated and the developers are independent and always listening to feedback.
This game isn't a story-telling game like most of the others I have mentioned, this sexy game is an infinite runner game where you possess all kinds of different women and watch them lose control for you. It's a female protagonist game with uncensored visuals, incredible animated sex, and alluring female characters to unlock. Although the femdom aspect isn't super strong in this game, some of the characters are very bondage and femdom-esque, and being able to conquer them adds a little excitement to my day.
Hentai Femdom Sim: Femdom University
An open-world game whereby you attend a university full of dominant women. You must try to survive and also try and accept the fact that you will be seduced and these women will take full advantage of you and your vulnerability as a man. They won't go easy on you and you will find yourself at the mercy of these women, again and again. It's female domination in a delightful sim-like, open world and the power is not in your hands.
An erotic text-based RPG simulator game where you have to deal with a total onslaught of perverted and horny female demons who wish to invade your home. It's a great game with lots of erotic imagery, hot dominating female characters, and plenty of corruption for you to enjoy. The story-telling itself is really immersive and this game just keeps getting better with the updates from the developers who are consistently working on it.

Become totally absorbed into the world of the powerful and dominant Goddess who roams the land. Succumb to her desires and become her little plaything, choose if you will submit to her easily or if you will pull away, resulting in more judgment and punishment. Play this game with a VR headset or don't and enjoy being seduced, dominated, and punished.
One of the most innovative ways to watch porn and enjoy gaming at the same time, lifeselector is interactive, it allows you to make choices, and choose your fate in the most realistic and convincing way I have ever seen. It is filmed with real adult stars and there are so many different scenarios to choose from (femdom and non-femdom interactive videos are available). It's like nothing we have seen before and once you get a taste it's hard to stop.
Wild Card: BDSM Simulator
I had to include this game on my femdom list because it is such a great game and I felt it was an honorable mention. It is a BDSM simulator, that's free to play, the graphics are so arousing, it can be played in erotic, hardcore, or extreme mode and it allows you to enjoy your favorite kink openly and expressively with other players. You can play as a male or female and you can act out your favorite fantasies at just the click of a button.
Other Honorable Mentions:
I couldn't leave it there, I wanted to include some more of my favorite femdom games. These didn't quite make it onto my top list but they are worthy to be included here, each has its own quirks and positives as well as giving you wonderful adult-gaming entertainment.
SexEmulator: Create your ideal woman in the set-up process and then fulfill your fantasies, calibrating her sexual likes and choosing exactly how she plays with herself right in front of you.
Trials in Tainted Space: This is a free text game (created independently) where you explore fun and creative universe filled with horny space women, hermaphrodites, and everything in between.
Dream Therapy: Engaged to a beautiful and sexy heiress, you must prove your worth to your future mother-in-law by joining a psychiatrist on a quest to find out if you're a prime candidate for your future wife.
Futa Fix Dick Dine and Dash: Fun and hot stories to follow, great animation, and plenty of animated sexy scenes that take you on an erotic adventure that you can only get from adult sex games.
FutaDom World – If you like power-play, strong and intense female characters, and a world inhabited by dominant females, this is the game for you. It's set in a fictional universe in time, where your only goal is to seduce and submit to your chosen mistress.
vamX – Live your Sexual Fantasies in VR [Virt-A-Mate Extension]: This game is an add-on to the original virt-a-mate game, it allows you to live out your sexual fantasies in virtual reality, high-quality detail whilst letting your imagination run wild.
Which Of These Games Do I Play The Most?
It can be hard to choose but my most-played games are definitely, Dominatrix Simulator, FemDomination Chronicles, Lifeselector, and Pure Heart. I love the uniqueness of all of these games, the graphics, the story-telling, and the overall quality. I like to keep things interesting and jump from game to game when I get tired of one but these games keep me coming back time and time again.
Some Extra Info About These Games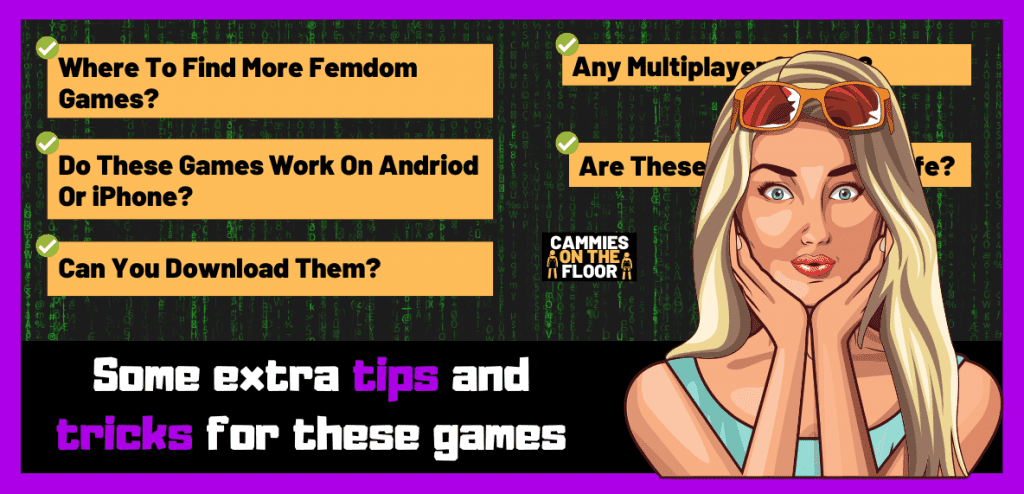 I wanted to add a little more information about my list of femdom games, if you have any questions or anything to add, please do in the comments down below.
Where To Find More Femdom Games?
Nutaku (One Of The Best Adult Game Sites) – There are so many different types of adult games available on this platform, depending on what mood you're in or what you enjoy, there's something for everyone. You can see my favorite games on Nutaku in this post I did.
DLSite (Has a big collection of Femdom Games) – A lot of the games are only in Japanese and you have to find language mods to make them work in English, however, if you can get past that, it's a great platform for femdom sex games.
Steam – Steam is a great and safe place to buy online games, there are thousands of independent and business-owned developers uploading their games. The interface works great, you can talk to other users and get help from devs.
VRPorn – A huge collection of porn is available on this site, as well as incredible sex games, including a large collection of female domination games available easily too. The quality is always great, the games are fun to use and there is so much to enjoy.
Patreon – A great place to support up-and-coming sex game developers, often games are free here yet if you want access to more and you want to support the creator, you can do so by supporting their patreon.
Gamcore – Free sex games, porn games, and even hentai games. It's filled with horny, erotic, and kinky games to keep you entertained and aroused.
Do These Games Work On Andriod Or iPhone?
Most of these games work on android and iPhone, some have their own apps and some require you to download the game on a PC. As soon as you go to buy or download the game, you will see the requirements and the compatibility with your device so always check first.
Can You Download Them?
Most games are downloadable, some ask for a small fee if you wish to have access to the downloadable version and some prefer to keep all play online and on their website. However, this will always be visible to you when signing up to play.
Any Multiplayer Games?
Lots of the simulator games are multiplayer, including the dominatrix simulator which allows you to play with others as a mistress and a sub from anywhere in the world.
Are These Games/Sites Safe?
All of the games mentioned are safe and tested by me. However, always be cautious, don't stray and download anything not promoted by the developer, and always do your own research before downloading or paying for any games or add-ons.
Let me know your favorite femdom game, I love hearing from you all.