When it comes to sexual desire and getting turned on, it's not all about the visual. My boyfriend might disagree with me, but there is nothing quite like the power of the written word and your own imagination to get you wet or hard. The internet is abundant with porn videos, photos, streams, games and more, but there aren't many sites that offer original erotic fiction.
Fortunately, Literotica – a name compounded from the words literature and erotica – is one of them.
Here, you will find a wide selection of erotic stories to tickle your senses, written by other fans of prose and pleasure. Trust me when I say that you may get so caught up in these free texts that you'll have a hard time pulling away from them.
There have been quite a few moments when these stories got me so horny that I had to find my boyfriend right away, immediately, to relieve the tension. If you're a fan of the more unconventional type of sexual pleasure, and if you enjoy a salacious read, make sure to check out Literotica and take a look at some of their best titles.
What Is Literotica?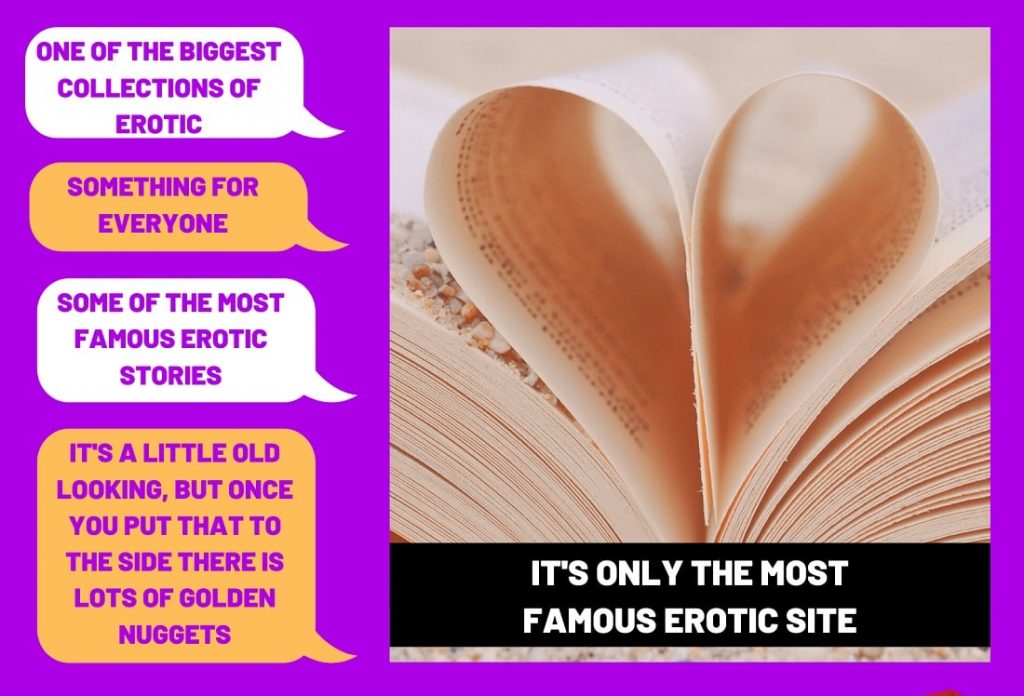 With its beginnings in 1998, Literotica started out as simply a gathering place for erotica writers and readers, for both groups to enjoy their favorite genre of stories. Since then, it has evolved into an erotic hub, where now you can find a shop for toys and sexy videos, a forum for connecting with other fans, a cam site, adult personals, erotic chat, and so much more.
It is a place for all things hot and seductive, but perhaps not as staged or not as in-your-face as most other porn sites tend to be. I can't help but feel that Literotica is mainly meant for women, or for those who prefer a more subdued type of porn overall.
The site itself is pretty basic, with an outdated user interface that might use some refreshing. If you're new to the site, it could take you a moment to find where to click next to get your fair share of erotic fiction. (Hint: near the bottom of the landing page, under SITE INDEX, it's the Stories & Pics link.)
The stories are divided into categories, which I will talk a bit more about later on, and there are also top lists, where you can find prose and poems that are the highest-rated and the most popular among the readers. You could definitely start there if it's your first time diving into this world of sensual writing.
Is Literotica Overrated?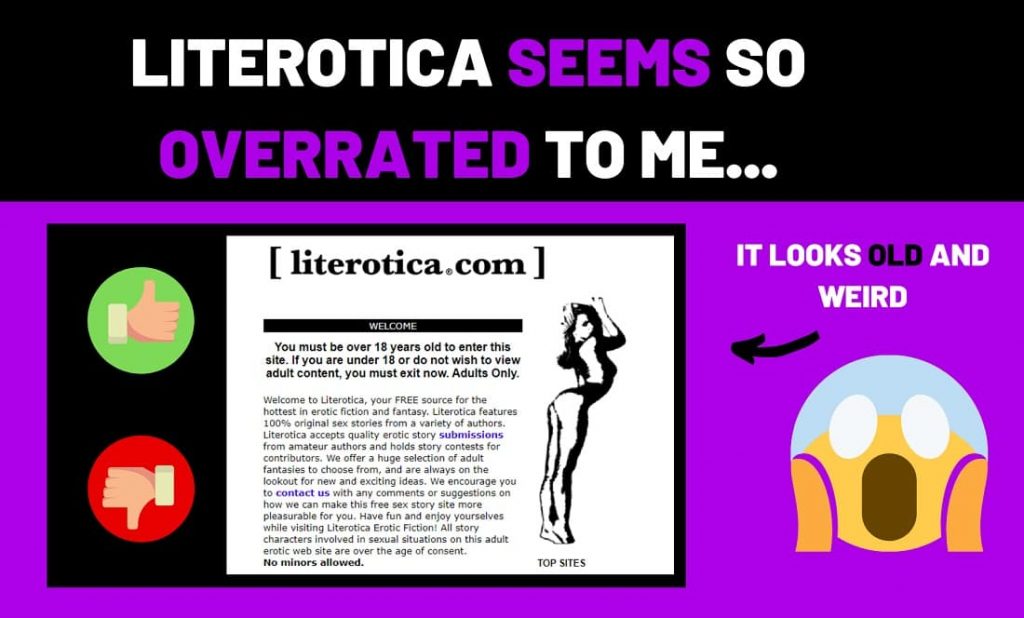 The answer to this question depends on what you mean by overrated. If you want to watch hot babes with large boobs ride their partners while you touch yourself, then Literotica is definitely not the place for you. Again, there is a difference between porn and erotica. The former is more commercial, meant for a quick release and easily forgotten, while the latter is more thoughtful, a work of art that you enjoy and that stays with you for some time to come.
You don't necessarily come to Literotica to masturbate or get your daily orgasm – although you can definitely do that as well – but rather to spark your desire by reading about other people having sex. Through these stories, I have learned about new positions and new kinks, and I have discovered what I'm really into when it comes to sex. There are countless scenarios I've read about that I later tried out with my boyfriend, much to his delight.
Literotica also helped me get to know other readers (and writers) who are fans of this type of fiction, and many of these online chats evolved into friendships, even occasional sex partners. (You know that my boyfriend and I are pretty open and willing to try anything with anyone who catches our eye.)
So, no, from my perspective, I would not say that Literotica is overrated in the least. It all depends on what you're looking for and if erotica is your thing or not.
Sites Like Literotica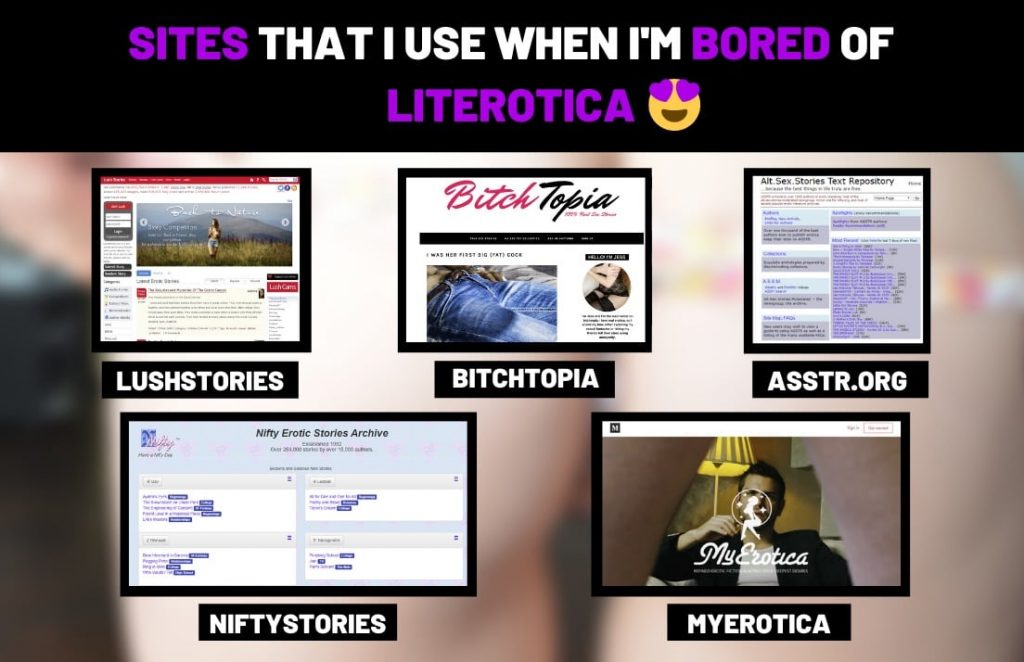 So it stands to reason that Literotica is not the only site of its type. There are plenty of other online platforms that offer erotic short stories, and here are some others you should take a look at.
ASSTR.org
ASSTR stands for Alt Sex Stories Text Repository. It houses over one thousand authors and erotica stories, as well as a newsgroup and some well-known erotic literature archives. The stories you will find here vary greatly in length. You can find short, easy reads of only several thousand words, but you can also run into veritable erotic novels of more than 100K words.
The downside to ASSTR is that each story (and author) page is customized by the author themselves. Some of them are easy to read and follow, but some are pretty basic in design, with the Comic Sans MS font that can be a bit jarring. However, it still remains one of the largest collections of free erotica literature on the web and you can read even more about it in this asstr review.
Nifty Stories
Nifty.org is an even bigger archive than ASSTR. In fact, ASSTR poses as a mirror site to Nifty. Nifty is proud to host over fifteen thousand authors, with over a quarter of a million stories published. These are sorted into Gay, Lesbian, Bisexual, Transgender, and Bestiality sections, and each of these sections is further divided into subcategories like Athletics, BDSM, College, High School, Incest, Interracial, Sci-Fi or Fantasy, and much, much more.
The story pages have no design to them and are just simple text files uploaded on the server. It may not be aesthetically pleasing, but it is easy to read and each story has the same look, unlike on the ASSTR, which I appreciate.
Reddit
Whereas you may not have heard about either of the previous sites, Reddit should definitely be on your radar. This social media platform has plenty of subreddits devoted to erotic writing, and I'll explain a little bit about each one.
r/sluttyconfessions
The appeal of r/sluttyconfessions is the fact that all of the stories you find here are true and have happened in real life to the Redditors who posted them. Or they're supposed to be true stories anyway. Less emphasis on prose and art, and more on tantalizing confessions from horny people.
r/gonewildstories
A slightly larger community than r/sluttyconfessions, r/gonewildstories also focuses on sexual acts that have actually happened, but they are presented in a way that is less of a random confession and more of a neat story to read. It's heavily moderated, so make sure to read the subreddit rules before you post or comment on anything.
r/eroticliterature
This subreddit is where you find erotic stories in the style of Nifty and ASSTR. They can be one-shots or chapters, and there is no requirement that the event you're writing about is true. It's a smaller community than the previous two, but it certainly holds some sexy gems for you to discover.
r/hotpast
The subreddit r/hotpast is based on a specific fetish. A fetish so particular that I admit I never even considered it before. Namely, r/hotpast is focused on stories where people are sharing or fantasizing about the past sexual experiences of their partners, as in prior to their relationship. Make sure to check out some of these delicious accounts.
r/sexstories
As the name itself says, r/sexstories is dedicated to fictional and non-fictional tales about sex. Of all kinds. The tags you can find here are Gay, Oral, NonFiction, Fiction, Teen, Lesbian, Rape, Masturbation, Age Play, and Cheating. Some of my favorite titles are found under the Lesbian tag.
r/dirtypenpals
Sometimes, it's not enough to simply write a story and post it online. Sometimes, you want a bit of interaction with another person, perhaps a role play of some sort. R/dirtypenpals is a subreddit for those who are looking to RP. Find a like-minded individual and co-write an erotica story together! Who knows what else might come out of that relationship, haha.
r/erotica
The title of this subreddit is pretty self-explanatory. Here, Redditors share both their own (fictional or non-fictional) works and their favorite stories from sites like Literotica. The only downside to r/erotica is that it lacks organization. It's difficult to find stories within a specific category if you're not willing to browse through everything they have on offer.
r/stupidslutsclub
Make sure to type in the right subreddit name here: it's slutS plural, not singular. The stupidslutsclub is a place for those who enjoy degradation, pain, and humiliation. It's a judgment-free space to find what you're looking for if getting hurt gets you off, and a lot of the stories on here reflect that.
I've also made a giant list of just about all the sex story subreddits, so if you're hungry for more check it out.
Bdsmlibrary
With a more structured design than other erotica sites, BDSM Library is a community for, you guessed it, BDSM stories! If extreme kinks are your thing, then you'll find just what you're looking for in this extensive archive. The stories are sorted by their popularity and ratings, as well as lengths and by titles and authors. It's a bit frustrating that there aren't any special tags or sexuality categories to search through, however.
In addition to erotica fiction, BDSM Library offers a chat room and a forum, and there is the BDSM Academy, created as a safe environment for you to explore your fetish and assign or accept tasks from others. The site is firm in the notion that it is not a dating or a romance site, so keep that in mind.
Bitchtopia
Formatted as a blog site, Bitchtopia is a collection of erotica stories run by one sexy lady named Jess. She is the main writer of the site, but there are other contributors (of various gender identities and sexualities), who put up their own stories for the readers to enjoy. (Of course, everything gets vetted by Jess first.)
There are several categories on Bitchtopia, including BDSM, Cuckold, Couples, Swinger, Threesome, Anal, and a few others. The stories are presented as true events, but, as is the case with the subreddits I talked about, there is no way actually to know if they are or are not. Jess also offers reviews of sex toys on her blog, if you're looking to update your collection.
myerotica.com
MyErotica's main description word is refined. The stories you see here go through a strict editing process, making sure that what you click on is only the best of the best – erotica that will set your brain as well as your loins on fire. The site is easy to navigate and there is also an LGBTQ section to explore.
MyErotica also has podcasts, if you're unable or unwilling to spend time reading. What I particularly love about this site is that there is a time assessment of how long it will take you to read each story. I'm usually quite busy on any given day, and I like the opportunity to calculate erotica time in my schedule.
Fantasies.com
There aren't many other erotica or porn sites I've come across that have as many category options as Fantasies.com. On the right-hand side of this blog-type site, you can choose from the standard sexy sections, but also from more specific ones such as Caught Doing It, Cops, Military and Uniformed Officers, Hypnotism – Mind Control, Magic and Quests, Priests & Nuns, Sex On The Road, and similar.
What I don't like about Fantasies.com, however, is that all of the other links you find in the menu, about Phone Sex and Couguars and whatnot, lead to other sites and are basically ads. Ads tend to put me off, though you may find some erotica stories that fit your tastes on this site.
Newsexstory
The appearance of Newsexstory is incredibly simple. Immediately on the landing page, you are greeted with a selection of categories. Once you find what you'd like to read about, the stories themselves are organized as blog posts, making it easy to click through them.
This site comes with a focus on Asian stories, so you will find categories such as Desi Stories, Filipino Stories, Gujarati, Malayalam, Indian, Urdu, and other similar sex stories. If this is your thing, I'm pretty sure you won't find such a big collection of sexy fiction focused on these ethnicities anywhere else. (Not in English, anyway. Although Newsexstory also has some posts in foreign languages, as a fair warning.)
Truthordarepics
When I first stumbled upon TODP (Truth or Dare Pics), I was so excited about the originality of this concept. Here, you won't find only text and stories, but also accompanying sexy pictures. TODP is a place for real women and couples to post their nude pictures with a story, just for the sake of it.
It has been in operation since 2004, and there are so many bold people out there who expose themselves for (positive) feedback. My boyfriend and I have been thinking of a dare for a while, which we're planning on documenting and sending it into TODP soon, so you may also run into us on this super cool website!
MCStories.com
In MC Stories, the MC part stands for mind-control. The full name of this site is The Erotic Mind-Control Story Archive. It is meant only for adults (as are all the other options I've laid out here), and is fantasy only, since manipulating and mind-controlling someone for your sexual pleasure is immoral and illegal in real life.
Fortunately, in fiction, everything goes, so you can enjoy people mind-controlling others into submission to your heart's content. There are also subcategories such as BDSM, bestiality, cannibalism, furry, lactation, robots, scatology, watersports, and more. If you're an extreme fetishist, you shouldn't skip MCStories.
Lushstories.com
If we ignore all the ads making their website a bit confusing, Lush Stories is a great source of erotica, being one of the biggest archives on the web. It proudly says that its community has almost half a million members, with over fifty thousand stories, over four hundred thousand images and two hundred thousand blog posts. Lush Stories also has a forum and groups, as well as Live Cams and Tube sections to its website.
The categories are clearly displayed on the left of the landing page, and it's easy to find the stories that are recommended by other readers or editors. For those who are visually impaired, Lush Stories also offers a fine selection of audio stories to enjoy.
SexStories.com
Yes, I know, the blue of the landing page of SexStories.com is hard on the eyes. To the left, under Skins, you can change the color scheme to a simple black and white, which will be much easier to look at in the long run. For the life of me, I have no idea why they chose that garish blue as their default color.
However! Aesthetics aside, SexStories.com offers such a vast collection of erotica that you are surely never going to get bored here. I confess that I barely scratched the surface of everything they have to offer, but you are sure to find some amazing works of fiction on this website.
JuicySexStories.com
Finally, as the last but certainly not the least item on this list, JuicySexStories is a stop that you must not skip on your erotica journey. Its stories represent the perfect blend of romance and sex, where you will easily get attached to the characters and wish to trade places with them in the raunchier scenarios.
One minor thing about JuicySexStories is that their site isn't updated too often, perhaps only once a month. However, with so many other erotica sources to sustain you in the meantime, I don't think this is anything we should hold against them.
The Best Literotica Stories & Categories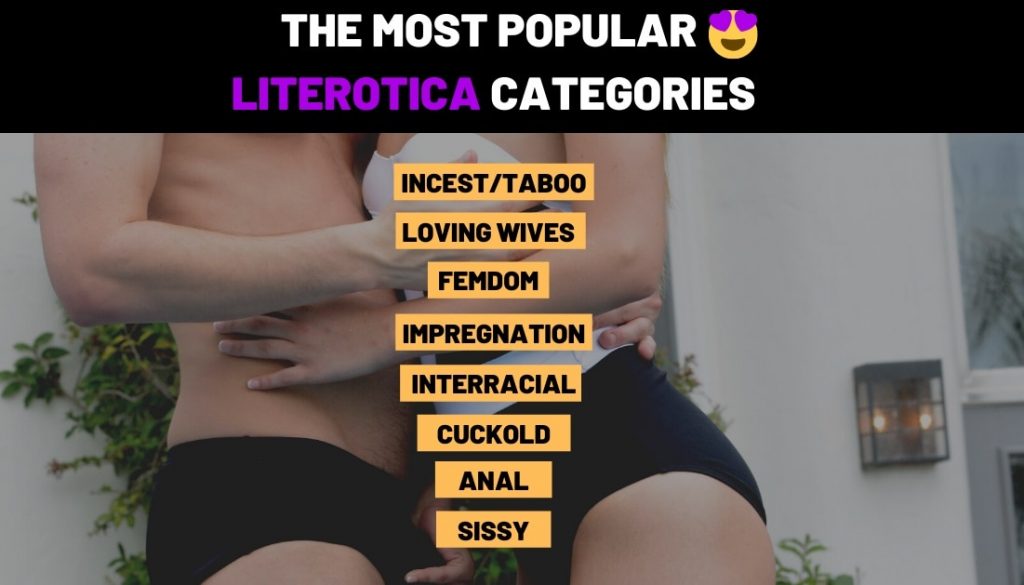 If, even after such a detailed list of similar sites, you're not yet done with Literotica, here are some of my favorite stories and categories for you to take a look at:
The Most Popular Literotica Categories
Here are some of the hottest and most popular categories.
Incest/Taboo
Stories where sex is kept within the family. I am a kinky soul, and something that is immoral and/or illegal gets me going incredibly quickly. Literotica has some of the juiciest incest stories I've ever come across.
Loving Wives
I love these ones because they largely reflect me and my boyfriend's relationship. We're not married, but in the Loving Wives category, you will find stories about swinging, partner-sharing, watching cam shows together, and more. I am all about the relaxed, open themes found here.
Femdom
In the BDSM category, there is a great number of femdom stories, which are my personal favorites. Here is where I get both turned on and full of ideas what my guy and I could try out next time we're engaging in a little domination fun.
Impregnation
While not a category in itself, Literotica has stories where the female partner becomes pregnant after the sexual act. These can be your regular, marital baby-making scenarios, but I personally lean more towards non-con options, where perhaps the pregnancy – and the sexual act itself – is unwanted.
Interracial
In Literotica's interracial section, it's not just about that glorious ebony skin. Every ethnicity you can think of can be found here in conjunction with other races, and if you crave something a little more exotic, then you should check this out as soon as you can.
Cuckold
In the erotica community, cuckold has become a broad term. On the one hand, there are those cuckolds who like to be degraded and humiliated by their wife and her lover. On the other, there are alpha cuckolds who merely enjoy watching their wives have sex with other people. You will find both of these types in Literotica stories.
Anal
I have spent a considerable amount of time browsing through stories focusing on anal play, god, it's one of the many things that makes me hot and bothered. Whenever I ask Chris for anal sex, he laughs because he knows I've been lurking in this category again.
Sissy
Sissy can mean a shemale or a regular male who is submissive and taking on traditionally female roles in the home and between the sheets. My boyfriend and I sometimes indulge in this type of role-playing (where he takes on a submissive, feminine role), as it brings me a similar thrill to femdom.
The Best Literotica Stories
Here's some of the highest rated stories from Literotica, if you haven't read them you need to:
Too Long; Didn't Read: Full Breakdown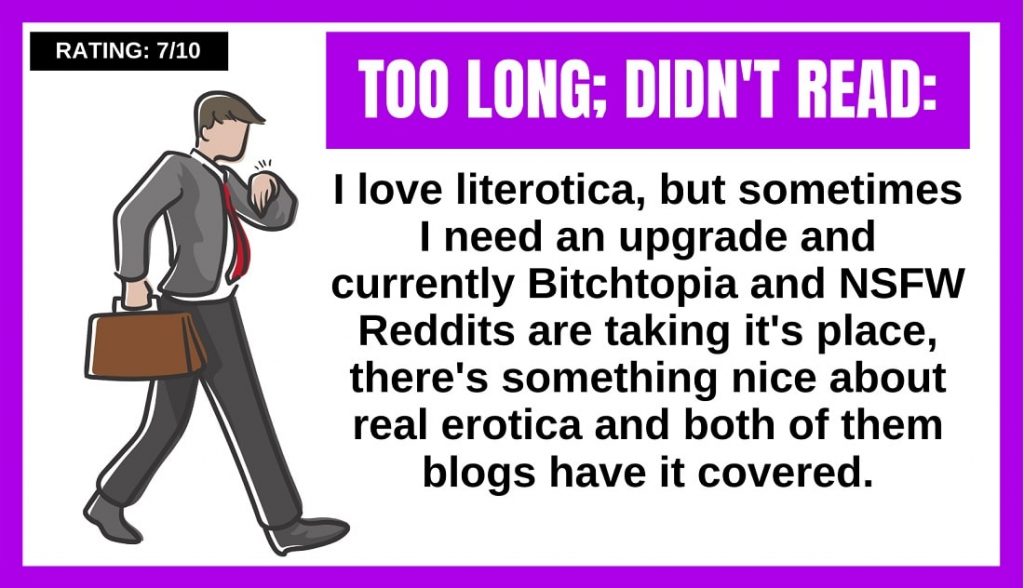 TL;DR: So, if you are looking for one of the biggest archives of adult erotica you won't beat Literotica, it's got so much content and a pretty decent rating system, however, if you want content that is real then Bitchtopia and the NSFW reddits mentioned above are far better.