Ever since I can remember I knew I had a kink for milfs, their luscious figures, their knowledge of sex, the way they operate, and that dirty glimmer of seduction behind their eyes. I get off hard just thinking about milfs and even more than that, seeing them in action gives me intense, filthy orgasms that satisfy every one of my nerve endings.
Milfs are unique creatures and being able to enjoy their tantalizing ways at the touch of your fingertips is very arousing indeed, milf porn is definitely in my top 5 favorite porn categories, and when those pornstars then turn into more intimate couplings on platforms such as OnlyFans I find it hard to pull myself away and I figured I would do all milf lovers a favor out there and share my favorite Milf OnlyFans accounts with those who appreciate it most. Sit back and enjoy because you are in for one hell of a ride! 😉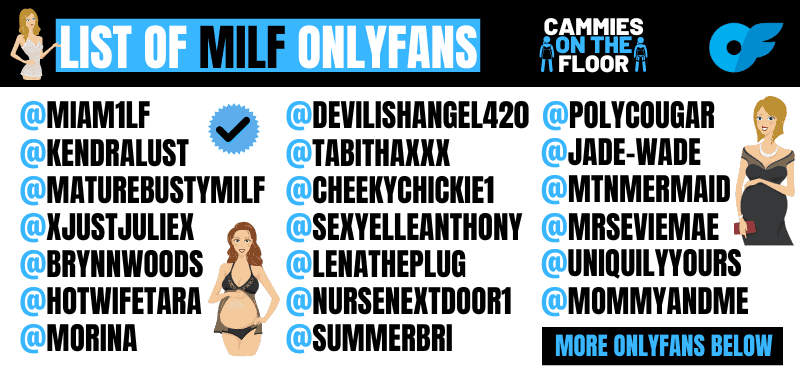 In Order Of The Milf OnlyFans Accounts With The Most Video Content:
@miam1lf – 3.2k+ Videos – 17.7k+ Images
If you enjoy your milfs on the curvier side with huge fake breasts, big lips, and a figure that has you questioning your entire life, this milf has it all. Priding herself on her ability to be the filthiest homewrecker, Mia is a bonified milf nymphomaniac who loves cock and giving into hers and your darkest and riskiest temptations.
Price: $9.99 per month.
---
@swinging_mom_amie – 2.3k+ Videos – 3.5k+ Images
A real stepmom, this swinging country girl is the belle of the ball. She enjoys being kinky and swinging when she can, pushing her boundaries, and just having fun. She offers dick rates, custom content, threesome content, and much more. This stepmom is a real eye-catcher with plenty to offer her fans.
Price: Free!
---

@kendralust – 790+ Videos – 2.6k+ Images
With a ton of incredible awards behind her for being a top adult actress, this milf onlyfans star is a great pick. If you love brunette milfs with a pretty face and a wild side, this hot momma is one to watch, you get hundreds of videos and images to enjoy as well as the ability to request custom content from her if you wish.
Price: $7.99 per month.
---

@maturebustymilf – 7450+ Posts
Roxy is everything she says she is and more. Based in the UK, Roxy is mature, curvy, and with 44JJ tits that just encapsulate you in everything she posts. She is all-natural, she loves to please and she is waiting to give you the milf experience of a lifetime that you just keep on coming back to.
Price: Free!
---

@xjustjuliex – 1720+ Posts
Justifiably called the 'mommy next door' and based in beautiful Florida, this mature milf is one of a kind. A real mom with a whole lot of cock sucking to do, she posts anal content, roleplay content, custom content, fetish play and so much more. Horny, sexy, and cum-loving are all of her best features.
Price: $19.99 per month.
---
@brynnwoods – 585+ Videos – 2.4k+ Images
Loved by many, this sexy real-life mom creates jaw-dropping, sensational content that shouldn't be looked past. She's sexy, alluring, and hard not to stare at when browsing through her profiles. A real momma with an incredible body and moves to show the world.
Price: Free!
---
@hotwifetara – 405+ Videos – 820+ Images
Tara is the real deal, she is a sexy minx who posts her real life for all of her dedicated fans to see. She enjoys bbcs, roleplay, dirty talk, and more, she also never charges pay-per-view on her page, something a lot of her loyal fans adore and respect about this stunning and very real milf.
Price: $5.99 per month.
---
@indiscreethotandfit – 385+ Vidoes – 1.1k+ Images
A 30-something, European goddess, this milf is a chatty and friendly cougar who posts daily, she loves to cum, has gorgeous fake D-cup breasts and she has limited PPV content on her page, everything else is unlocked by subscribing!
Price: $7.99 per month.
---
@morina – 365+ Videos – 3.2k+ Images
Although she looks like your average milf (I think she may even be our first gilf on the list!) at first glance, this glamorous cougar is anything but average with her temptatious body and plethora of explicit videos and pictures exploring everything from fetish play to taboo topics.
Price: $29.99 per month.
---

@breastmom – 325+ Videos – 3.2k+ Images
A single mom living her life in the sun, she knows what she wants and she opens her arms to her followers, wanting them to have a great time with her. With her prices clearly listed and sexy photos and videos waiting for you, this sexy milf will make sure your balls are drained.
Price: $25 per month.
---
@christinamingle – 265+ Videos – 640+ Images
Christi is an Asian milf with an ass that turns heads, she loves to be naughty and also enjoys receiving videos of you cumming to her. She is fun-loving, open to a lot of dirty requests, and she is a pleasure to watch.
Price: $9.99 per month.
---

@devilishangel420 – 220+ Videos – 560+ Images
A Canadian BBW hottie who boasts a to-die-for figure, along with her amateur charm and milf tendencies. You get a lot for your money when joining her monthly subscription including nudes, close-ups, girlfriend experience options, and so much more.
Price: $8.00 per month.
---
@tabithaxxx – 215+ Videos – 1.3k+ Images
Based in the US Tabitha knows what she is doing when it comes to sex and showing off that marvelous milf body. She is a sexy, cum-craving cougar that is not to be missed. She posts daily with nude photos and there are already thousands of images available for you to enjoy once you are signed up.
Price: $19.99 per month.
---

@tabithaxxx_free – 155+ Videos – 290+ Images
The same Tabitha from above also has a free account that she wants you to see, filled with juicy content, dirty anecdotes, and enough skin to get your heart racing. She is a slutty milf with a real passion for cock and cumming, treat her right and she will repay you with incredible content.
Price: Free!
---

@cheekychickie1 – 170+ Videos – 730+ Images
A real mature hotwife who just longs to share her dirty cuckold, fetish, dom, and sub-content with all of her followers. She's fun, sexy and a real good time, especially if you enjoy milfs with an air of maturity and excellence.
Price: $9.99 per month.
---
@sexyelleanthony – 175+ Videos – 880+ Images
The self-proclaimed hottest cougar in Hawaii, if you love big beautiful women with maturity and the elegance of a milf, this Onlyfans hottie is for you. She has won the Onlyfans best booty contest too so if you like a big, round, perfect ass, you're going to love her
Price: Free!
---
@lenatheplug – 180+ Videos – 860+ Images
Lena is a kinky momma with a hell of a body. Her Onlyfans is packed with uncensored content, so much hardcore homemade porn to enjoy and a heck of a personality to go with it all. Lena is incredibly more-ish and once you start you won't be able to stop watching her.
Price: $19.99 per month.
---
@nursenextdoor1 – 155+ Videos – 890+ Images
Elizabeth is popular and for good reason. She is an innocent-looking MILF, a girl-next-door type who just loves to play solo and entertain her fans. She is very personal and likes to get to know you so she definitely gives you a lot of her personality and erotic content for your money.
Price: $10 per month.
---
@summerbri – 150+ Videos – 1.5k+ Images
With no PPV (pay per view), this MILF gives you instant access to her naughty pictures and amateur porn videos when you subscribe. She loves to cum, she loves blowjobs and she has big natural tits that stop you in your tracks. Enjoy!
Price: $9.99 per month.
---
@mysterymom_nextdoor – 130+ Videos – 610+ Images
The sexy mom next door that any of us would want as a neighbor, this kinky woman loves to rate dicks, give you the girlfriend experience and share her erotic pictures and videos whenever she can.
Price: $5 per month.
---
@maturesex – 540+ Images – 120+ Videos
A 50-something-year-old gilf who just loves to explore her wild side. She enjoys anal, blowjobs, and all kinds of hot sex, she is a mature, experienced woman with a desire to please and make you cum.
Price: Free!
---
@juicyjaynexoxo – 125+ Videos – 1.9k+ Images
A petite British milf who generously posts three times a day on her OnlyFans, she has a curvy yet slim figure, a juicy ass, and a perfect ability to arouse you with her tantalizing pictures and splendid homemade videos.
Price: $5 per month.
---
@polycougar – 110+ Videos – 1.1k+ Images
Torrey Lisa is not just an OnlyFans star she is also a luxury and legal courtesan working out in Las Vegas, Nevada. She loves to post her full-length, non-censored porn videos on her page and she specializes in kink, bdsm, voyeur, and switch content.
Price: $5 per month. She also has a free page that you can check out and subscribe to!
---
@jade-wade – 740+ Images – 120+ Videos
Jade is a verified gilf who loves fitness, bdsm, and sex. She is extremely toned, kinky, and has an eye for great content. She posts a lot of different types of sexual content including, JOI's, lesbian sex, anal, POV, and more.
Price: Free!
---
@sarahmontanavip – 670+ Posts
Sarah is a solo creator who loves to show off and have a good time. She is a mom and without a doubt an incredible milf that creates custom content for you if you have something in mind. She loves talking dirty too, making her even more hypnotizing!
Price: $12.99 per month.
---
@midwestmom77 – 575+ Posts
This mom-next-door is a bit unlike some of the other milfs we have seen so far, she doesn't post porn, and she likes to keep some things to the imagination with classy and slightly more covered-up and fully-nude risque posts. She likes to chat with her fans and is always friendly.
Price: $12.99 per month.
---
@mtnmermaid – 100+ Videos – 400+ Images
A midwestern nurse by day and naughty hotwife by night, adored by a husband who loves to see her show-off, this curvy milf is one-of-a-kind, she knows how to please and invites you into her bedroom to come and play all night long.
Price: $4.99 per month.
---
@mrseviemae – 80+ Videos – 370+ Images
This Texan beauty is not one to be missed, with a highly interactive page and steamy outdoor content as well as solo play, custom content creation, and more. Mrs. Evie Mae is close to 60 and yet she is extremely energetic, bold, and highly attractive.
Price: $15.99 per month.
---
@madameemmanuelle – 65+ Videos – 470+ Images
With a thick, curvy body, this sultry french mom, based in Canada is the epitome of all things great. With a high libido, daily nudes, roleplay content, free videos, and more, she is perfect and there is so much to discover about this jaw-dropping milf.
Price: $14.99 per month.
---
@uniquilyyours – 60+ Videos – 900+ Images
Emma is a chubby, curvaceous milf who should come with a warning tag for being so sexy. She is so friendly, welcoming, and kinky too which makes her even more irresistible.
Price: $10 per month.
---
@mommyandme – 50+ Videos – 8.9k+ Images
This account is a bit of a wildcard but I had to include it. It's run by a milf stepmom and her hot stepdaughter (I really don't know if they actually are!), this duo posts nude pictures and videos of their dirty antics and posts them on their account for all to enjoy.
Price: $19.99 per month.
Which Of These Milf Accounts Do I Enjoy The Most?

It's hard to choose because there are so many and they are all worthy of their spot on my list. However, if I had to pick my top accounts would have to be, swingingmomamie and hotwifetara. Everyone has different tastes though and my favorites may not be yours so be sure to leave me your top milf creator below or your own handle if you're a creator on the platform for me to check out and add to my list.
Want More Milf Porn?
If you're bored of Onlyfans, check out this packed Reddit milf list and the only the very best milf porn sites. They will give you even more unique, amateur, and professional milf content to enjoy, so much of it that you will never get bored.
My favorite milf porn site is mylf and sexlike real for realistic VR milf porn with over 1800+ milf VR videos that suck you into another dimension of pleasure.