Nowadays, there are many different types of porn out there. You can have your taste of professional porn, starring actors and actresses and developed by actual studios; you can have amateur porn, meaning homemade pictures and videos of real people participating in various sexual activities. You can even have animated porn, where the porn characters are actually 2D or 3D people (or monsters or whatever gets you going).
It is no secret on this blog that Tiffany and I are huge fans of amateur porn. We like watching amateur videos, looking at pictures others have posted of themselves, and we especially like meeting these people and talking with them. Perhaps even meeting them in real life and arranging sexy playdates, if they are interested.
Either way, while there's nothing wrong with pro-porn or animated porn, a genuine human connection is what we seek in our explicit content, no matter how cheesy that may sound.
And we've found this in many places. On dating sites, on sites that offer various porn video clips (both for sale and for free), and of course, on the unavoidable porn image sites.
One such place is WatchersWeb, where you can browse through thousands and thousands of amateur porn pictures day after day.
What Is WatchersWeb?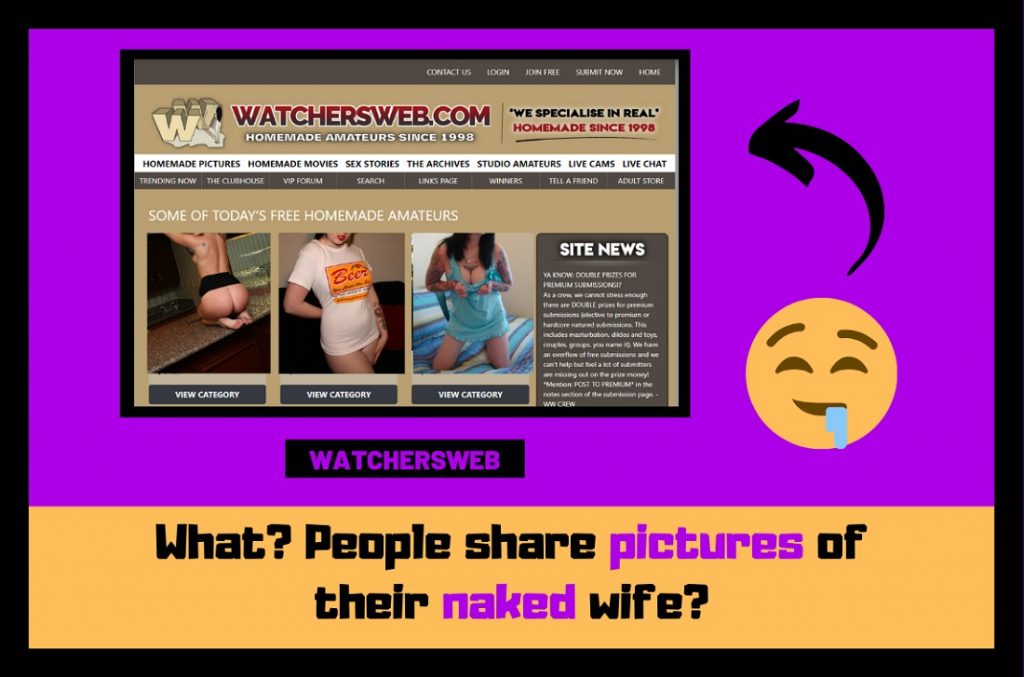 WatchersWeb is a website that has been in operation since 1998. It is home to a vast collection of amateur porn images and videos uploaded by people like you and me, who come to visit and sign up for an account on the site.
Since I made no official comparisons or research, I can't confidently say whether this is the largest collection of this type. But I can say that it would take you a stupidly long time to get through all of the content if you decide to do it for some reason. (Horniness is a perfectly valid reason, in my opinion.)
Some of the sections on WatchersWeb are Homemade Videos, Homemade Images, Sex Stories, Studio Amateurs, Live Cams, and Live Chat. As you can see, there is plenty for you to enjoy regardless of what your preferred porn medium is.
In addition to this, WatchersWeb also offers access to an exclusive Clubhouse, where you can meet like-minded people, and a VIP forum with a sexy, welcoming community waiting for you with open arms.
What? People Share Pictures Of Their Wives & Girlfriends?
Yes, absolutely! Images on WatchersWeb are sometimes posted by the hot babes themselves, but more often than not, they're posted by their significant other (with permission!) who wants to show off their lovely girl.
The reason someone would want to share these intimate pictures can be different for everyone. I personally do it because it turns me on to see positive comments about how my girlfriend is hot and what other members would do to her just based on that picture.
It turns her on as well, and we always have the best sex after I've just uploaded a gallery of her pictures and the first comments and votes have started rolling in.
If you're into wife-sharing or find yourself getting aroused by the thought of others ogling your partner, then you might also consider sharing these types of pics online.
I've Shared My Girlfriend On There!
The first time I ever posted an album of Tiffany's pictures on WatchersWeb was some two and a half years ago. Maybe a bit more. We were discussing the idea of partner-sharing and maybe opening our sexual relationship and inviting new people in, whether in the form of hotwifing or swinging or similar.
And this popped up as sort of a joke. We ran into WatchersWeb in our search for good sites to make profiles on and see what's out there in terms of people interested in meeting up for sex, and it caught our eye.
"Why not post some of my pictures on there?" Tiffany had said.
I not only didn't want to object, I actually found myself getting hard on the thought.
So we did it. Making sure not to reveal her face or any other defining features (tattoos, scars, birthmarks, etc.), we made an entire album of her pictures (which was a hot experience in and of itself), and then we uploaded it.
We didn't get too many comments right off the bat. We were newbies, after all. But there were some, one that described in detail how he'd ram Tiffany's firm ass, and that was enough for both of us to discover that wow, yes. This was indeed something we were really into. And something we couldn't wait to repeat.
Should You Share Your Wife's/Girlfriend's Nudes?
On your own, without your wife or girlfriend knowing, you absolutely should not. This isn't a site to shame anyone, or expose them, or try and ruin their lives by uploading their naked pictures on the internet. I'm sure there are sites for that, but they're on the opposite side of what the point is here.
The point is the kink. The point is that you and your girl can bond over having the same fetish, which will then allow you to elevate your sexual relationship to a whole new level.
So before you do anything, or even consider anything, you need to talk to your girlfriend/wife.
If this is something, she is also open to, then by all means. Nothing should stop you from making a couple of spicy shots of her and uploading it for the world to see and consume for their own dirty fantasies.
(Make sure to stay safe and protect your privacy at the same time!)
Other Sites Like WatchersWeb That I Use All The Time
I price checked for all the best prices and deals for all the voyeur sites in this article on the: 04/10/2023
Amateur porn is in abundance if you only know where to look. Fortunately, aside from WatchersWeb, there are plenty of similar sites with homemade content for you to enjoy to the max. Here are some worth mentioning whether because they're ridiculously good or ridiculously bad and should be avoided.
You can find this particular domain name with the .tv and the .com extensions. Here, I'm talking about Voyeurhouse.com. With its simple layout, you won't miss the cams that are currently online and the couples you can watch through them. These cameras are set around the house where the couples live, and you can see them going about their daily lives whenever they're online.
However, live cams are not free. To access them, you need to make an account and buy tokens in order to watch. If you're not in the mood to do that, you can still enjoy some great voyeur porn on Voyeur House, as pre-recorded sex scenes are available for you to watch without even logging in!
Project Voyeur is great not only because it is a source of endless amateur videos and clips (and live chats), but also because it is a great community to meet other fans of amateur porn. On this site, you get to watch hot videos and images, and you get to post in forums and engage with other members of the community, meet potential friends and even future partners!
Not every part of Project Voyeur is free. You can make a free account, but much of the website will be inaccessible to you. With a premium membership, you will be able to do it all. As a premium member, you can download videos and pictures, have access to the site archive that goes as far back as 2002, and you can chat and watch live cams from people willing to bare it all for their audience.
I have talked about this collection of sites in my earlier reviews. Real GFs Exposed belongs to a group that markets itself as the biggest collection of amateur/teen/voyeur porn on the web, but in reality, it appears largely like a spam site. No part of this site is free for you to try out, and while the video thumbnails look good, you can't actually watch even a second of them without making an account.
Even if you do gain access to all the videos on offer, it is obvious these are not amateur videos. The lighting is perfect, the camera angles professional, and there is no way that these weren't shot by a porn studio. Moreover, Real GFs Exposed seems to have the same videos as its sister sites, which is why I advise you to avoid this one at all costs.
VoyeurHit
Lately, it seems as though the true voyeur kink is fading away. Rare are the sites that offer upskirt shots or footage from clearly hidden cameras filming either people getting naked or having sex. Well, VoyeurHit is still holding strong even despite the diminishing trend. Here, you will find incredibly juicy voyeuristic shots of men, women, and couples having sex that will satisfy all of your needs.
You can make an account on VoyeurHit if you want, but most of the clips are already available even without joining. They can be webcam videos or made by hidden cameras, and they will definitely get you hot and bothered. The downside is that VoyeurHit comes with many ads and pop-ups, which might ruin the experience a bit.
Readerswivesonline.com is a mouthful of a site name. Its layout also brings us back to the late 90s, early 00s in terms of design – or lack thereof. Looking like it might be a site advertising a bug spray, Readers Wives Online is actually a great archive of amateur pictures, videos, and stories that is updated daily. All of the content you see is created and uploaded by real people.
At first glance, Readers Wives Online is difficult to navigate. There are no obvious links or any real flow to the design, so you need to focus on finding where you want to click next. A lot of the links lead to external sites with images and videos, which I don't appreciate much. There are some galleries hosted on the site itself, but it's hard to gauge how many from how eager it is to lead you away.
Similar to the Real GFs Exposed, Thegfnetwork.com is a site that I would suggest you skip. It says it hosts over 8000GB of ex-girlfriend videos and pictures that are submitted by the users, and that these include emo teens, party girls, mirror sluts, teens taking sexy selfies, and more.
As soon as you click on any video that might catch your eye, an ad pops up. Moreover, none of the videos are free, and you need to pay for a monthly membership to view them. (There is an option for a one-day membership for one dollar, and honestly, I wouldn't even pay this to try out a site like The GF Network.)
Ah, blessed be the Voyeur Web. Out of all the sites on this list, this one is the most similar to WatchersWeb, not least because of their almost identical names. Voyeur Web is a bit neater in appearance, a bit more organized than WatchersWeb, but it offers largely the same type of enticing amateur content uploaded by its members.
Voyeur Web is mostly free, though you will always be prompted to sign up for a paying subscription on one of its sister sites, which I find is a bit annoying when you're just trying to get to the porn. Aside from that, it is a lovely site to roam about and get your fill of hot naked chicks and an occasional couple caught in the act. Definitely worth checking out! You can find more sites like VoyeurWeb, in this guide I create, it also shows some secrets about the webcam site.
Real Life Cam
Reallifecam.com is similar in concept to Voyeur House. There are houses outfitted with cameras in different rooms and with different angles in those rooms, and you get to choose what you want to watch and when. You can look at places where couples live, then places with roommates/singles, girls on vacation and even couples on vacation.
Unlike Voyeur House, much of Real Life cam is not available for free. You can watch some of the camera feeds just to get a sense of the quality of the video and what it offers, but most of the streams are off-limits. You also can't watch archived footage of sexy moments that already happened without subscribing to a monthly membership.
Snap Sext is an online dating site. It has been in operation for over 10 years now, and it is quite a reputable place for meeting people who are all about the laid-back and casual relationships. It is a good place to meet both singles and couples, depending on what your intentions are and who you want to play with. Snap Sext also puts an emphasis on photos, selfies, and videos taken by its members.
However, to actually access the site, you need to make an account. You have to answer some questions about yourself and your preferences, and once you get signed up, you can browse the site for free. In order to actually participate in chat groups or hit someone up, you will need to subscribe to a payment plan, though, which is a bit of a bummer.
Even though I did an entire review on ImageFap, I still have to mention it here as a solid alternative for all things sexy and amateur. Yes, the design of the site is nonexistent and it seems too cluttered and confusing, but trust me when I say that taking the time to learn how it works pays off in the long run.
There is hardly a better community of people than on ImageFap. These homemade porn enthusiasts are eager to share their naked pics and those of their sexual acts, and they love it when you leave nice comments and ratings. Its collection of porn content is vast, and you will definitely enjoy wading through it all.
Reddit
No porn list of any kind worth its salt can leave out Reddit. A fandom haven, regardless of whether that fandom is Supernatural, KPop, Marvel, the anti-vegan movement, or the Democratic primary elections, everyone has a community they can flock to on Reddit. The same is true for the porn community, and especially for the amateur porn community.
On some of these subreddits, you will find naughty pictures of other people's wives and girlfriends, and you can even share your own if partner-sharing and exhibitionism is your kink. For the best amateur porn time on Reddit, take a look at these subreddits:
Which Of These Sites Do I Use The Most?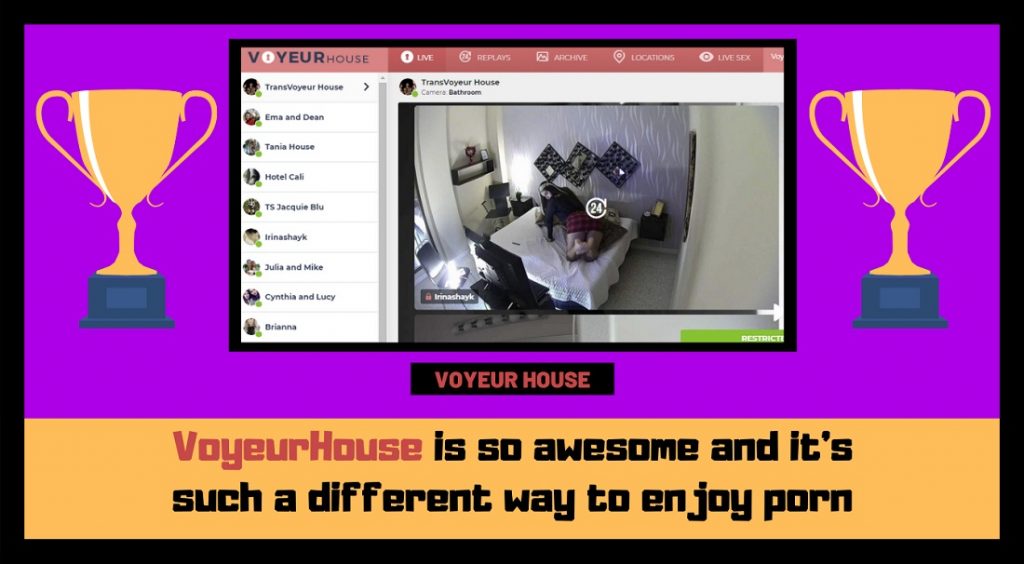 To satisfy my need for real people porn, I, of course, use WatchersWeb a lot. However, the subreddits I mentioned are amazing and Voyeur House is by far my favorite. Voyeur House especially is a kink-haven for me because it hits all of my buttons and I get to watch sex videos for free.
The Girlfriend Network is a nice alternative for WatchersWeb if you wish to have a similar experience, only with slightly different features.
My Full Review Of WatchersWeb
The reality is that no site is perfect, and you won't find any type of porn without its flaws. (If you do, please drop me a comment down below, I'd love to check out what you thoroughly enjoyed watching!)
WatchersWeb is not entirely free, meaning it is not for everyone, and its design is outdated, looking barely past the year 1998 in which the site went up.
But that's pretty much it as far as the cons go. I honestly don't have that many of them, and you know that I'm not afraid to speak my mind when it comes to these reviews.
The truth of the matter is that WatchersWeb is a great source for online homemade porn, and if it's not already in your regular rotation of sites to keep coming back to, then it definitely should be.
Here are some of the reasons why.
What Is Awesome About This Site
These are the things that I truely love about this site.
Real content
There is no doubt in my mind that the content on WatchersWeb is made and posted by real people (who are the owners of that content). The site has an active system where you can report potentially fake accounts and galleries, and if the person who posted the content can't prove their authenticity, WatchersWeb takes down their galleries. It's as simple as that, and that earns a massive amount of respect from me.
Real couples
Related to the previous point, it is glorious to watch how other couples get down. Tiffany and I have a thing for group sex and swinging and all kinds of situations that include us watching how other couples have sex, and WatchersWeb is great at providing just that. There is nothing like knowing that the people having sex in front of you are actually in a committed relationship, much like you are.
Fun to upload
WatchersWeb is not just for passive consumption! If you wish to share your own kinky content on this website, then definitely do so! Refer to my previous section on sharing pictures of your wife and/or girlfriend to see what you can expect and how it works. Just make sure to be safe and smart about it, and have fun!
Highly active (one of the most active)
This archive gets updated daily. Every day you get a fresh wave of content that you can look through (and masturbate to), meaning that it never gets boring. However, keep in mind that you can't view the juiciest galleries without signing up first, and some of them are only available for premium members. To get a taste of what the site is all about, though, looking through it without an account is good, too.
Good community
WatchersWeb is not just about porn. It is also about socialization! Through the forum and the live chat, you can meet other people who love either showing off their bodies or admiring other people's bodies (or both) just as much as you do. Drop in, say hi, just keep it light and friendly and there's no reason why you wouldn't walk away with a new friend or perhaps even potential sex buddy in the future!
Is WatchersWeb Free?
As I mentioned previously, WatchersWeb is mostly free. Before you sign up, you can see some of the galleries and what it all looks like, but you will need an actual (free!) account to view most of the locked content.
In order to view absolutely all of it, including the VIP Forum and such, you will need an actual subscription. A year-long membership doesn't cost too much, and you get everything for it. In my humble opinion, it is absolutely worth setting aside a small amount of cash to enjoy all of what WatchersWeb has to offer.