Wife-sharing, cheating fantasies, cuckolding, and hotwifing are just some of the terms that you must have run into on our blog. Tiffany and I are no strangers to these practices, as we feel that including other people in our sex life adds excitement and even more heat than there was before. So it's only natural that we write about it so much.
In this post, I'm going to talk about ways to find partners for these fetishes – other people, male or female – who are more than willing to play with you and your girlfriend or wife. Or perhaps only you, if you wish to bring a cheating fantasy to life.
You will find sites that are created exclusively for dating, where you can meet people of all types and from all walks of life. You will also find sites that are more specific to cuckolding (the practice of sharing a wife with a stranger) and swinging (a couple having sex with other couples), but you will also find those that are similar to WifeLovers.com.
So before we dive into all of that, let's start with the most important question:
What Is WifeLovers.com?
At first glance, you may think that this site has been abandoned for a long time now. WifeLover doesn't do itself any favors by still maintaining that dated, unimaginative format from the late 90s. There are no pictures, no sleek design, nothing really that sparks your interest the moment you land on the homepage.
However, once you scratch the surface – perhaps make an account and log in – you will discover that this is a place of amateur porn unlike any other.
On WifeLovers.com, there is a free area where you will find hot pictures and amateur pictures of real wives, usually posted by their husbands. You will find stories and discussions, personal ads, and you can even make your own email address or join a chatroom! This is also a place to meet great people through the message boards.
There is also a members' area of the site, which you have to pay a monthly fee to access. Here, it is not only about cuckolding and hotwifing, but also about hardcore fetishes, BDSM, foot fetishists, and so much more. The member's area also offers a bigger collection of videos and pictures that you likely won't be able to go through in its entirety any time soon.
In terms of cuckolding and hotwifing, WifeLovers is not the best source for finding partners, as it doesn't have that many members on its boards compared to other sites. The people you meet are generally more interested in company and conversation than they are in potential sex partners.
Do People Still Use WifeLovers?
The short version of the answer is that yes, people still use WifeLovers, to an extent.
The truth is that there are countless flaws with the website, not least of which is the one I mentioned above, that it is not a great resource for those looking to find suitable sex fantasy partners.
Even if you're just there for the porn – to watch hot wives strip and have sex and seduce you through the camera – the experience will likely be subpar.
The main problems with WifeLovers are the following:
Site is severely outdated
Poor navigation and ugly interface
Videos are low in quality
For these reasons, I will admit that I explored this web site only once a long time ago, and then had completely forgotten about it until it was time to refresh my memory for this review.
My girl and I have dozens, if not hundreds of alternatives, we use both to get our rocks off (together and separately) and to find interested parties to join us in the bedroom.
So let's check out these WifeLovers alternatives that you might have a better time with.
My Favorite Sites Like WifeLover.com (Alternatives)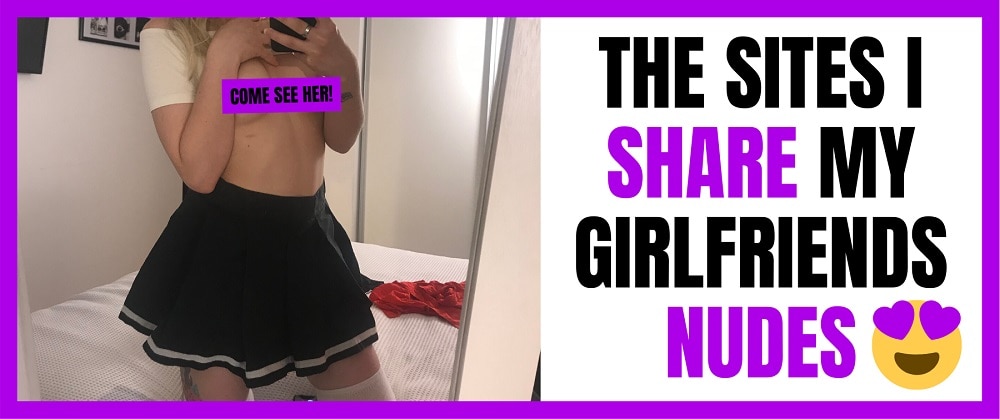 I price checked for all the best prices and deals for all the wife sharing websites mentioned in this article on the: 28/11/2020
Once again, to reiterate, these are all sites to visit if you wish for someone to have casual sex with, and/or to help you live out a sexual fantasy. Even though some of the sites might also have a porn side to them, I'm mainly listing the ones that have the potential to find partners for short-term (or long-term) no-strings-attached fun.
Right off the bat, we're starting with a strong one. Adult Friend Finder is one of my favorite resources of people who are more than ready to meet you and participate in whatever you have envisioned for your fantasy. If you're open, friendly and honest, you will easily find like-minded individuals who want to help you. To this day, I have never had a problem with anyone I arranged meetings with through this site.
However, the downside to the site – one of the few – is that it is not the best when it comes to the selection of women. You will find straight men galore, on every corner, but it might take some digging until you come across a lady who meets your criteria and is open to getting down and dirty with you and/or your partner.
If you want more hotwife dating sites, check out this list of the ones that I use.
This is a forum dedicated to the hotwife and cuckold lifestyles. These lifestyles include sharing your wife – meaning, finding a third person, usually a guy, to have sex with her while you either watch from the same room or are somehow in on the events. As a source of information and a place to meet people who share your kinks, OurHotwives is a great option.
It features three main categories: the Hotwife Forum, the Cuckold Forum, and the Poly Forum, with slight distinctions between the three. In them, you will find interesting topics, such as Ask a Hotwife Thread (my girlfriend's favorite), personal stories and experiences, mistakes from other people that you wouldn't want to repeat yourself, and much more.
As one of the largest communities for swingers online – with over a thousand swingers online literally every minute of every day – SwingLifeStyle is a major place for everyone enjoying this type of sexual play to gather. New members flock to this site, not least because it doesn't look as ugly as other options but also because it's an essential resource for meeting new couples and organizing get-togethers.
At SwingLifeStyle, you will find blogs, stories, and articles to read up on if you're new to the scene and wish to familiarize yourself with best practices (definitely start with that!). You also have forums and groups to meet people online, as well as a list of Swingers Clubs to meet them in real life if that's more your speed. On top of it all, you can also sort swingers by state so that it's easier for you to find locals up for some spicy fun.
SlutWives

(Best for Forum Talking)
SlutWives is a place which says it is the host of 'amateur cuckoldry videos', but the pleasure certainly doesn't stop there. This is a forum that has, over time, evolved from its initial purpose of bringing together fans of the cuckold lifestyle into almost a full-on porn site, with videos, pictures, and even live cams of hot girls performing for you at any hour of the day.
SlutWives is still strong in its social department, however, so you shouldn't worry about that. All you need to do is make a free account, and you'll gain access to a community that is incredibly open and welcoming. Here, you can discuss the ins and outs of cuckolding in general, but you can definitely also use the platform to find just the right type of partners you're looking for.
Taking a break from social sites and messaging boards, we're going to turn to this cuckold porn site, through and through. On BeTheCuck.com, you won't find amateurs, people like you or me who want to find partners, but porn stars who shoot professional videos for posting on this website. They're hot and tight, and most of the videos come with a cuckold theme, though there are other categories as well.
If you're looking for porn, then this is definitely the place to go. Making an account on BeTheCuck.com isn't free, however – you will need to set aside some money every month for this guilty pleasure.
If you're asking for my honest opinion, it's not worth it. I'd always much rather have the real thing – be included in a real-life fantasy – than be sitting in front of a screen and masturbating to hot yet obviously fake scenarios of cuckolding and hotwifing.
This is one of the biggest cuckold forums you will come across, with over one hundred thousand registered members. It is also simple in its layout, without any jarring ads or questionable design choices. It is easy to scroll down to the topics you're interested in and find just the type of content you're looking for.
CuckoldPlace has topics such as Cuckold Stories and Cuckold Captions, then an entire category devoted to interracial cuckolding. Then there are guides for beginner cuckolds as well as more experienced ones, and sections for specific fetishes, such as a foot fetish. Here, you will also find international categories for cuckolding in Canada, Australia and New Zealand, France, Spain, Germany, and many more countries.
If you want more cuckold forums and cuckold chatrooms, then check out these guides I created.
Real GFs Exposed is a site with a decent premise – meant as a collection of amateur videos of girlfriends doing naughty things in unlikely places. I do like the idea. However, its execution is obviously more focused on the professional, porn-studio-quality than the actual amateur side of things. The girls on Real GFs Exposed are not real and are obviously there because they're porn stars paid to play a part.
What's more, to watch any video on this site, in any category, you need to start paying a monthly membership. If they promoted themselves as a porn site with a focus on the 'exposed girlfriends' trope, I wouldn't mind that so much. But please don't give out your credit card information thinking you're getting quality amateur content when there are plenty of other places you can find that for free.
The Cuckold is supported in several different languages, including Italian, French, Spanish, and German. (Apart from English, of course.) It is a basic site in terms of layout, not very intuitive and a little uninspiring, but you're not there for the UX anyway. The Cuckold is the host to a large community of cuckolders and fans of the lifestyle, and there are numerous activities for you here.
You can create your own profile so that it's easier for other people to find you and help you realize the fantasy you want. You can browse through ads and other people's profiles if you're looking for something specific. Best of all, you can upload your salacious pictures and videos and watch those from others, all homemade and incredibly amateur, of real people having real fun with each other.
Quite simply put, look at her now is a porn site dedicated to the art of cuckolding and hotwifing, as well as plain cheating. Hot babes service their bulls as their husbands/long-time partners are watching, and there are hundreds of different scenarios for you to choose from. A special – and incredibly popular – tag here is interracial cuckolding.
What I personally don't like about Look at her now is that it is just another porn site. Sure, the videos are done professionally and everyone is attractive and maybe even not bad at acting. But this is not a community, and it offers you no chance at exploring the lifestyle yourself. However, if you're into hot clips of this type, feel free to sign up (though you will have to subscribe to a membership).
If you and your partner are thinking of dipping your toes into cuckolding or if you're solo and would like to become a bull, then make sure you don't skip Cuckin.com. This is an essential guide designed as a blog to provide you with everything you need to know about this kink and how best to approach it.
Cuckin.com has true stories of other people who've tried cuckolding, then pictures of wives and girlfriends of other members, funny (and sexy) cuckolding captions and gifts, and of course, the much-needed resources and guides. If you've never done cuckolding before, make sure to read through the Cuckold Simulator here, which will help you and your partner figure out whether or not this is really the right step in your sexual relationship.
Speaking of essentials for beginner cuckolds, you might also want to glance at CuckoldMarriage. This is a simple yet welcoming community that has more than one way for you to communicate with others – chatrooms and a forum! If you have a story you want to share, or there is something you need advice on, the members at CuckoldMarriage will be there to help you in any way they can.
This site also offers definitions of the lifestyle, so that you don't get lost in the seemingly confusing terminology. If you're only just starting out, you want to learn the vocabulary before you start interacting with others (and looking for partners) to avoid confusion and potential misunderstandings down the line. Know what you're looking for and how exactly to ask for it!
Reddit (Best All-Round)
Reddit is a safe haven for millions of topics ranging from books, movies, TV shows and music to politics, global warming, and cultural issues, and finally to more obscure and more taboo topics such as sex and porn. It's no surprise then that Reddit is also where you can meet thousands (and I mean, thousands) of those who like to share their partners and deal in both cuckolding and hotwifing.
On all the different subreddits, you can talk about your experiences and hear about those from others. You can upload pictures of your wife/girlfriend for other users to give feedback on. You can ask for help and, most importantly, you can advertise what type of partner you're looking for and in what part of the world.
Reddit may not become your primary source for finding playmates, but it is an irreplaceable gateway into the community.
Here are some subreddits you have to take a look at:
r/Cuckold
r/happycuckold
r/cuckoldcaptions
r/cuckoldstories
r/CuckoldPersonals
r/Hotwife
r/wifesharing
r/WouldYouFuckMyWife
r/HotWifeLifestyle
Which Is Your Favorite Site?
That was a long and extensive list, wasn't it?
If you're worried about which site to choose first, which one is the right one, please don't be.
There is no correct answer here because we're all different people and we all expect different things out of our explicit online experiences.
The best option would be to simply try them all and then see which ones you like best. Whereas I, personally, am not so enthused by the porn sites, maybe these will be exactly up your alley.
If you're looking for casual hookups and partners to enact fantasies with (not only hotwifing ones), then don't miss out on Adult Friend Finder. Seriously, that place is a goldmine. As Tiffany always tells me to emphasize: be open, be honest, be kind. And block anyone who's being creepy or giving you a hard time.
But if you are straightforward with your wishes from the get-go, others will appreciate that and be just as straightforward and direct with you. It's a win-win situation for all because it is in everyone's interests that you come out of the fantasy (or hookup) happy and satisfied.
So what is your favorite site for finding partners? If it's not on my list, make sure to leave a comment below so that I can check it out!
My Quick WifeLovers Review (Verdict)
Finally, after this long road through sexy sites, it is time for me to offer my final opinions on the site that is in the title of this post.
If you can get past its basic look and confusing navigation, then WifeLovers is a fine website. It's not the best I've ever been on, but it's a good source of dirty pics, videos, erotica stories, and not a bad place to get in touch with others who enjoy wife-sharing.
To gain access to the chatrooms, you do need to sign up, but thankfully this part of WifeLovers is free. If it weren't, I have no idea how they would justify still sticking with that godawful design.
However, there's another problem with WifeLovers: during my research, I've discovered that it had a breach of security at the end of 2018. More than a million users had their private information stolen, ranging from their names and IP addresses to the erotic content they've been posting online.
This is a huge red flag in my book because it seems as though WifeLovers doesn't only have an outdated style, but also outdated site security. I would be enraged if I found out that all of the private, sensitive content I uploaded online was somehow taken away from me and distributed who knows where.
For this reason, I would advise rethinking signing up for WifeLovers. Perhaps they've updated their security since then. Perhaps it's all better now, but just to be on the safe side, you better go for any of the alternative sites I presented to you in my list. Stay smart and safe, above all!