If you have visited our site before you know how much I gush about big beautiful women, I would shout it from the rooftops if I could but sharing my love with like-minded people on the internet is enough for me.
In this article, I will be sharing with you the best the internet has to offer when it comes to BBW and their steamy OnlyFans accounts. I love the intimacy of OnlyFans, the amateur content that can be produced as well as supporting creators who have gone independent.
If you're not familiar with OF, it's a site where you find your favorite creator and you pay a monthly subscription to view their naughty content, sometimes it's even free to join their feed or you can pay per view so you can just pay for what you want to see.
My list includes only the hottest, must-see BBW models, these girls are all incredible and in no particular order. I love sharing girls you may never have heard of, and introducing new and long-standing talent to other BBW admirers.
List Of Active and Fantastic BBW OnlyFans Creators
I have created this list, as a fellow BBW lover, I am always searching for new talent and girls I may never have heard of so if I have missed your favorite OF creator, leave their handle in the comments below.
I try and give you a description of each account and when I include their photo and video stats this is subject to change as they post more or even sometimes remove content (although this is very rare). Have fun finding your next BBW OnlyFans obsession!
Proclaiming herself as the 'BBW porn queen!', you know you're in for a great ride with this hot plus-sized babe. She offers daily posts, 24hr messaging, exclusive content and so much more. Specializing in ass worship, strap-on porn, lesbian, femdom, and more, this gal knows how to give you your money's worth and for just 10 bucks a month, you can't go wrong.
3972 Photos & 1529 Videos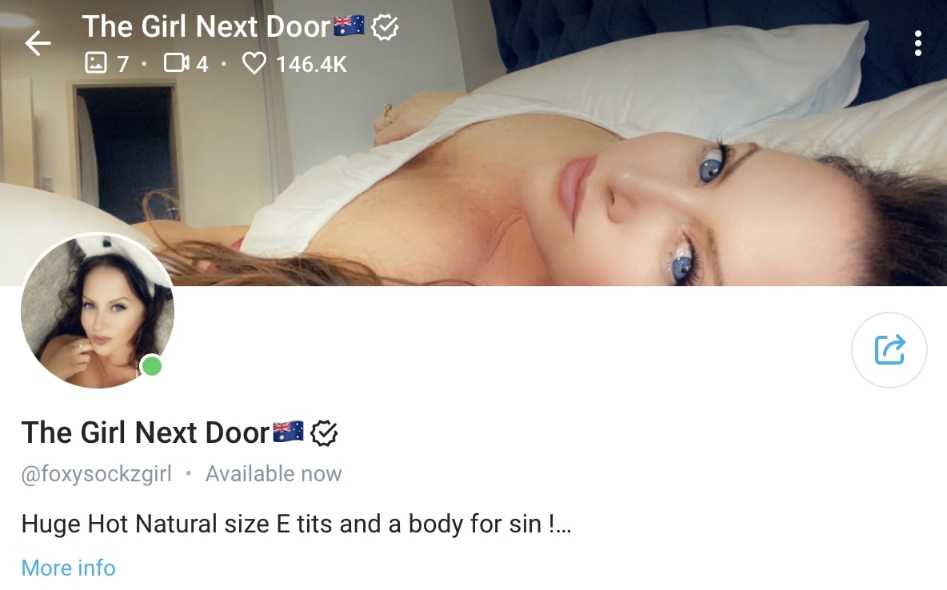 This Australian/Swedish goddess is an all-natural BBW beauty with huge E-cup tits and a body that was made for loving. She posts teasing, unforgettable, and raunchy videos and pictures for her fans and she even has a popular subreddit where you can get a sneak preview of the type of stuff she posts. She is a natural, girl next door BBW, adored by many.
1941 Photos & 2002 Videos
A sexy redhead with a fat ass, you can join her for just under 5 bucks per month, which is an absolute steal. She loves to get naked, fool around, and bring you hardcore and explicit content, including BBC, lesbian, and anal content. She is a famous creator with a big following and there are no limits to this kinky redhead.
3781 Photos & 852 Videos
Based in the city of sin, Las Vegas, this curvy baddie is a legend amongst men. With a unique MILF look and a body that will stay on your mind 24/7, this BBW creator is not to be underestimated. Showcasing solo content, threesomes, custom content, and more, you can subscribe to her naughty content for just under 20 bucks per month.
5230 Photos &1570 Videos
A sex goddess with a deep throat and big juicy breasts, featuring all kinds of naughty and filthy content on her page. This BBW sweetheart will blow your mind with her smoking-hot body, her flirty and arousing videos, and her streams of content that will keep you entertained for hours. You can join her for just under 10 bucks per month.
3780 Photos & 1115 Videos
Known before as @queenkenz28, this freckled, mixed, BBW is a real catch, what more could you wish for? This hottie will have you submersed in her content as soon as you join (for $6.99 a month), she enjoys sharing a ton of deepthroat content, arousing solo play videos, cumshots, facials, and more.
2800 Photos & 790 Videos
A chubby girl with a lot to give, this sex kitten has huge DD cup breasts and she has even featured on Jeffs's Models, a porn site for bigger girls. She has real orgasms, she loves to squirt, she loves anal, deepthroating, and more. Plus her OF is only $10 per month, incredible value for such a hot and kinky girl.
4400 Photos & 650 Videos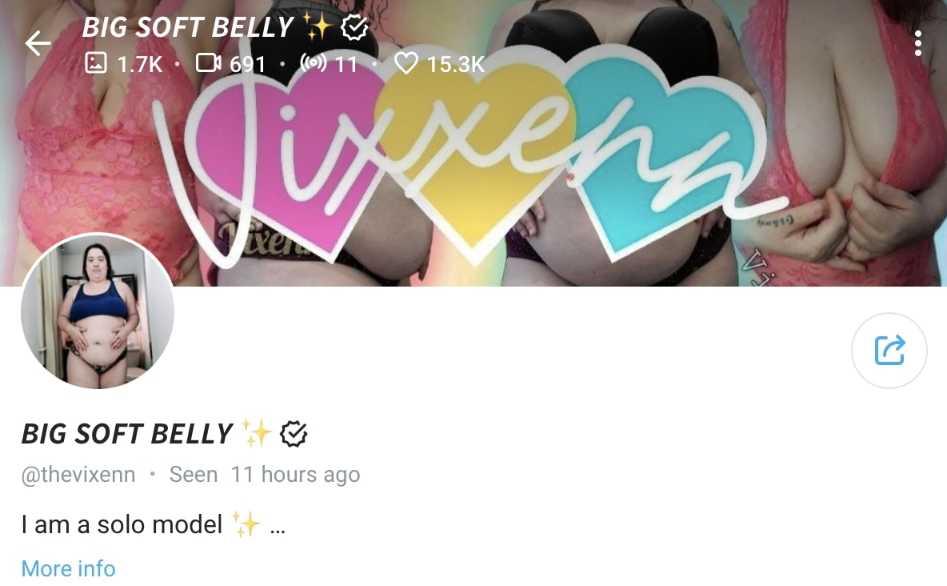 This BBW model is a little different from some of the others we have seen so far as she is strictly solo, meaning her content features her and her only. She loves to squirt, cream, play with her big belly, and more. You can join her for just $4.99 a month and get to experience the kinky side of this BBW.
1800 Photos & 700 Videos
The most shot BBW model in the history porn, Sam is a legend in the industry, shooting scenes and photos for some of the biggest names out there including BangBros and Naughty America. Her only fans are an incredible selection of hot and steamy videos and pictures featuring her huge breasts, cosplay, foot fetish videos, and more. Join her for $5.99 per month.
1500 Photos & 620 Videos
A British BBW with a huge 48N bra size, this British babe is the epitome of BBW, flaunting her stuff and showcasing her beautiful body whenever and wherever she can. With regular content uploaded, live streams, and a ton of content already available, you can join this hottie for just $8.99 monthly.
4700 Photos & 515 Videos
An all-natural, no-filters, girlfriend-experience British BBW who is here to blow your mind. You can subscribe for $9.98 monthly and enjoy her glam modeling pictures and uncensored nudes. She likes to wear cute and sexy outfits too that are simply irresistible to look at!
1774 Photos & 506 Videos
De Ranking is an ultra-kinky, ultra-horny-only fans creator with lots of tricks up her sleeve. With a big, beautiful body, a big ass, big tits, and a beautiful face, she is a perfect addition to your daily needs. With a love for BBC, young studs, kinky ventures, and more, you will fall in love and probably keel over when you can access it all for FREE.
240 Photos & 170 Videos
This BBW cutie is an Asian fetish star, she's kinky, cute, and a BBW queen. For $9 a month, you can join her and indulge in her fetish videos, getting to enjoy her perfect figure on demand and lusting after this big Asian beautiful cutie.
1240 Photos & 420 Videos
Subscribe for $12.50 per month and gain access to the plethora of content already uploaded plus new uploads three times a week. This BBW baddie is serious about being the best there is with a figure that you can't look away from and a banging personality that rivals it too.
975 Photos & 335Videos
An award-nominated BBW performer and creator, with an affliction for creating her own content. She loves to post raunchy solo videos, public indecency smut, and even clips of her with her lovers, all as juicy and addictive as the last. Offering free videos once you join and at just $7.99 per month, you are going to love this busy babe.
960 Photos & 280 Videos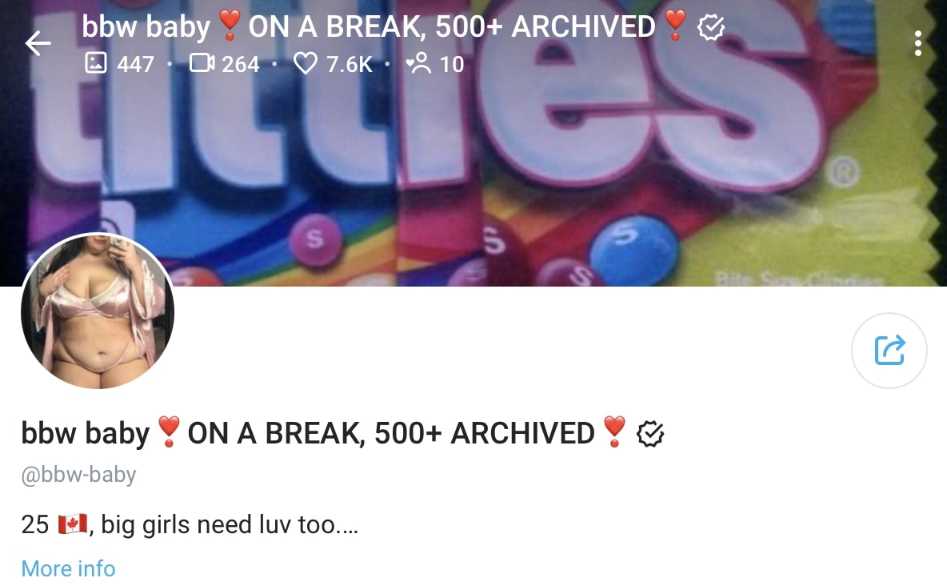 Big, beautiful, chubby, and in charge, this BBW babe is kink friendly and has a huge archive of content for you to sift through as you await her uploads and interactions. At just 5 bucks per month, this hottie is enough to make you look twice with a large attitude and a big handful of ass to play with.
450 Photos & 270 Videos
'Blondie', is a curvaceous, natural, big-tits, horny gal who has an equally as impressive OnlyFans account. She engages in boy, girl, and solo play, she loves cum and she considers herself a milf and pawg (a phat-ass white girl). You can join her for $10 per month and see what all of the fuss is about.
2150 Photos & 255 Videos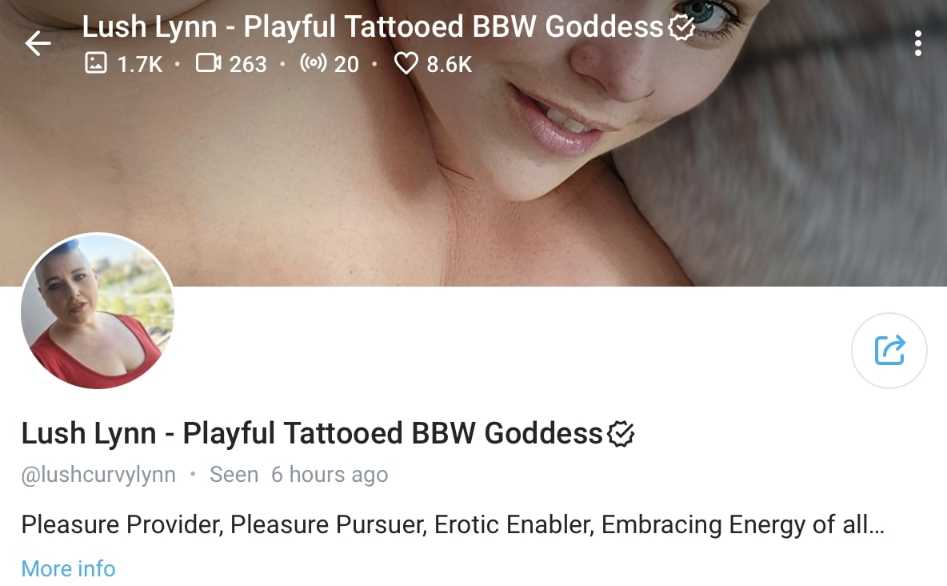 A Canadian goddess is about to grace your screen as you join this curvy babe. She's queer, kinky, friendly, and playful, offering custom orders as well as being extremely acceptant of all kinds of people from all walks of life. If you want an ultra-friendly BBW with a kinky flare, for $10 a month, this OF hottie's content is all yours.
1800 Photos & 275 Videos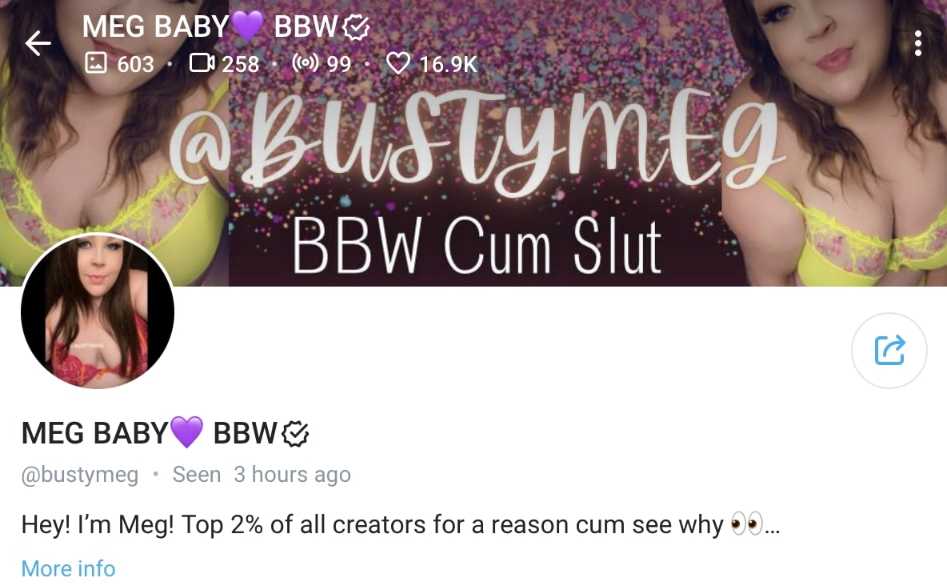 Fun, sassy, cum-loving, and fetish friendly, this BBW is popular, and for good reason. She posts daily, she has big, incredible tits, and she makes custom videos on request, she loves to fool around and you can join her for just 8 bucks.
599 Photos & 265 Videos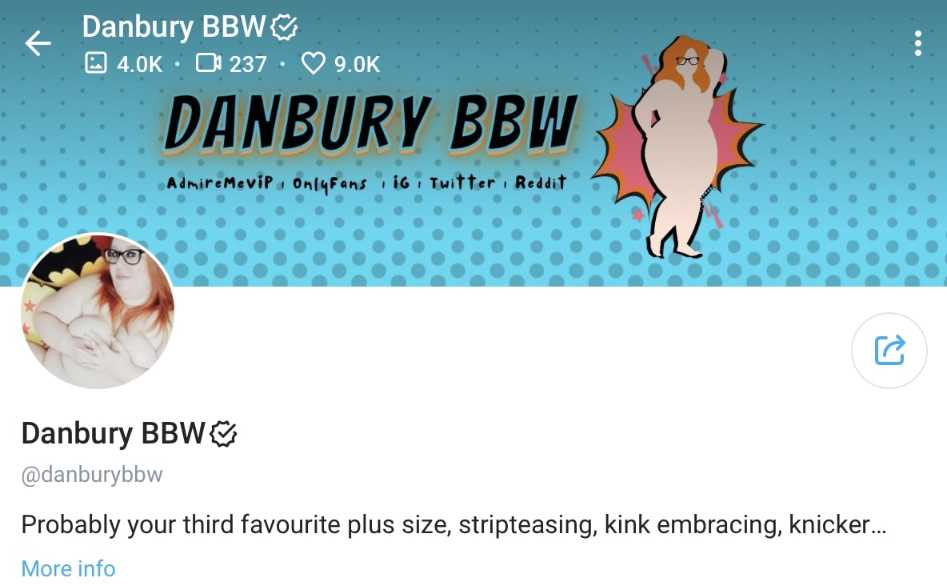 This creator proclaims themselves as the 'fat Brit next door', this down-to-earth BBW is a solo-working fetish-friendly larger-than-life creator who knows how to please and knows to have fun. A pansexual switch with erotic and arousing content all for $10 a month.
4002 Photos & 245 Videos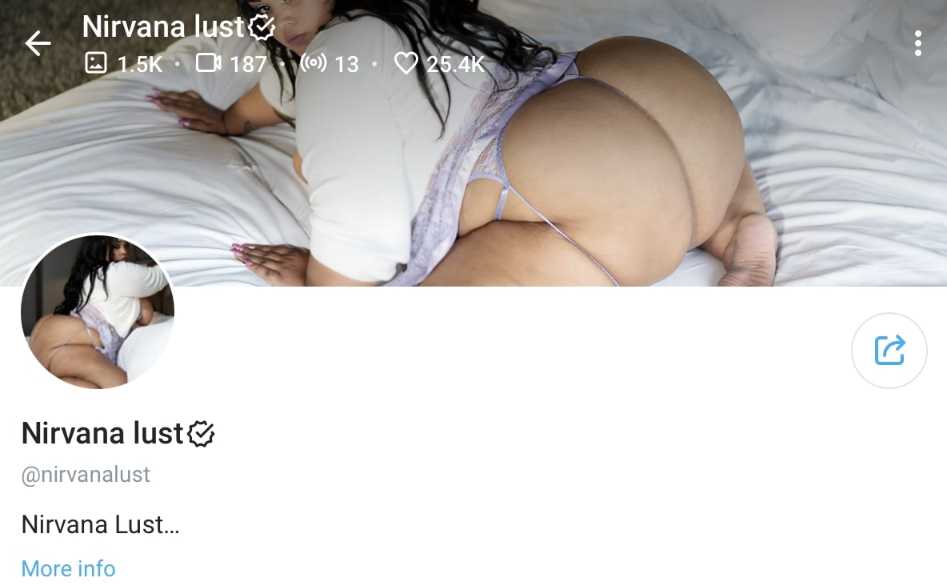 An 8X award winner and AVN award nominee, as well as being voted the best BBW performer of the year in 2020, Nirvana Lust is a hot, horny, and naughty babe who creates jaw-dropping BBW content, she's freaky and always up for a good time. You can join her OF page for $13.99 a month.
1590 Photos & 191Videos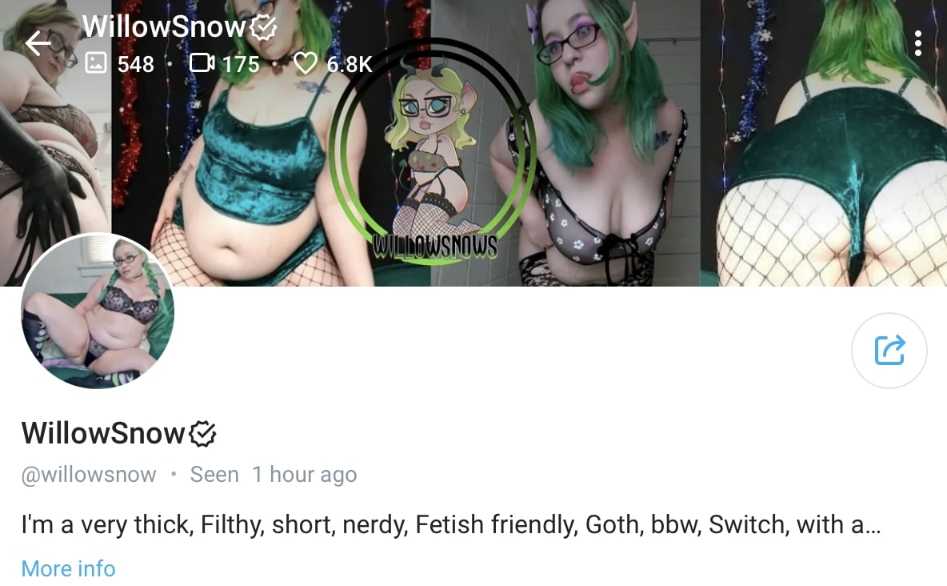 With a unique look, Willow Snow is a fetish-friendly goth who loves nothing more than being bent over and railed. She's curvy, plump, and a real pocket rocket. She provides her fans with filthy content all for the small sum of 8 bucks a month.
658 Photos & 184 Videos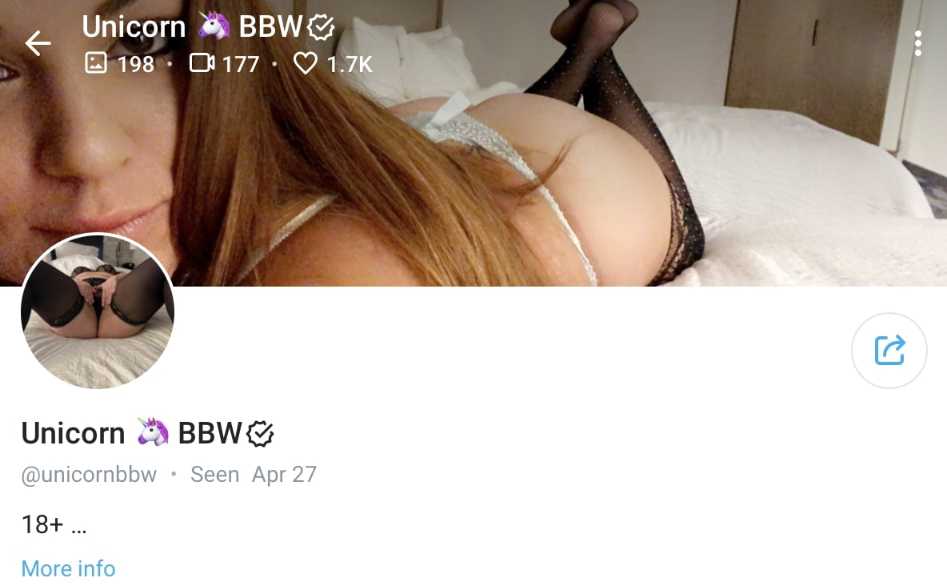 Extremely slutty, a BBW through and through as well as making amateur porn, this gal doesn't play around, she is here to give you exotic creampies, BBC content, tons of blowjobs, and even personalized porn. She also only charges $5 a month, amazing, right?
200 Photos & 181 Videos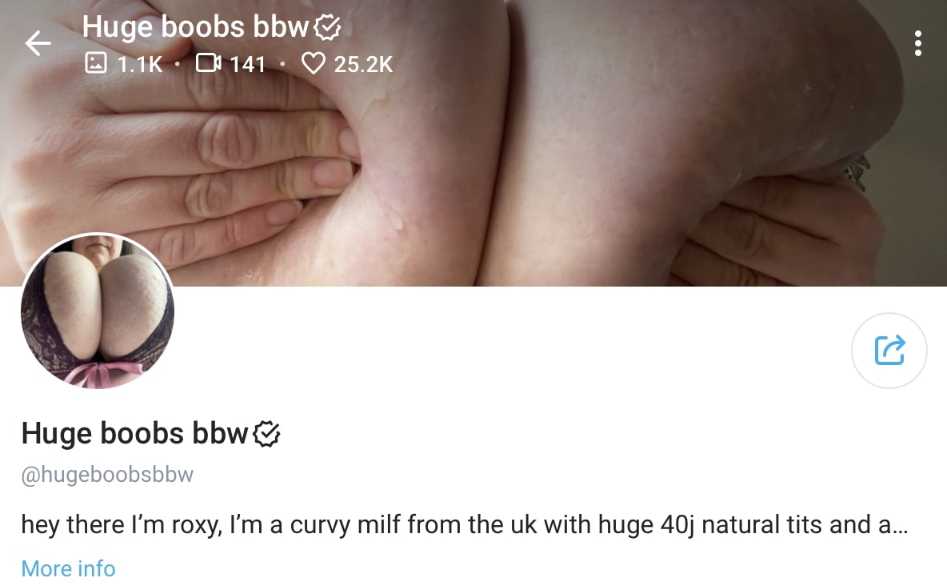 Another British milf awaits, Roxy is a big girl with huge 40J cup breasts, who shares raunchy pictures and full-length videos regularly. She knows her way around a cock and gratefully receives your dick pics and dirty messages. For only $6.99 a month, you can see everything she has to offer.
1180 Photos & 151 Videos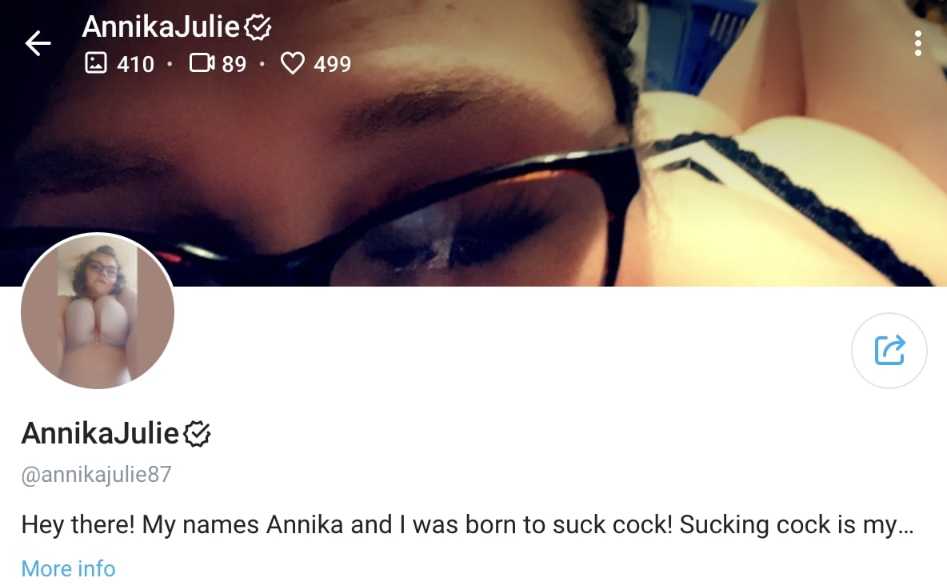 Annika is a naughty babe, she claims she was born to suck cock and quite honestly, I think she's right. She is of course a BBW as well as a MILF, she has solo and couples content available, she uploads weekly and she is completely uncensored, as well as only charging $4.99 a month for access to her OF.
446 Photos & 112 Videos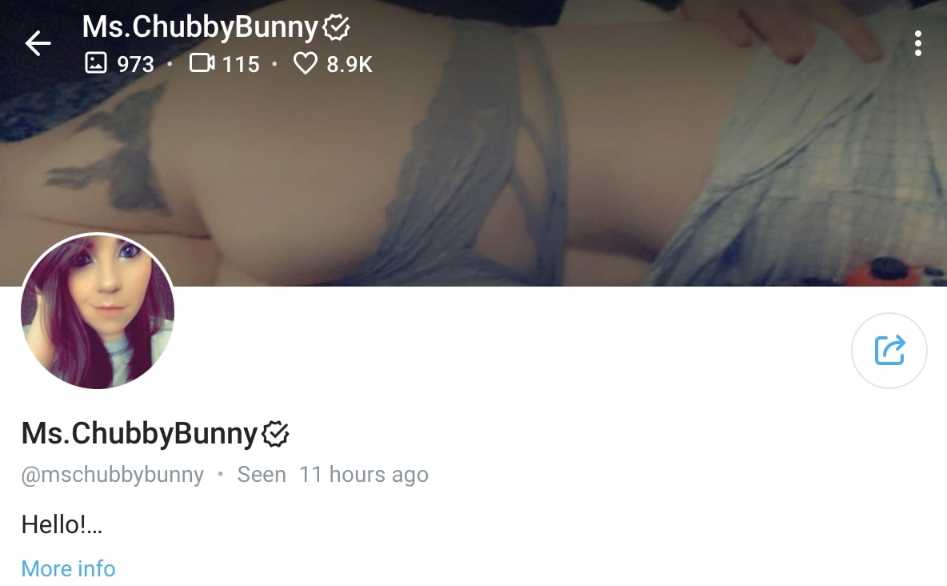 Adorning one of my favorite Only Fans handles (miss chubby bunny?! How does it get better than that), this thick gamer girl is a real wild time, she loves to smoke, curse, get tattooed, have fun and get naughty and guess what? you can join her for FREE!
979 Photos & 120 Videos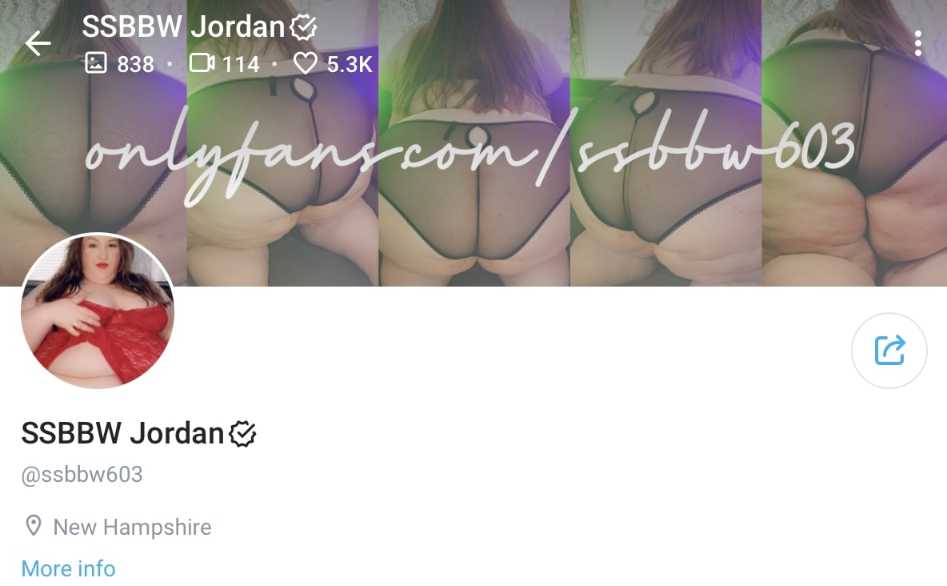 Chubby, beautiful and kinky? this big beautiful babe knows how to please her fans with arousing videos and pictures of her tremendously big naked body. She is tatted, with milky white skin and a body that is irresistible to BBW lovers, plus her membership is just 9 bucks per month.
832 Photos & 110 Videos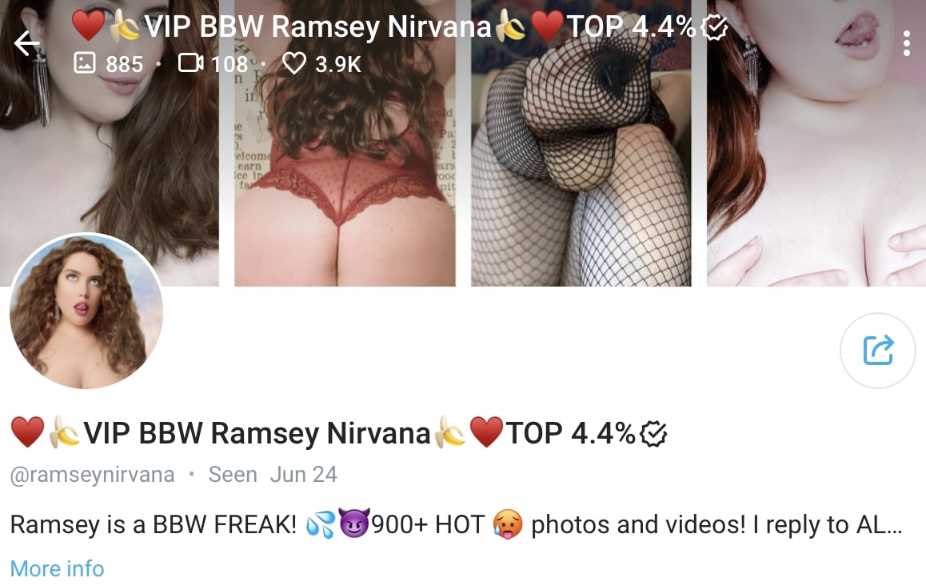 Ramsey is a top-rated, BBW freak. She has incredible DDD cup tits, she loves blowjobs, she's ultra-kinky and she is upfront and honest about having no PPV on her page you can enjoy all of her content for the small price of $4.75 a month.
892 Photos & 112 Videos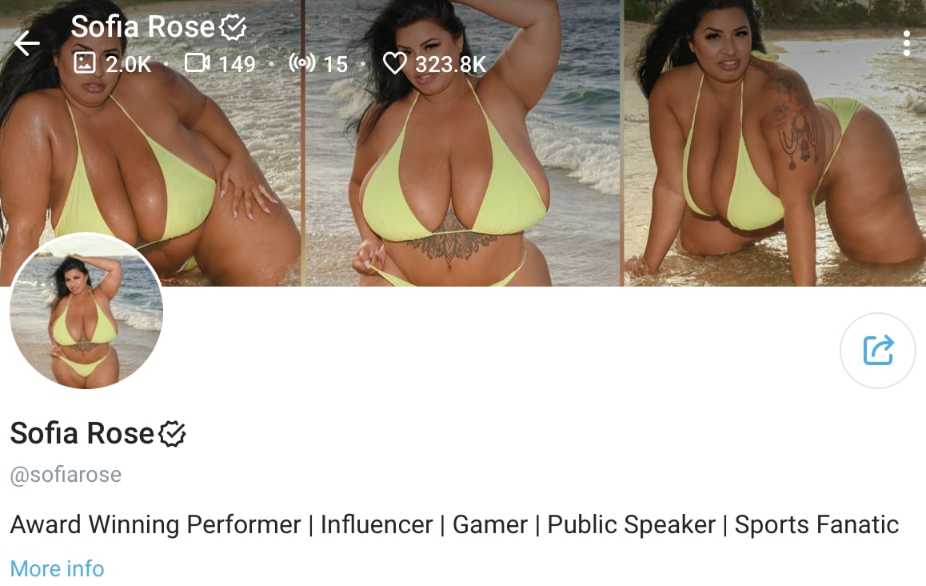 Sofia Rose is an award-winning adult performer with her very own OnlyFans page. She has huge boobs, a big figure, and a beautiful smile. She already has lots of pictures and videos uploaded and you can join her page for more for $11.99.
1663 Photos & 108 Videos
With a big, natural booty measuring 58 inches, this naughty BBW girl is about to blow your mind. With a variety of content including solo, B/G, G/G, and even fetishes, you can be sure of big ass content and unique posts for $7.99 a month.
98 Photos & 101 Videos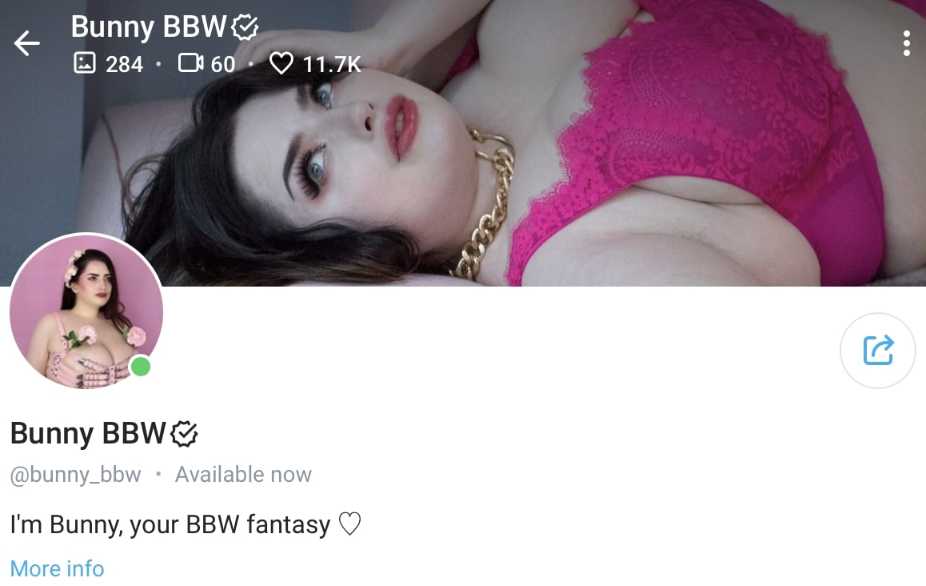 Bunny is a British BBW, she aims to fulfill fantasies with her English rose beauty and her curvaceous figure. She also offers girlfriend experience services as well as being a top escort in the London area. She has the body of a goddess and a wonderful personality to match, and if you want to check out her OF it will set you back just 15 bucks a month.
295 Photos & 81 Videos
The BBW OnlyFans Creators I Recommend The Most
I, of course, like all of us have preferences, and girls I take preference to over others, it doesn't mean they're better or you should like them too, t's just my go-to recommendations for quick and satisfying amateur BBW content.
These girls are my favorite accounts, they tick all of my boxes and bring me BBW:
My Favorite BBW Porn (Where to Go for the best porn):
I highly recommend checking out these tried and tested BBW porn sites (coming soon), this list is filled with only the best big girl porn, it is incredible and will certainly satisfy those BBW cravings. In order of my favorite, there is something for everybody on this list. I also have a BBW Subreddit (coming soon) list coming very soon so be sure to keep your eyes peeled for that!
Did we miss your favorite OF account?
If we missed your or your favorite creator OnlyFans account, let us know in the comments below.