We have gone Hentai porn mad in our house, and both my girlfriend can't get enough of this craze, Japanese manga, and anime that has been overtly sexualized and turned into something so addictive and intriguing.
There is a lot of hentai content out there, with so many websites and subreddits opening up and featuring the latest and greatest Japanese-inspired smut but we found it quite overwhelming, we didn't know the best places to turn and we found some of the content getting reused on multiple sites making it a little frustrating when trying to get off or aroused.
Hentai is quite a niche subject, a lot of people don't really understand the beauty of it and others just can't get off to animated pornography luckily for me, my girlfriend gets off to it as much as I do and we love browsing through copious amounts of Hentai porn together. We have compiled our individual favorites together and created a mega list of the best Hentai subreddits out there, so we really hope you enjoy if you want to add your own favorite, leave it down in the comments below for us to check out! Happy hentai hunting!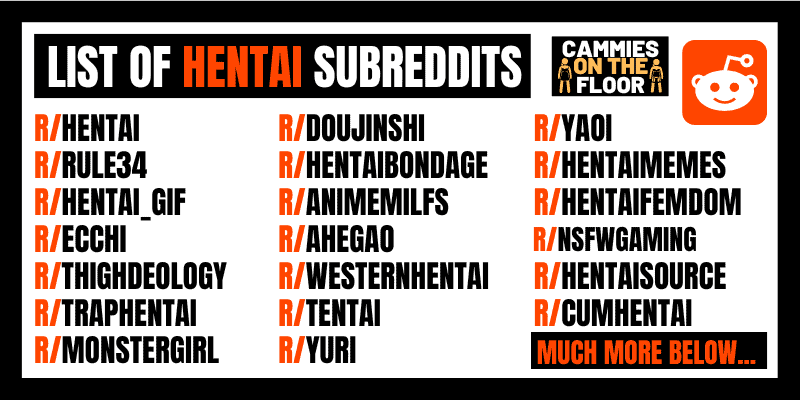 These are a roundup of our favorite and the most popular subreddits on the internet. There's something for every kind of Hentai lover, writing this made me so horny, I thank the universe for this wonderful niche every single day. One of the best things about Reddit is that you don't have to even make an account to enjoy, however it does help as you can vote for your favorite posts, comment, and save your favorite threads, it's also completely free.
---
r/hentai – 2.7m members
The most popular subreddit around, this subreddit is packed with videos, gifs, and pictures of jaw-dropping Hentai porn. You can filter by most popular, most recent, and trending posts and always seem to find something new to enjoy. If you haven't already, definitely check this subreddit out.
---
r/rule34 – 2.4m members
Another major player in the Hentai community is this discreetly named subreddit. Filled with hentai, cartoon, and cosplay porn, you can spend hours on this subreddit just enjoying the marvelous creations submitted by users. You may find your favorite cartoon character or manga superhero in some very compromising positions too.
---
r/HENTAI_GIF – 1.3m members
This subreddit is huge and it is always active, with new stuff being published every day. It specializes in hentai gifs, and small bursts of erotic hentai animation to satisfy your needs in small doses. It's a really impressive subreddit that has over a million users that keep it fresh and arousing.
---
r/ecchi – 561k members
Thousands of hot NSFW pictures of your favorite anime characters adorn this page, you can find your favorites or just scroll through the new or hot posts and enjoy the beautiful erotic content that I am yet to see anywhere else.
---
r/thighdeology – 527k members
Although this is a little bit more niche than the others I am sure you are going to love it. It's dedicated to sexy and arousing anime girls, featuring their juicy thicc thighs. It's seriously hot and exciting to look through and enjoy.
---
r/traphentai – 501k members
If you like the 'trap' look and you like hentai porn, you're going to love this. Filled with the hottest 2D hentai images of anime thirst traps. It's hard to look away from this one!
---
r/MonsterGirl – 460k members
If you're a fan of the monster girl genre of hentai, this subreddit is just unfiltered, uncensored, hot, and erotic images of the sexiest monster girls and their filthy animations. At the time of writing, this had over 460K members, which is a huge selection of people who all love the same thing, and it's hard not to see why.
---
r/doujinshi – 449k members
Accurately describing themselves as 'lewd manga', this subreddit is just post after post of graphic and sensual manga, all free and at your fingertips. With almost half a million members, you can be sure of constant updates and posts.
---
r/hentaibondage – 428k members
Like horny hentai? also, enjoy intense bondage? mix those two deviant kinks together and you find this subreddit, hentai babes in compromising bondage positions and situations, it's seriously arousing.
---
r/AnimeMILFS – 391k members
MILF's are some of the sexiest creatures on the planet and if you mix in the art of anime, you get something spectacular. Anime milfs in the hottest and sexiest situations that can be mustered up.
---
r/ahegao – 522k members
Although it's real women, it is still very hentai for me, the classic 'ahegao' face that we have seen animated hentai characters pull off for years has made its way into the mainstream world, and seeing real women trying to pull it off is very arousing to me.
---
r/WesternHentai – 328k members
We all know that Hentai is of Japanese origin and it is perfect that way but some people wanted to try something a little different and westernize popular animated characters into horny hentai characters too.
---
r/Tentai – 306k members
Some of you will get this some of you won't but that's ok because this list is for everyone. This subreddit is dedicated to the hentai we all know and love but this time, it's with tentacles involved. It's different, it's cute and I kinda love it.
---
r/yuri – 290k members
The creators of this popular thread consider it a 'one-stop shop' for anime, manga, and other anime art forms and I have to agree. It has everything you need and it is filled with erotic pictures submitted by real, yuri-loving users.
---
r/hentaimemes – 283k members
We all love memes, right? so why not make them hentai? You can find some pretty funny stuff whilst still enjoying the arousing aspect. My girlfriend and I like to read through the memes and we always find ourselves strangely turned on.
---
r/hentaifemdom – 280k members
Hentai female doms? yes, please! I am a big fan of femdom and when I found out that there was an entire subreddit of people just like me, who enjoyed femdom mixed with the art of hentai, I was so happy.
---
r/wholesomehentai – 257k members
If you're a hopeless romantic and you just love the soft, squishy, and loveable side of hentai, this is for you. It's still hentai except it's sweet and kind and it seriously warms your heart.
---
r/NSFWgaming – 246k members
We have all been there, searching for lewd adult games, there's something arousing about a nude, sensual game, and capturing the essence of that is what this thread is all about. I also have a list of the best Hentai online games if you want to have a bit more fun.
---
r/HentaiSource – 233k members
This is a helpful subreddit, not only does it do its best to prevent reposting, it allows users to find the source of their favorite piece of Hentai so that it can be archived and enjoyed for all to see.
---
r/waifusgonewild – 229k members
This is a fun thread, it's highly-arousing but it really personifies your favorite and lesser-known hentai characters. It features lewd photography, in a realistic way that features anime/hentai and manga style.
---
r/CumHentai – 228k members
If you like seeing your characters covered in cum, this is the place for you. Including both men and women Hentai characters in compromising cum-soaked scenarios day in, and day out. My girlfriend loves this one!
---
r/yaoi – 219k members
An appreciation thread dedicated to Yaoi and other related art forms. It is sensual, artistic, erotic, and everything you want and need when it comes to this wonderful same-sex genre of Hentai.
---
r/AnimeBooty – 212k members
We see a lot of hentai boobs, big and jiggling around but hentai butt isn't as popular – until now. This thread is all about the butt, the ass, the culo, the bum, whatever you want to call it and it is a magnificent read.
---
r/GameOverGirls – 207k members
This is quite an extreme subreddit but it's certainly worthy of its spot on our list. If you enjoy seeing women being used up for their pleasures until they are useless, this is your place. Features hentai monsters, themes, and characters.
---
r/hentaicaptions – 205k members
Wonderful lewd hentai images complete with vulgar, crude, and smile-worthy captions. You can spend hours scrolling through this thread and never get tired.
---
r/IWantToBeHerHentai – 191k members
Focusing on the female gaze, this hentai subreddit is a pleasant place to hang out. It is all from the female perspective and users are free to enjoy the content that best resonates with their desires.
---
r/hentai_irl – 188k members
Considering themselves 'perverse', this subreddit is the selfie central of hentai submission. With thousands of posts and new ones being submitted every day you can enjoy hentai images, comics, and plots in graphic detail to your heart's content.
---
r/pantsu – 179k members
Crude without the nude, this popular thread is a more subtle version of its predecessors with erotic manga and anime art without being overly nude or pornographic.
---
r/HentaiBreeding – 184k members
This subreddit is all about anime women getting bred and impregnated. Scroll through and enjoy a staggering amount of content all featuring hot hentai women with a hot load brewing inside of them.
---
r/dekaihentai – 166k members
'Dekai' means huge or giant in Japanese, which in this case refers to the big breasts of our favorite hentai chicks. There are so many posts of 'Dekai' girls on this page and me and my girlfriend can't get enough of it.
---
r/muchihentai – 163k members
Like your girls with a little more plumpness? This subreddit caters to that, all of the pictures, animations, and content uploaded is of hot hentai women with a little more thickness to their bodies.
---
r/netorare – 152k members
A Japanese term meaning unfaithful or just general cheating, this subreddit is all about just that in all forms, including cuckolding. Experience hentai content with the netorare twist.
---
r/Paizuri – 150k members
Enjoy tits? love tit jobs? love hentai? this subreddit has all three. Hot hentai and anime women giving mind-blowing, jaw-dropping animated tit jobs all for free and all for you.
---
r/Nekomimi – 147k members
We see 'catgirls' cosplaying in real life and in anime and hentai culture, it's a huge part of the community and this thread gives you erotic and arousing hentai cat girls in plentiful abundance.
---
r/Artistic_Hentai – 139k members
Despite the lewdness of hentai, it is important to note that some of the stuff that gets created is incredibly artistic and needs its very own subreddit. This thread is full of just that, artistic hentai porn with jaw-dropping detail.
---
r/KuroiHada – 134k members
Meaning 'dark skin' in Japanese, this subreddit is filled with erotic and sensual images of anime and hentai women with darker skin and unparalleled beauty.
---
r/MasturbationHentai – 124k members
Female masturbation is an art form and this subreddit has taken that fact and turned it into a spell-binding and captivating place to enjoy anime and hentai women exploring their own bodies.
---
r/PublicHentai – 121k members
Enjoy scores of hot hentai characters nude and horny out in public. The content on this subreddit feels so daring, it's hard to turn your eyes away once you start scrolling. My girlfriend and I love reading through this one together!
---
r/StuckHentai – 118k members
We have all heard of stuck porn (where a person is stuck or trapped and used for sex), but have you heard of stuck hentai? it's certainly one to check out, hot and naked hentai characters stuck in ropes, chains, small spaces, and other compromising positions.
---
r/UpskirtHentai – 114k members
Freshly updated every day, a strict rule on no reposting, meaning you always get new and never seen before content. This subreddit is delightful for any of you who like to lift the veil and peek under the skirt of your favorite hentai characters.
---
r/AverageAnimeTiddies – 111k members
If you have a preference for smaller tits, this subreddit is filled with them. Their ethos is 'average titties' so if you prefer your hentai and anime women a little less endowed, this is the place for you.
---
r/uncensoredhentai – 106k members
Totally explicit, definitely NSFW, and without any censorship in sight. It's arousing, exciting, and filled to the brim with erotic hentai content that certainly stirs feelings between the legs.
---
r/ZettaiRyouiki – 100k members
This is a pretty niche subreddit however, it is hugely popular and definitely arousing. This place is dedicated to the small bit of skin between where the skirt ends and the stockings or thigh-high socks begin on your favorite hentai women.
---
r/swimsuithentai – 98k members
If you love seeing hot and horny hentai, anime, and doujinshi women in small, see-through, and tight swimsuits, you're going to love this.
---
r/thighhighhentai – 96k members
Plagued by hentai women wearing thigh-high socks, tights, and pantyhose. It's sexy, it's updated frequently and it has a huge community all interested in the same thigh-high goodness.
---
r/HentaiForcedOrgasms – 96k members
My girlfriend and I both agree that in real life, forced orgasms are one of the hottest things in the world and when that gets mixed in with anime and hentai characters being forced to cum, it doesn't get much better than that.
---
r/HentaiManga – 96k members
Read, find and discover NSFW hentai manga here. Ask for suggestions or read through the already posted hot manga and interact with this active horny community.
---
r/HardcoreHentaiBondage – 90k members
Bondage, in my opinion, is quite underrepresented in the hentai and manga realm. This community felt the same as I did and took it upon themselves to create a space to share hardcore hentai bondage pictures with no censorship and no holding back.
---
r/Sukebei – 90k members
Roughly translating to 'lewd' in Japanese, this sukebei subreddit is the place to be for high-quality, manga-style erotic art.
---
r/animemidriff – 89k members
Promiscuity and arousal run through the veins of this subreddit, with its NSFW essence, it intrigues all anime lovers and especially lovers of those soft or toned bare stomachs that give us great satisfaction.
---
r/corruptionhentai – 83k members
Created in 2016, this subreddit is well-established, well-liked, and contains thousands of images to enjoy. Focusing on 'corrupting the innocent', this place can be a lot of fun and generally intriguing.
---
r/SoakedHentai – 73k members
If you like your hentai hotties wet, you're going to love this. Focusing on pussy wetness, sweat, rain, and anything else than soaks your favorite characters in all of their hentai naked glory.
---
r/oppai_gif – 71k members
Filled with animated gifs of busty (oppai) hentai women, this subreddit doesn't get boring. There is so much to discover and so many arousing, big titty gifs to enjoy.
---
r/FateHentai – 70k members
This is for fans of the Nasuverse and the Fate series, it's a subreddit containing erotic and lewd hentai art of the characters, the perfect place to hang out after binge-watching this series.
---
r/tanime – 68k members
Not to be confused with the wholesome anime community r/anime, this subreddit is all about hot, seductive, and NSFW images of anime characters with beautiful sun-kissed tans and darker skin adorning their delightful bodies.
---
r/yurigif – 68.1k members
We have already seen the popular yuri thread, but this one is a little different. Whilst it still focuses on the romance between characters of the same sex, this thread also boasts moving animations (gifs) featuring high-quality hentai yuri porn.
---
r/animelegs – 64k members
Legs can arouse the best of us, especially in 2D and in anime form. Only the best anime seductive legs get posted here and I think you're going to love it.
---
r/rippedanimelegwear – 63k members
A niche community of people who love seeing scantily dressed anime characters wearing ripped clothing, specifically ripped pantyhose, tights, pants, and underwear.
---
r/Uniform_Hentai – 58k members
If women in uniform are your thing, you are going to really enjoy this thread. It focuses on sexy hentai characters wearing nothing but their cute outfits, sometimes getting railed, sometimes playing with themselves, it's certainly a whirlwind to read through.
---
r/LewdAnimeGirls – 53k members
Simply put, anime girls in erotic, compromising, and sexual positions. It does exactly as it promises, it's filled with content and there's no funny business, just simple, hot, nude, anime women, doing their thing.
---
Which Of These Hentai Subreddits I Use The Most

My girlfriend and I enjoy the majority of these subreddits, they all offer something different, no matter your hentai preferences, and the ones that are strict on no re-posting are definitely the most fun as you don't get repeat content and find yourself enjoying something new every single time you check it out.
Our most viewed together are r/hentaimemes, r/hentaiforcedorgasms, r/publcihentai, r/dekaihentai, and r/cumhentai. When I am alone, I also really enjoy r/ecchi and r/masturbation hentai. If I have missed your favorite or if you have a lewd hentai Reddit to recommend, leave it below and I will be sure to check it out!
If You Like Hentai Porn You Need To Check This Out
If you're in the mood to enjoy some delectable hentai porn, check out this informative list I did on the very best hentai porn sites. It's not to be missed if you're feeling frisky and in the mood for some animated fun.
If you want to skip straight to the top porn site without reading my list then it has to be said that Hentai pros is the best place to find incredible hentai porn, also if you join hey hentai you can get a $1 free trial, which is definitely worth it for what you get.
You can also find user-uploaded quality hentai porn on Onlyfans, which is an unlikely source but reliable and fun.
If you have any questions or comments about my favorite hentai subreddits, feel free to get in touch or leave your question in the section down below!
Chris