OnlyFans is an amazing option for those who want something amateur, unique, and satisfying without the hefty price tag and without having to hunt for it. I like to guide our readers toward the best accounts, I have done a few of these bursting lists including Amateur Cuckold and Hotwife OF accounts. I love researching, harboring information, and of course, doing the Lord's work of having to watch and enjoy this smutty OnlyFans content. I do it for you all though, so that you can get the very best for your money and choose the right model without wasting time or funds.
This list is going to consist of all things sissy. Love them, hate them, or are one, it doesn't matter because my list is just non-stop, delightful, daring, and hot sissies on their very own accounts, waiting for fans to join and the world to enjoy. I have taken out all of the work of finding these accounts for you, so you can sit back, relax and find your new sissy obsession.
What These OnlyFans Sissy Accounts Include and Why I Chose Them
I wanted to find someone for everybody so the lists below consist of the very best OnlyFans Sissy trainers, sissies showing their sexual experiences, Sissy couples, hidden sissies, and sissy domination. There is something for every type of sissy on this list. Some accounts such as the sissy trainers may give you commands, orders, and homework when you join, others such as plain sissies may show off their intimate videos and pictures, exposing their feminine side and letting you join them. It's all about what you want, so pick wisely and embark on this brand new sissy OF adventure with me…
List Of Active & Popular Sissy OnlyFans Creators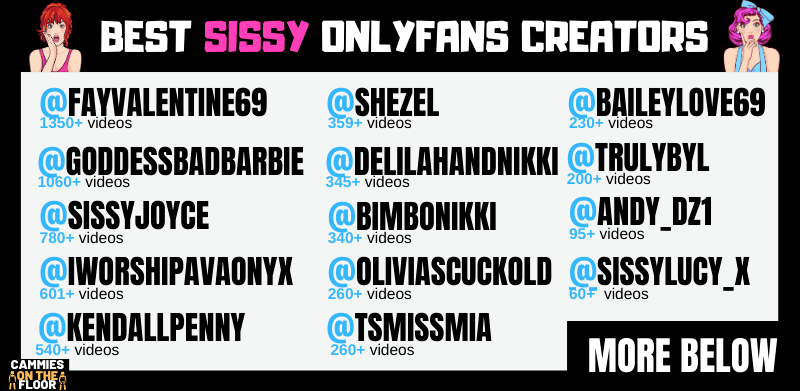 fayvalentine69 | goddessbadbarbie | sissyjoyce | iworshipavaonyx | kendallpenny | transfemdomqueen | shezel | delilahandnikki | bimbonikki | missvioletdomme | oliviascuckold | tsmissmia | baileylove69 | onlinefemdom | trulybyl | alicesadventuresinfemdom | andy_dz1 | faustineflower | miss-chastity | sissylucy_x | gabriellavalentina | mistress-rey | mistressnicola1 | jennyartlove | samantha-nylon | sluttyslutsophia
These differing sissy accounts go in order of the most videos posted (as is this some of my favorite content to enjoy). Remember there are lots of varieties of sissies so be sure to read each description properly before joining!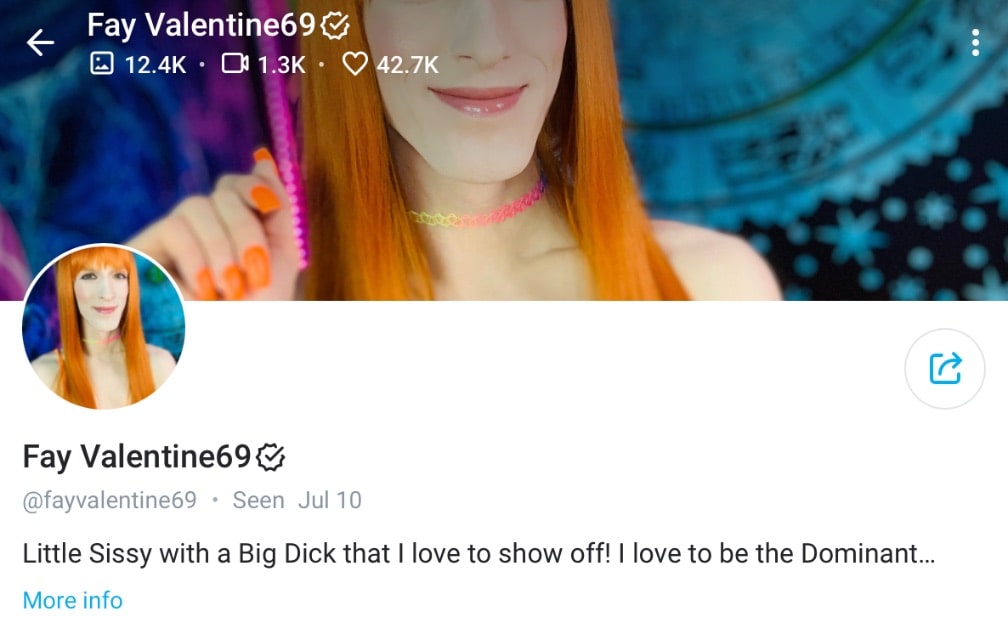 The cute sissy with a big dick who loves to switch between the dominant mistress and the cute submissive. This hottie has many videos and pictures for you to enjoy as soon as you sign-up, which will set you back just 8 bucks a month. Cute, flirty, and incredibly sexy, this sissy is a real winner and her popularity shines through her account.
Images: 12k+
Videos: 1350+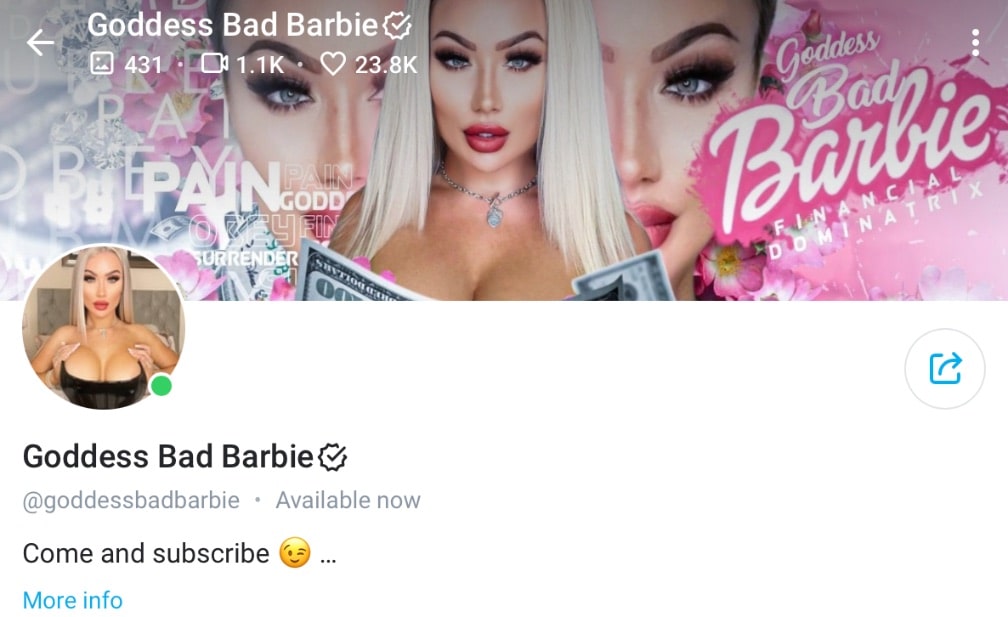 Not for the faint-hearted, this dominant femme Barbie will push your limits, put you to the test and put you in your place. Her style is unique and unrelenting, she will humiliate you, tease you, sissy train you, dominate you, and more. She reminds me of some of the hot girls from my arousing and intense Femdom babes list, she is the ultimate goddess who will keep you on your toes and make your life a misery in the best way possible.
Images: 440+
Videos: 1060+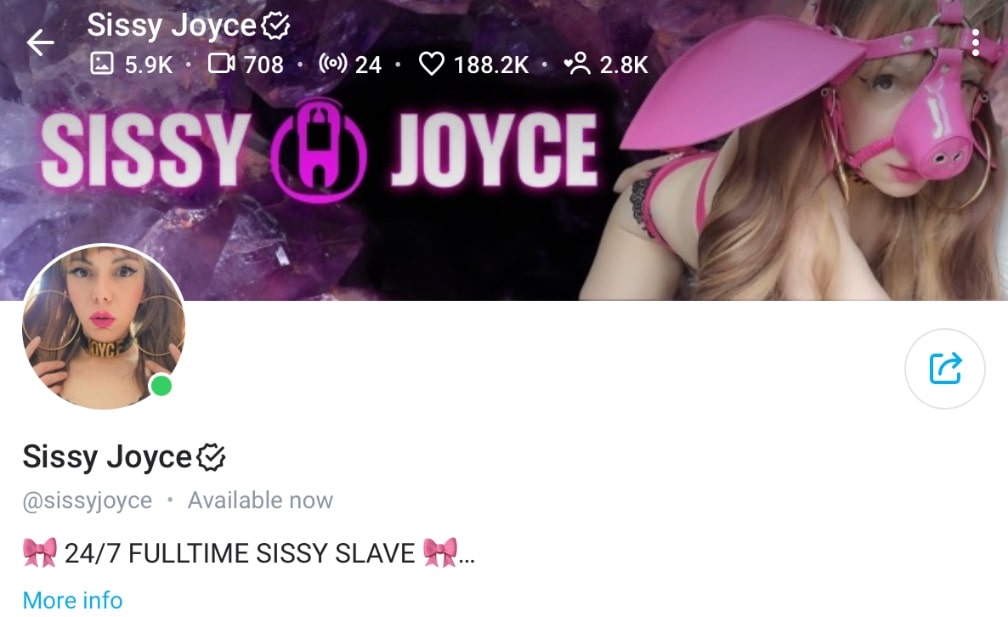 Sissy Joyce is a real-life sissy sharing her life with her account as she slips deeper and deeper into becoming a permanent 24/7 sissy slut. She posts every single day, she's a submissive, she shares tips, tricks, videos, and pictures as well as enjoying full-time laser hair removal, owning no men's clothes, being fucked by men, and more. She is well worth checking out!
Images: 6000+
Videos: 780+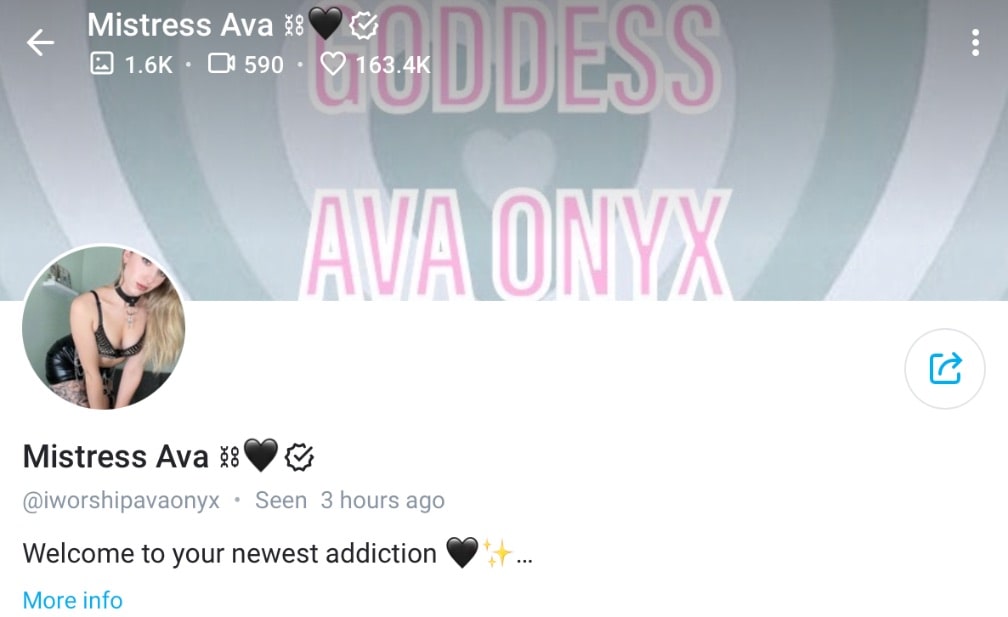 Ava is a ruthless mistress who knows her worth and knows how she should be treated by her subscribers. She has hot uncensored femdom videos to show you, pegging, humiliation videos, degradations, sissy training, and more. She also only charges $5 a month to join her which is quite a steal, if you like quirky, intense, and obligation-heavy mistresses, Ava is your girl.
Images: 1600+
Videos: 601+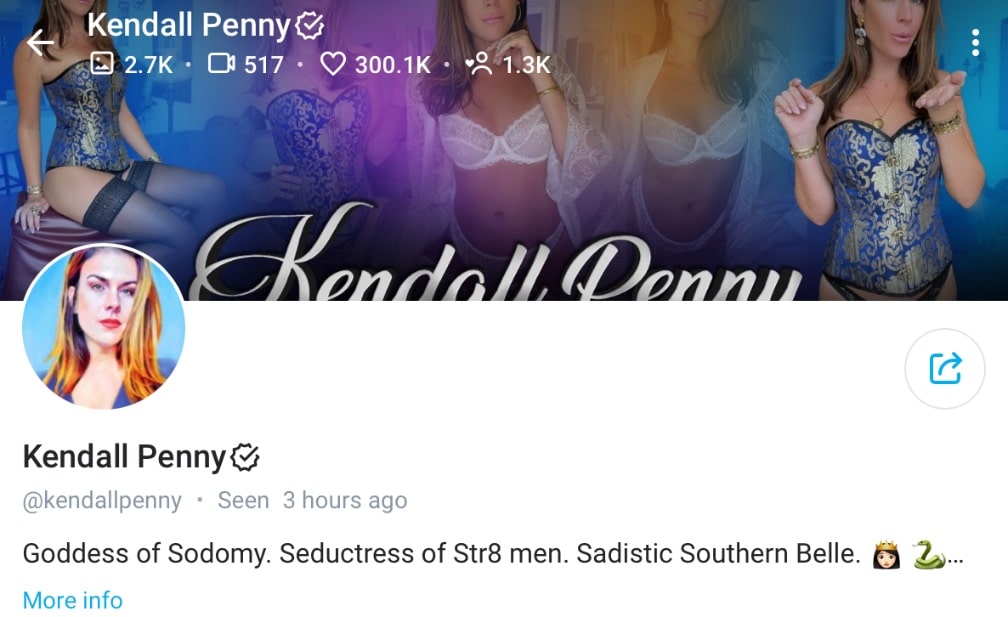 Miss Penny is a southern belle with a heck of a secret, she loves to corrupt and seduce straight men into tasting her lady boner. Her content reflects her desires of wanting hot boys to take it up their ass for the first time, sissies to become her toys and become one of her many corrupted conquests. Not for the faint-hearted, Miss Penny knows how to please and knows how to give you what you want. If you like the look of her, be sure to check out my list of the best trap subreddits too!
Images: 2.8k+
Videos: 540+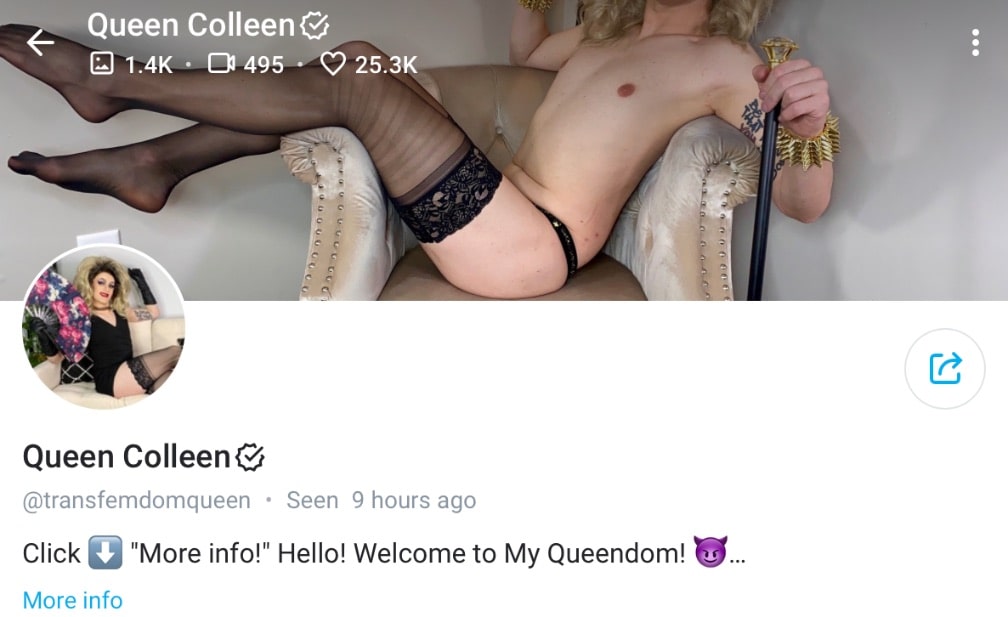 Subscribe for free to Queen Colleen, she is a trans femdom fetish queen, who loves dick worship, sissies, sissy training, cum eating, and more. Her videos and her pictures are sultry, smutty, and definitely NSFW. If you like to see a trans mistress doting her attention on males and sissies, this queen will guide you in the right direction.
Images: 1350+
Videos: 500+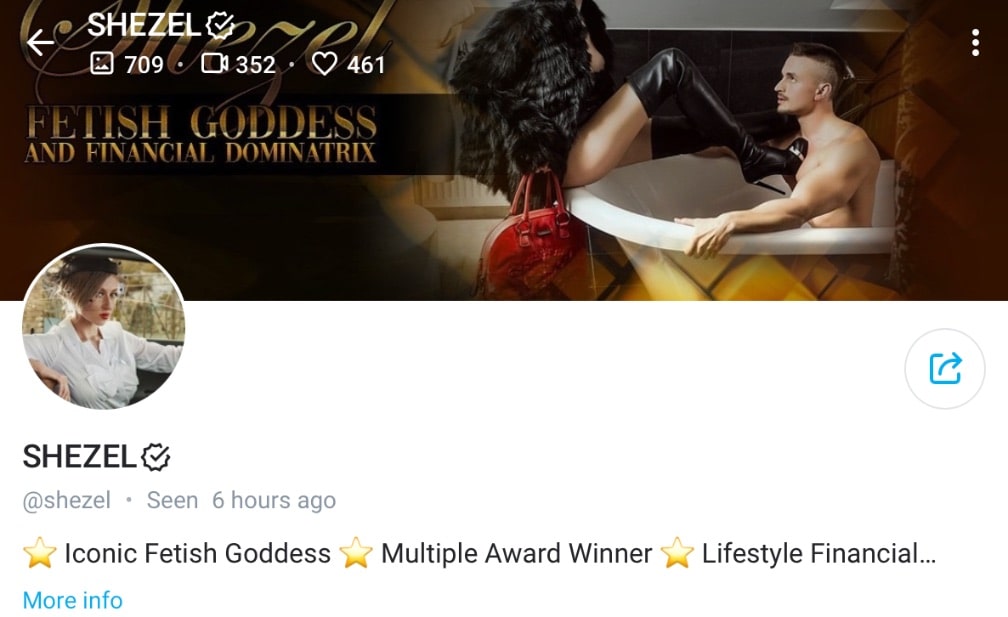 A fetish goddess who will sissify you, dominate your ass, drain your dick, explore many fetishes, and more. Subscribe for just $9.99 a month and join this mistress hottie as she shows you who is in charge and who calls the shots around here. With lots of videos and pictures already uploaded, you're going to have lots of fun with this badass.
Images: 700+
Videos: 359+
Meet two contrasting girls who work so well together, it's impossible to keep your eyes off of them. First up we have Nikki, a submissive, sissy slut who will do anything to please her daddy, she is ready for pleasure any time of day. Then we have Daddy Delilah, a mistress who has a ton of filthy kinks and far-out fetishes, these two create content together and bring you, the fans, lots of taboo content.
Images: 520+
Videos: 345+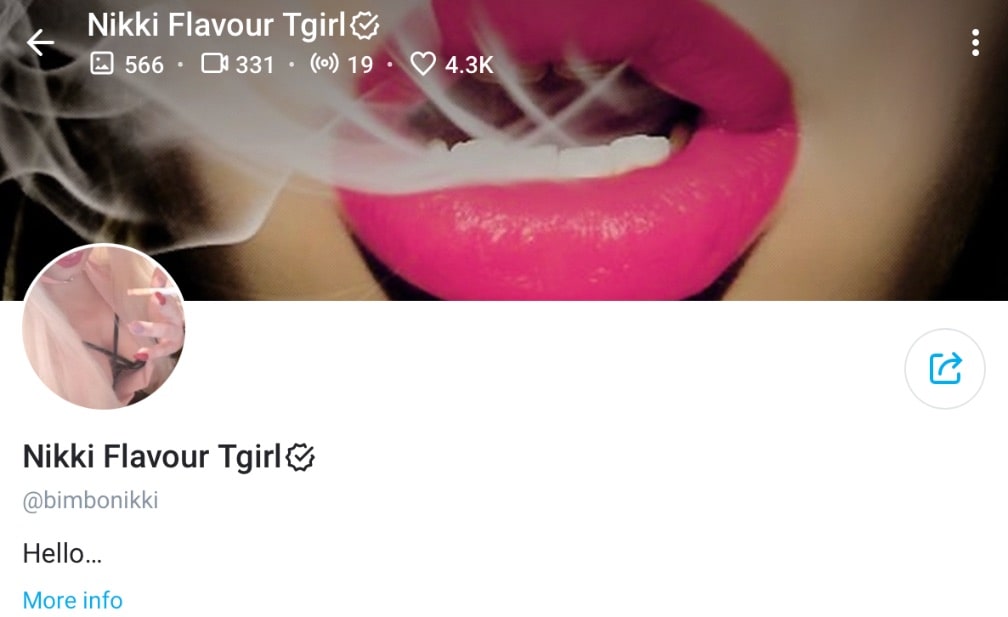 Nikki Flavour is a popular femdom mistress, T-girl, and sissy. She loves realistic porn from outdoor scenes, kinky settings, golden showers and so much more. Nikki has a unique and appealing Bimbo look that is quite frankly, irresistible. She has DDs and a big cock for you to enjoy, this sissy bimbo slut is a real treat for your screen.
Images: 580+
Videos: 340+
Mistress Violet specializes in something very exciting, breaking men down and turning them into obedient and patient sissy sluts. She is a nurturing mistress with a sadistic side so be prepared to experience encouragement and kindness with a mix of something spicy too. Using her feminine power to bring you to your knees, this pocket rocket is enough to make your jaw hit the floor.
Images: 1000+
Videos: 330+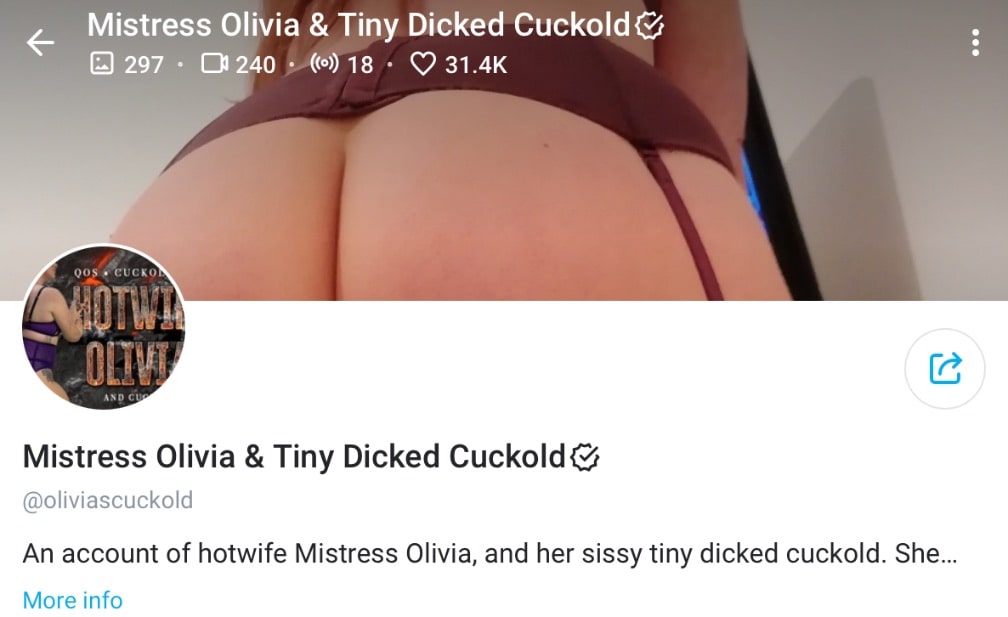 A shared account where you can enjoy two for the price of one as you get to join Hotwife Olivia and her small dicked sissy cuckold on their illicit adventures. She shares her ventures with big, hung bulls as her cuck is locked up in a chastity cage at home, with nothing except humiliation and sissification waiting for him. With sneak previews on their Twitter account, this charming duo is a must-see.
Images: 300+
Videos: 260+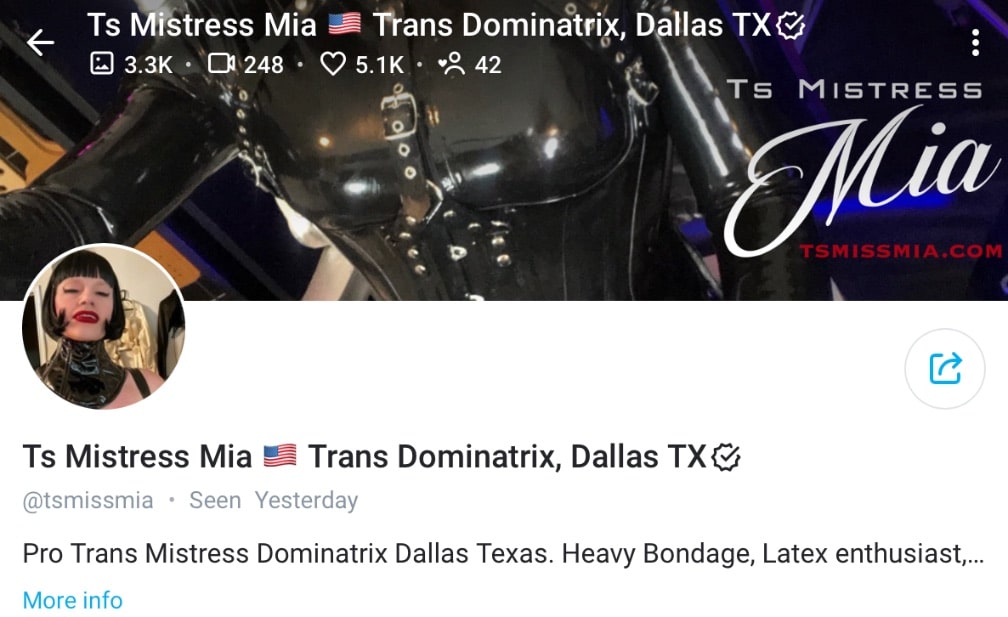 Based in beautiful Dallas, Texas, this mistress is a heavy bondage-using mistress with an affection for sissies and training them up. She will convert you in no time and have you turned into a sissy slut, if you just do as she says. Join her for $14.99 a month and see what all of the fuss about this intense dominatrix is all about.
Images: 3290+
Videos: 260+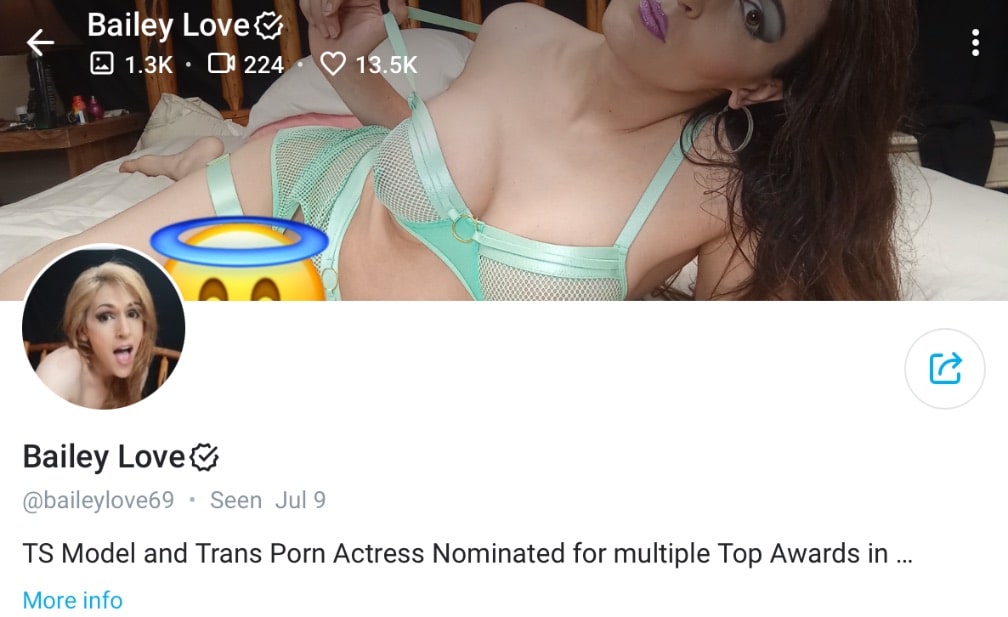 TS model and Trans porn star, Bailey is a trans sissy who shares her intimate pictures and videos with her subscribers as well as those of other sissies too. Her OnlyFans is a little pricier than some of the others we have seen but this is the price you pay to enjoy such a raunchy sissy star. With videos and pictures already uploaded and the option to chat, message and call this star, your options are very varied and exciting here.
Images: 1.2k+
Videos: 230+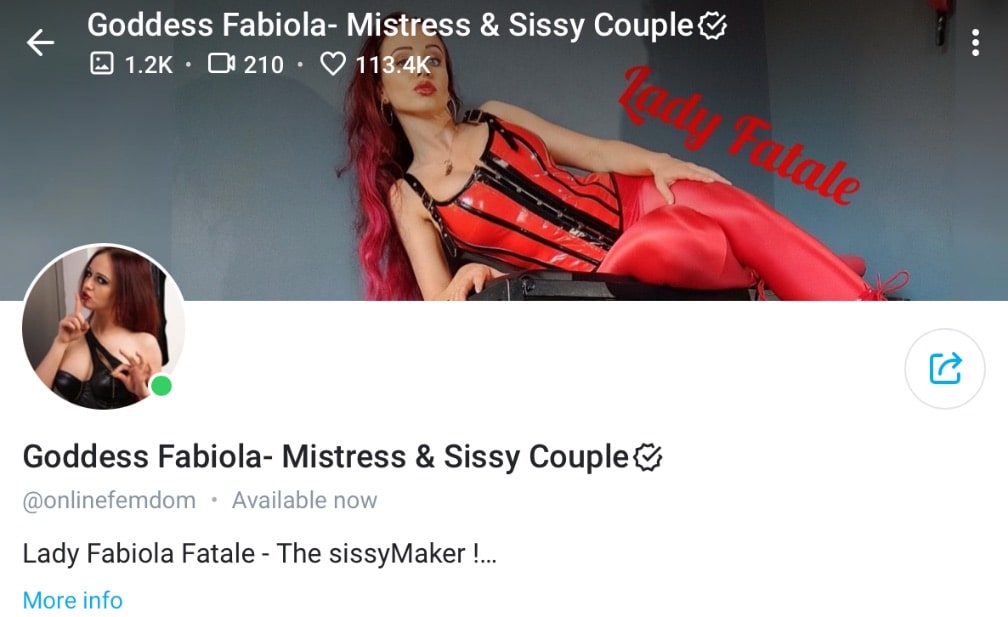 Lady Fabiola Fatale is a real mistress who will convert you into one of her abiding and submissive sissies if you listen to her commands and fall under her spell. She loves to dominate and when you join her OnlyFans page you can enjoy her converting her ex-boyfriend, her personal sissies, and even yourself as she gives you tasks and transformation advice.
Images: 1130+
Videos: 230+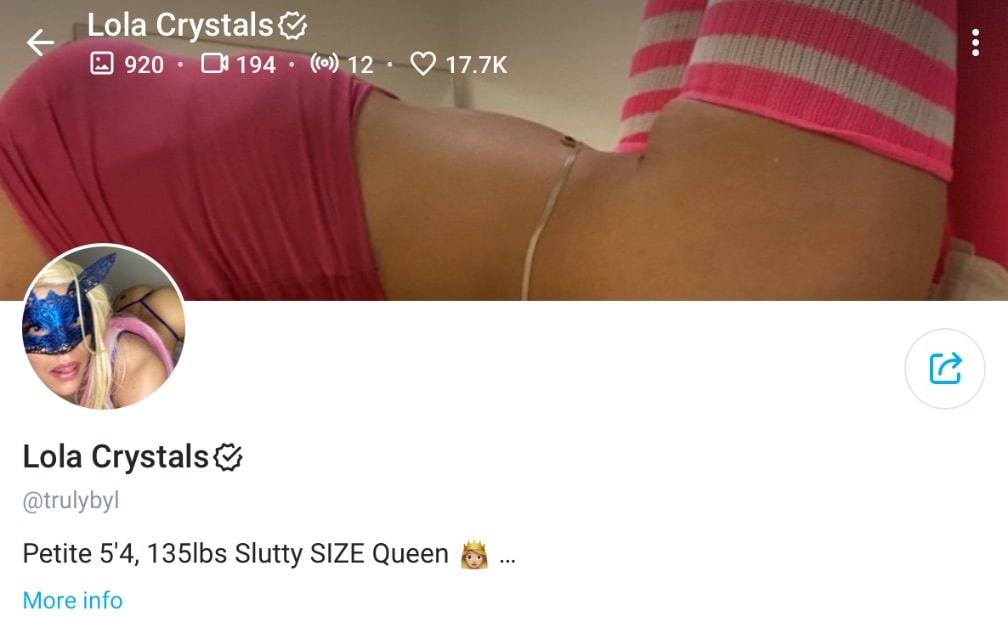 A petite size queen who loves bigger size cocks and most importantly only likes to be fucked with bbcs. This OnlyFans creator is fun-sized, cute, and a real slut in the sheets. For $11.11 a month, you can join her too and see everything she has to offer between the legs and up her ass.
Images: 940+
Videos: 200+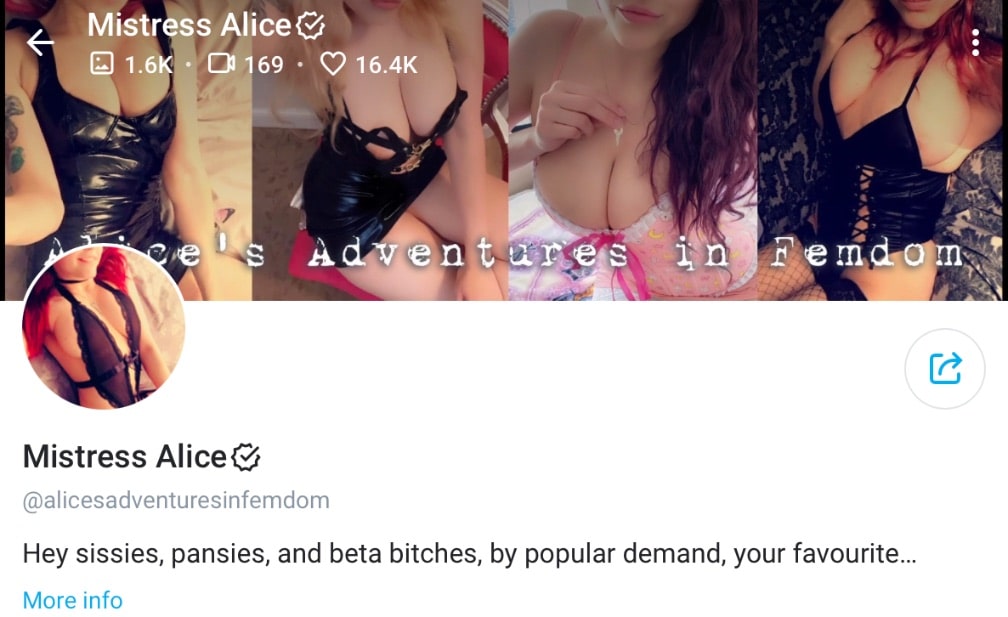 For $12 a month, you can join Mistress Alice on a very exciting journey, this goddess will have you bowing before her, submitting yourself to her, and obeying her orders as you become one of her online slaves, it doesn't stop there though, once you have submitted it doesn't just end there, she will convert you into a sissy whether you like it or not. Are you ready?
Images: 1590+
Videos: 180 +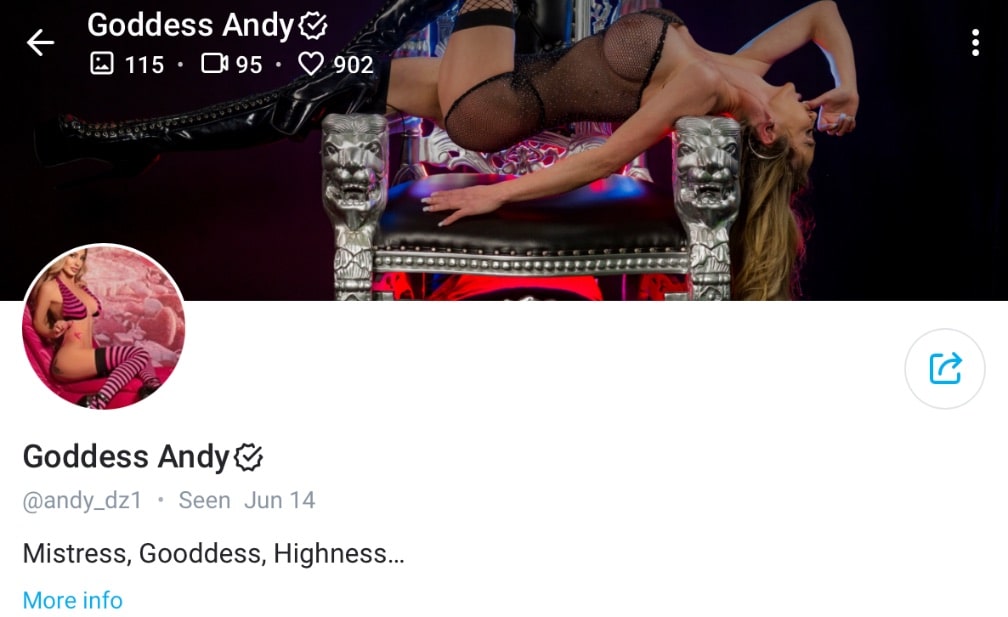 With a latex fetish, a goddess persona, and a mistress personality, Goddess Andy loves to show off with huge high heels, nylons, and arousing content. Joining the fun is a little more pricey at over 16 bucks a month but if you're into hot, kinky models, big tits, and tiny figures, Mistress Andy will set your pulse racing.
Images: 115+
Videos: 95+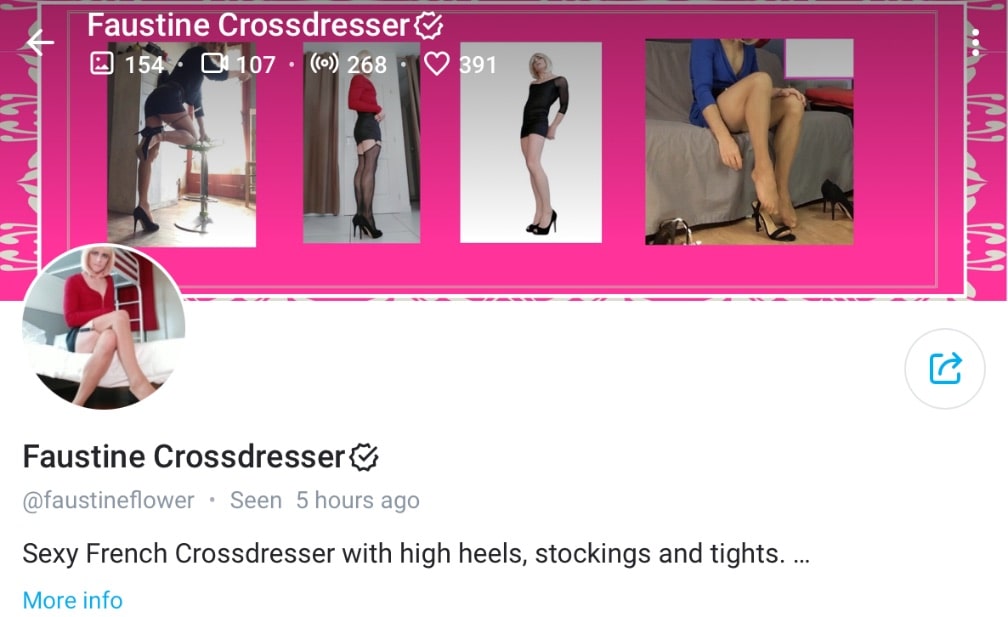 This French sissy shemale is the perfect eye candy if your preferences include crossdressers, heels, stockings, foot fetishists, and sissies. Although she doesn't have a ton of content already uploaded, you can subscribe for free which is always a welcome treat in my books! Be sure to check out the best sissy forums and chatrooms too.
Images: 160+
Videos: 145+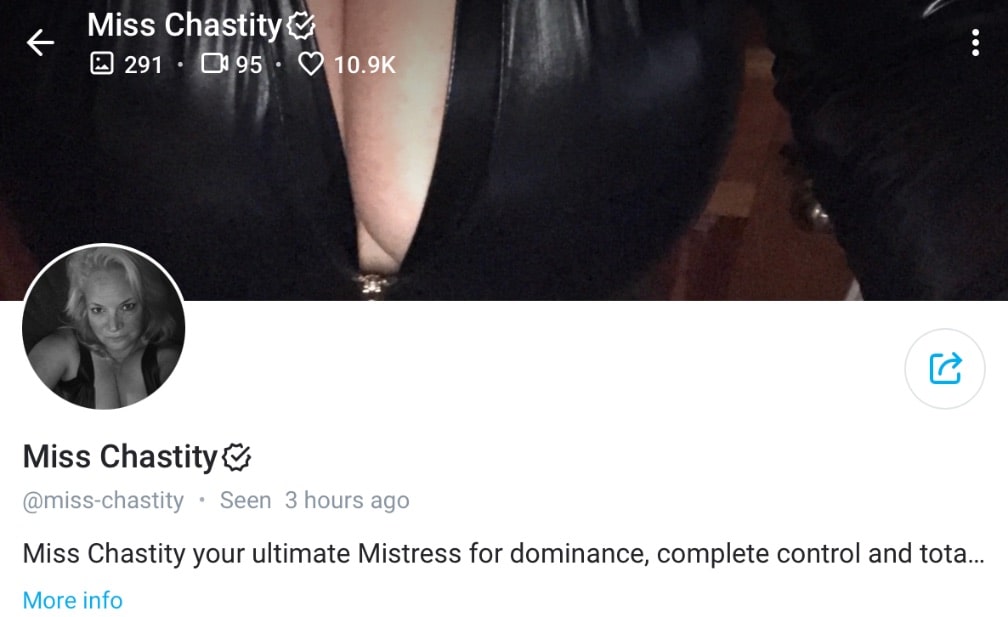 Subscribe for free to Miss Chastity, she is a dominant queen who will take complete control and show you a thing or two about obedience and submission. Sissies are welcome here and she will blow your mind with her honest, hard-working, and real-life ventures into domination and training.
Images: 295+
Videos: 96+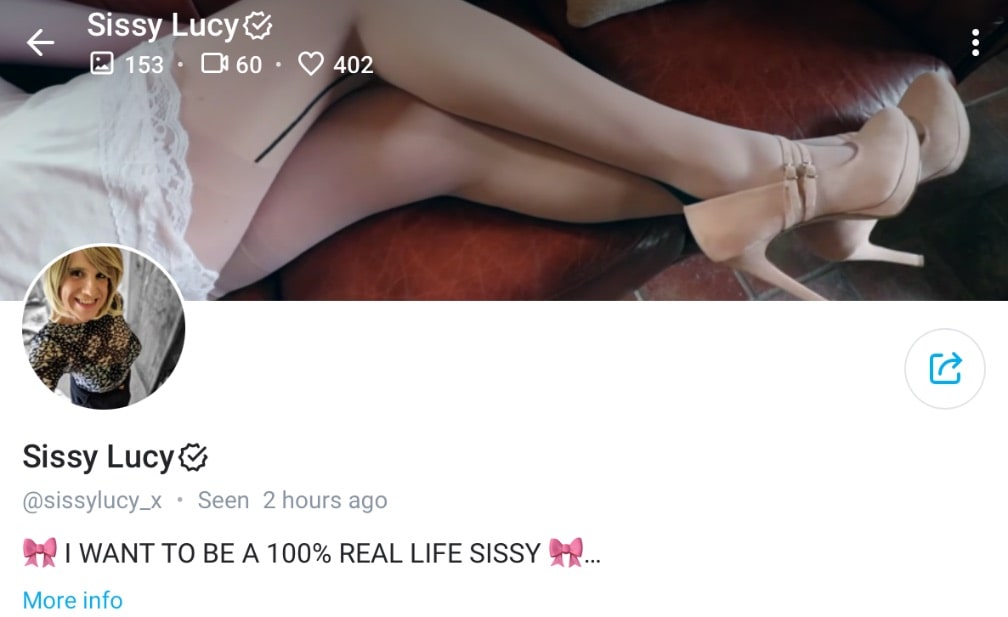 Sissy Lucy has a goal and that is to become a 100% full-time sissy. Her dream is for her wife to fuck other guys all whilst she is at home, locked in a chastity cage. You can watch her progress when you subscribe for $9.99 per month.
Images: 153+
Videos: 60+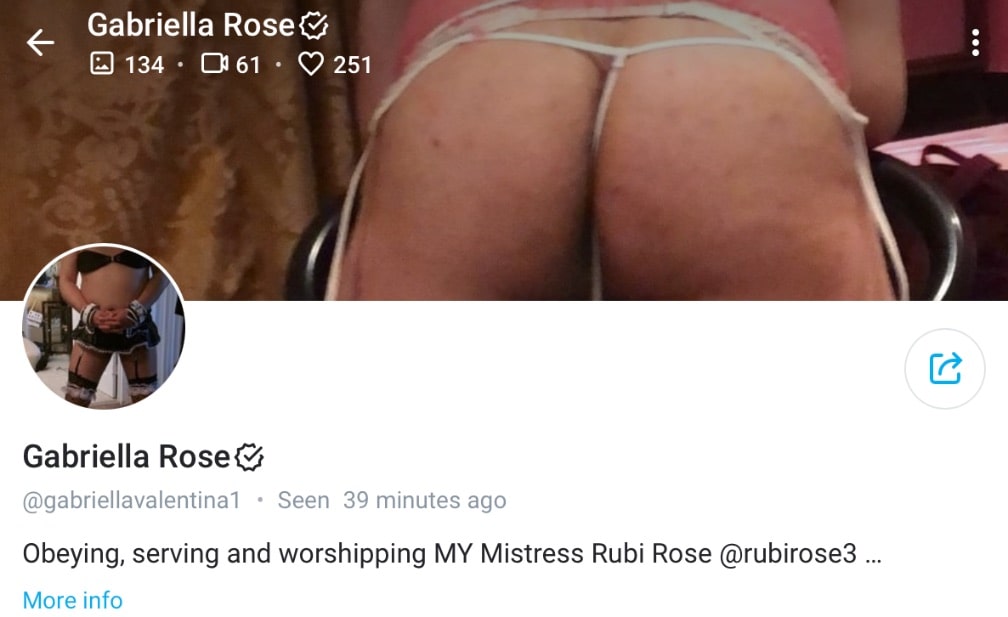 Gabby is a slutty, obedient sissy who does everything her mistress says. She must worship her, become her slave, obey her commands, have her use her holes whenever she likes and you can join their journey for $20 per month.
Images: 140+
Videos: 61+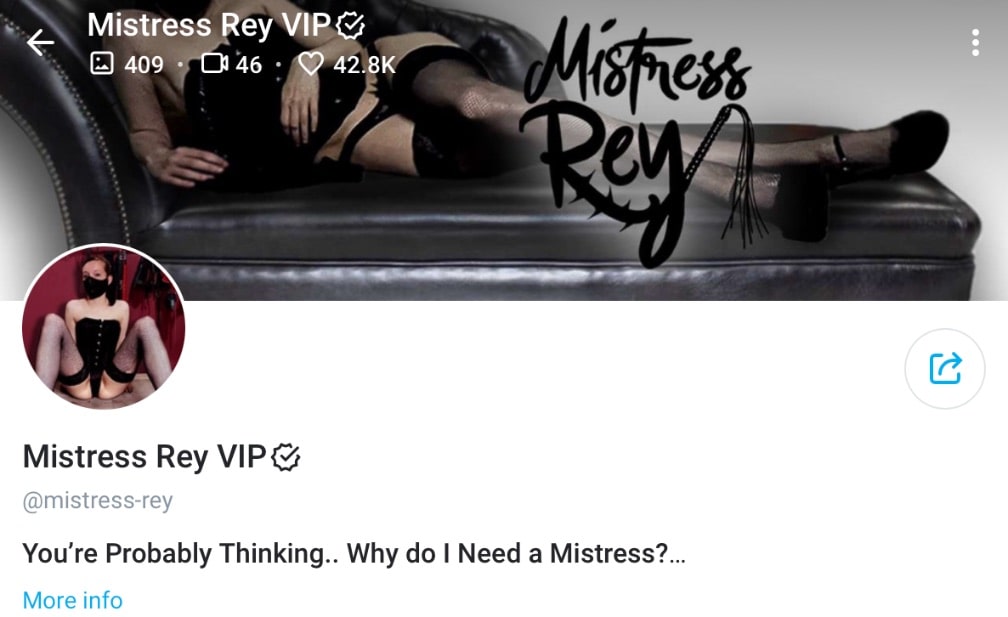 Mistress Rey is an intense and demanding mistress who offers exclusive sissy training, she isn't forgiving and she won't let you get away with not playing by her rules. Sex, money, and power are her three favorite things and you're going to give them to her.
Images: 415+
Videos: 46+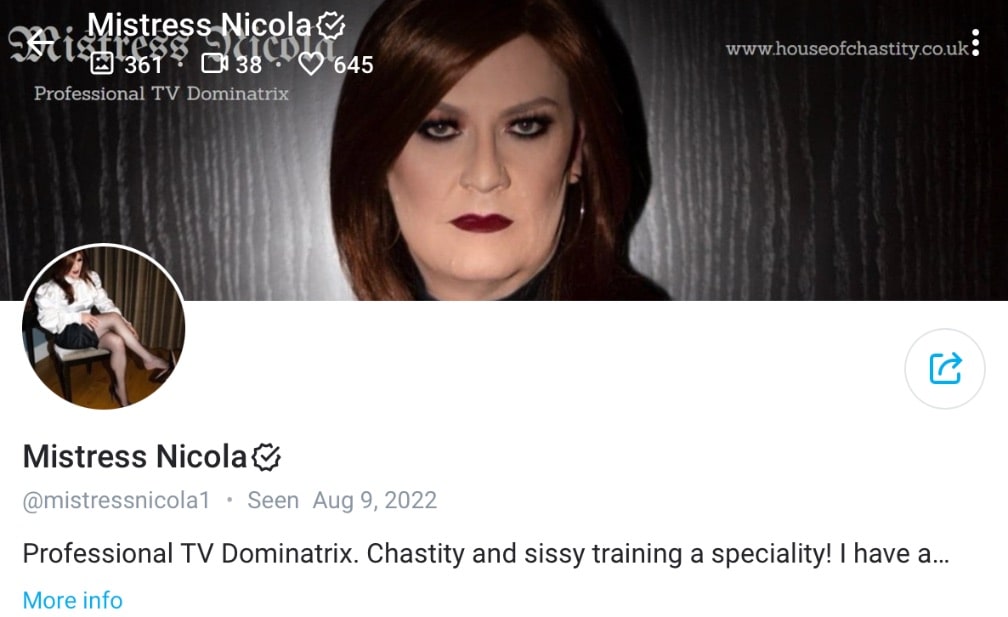 A professional dominatrix who specializes in chastity and sissy training. Although she isn't the most active account I have mentioned, this cruel dominatrix knows how to make you obey and listen to her commands.
Images: 361+
Videos: 40+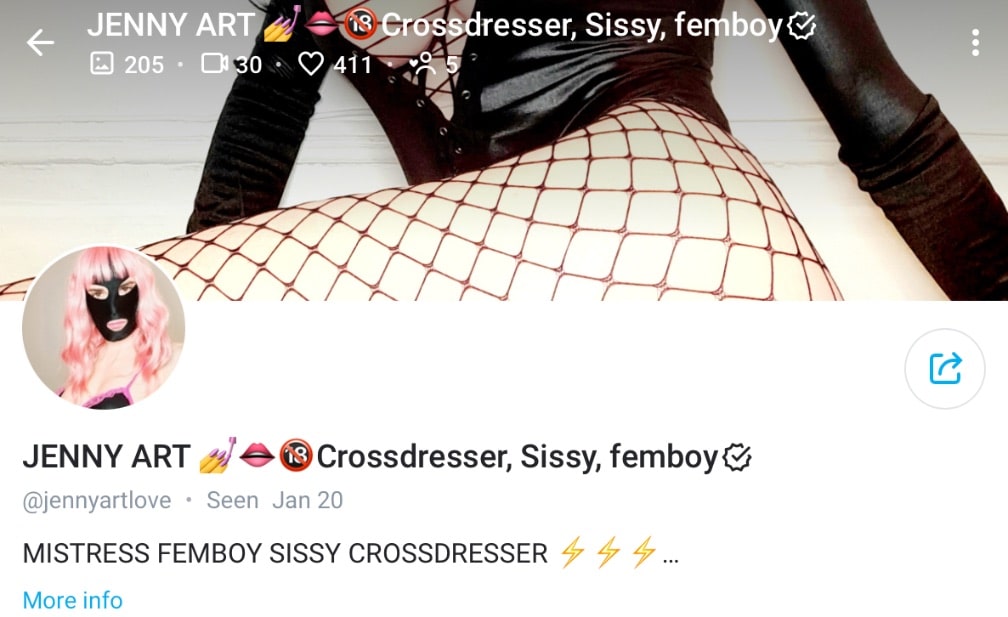 Jenny is a goddess, a crossdresser, a sissy, a femboy, and many things in between. Extremely sexual, artistic, and unique, and although Jenny doesn't upload that often, the content on her OnlyFans is so hot and only priced at $7.99 a month.
Images: 205+
Videos: 30+
Owned by his mistress, this cross-dressing sissy worships his mistress's pussy as well as completes tasks, and engages in sissy training and hot feminization. Although not very active, this account is great to check out and a great peek at a sissy in the making.
Images: 131
Videos: 14+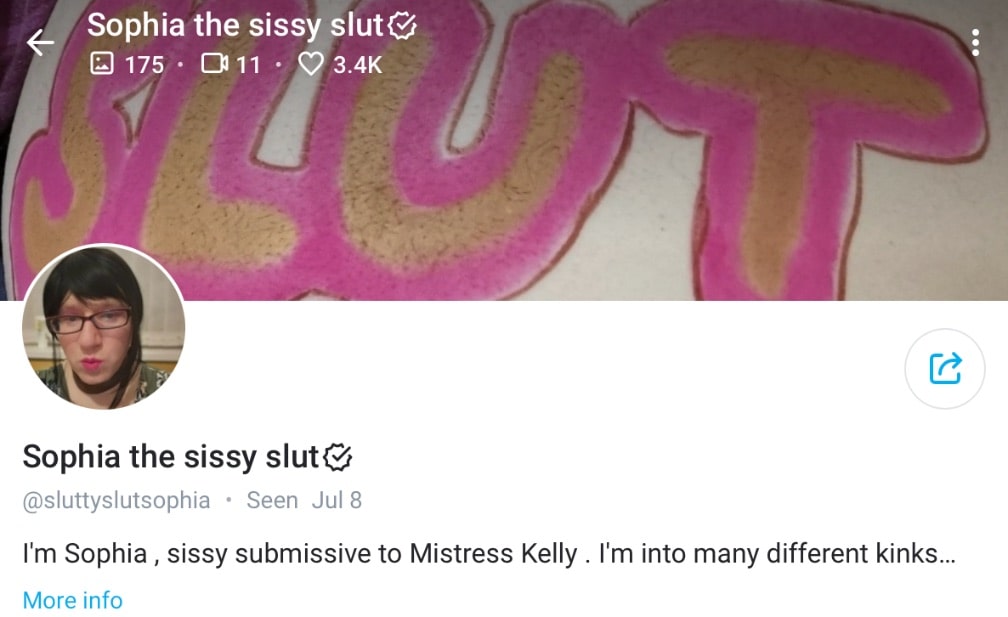 Sophia is a submissive whore, she has her very own mistress and she is happy to share her progress with you all. Enjoy her exploring her kinks, fetishes, her feminization stages, humiliation, and more. You can also subscribe for free!
Images: 170+
Videos: 11+
The Sissy OF Account I Recommend The Most
With so many amazing accounts, all varying in their content and offering unique twists and types of videos and pictures, it's hard to choose but if I had to choose just one it would be @goddessbadbarbie, she's intense, she's cruel but her OnlyFans is always exciting. My second choice would be @kendallpenny I love her content, she offers something so unique and twisted, seducing straight men and turning them into sissies, it's so arousing and great value for money.
My Favorite Sissy Porn Site (Incase You Want Better Porn)
If you want more consistent porn, I recommend checking out my huge list of sissy porn sites, there's something for everyone on that list. There's also an ultra-popular Reddit list I made which contains all of the very best Trap Subreddits out there, I will warn you thought it is very NSFW and extremely arousing to glance at either of these lists.
Finally, if you want something to satisfy you right now, without having to read through a list, head straight on over to the Grooby Archives where you will be met with the very best trans, shemale, sissy porn on the entire internet. Tell them I sent you!
Did We Miss Any Accounts?
If we missed your sissy OF account or we didn't add your favorite sissy or sissy-related OnlyFans accounts, let us know your handle or your favorite creator handles below and we will get it added to our list once we check it out.