Voyeurism is the art of enjoying watching people have sex, being intimate, or being naked, this can be in the form of spying, hidden cams, cuckolding, cheating, flashing, and general nudity. It's quite a broad genre and unfortunately, not everyone understands voyeurism. Some people liken it to a seedy person spying into a public toilet when actually there's more to it than that, yes, for some, that may be an appeal but to many others its a thrill, a consensual fly-on-the-wall type of attraction that appeals to a huge array of kinksters.
It can be hard to find genuine, realistic, and more-ish voyeur content and so, this list is filled to the brim with the very best and most popular subreddits. All are free to join, you don't need to make an account, although it does help with things like commenting, upvoting, and saving your favorite finds. Now, sit back, relax, and scroll to find your next favorite voyeur subreddit filled with jaw-dropping voyeur porn and content.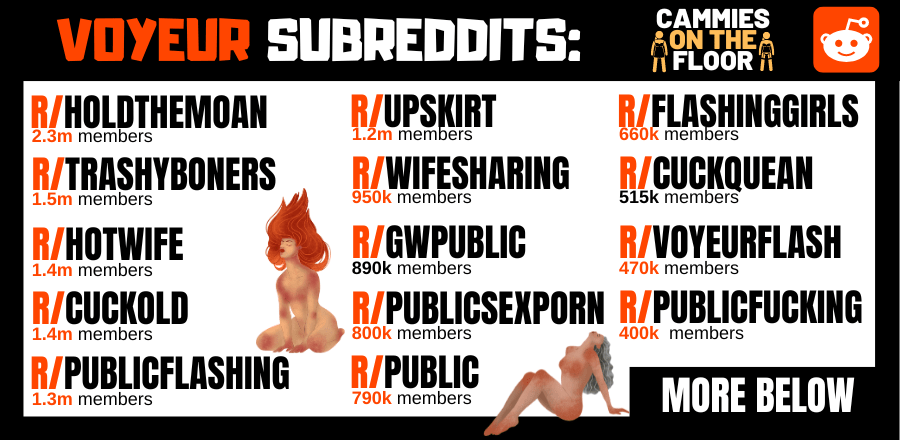 In Order Of The Most Popular & Active Voyeur Subs:
I put the most popular and updated subs at the top and slowly make my way down to the quieter subs. All are worthy of their spot on my list, however, if I have missed your favorite voyeur-themed sub, please do let me know down below and I will be sure to add it in!
2.3m+ members
This sub is kinky, it really captures something so unique and appealing, it's for posts of women being naughty in compromising situations, such as in a public restroom, out in nature, in a car, in the mall, and more. It's a selection of gifs, videos, and pictures and with so many active users and contributing members, this filthy sub never gets old or boring.
1.5m+ members
Trashy boners isn't a sub that is going to suit everyone but it has its appeal with over a million active users tuned in to see the trashy posts that get shared daily. It isn't a classy sub, it's a place where nudity, indecency, flashing, and other heinous acts get posted because they're trashy or just simply so out there that they don't fit in anywhere else.
1.4m+ members
Being a voyeur and loving hotwives is completely normal and something many of us seek out. This hotwife subreddit is filled with real amateur and professional hotwives cheating on their husbands and filming it all for us to enjoy. There's a lot of thrill and naughty antics going on here so beware!
1.4m+ members
If being a voyeur cuckold is more your style, check out this popular and highly active sub. Filled with thousands of videos, pictures, gifs, and stories, immerse yourself in the cuckold culture and feel at one as you discover new people, new scenes, and more amateur filth.
1.3m+ members
One of my favorite subs, public flashing does exactly as promised as it shares with you the very best pictures and videos of women flashing and getting naked out in public. It's active, it's naughty and it's perfect for voyeurs who like public indecency.
1.2m+ members
Arguably one of the hottest views known to man, an upskirt is the art of taking a photo under someone's skirt and getting a glimpse of their bare pussy or panties. This sub is dedicated to posed upskirt photos where you can enjoy a seemingly endless supply of glorious upskirt pics.
1.2m+ members
There isn't much if any amateur content on this sub but regardless, it's worth checking out. It's a whole sub with the pure intention of showcasing women and couples having sex in front of an audience, whether that is at a party, a bar, a club, on a boat, or in the street.
950k members
Only verified posters can share their pictures and videos on this sub which makes it great for any amateur lovers and those of us who prefer more authentic content. It's for wives and couples to share their intimate moments and naughty adventures and it is totally addictive.
890k members
Another subreddit dedicated to the outdoors features women going wild and free in the open air, whether in a park, a city, a club, a restaurant or just about anywhere else they can find. It satisfies my little voyeur brain and I highly recommend it.
800k members
Far less amateur and authentic content but worth checking out nonetheless, this sub is for all things public all things sex. Stars, cam models, horny women, and kinky couples all share their favorite videos, gifs, and pictures of things getting freaky outdoors.
790k members
Amateur and professional content are both allowed on this sub, the only requirement is that your posts are naughty and outside. The ultimate hangout for public admirers and those of us who enjoy the finer things in life such as seeing someone being fucked in the beautiful city air.
670k members
Hugely popular and for good reason and although it's mostly professional posts, it's really arousing and a great way to satisfy those voyeur desires. It's filled with women and couples flashing their stuff in public areas and getting down and dirty when the time is right.
660k members
This sub is a lot of fun, it's a place to share videos, pictures, and gifs of women flashing. There is so much variety here that it's impossible to pinpoint exactly what you're going to find but mostly it's hot women showing off their hot bodies to the camera.
515k members
This is for the voyeurs who are looking for something a little different and a little out of the ordinary. It's a sub for cuckqueans which is defined as a woman whose husband fucks another woman in front of her. This can be in gif, picture, or video format and these posts get seriously steamy!
470k+ members
Focusing on women being nude or engaged in a sexual act in front of an audience or an unsuspecting crowd all so that they can bear witness to their naughty antics. These women are a voyeur's wet dream and there are so many posts and updates that it can be enjoyed forever.
400k members
From hardcore public sex to simple mind-blowing flashing, this sub makes sure to give you high-quality public arousing content that will keep you on your toes and truly satisfied.
380k members
Not every voyeur enjoys the swinging side of this kink but for those who do, make sure you check out r/swingers. Created in 2009 this thread contains everything you need to know along with NSFW pictures and other types of steamy content.
370k members
Exhibitionism and voyeurism go hand in hand and so I included this sub on my list as I knew most of you would be big fans of this. It has plenty of jaw-dropping videos and photos from across the web of exhibitionists doing what they do best.
365k members
Groups of people having sex is always a good idea and always hot to enjoy and as a voyeur, things don't get quite as good as this. Created in 2009, this sub has been going for years now and always puts a big fat smile on my face.
300k members
All of the previous subs I have mentioned have been mostly centered around women and heterosexual couples and so let's share some love for the naked men in public, those who prefer to be nude or flashing with a crowd or with nature.
295k members
For both amateur and professional content, this subreddit is where anything naughty in public goes. From flashing to full-on sex acts, r/naughtinpublic isn't the most popular public sex sub on my list but it is a guaranteed boner.
275k members
An exquisite collection of female exhibitionism, r/exposedtostrangers is definitely NSFW and will keep any voyeurs who enjoy women showing off their beautiful bodies in complete ecstasy.
250k members
This sub isn't quite as niche as some of the others we have explored, this is where everything public sex is concerned goes. From fucking to sucking to flashing and everything in between. It's naughty but it's extremely more-ish!
160k members
Lots of verified users flash their best assets to use here on this sub, it's a place to show the love, share the love and enjoy amateur and professional content posted by real people for others to enjoy and adore.
130k members
This isn't the most active sub we have come across but it does have a huge collection of past content. It makes you feel as if you have a camera watching these women all get off too and enjoy some jaw-dropping porn.
99k members
Amateur flashing in retail stores, what could be better? this sub makes sure to only include amateur models and users, for them, it's much more authentic and exciting rather than seeing the professionals do it.
95k members
Friendly, positive, and showered in good energy, this sub is for any woman who wants to share her spring break slutty pictures. There's no shaming, there's no hatred, it's all love and good, nude vibes here.
93k members
We have already seen a sub called r/holdthemoan whereby people must be quiet during sex or masturbation for fear of being caught but this sub is completely the opposite with loud public sex encouraged and praised.
80k+ members
This is a special place for those of us to hang out with who enjoy a very specific moment in the wife-sharing and voyeur lifestyle. This moment is when a cuckold cums as he watches his wife fuck another man and this sub is filled with just that.
53k members
Horny and hot women watching other women have sex is the stuff of dreams and this sub is gifs and videos of women encouraging and getting off with and for other women.
49k members
The home of real nude beaches where orgies, swingers, flashing, and spying all come to life. This subreddit isn't the most popular but it is what I love to see, amateurs and non-amateurs mixing and creating wonderful results.
48k members
A place to enjoy women watching men fucking other men, the women watch, they may sometimes join in or masturbate or even encourage the men to engage in sex. A great place for gifs, videos, and pictures of women enjoying men.
10k members
Not anywhere near as popular as the other subs on my list but still worthy of its spot and whilst there is no amateur content here it is a nice place to find voyeur videos as it focuses on spy cams, spying, and watching through cracks, windows, curtains and more.
Which Of These Voyeur Reddits Do I Use The Most?
It's tough to choose with so many good ones on my list, however, I would have to pick r/holdthemoan as I find it extremely arousing and a great way to satisfy my voyeuristic tendencies, my second choice would be r/publicflashing as I love public content and I find lots of risky and heart-racing content on there, finally, my third pick is r/flashingandflaunting it's updated extremely frequently and I find the type content uploaded to suit me perfectly.
My Favorite Place To Watch Voyeur Porn (Better than Reddit)
You need to check out our best voyeur sites, the list is packed to the brim with voyeur porn sites that will give you so much satisfaction. If you just want to jump straight into it and don't have time to read the whole thing, our two favorite voyeur sites are Cuckin, which isn't strictly voyeur but it does have plenty of image sharing, flashing, cuckolding, hotwifing, and other amateur content. Our second favorite is Trueamateurs it's filled with amateur content and so much incredible porn to enjoy as a voyeur.
Let me know your favorite voyeur subreddit down below!