It used to be difficult to find porn content online. Sites with images and videos were rare and hidden, and you either needed to know someone who knew a website, or you were stuck surfing the web for hours on end to catch a glimpse of exposed breasts. Being an adolescent in a time when internet porn wasn't as prevalent as today was not fun.
Thankfully, now, porn sites are not only everywhere but are also incredibly well-known and popular. Who hasn't heard of PornHub or xHamster or any number of similar porn platforms? All you need to do is visit any of these sites and you are smacked in the face with a new wave of porn content that is added daily.
The same goes for porn games! When I first wanted to play porn games, just on the tender cusp of 18 years old, it was almost impossible to find some. They were either difficult to access, required payment of some kind, or were so bad that they failed to turn me on completely.
This, too, is a thing of the past. If you're interested in trying out some porn games and are unsure of where to start, I'm here to make it really easy for you: start with Nutaku. Hell, end with Nutaku, too. If you want to be a casual porn game player, Nutaku is really all you need in your life.
What Is Nutaku?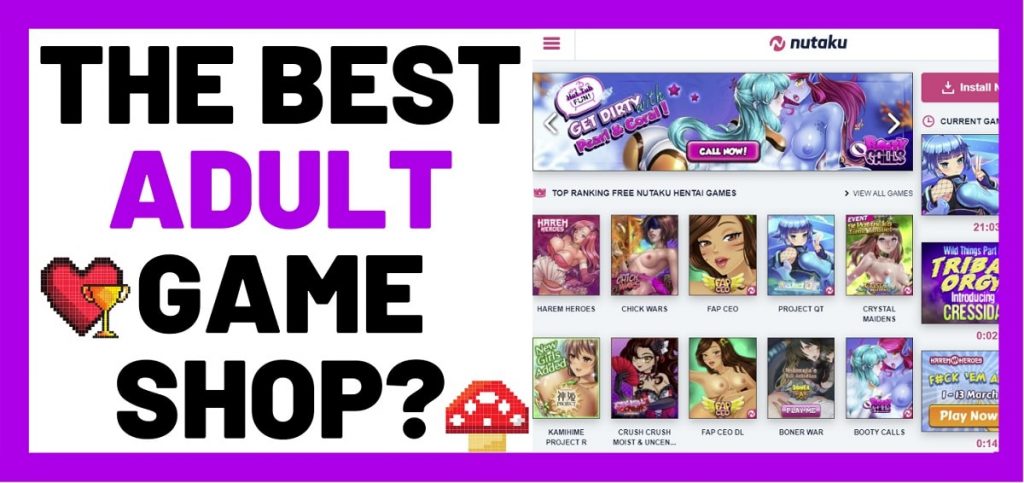 Nutaku is a porn game paradise. It is one of the best adult game sites currently online for so many reasons, some of which I'll mention here:
Modern design and easy, intuitive navigation
An abundance of free games
Safe and trusted site
High-quality games
New content regularly added
Unlike many other porn game sites, Nutaku is not spammy or bothering you with too many ads and/or pop-ups. It is clean, refreshing to use, and it won't take too long before you're sucked into its delicious sexy world.
My Girlfriend Even Loves Nutaku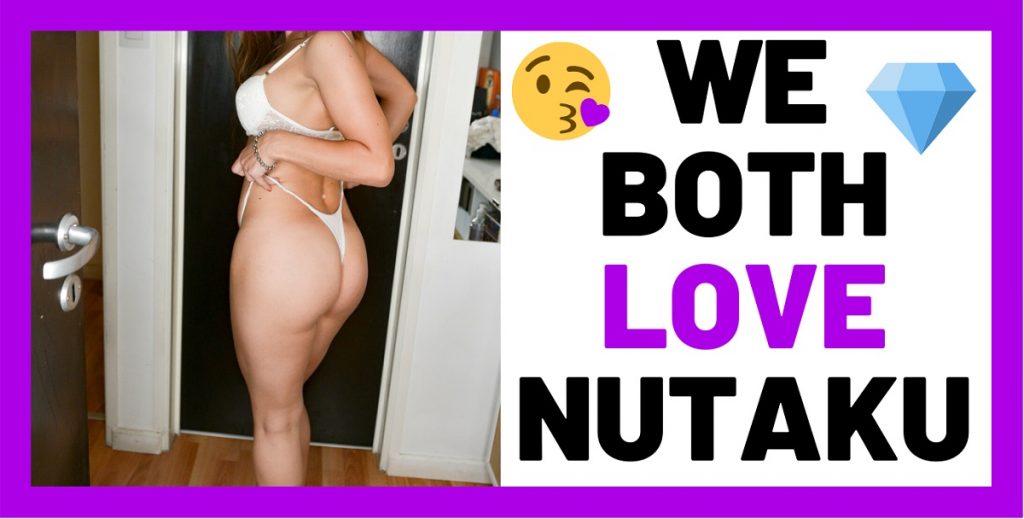 Regular readers on this blog know that my girl and I play porn games together. Sometimes at the same time, sometimes separately, depending on how much free time we have. We like many of the same games, but she also sometimes plays a game I'm not interested in or vice versa.
However, we're both in love with Nutaku. It has games for everyone, regardless of their sexual preferences, and both of us can find ones that work for us. I daresay that the cutesy, pink-filled design of many games here is more appealing to the female population than the male.
Is Nutaku Free?
Ah, this is the best part! Nutaku is completely, 100% free! It costs nothing to make an account, and when you verify your email address, you even get 100 gold coins for free that you can spend in any way you want! (More on that in a later section.)
Most of the games on Nutaku are free to play, especially if they're browser games. Each one has some type of premium currency that will help you move quicker through the storyline, but you are under no obligation to use that to enjoy the game to the fullest.
Some games cost money to download and play. These don't necessarily have to be better than the free games, so make sure you read the game description thoroughly and click through the preview images before deciding if the game is worth your money.
That being said, I think I can make your decision-making process easier with this extensive list of games that you should check out first. Let's go!
What Are The Best In-Browser Games On Nutaku?
Browser games are ones that you open in your browser, to put it simply. They don't require any downloading, but they do require a steady internet connection for you to be able to play them. Some browser games are meant only for the computer, while some are also optimized for mobile phones. Here are some of the best Nutaku browser games:
Chick Wars is a turn-based battle game set in a fantasy world. In it, you play Adam, an anime hero with white hair and a buff body who is in charge of defending a kingdom from evil wizards and monsters. You do this by participating in battles and developing strategies on how to defeat your opponents.
If you're not keen on playing this game on Nutaku for whatever reason, you can also find it under the name Cunt Wars on the website of its official studio Hooligapps. I love the amount of planning and tactics this game requires, and how it's not so easy to win once you get to a higher level. The porn artwork is out of this world, as well.
Similarly to Chick Wars, you can play Harem Heroes in several different places: on Nutaku, on the official website of the game studio, Kinkoid, and there are also other versions of the game, such as Gay Harem, which is the same game but with male on male action. This is a visual-novel style game with some interesting PvP battle elements.
In Harem Heroes (full review of hentia heroes here), you enter the world of Haremverse, where you need to build your harem of girls who will help you triumph over your enemies. You can choose to follow the highly explicit story, to level up your girls, or to participate in any number of events and contests that the game offers regularly. Never a dull moment in Harem Heroes!
This is an RPG clicker game, meaning that you click on monsters to slay them. I've mentioned in other posts how I'm not a big fan of clicker games, with some exceptions. Fap Titans is, unfortunately, not that exception. For me, the gameplay gets monotonous pretty fast, so it definitely isn't for everyone.
However, Fap Titans also comes with a solid collection of porn images for you to feast on. The artwork is not as high in quality as in some other games, but it gets the job done. I wouldn't consider Fap Titans my first pick, but it's a solid game if you want something quick and easy (and porny) to pass the time.
Fake Lay gives you an opportunity to disguise yourself as a filmmaker, a taxi driver, a casting agent, a masseur or any other profession that allows you to seduce hot young babes. You can take explicit pictures of them, shoot movies with them, and of course, unlock dirty smut scenes along the way.
The reason Fake Lay also isn't on the top of my list is that the design of the game is a little over the top for me. It is extremely porny, don't get me wrong, but it is also somewhat rough and cartoony in style. While this may not be a problem for you, it is a style that I'm not a big fan of, which is why I don't play this one so often.
Fap CEO is your chance to build a video-streaming empire. You're a businessman, a CEO, and you're looking to hire new talent; young, beautiful ladies with huge breasts and nice curves that will help you grow your company. It goes without saying that being your employee comes with some interesting erotic perks.
I like the tycoon style of this game, even though the design and artwork are a little immature at times. However, if an easy porn game is what you're after, then an easy porn game is what you're getting. I love to play Fap CEO when I'm too tired to follow an intricate, original storyline of a different game and just want to see some hentai goodness.
So I said how I don't like clicker games, and I stand behind that. That said, I'm willing to make a slight exception for Hentai Clicker. In this game, you don't use your clicking to beat evil monsters but rather to give orgasms to pretty girls. Automatically, this puts an interesting spin on a standard type of gameplay.
Given that Hentai Clicker is made by the same studio as Harem Heroes, you find yourself back in Haremverse, which is in a bit of trouble: a Mist has descended on it, preventing all girls from reaching orgasm. It is up to you and your insane clicking abilities to save them!
Project QT comes with a sci-fi premise, with a complex story that includes a black hole, a space virus, and a portal to another dimension. On your journey, you meet various monster girls – eight of them, to be exact – and you get to have all sorts of sexy fun with them. The smut scenes in this game are animated and feature Japanese voiceover.
This is easily one of my favorite games on Nutaku. The artwork is insanely good and consistent, which I appreciate, and some of the sex scenes are even interactive. You can choose how hard or how fast you want to go by clicking on the screen during the scene. Overall, a unique experience that you must try out at least once.
In this dating simulation, in order to help Andriella, a mermaid-turned-girl, you need to take out as many girls as you can and have sex with them. The setting of this story is a coastal city, with the central place being the Naughty Beach. By dating a truckload of girls, you're enabling Andriella to stay in her human form as long as she wants to.
Not going to lie, I enjoy a solid dating sim or two. They may not be as engaging as some other types of games, like RPGs or turn-battles, but I like the idea of getting to know a fictional girl and impressing her so that I can see her naked. Booty Calls offers a variety of body types for you to explore, and the sex scenes will leave you wanting for nothing.
If you're looking for a free game that is every bit as detailed and well-developed as a game with a price tag, you've found it. Soul Senki transports you into a true anime world, where various female warriors roam the map, and where 'battle souls' and 'battle soul masters' play pivotal roles.
I can't get enough of this game. It takes a while for you to get into the story, but once you do, it's hard to let it go. The sex scenes in Soul Senki are that explicit hentai type that you know and love, and you get to meet over 50 girls! Each of these girls has her own set of sex scenes to go through, with multiple positions for each one. Completely uncensored, Soul Senki shouldn't be passed up.
In Pocket Waifu, you encounter a succubus – a demon in the form of an attractive girl – who is more than willing to charm other girls so that you can have sex with them. These girls will simply walk into your home, and you'll be expected to take care of them so that they become grateful and spread their legs for you.
Much as the title says, essentially, it is like having a pocket wife. The game doesn't offer much in terms of excitement, but if you're into mellow gameplay, then this might be the right one for you. Its artwork is a bit amateurish, in my opinion, but it is still a nice game if you're not feeling like playing anything else.
Another option that features a succubus, in 7 Angels the erotic demon is not as kind as in Pocket Waifu. In fact, this succubus curses you to the deepest pits of hell, out of which you can only hope to come out if you seduce seven angels and have sex with them, thus becoming a veritable Sex God. Sounds awesome, doesn't it?
7 Angels features over 500 kinky images of all kinds. My favorite ones involve a nun who isn't afraid of getting down and dirty, and you will also encounter some enticing examples of BDSM. The gameplay is in the style of a visual novel, where your choices can determine the outcome of the story, and there are also some mini-games to win in order to advance.
Yes, the name of this game is quite a mouthful. This is, in fact, the Moist Edition of Crush Crush, where you take the story to the next level. (You don't have to know about any previous version to enjoy this one.) It is a dating sim where you need to impress the Crush Crush girls by earning promotions, making more money, and buying them better gifts.
While the porn aspect of this game is truly kinky and won't leave you disappointed, I need to mention how the style is not my favorite. Crush Crush is too cutesy to me, with the girls being way too anime. Some of them are even going into the loli territory, which for me, was never really a thing. However, if you're interested, don't let me stop you from giving it a go!
The Best Downloadable Games On Nutaku
Now that we've gone through all the most interesting browser games, let's take a look at those that you can download to your computer and play offline. Keep in mind that downloadable games on Nutaku cost money and are not free to play as most browser (and mobile) games are.
This game is a visual novel with multiple endings and over 25 hours of reading time. The story is set in a fantasy world where you choose whether you want to romance a succubus, a female knight, a princess, or a noblewoman. It was written by a widely acclaimed world-builder and designed to be filled with huge boobs.
The downside to Funbag Fantasy is that the game costs a pretty penny. It is arguably the most expensive game in this review. I would say that the price is absolutely worth it since my girl and I couldn't leave it alone until we've gone through all of the endings, but it is not for everyone. If you decide to buy it, however, you won't regret it!
Hilzartov Fairy is a casual visual novel game where you stumble upon a fairy in your garden. She is guarding what is called a rainbow fruit, and it is your job to get to know more about this fairy and take care of her at the same time. She is tiny yet feisty, and the game offers some incredible physically impossible sex scenes.
If you're into a massive size difference, meaning into having sex with a fairy that is the size of your hand, then you're in for a treat. Hilzartov Fairy offers you the chance to unlock 13 sex scenes by fighting off evil goblins and to revel in a kink you don't often see in porn games.
If you're into bubble shooter games, you'll be a fan of Hentai Crush. This is a dating simulation spiced with shooting bubbles, and the main goal here is to sleep with lots of gorgeous babes. Thanks to the power of a matchmaking service, you can hook up with different women and explore their busty figures…
Hentai Crush is cheap and has decent enough artwork. It is not groundbreaking in any way, but if you run out of games to play and don't mind spending a few bucks for a new playthrough, then this would be the one to go for.
As you might assume from the title of this game, it has something to do with sexy maids. In fact, in Custom Order Maid, you inherit the ownership of the Empire Club, where attractive maids are tasked to entertain the guests in many different yet enticing ways. However, the Empire Club is in debt, and you and the few remaining maids need to rebuild it to its former glory.
One of the fascinating features of this game is that it is optimized for a VR headset. Thanks to a special DLC you can download, if you have a headset, you can enjoy the sex scenes in this game as though you are actually right in the middle of them. One step closer to full VR sex!
With an aggressive, all-caps title, DEARDROPS is not a very porn-aggressive game. It is a story about five musicians who form bonds and relationships, and their stories are told in the style of a visual novel. The artwork of the game is excellent, and you're going to enjoy the distinct anime feel of it.
That being said, DEARDROPS is quite a pricey game. I would say too expensive for how little porn you get, especially with how tame that porn is. While the story is solid, and if you like visual novels in general, you will enjoy this one, but I can't help but wonder why it is so expensive when it offers so little adult content.
In this sci-fi RPG, you play the captain of a spaceship meant to explore the mysterious depths of the cosmos. With an interesting blend of visual novel storytelling and open-world exploration, you get to decide what missions you want to take on, where you want to go, and who you want to spend more time with.
Starlight Drifter is less hentai than most games in this review. Its art style is a bit cartoonish, though in this case, it's not a bad thing. There's a fair share of nudity and smutty delight, and I love the sci-fi aspect of it, where you get the feeling of playing a Star Trek game but with porn.
In another sci-fi story, Cockwork Industries is a facility shrouded in mystery where people can get their bodies altered. You play Dwayne, a regular fella who suddenly gets invited to visit this curious place. Cockwork Industries is a 3D point-and-click adventure with some dating simulation elements thrown in.
The 3D animation is unbelievably smooth, and I love the kinkiness of some of the sex scenes. They include a girl and a robot, a threesome, and a whole variety of ways for you to control your porn experience in the game. The story has multiple romanceable characters and endings, so make sure to go through them all. (I know I did.)
Right off the bat, despite this game having VR in its title, it's not actually mandatory to have a VR headset. However, it is a nice bonus. Real Girl VR offers you customizable girls (26 of them!), as well as settings you can configure yourself and make everything fit your wildest fantasies.
This all sounds great in theory, but in practice, Real Girl VR has a long way to go until it is the easy animation we're all hoping it becomes one day. I find it hard to get hard (see what I did there) when the graphics are this unrealistic and stiff, though I believe the animators did their best in making this seem as lifelike as possible. Shame.
This is a visual novel that has been translated from a Japanese game of the same title. It is very old-school anime in design, with the sort of exaggerated features you would find in the 90s shows you liked to watch. It's still a good game, though, especially in the porny department, if you don't mind the vintage feel.
In Customer Cums First, you're a lucky guy who wins a coupon to the shopping district. This isn't just any shopping district, however. It is a place where you get to browse through women and choose who you want to have sex with. Will it be a trophy wife? A sexy maid? An innocent nurse? The options are endless!
The Best Mobile Games On Nutaku
Finally, after browser games and downloadable games, we have games that you can play whenever and wherever you want on your phone. This list includes a lot of the same titles you've seen previously, so I won't spend too much time on them. I will, however, describe the one game that hasn't yet been mentioned.
King Of Wasteland
This is a post-apocalyptic simulation game where you have to fight for your own survival. You need to find resources, fend off zombies, and build military bases that include many uniform-clad female soldiers willing to please their new commander in innovative ways. Great 3D graphics and engaging gameplay.
You can also get these games that were mentioned above on your mobile phone:
Fap CEO
Chick Wars
Fake Lay
Project QT
Booty Calls
These are some of the finest games, so definitely give them a shot.
How To Get These Games On Your Phone
You can get these mobile games through the Nutaku client. If you have an Android phone, find the Nutaku app in the Google Play store. Download it, and log into the app using your Nutaku username and password. After that, it's just a matter of a few simple taps before you can download the games and play them on your phone however much you want.
Alternatively, if you don't have an Android phone, many of these browser games are also optimized for mobile browsers, so you should have no problems playing them that way either.
Sites I Use When I'm Bored Of Nutaku
If you're bored of Nutaku, there are some other amazing adult game sites to try out.
This is a collection of 3D games that involve not only porn and kinks of various kinds, but also heavy use of alcohol and drugs, as well as some depictions of prostitution and similar illegal activities. If you're looking for porn games, you're likely already over 18 years old, so none of this should be an issue for you.
EroGames
A site that is my second favorite compared to Nutaku, Ero Games doesn't have such a big game archive, but it does have some outstanding titles that you should try, like Boobs in the City and Princess Pixel. I find it frustrating that you can't filter the game selection according to any criteria, but I guess you can't have it all.
WetPussyGames
A little more spammy than the other sites mentioned, Wet Pussy Games still has a few good games. It will take you a while to get to them, however, so use this website only as a last resort if you've already gone through everything I talked about here and are desperate for more.
No, you didn't accidentally stumble upon a random porn site. Life Selector is a game starring actual people and featuring actual porn scenes in the story. I'm in awe of this concept and its execution, as it brings regular porn to a whole other level thanks to its interactive elements.
Finally, the Sex Emulator offers you a chance to create your own 3D babe with all the body customizations you like. Once you choose her hair color, ethnicity, boob size, and skill levels, you get to play with her with all types of sex toys and in all types of scenarios.
Questions I Had About Nutaku

Before I used Nutaku, I had some questions that I couldn't find anywhere, do I decided to answer them here.
What are Nutaku gold coin codes?
Gold coins on Nutaku are its premium currency. Through purchasing these coins (for real money), you can buy the games that are on offer or convert the gold coins to other premium currency in the games themselves.
Gold coin codes are, in theory, codes that you can use to get more gold coins for free. Let me save you some trouble: they don't work. Anyone who suggests they have gold coin codes to give you is likely to spam you and possibly infect your computer with malware. Don't fall for these cons and either buy gold coins yourself or play the free games.
How to earn Nutaku gold coins?
I know of several ways to earn gold coins on the website, and one of them is to sign up and make an account. Once you verify your email address, you earn 100 free gold coins that you can spend however you like.
Another way to earn coins is if you refer a friend to the website. Send them a special referral link and once they sign up for an account using your link, you get bonus gold in your account.
Lastly, you can earn gold by playing various puzzle games in events that Nutaku sometimes hosts.
Is it possible to mod Nutaku games?
I honestly wouldn't be able to tell you. I'm sure there are ways to mod some – if not all – of the games, but I am not an expert in coding or modding or whatever, and I have no idea if you can do this and how.
Is it safe? Is there a risk of malware when downloading games?
Nutaku is completely safe! This is one of the best features of this website. It is 100% secure and trusted, and if a problem of any kind does arise, you can take it up with their customer service, which will be more than happy to help you solve it.
How To Delete Your Account
Nutaku has made this a bit difficult since there doesn't seem to be an obvious 'delete my account' button anywhere on your profile.
What you can do is go to their FAQ section and find the question, "How do I close my account?" under the Profile tab. There, you will find a link that directs you to close your account in a few simple clicks.
Do mobile games work on Android and iOS?
Unfortunately, Nutaku game apps are available only for Android. The majority of them, anyway. However, if you have an iPhone, you should be able to play these games in your mobile browser without any issues.