Gone are the days when watching porn was a taboo topic among married couples. Hopefully, at least. There is nothing illicit, nothing immoral or shameful about you or your partner enjoying porn in your downtime. Anyone who tells you otherwise doesn't know what they're talking about.
Porn is a great way to relax after a long day, to destress through masturbation, to get turned on for your significant other, not to mention to explore the vast and enticing world of sex and discover new kinks you want to try out.
Seeing as both my girlfriend and I watch porn together and by ourselves, we love experimenting with what we see and including new things in our lifestyle.
If porn is not for you – and it definitely isn't for everyone – then that's okay.
But there is nothing wrong with consuming a healthy dose of naughty pictures or videos to get you through the workweek.
This is where sites like Clips4Sale come in.
What Is Clips4Sale And How Does It Work?
Clips4Sale is similar to Pornhub, in that it is an archive of thousands and thousands of porn clips, in this case, made by either amateur studios or amateur individuals for your enjoyment.
The difference is that while Pornhub offers such clips for free and only for online viewing, on Clips4Sale, you have to purchase each clip, and then you get the option to download them on your computer.
To do this, you need to make an account on Clips4Sale, and from there, the process of buying the clip you want is pretty straightforward: add it to your shopping cart, proceed to checkout and voila! You get a dirty little video to store in your personal collection.
To have a taste of what you get for your money, each video comes with a preview of several seconds. The clips are sorted into incredibly specific categories, and you get information on their length, file size, format, resolution, and similar.
Not all of the clips have to be about porn (though a good majority of them are). Some are about fetishes that might not necessarily include sex, so you can get a lot of clips of that particular fetish – such as of people in casts or wheelchairs for example, or pregnant women with their babies visibly moving inside their bellies and similar – without actual porn involved. Whatever floats your boat, you know.
Is Clips4Sale.com Safe?
When it comes to the safety of your personal and credit card information and whether or not the site is legitimate, the jury is still out. I purchased maybe only a couple of clips from this website and I didn't have any problems with it.
However, I've read some accounts from people who never received the links to the videos they purchased, who've had their money deducted twice from their account without getting a refund, whose transactions were seemingly denied, but money had still been deducted from their account, and similar sketchy stories.
Furthermore, the site has a rating of 'poor' on Trustpilot, meaning that most customers are dissatisfied with their experience and don't appreciate the lack of response or care from Clips4Sale's customer service.
My advice would be to tread with caution, seeing as it can go either way. Purchase clips from Clips4Sale only at your own risk.
Is Clips4Sale Free?

It is not! The only thing you get for free on the website is the 10, 20 or 30-second previews of each clip you can buy. Everything else – meaning the entire clips – is for sale.
The clips can cost anywhere from several dollars to over 30, 40 dollars and more. This depends on the size of the clip, the specificity of the fetish involved, and how elaborate the action is. Some of the clips I've seen previews on are truly masterfully executed and deserve their high cost, while others can fall short and don't seem worth the money.
Is there any way to get it free?
Not that I know of. My best suggestion would be to search for the clip name directly on Google and see if it is available for free on a different site (though be wary of that site's safety then), or if it is available for download through Torrent sites. (Again, keep in mind the piracy laws, use a VPN to protect yourself, and everything else relevant to torrenting.)
Sites Like Clips4Sale, But Better!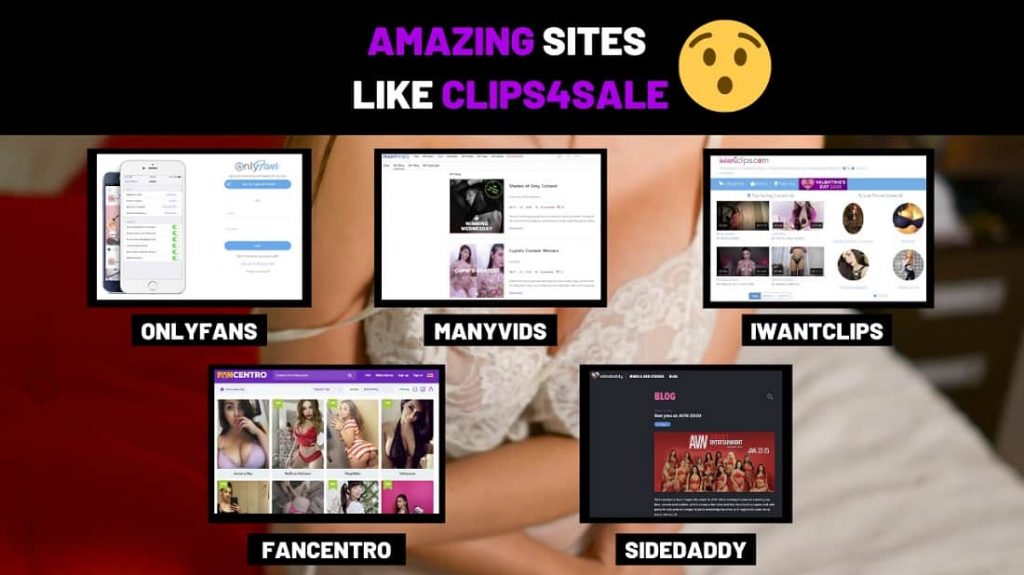 I price checked for all the best prices and deals for all the clip sites in this article on the: 28/11/2020
Now that I've established that Clips4Sale is not the ideal site to get porn from let's see what else is out there that serves as a better alternative. Behold, a comprehensive list of porn video collections!
FanCentro is my favorite because it perfectly harnesses the power of social media and functions outside the norm. I love new and inventive ways of watching porn and getting to know the people behind that porn, and FanCentro makes all of this happen. This is a site where you subscribe to a monthly membership and gain access to a porn star's social media accounts.
We're talking Snapchat, private Snapchat, Instagram, Twitter, Pornhub links if the star has them, and so on. So FanCentro isn't so much about videos as it is about the porn models themselves. You're paying to access their private feeds filled with the juiciest content dedicated only to the most devoted fans. I love the exclusivity of it so much.
ManyVids works as Clips4Sale in many ways. It is a collection of videos by amateur creators that you can buy individually. The cost of the videos depends on their content and length, much like on Clips4Sale. The main thing that ManyVids does better than Clips4Sale is that the website is simpler and a lot safer to use.
Another feature that makes ManyVids stand out is that you can sort the videos by straight or gay, and you can also watch live streams! That's right, this website recently rolled out their live cam section that is still in its Beta phase. Here, you get to watch hot people strip and masturbate in real-time, adding a new layer of thrill to everything. If you like ManyVids, I did a review and showed off some amazing alternatives.
With a strong focus on hunky men, Just For Fans is more geared towards the gay men population than any other. Their selection of beefcakes is outstanding, while the women and trans models are few and far between. Nevertheless, if you're a fan of hunks flexing and showing off their girth, Just For Fans is the right place for you.
Making an account here is free and with it, you get access to private feeds of the models (such as on Twitter and Tumblr), you can text directly with the models (those who have shared their phone numbers, anyway), download the videos, and even purchase items that you see your favorite models using or wearing!
As far as I can tell by the content and the site layout, APClips works in the same way as Clips4Sale. It has a large selection of porn videos, usually of solo women masturbating with various sex toys, though there are some nice examples of POV porn. Overall, one of the great advantages of APClips is that its content is cheaper than that on Clips4Sale.
Categories are incredibly specific and abundant, just like on Clips4Sale, and you can search for any kink you think of and likely find exactly what you need. Before you purchase a video, you get a 10-second preview of it, so that you know what you're investing your money in. APClips is perhaps not my all-time favorite website, but it gets the job done.
Another website in the style of Clips4Sale and APClips, IWantClips works in much the same way. It is a site where you purchase porn videos from their artists and download them for your viewing pleasure. The categories are the same, though it seems to me that IWantClips doesn't have that big of a collection as the other two sites.
However, their prices are fairly low, lower than on Clips4Sale, so you might be more inclined to spend your money here. If you're not sure where to start, check out their Top Lists, where you will find artists that are ranked the highest and whose stores are the most popular, then go from there!
OnlyFans doesn't actually have much to do with porn. It is a social media service from the UK, which you can open as a website on your computer or download as an app on your phone. It is a place for content creators to provide their fans with exclusive content, such as pictures and videos, and to build relationships with them.
Despite not having that porny streak – many other creators such as chefs, fitness experts, comedians, and fashion icons use OnlyFans – it is insanely popular in the porn industry. It won't take you long to find your favorite porn stars who provide content for a set price. Yes, you can't see the content unless you pay for it. (On the other hand, the creator doesn't receive the payment unless they provide the content you paid for, so it's nice to know that it goes both ways.)
With an inventive name, this website definitely has some unusual takes on porn. On Extra Lunch Money, you can buy videos to download and watch, you can watch live cams, you can pay to get dirty pictures texted to your phone from verified naughty girls, and you can even request certain sexy things and pay willing participants to perform them for you.
On Extra Lunch Money, you don't actually pay for any of this with dollars. Rather, you purchase credits which you can then spend on whatever you want. Either tip your live show models or buy videos or pay for the texts I mentioned. If you have a particular kink that can be fulfilled over Skype, you can ask to see if someone is willing to do it for you for the right amount of cash. Versatile!
Is My Girl is very similar to how FanCentro works. They have a wide selection of models – each of whom is drop-dead sexy – and your job is to find one or several that catch your eye. Then you need to make an account and click the Follow button on the model's profile to be updated on all of their explicit content. Each model has a price tag for that follow.
On Is My Girl, you can follow some models only on the website, while others offer additional platforms, such as following their Snapchat (for extra money, of course) and even making custom videos for you (for even more money). The obvious drawback to Is My Girl is that it is insanely expensive to keep up even with one of these models.
Fetish Network is a paradise for all of you kinky souls out there. It is home to dozens, if not hundreds of porn videos focused on kidnapping, rape role play, BDSM, humiliation, pain, rough sex, and all sorts of extreme kinks. The most you get before paying up is a 2:30 minute preview of the video you might be interested in.
While I do applaud the nod to BDSM, for me personally, Fetish Network comes off as too fake. All of their videos come from professional porn studios with professional actors who are not that good at acting. I prefer my porn more amateur and real, especially if it's going to involve some hardcore play.
The concept of 'side daddy' is that it is essentially a second sugar daddy. Meaning when a girl already has a man, whether a partner or a sugar daddy, she takes on a side daddy to either earn more cash or be treated nicely. Side Daddy is a place where models of all kinds look for parties willing to pay for their sexual content, much like on most other sites on this list.
The site itself is nicely designed, though maybe a bit too simple. It doesn't give off the impression that it has too many models in its repertoire. You can find fetish models, solo girls, pornstars, nude glamour models, and more. Some of them reveal their face, some of them don't, and the quality of the pictures or videos you get greatly varies.
XHamsterPremium
You've heard of XHamster, a site much like Pornhub where you can get any type of porn you want for free. What you might not have known is that XHamster has a premium side to it, where you can pay for exclusive content that is truly exhilarating in its kinkiness. When you subscribe to a monthly membership on XHamster, you get access to a whole range of porny platforms and videos.
What XHamster Premium doesn't have are the incredibly detailed categories you can find on other sites of this kind. This isn't a big flaw, but I do appreciate the ability to be specific in my searches and get exactly what I'm looking for. XHamster's premium collection is so big that you're definitely going to find what you like, as long as you spend a moment searching for it.
Compared to relatively short videos you'll find on most other sites here, Clip Hunter offers long episodes, some even over an hour long! However, these are all pornstar videos, so there's no amateur feel that I personally love.
Moreover, Clip Hunter isn't available in every country, and it comes off as spammy because there's a high chance that an ad will pop up no matter what link you click. I feel like sites like these should be moving on from constantly bombarding their customers with unnecessary ads – if I want to pay for something, I will do it without anyone forcing my hand – and thus Clip Hunter is not the top porn video site on my list.
Clip Sites Out Of The Above I Use And Recommend The Most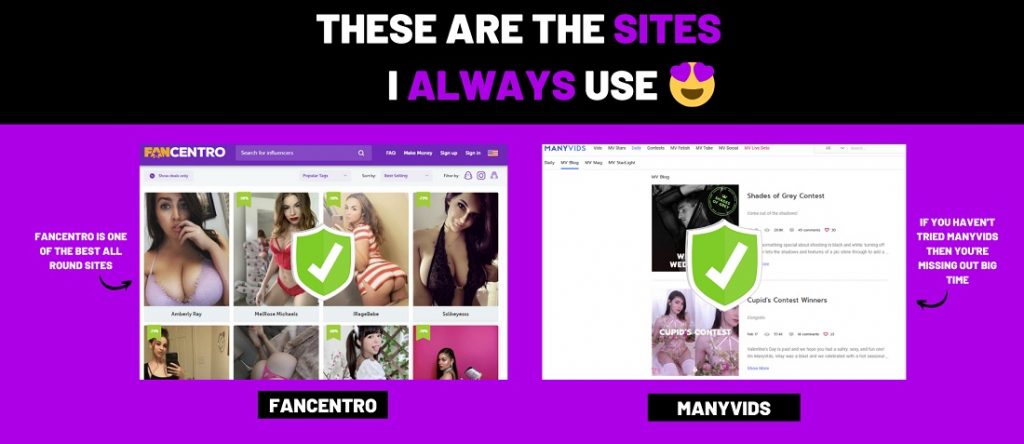 While everyone has different tastes and different expectations when they're about to pay for porn videos, there are two sites that I would single out from my list, which I use the most, and those are ManyVids and FanCentro.
ManyVids is essentially a cooler, safer version of Clips4Sale, and this is why I prefer it. There's no risk of failed purchases, stolen information or complications that are not quickly resolved thanks to customer service. And the live streams are definitely a nice addition to the ManyVids experience.
FanCentro is one of my all-time favorite porn sources because I'm a sucker for that personal connection. From my cam site reviews, you guys already know that Tiffany and I love interacting with our porn content providers, the models who keep us horny and entertained, and FanCentro is all about that.
You pay for your favorite model's social media and contact information, and then you can just sit back and enjoy what they put out while also sending them messages of encouragement and praise at the same time. What a great deal!
My Review Of Clips4Sale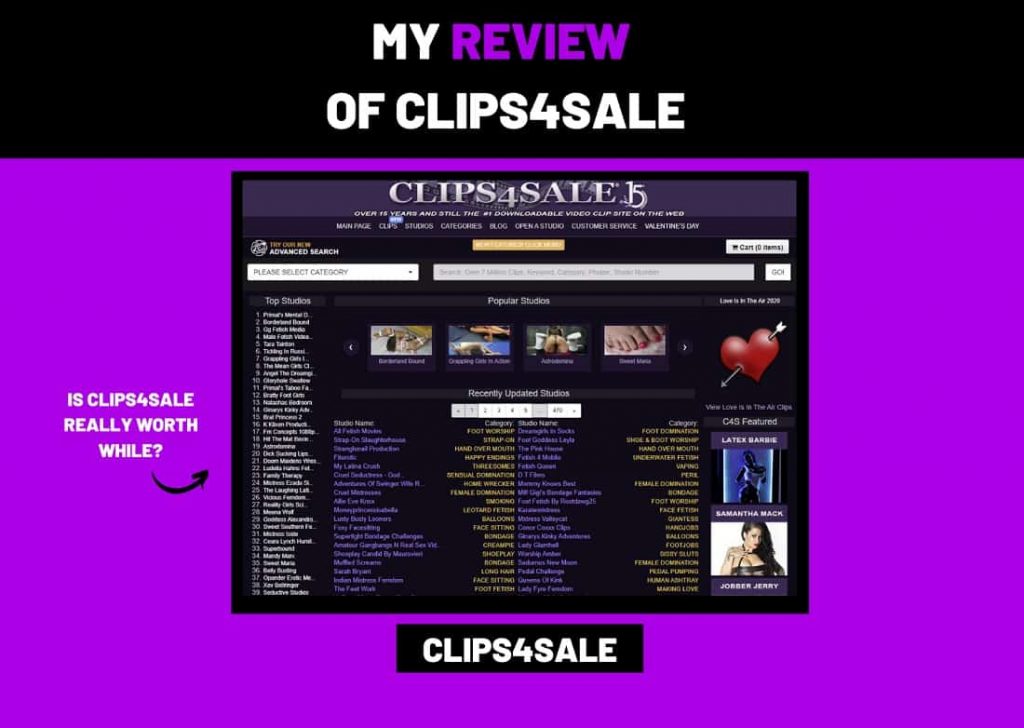 So, I've told you about the insides and how to use Clips4Sale, but I haven't told you what I really think of this site, is it as good as people say? Let's find out.
What I Love About Clips4Sale
One of the first things that drew me to this site is the sheer number of categories it sports. You have the classic ones such as Anal, BBW, Cumshot, Interracial, POV, and more, but you also have those that make it incredibly easy for you to find your personal kink. Some of these are 1920s Porn (you HAVE to check that one out!), Beatdowns, Erotic Magic, Neck Brace Fetish, Scuba, Unaware Giantess, and hundreds and hundreds more!
Take your time exploring all of these, I'm sure there's no kink left unturned on this site.
The second thing I love about Clips4Sale I also already mentioned – some of these videos are insanely well done. My particular brand are non-con and dub-con role plays, and the scenes I've run into are gloriously realistic and such a pleasure to watch.
I can't guarantee that absolutely all of the videos here are high in quality, but the ones I've seen (and bought) are truly out of this world.
What I Don't Like About Clips4Sale!
The three main things that I don't like about this site are the following:
Scam Center
I've run into too many stories of people who were outraged because they were cheated out of their money and didn't get anything in return. Again, this wasn't my experience, but there seems to be a high chance of this happening.
If you're determined to pay for something on Clips4Sale, know that it comes with a high risk that you're just throwing that money into the void.
Poor Customer Support
In the same vein, if you do run into an issue, you will likely get no help from their customer support. Or, even worse, they will say they'll look into it or provide you with a refund or similar, but will never actually follow through. I've also read quite a few accounts like these online.
Old Interface
Finally, in this day and age, when we like everything to be aesthetically pleasing, it is unacceptable that a site looks like it belongs in a previous decade (or the one before that, even). Especially not one that makes a profit off of its consumers.
Clips4Sale has a confusing interface that takes a while to get used to. It is outdated and in need of streamlining and fast. Hopefully, its creators and admins will do something about this soon. (Though I'm not holding my breath.)
Verdict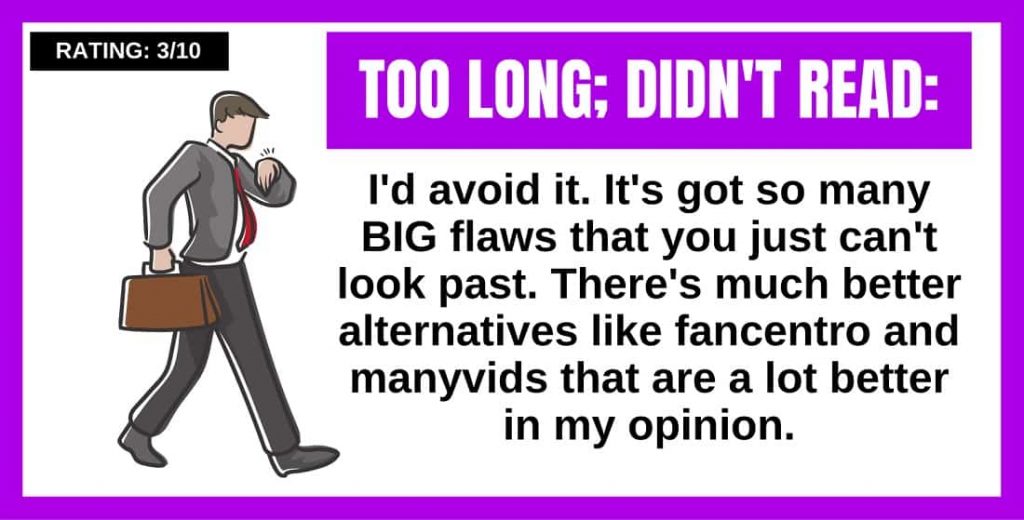 At the end of this long review, my final verdict on Clips4Sale would be: try to avoid it if you can.
I know it might have this fetish that you can't find anywhere else, I know that the videos look good in the previews, but there's just too many flaws under the surface. I can't in good conscience recommend using this site, let alone paying for its content in any way.
Instead, try ManyVids, FanCentro, Just For Fans (if you like gay porn), or really any other site I had nice words for in my earlier list.
Please be careful where you leave your information – especially credit card information – and don't let your dick guide you when you're buying porn. Be smart! There are plenty of other sources for you to find videos just as good and just as kinky as on Clips4Sale.