These days, it's not difficult to get your hands on porn. You simply have to google 'best porn sites', and you'll likely find dozens of options that might catch your eye. There are professional porn sites, amateur porn sites, cam sites, those offering hentai and animated porn, then porn game sites, and even erotic literature that my girl likes to read so much.
Porn sites are abundant, and the overwhelming choice is precisely what makes it difficult to decide and settle on a site that fits your needs.
You have to know what your kinks are and what content you like to engage with. Then you have to know where to find this.
Fortunately, ManyVids makes the entire process a little easier. Here, you will get a little bit of everything: porn clips for sale (and for download), fetish videos, social communities to interact with other porn-lovers and even live cams for your real-time pleasure.
But let's start from the top.
What Is ManyVids and How Does It Work?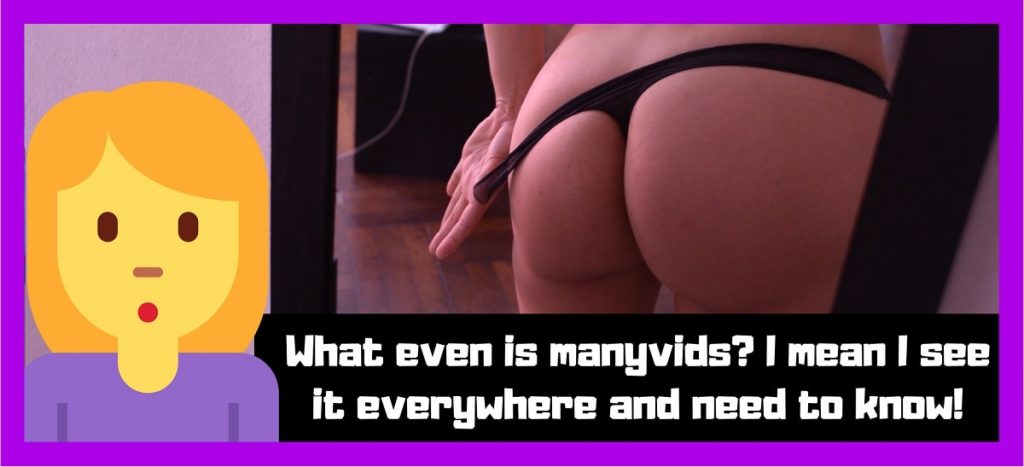 ManyVids is an online porn community with the sole purpose of creating a positive space for sex workers. They accept anyone, from all walks of life, regardless of their gender identity, sexual orientation, or ethnicity. Their ultimate goal is to become the best platform in the porn industry, but one that is at the same time filled with respect, generosity, and of course, entertainment.
I'm not sure if they have succeeded in all of that yet, but they have certainly come close.
It's is a platform where you can purchase short porn clips on various topics and featuring various kinks, where you can join a fan club and interact with models and other fans, where you can enjoy a cam show or two, and much, much more.
These are all just basics of what ManyVids has to offer, and you really have to dive deep into the site to discover all of its treasures.
Is ManyVids Free?
To get a sense of what the site is like and to click through its many features, yes, ManyVids is free.
However, to actually access its content and get the full-length porn that tickles your curiosity, you will need to shell out some cash.
This can be either in the form of a one-time payment for a video clip that interests you, or a monthly subscription so that you can download more videos, or you can purchase tokens for live cams so that you can tip the models and pay for private shows.
One of the good things about it is that it will never force you to pay for anything if you're unwilling to. Some of its content is just hidden behind a paywall, and that's okay. If you want to access it, you need to show the money, and that's okay, too.
Amazing Sites Just Like ManyVids (The Alternatives I Love)
I price checked for all the best prices and deals for all the clip sites in this article on the: 19/05/2022
While ManyVids is amazing in many ways, and a site that Tiffany and I visit often, still, it doesn't hurt to have more options for your adult entertainment. Sometimes it's good to add a new site to your rotation just so you can spice up your sex life every once in a while, whether you are by yourself or with your partner(s).
Without further ado, here are some great sites similar to MV.
In my full review of Clips4Sale, there were some good sides to the site that I pointed out, but then also some bad ones. The good is that this collection of porn clips for sale is abundant with kinks. Seriously, you won't see fetishes listed here anyplace else, and the clips deliver on the content. If you're a fan of something obscure, you should try this site first.
On the other hand, Clips4Sale is not the safest in terms of your financial information. I have read more than enough complaints about how the site had taken people's money but didn't provide the content or how the customer service is uninterested at best. Given that, I advise you to tread with caution when it comes to Clips4Sale and check out this guide I did on it, to learn more about clips4sale.
At first glance, the quality of the content on iWantClips is questionable. While there are some kinks represented, such as the giantess kink or the armpit fetish or even full-body latex suit porn, the execution of these videos is underwhelming. Additionally, some of these clips are outrageously priced. I'm not sure who would give $99.99 for a ten-minute clip, no matter what it contains!
However, not all of the clips are that expensive. The majority is decently priced, even if a bit higher than the videos on ManyVids. IWantClips also offers a chance for you to have phone sex with the models who enabled this feature. If you're not in a position to watch any clips, you might want to spend some extra cash looking into this hotline option.
Beefcake central, Just For Fans is a source of incredibly fit, incredibly buff male models you can ask to fulfill your gay fantasies. The site does feature some girls, but it is mostly oriented towards the homosexual community. It offers Model Feeds, Texting, Downloads, and a Store where you can buy personal items from the models.
When you subscribe to a model's feed on Just For Fans, you get access to their porn clips and photos, as well as their social media accounts (such as Instagram, Snapchat, Twitter and similar). You can download their videos to your computer and you can also text them directly if they have shared their phone number. A direct line to the hottest guys!
IsMyGirl is not exactly a collection of any type. Or maybe it could be considered a collection of models. Here you browse through their many girls and their profiles, where you can learn a little bit about them and see their pictures and maybe even some video clips. Then you can choose to follow them if you want. For a certain price, of course.
Once you follow a girl, you get access to her feed and every little naughty thing she posts. Some girls also offer their Snapchats, phone numbers, and private Instagrams, all for extra money. This makes IsMyGirl a pretty expensive experience, which I'm not sure is worth it in the long run.
As I mentioned before, in an earlier clip site review, OnlyFans doesn't have much to do with porn. It is rather a social media service where content creators offer exclusive content for a specific price. These creators can be anyone from fitness trainers, fashion icons, comedians, indie musicians to, you guessed it, porn creators as well.
While it is not porn-centered, there is so much adult content on OnlyFans that you won't know what to do with it. This service comes in the form of a website or an app, whichever is more convenient for you. Once logged in, you can choose who you want to follow for their porny pictures and videos, but be advised that these follows are not free.
Side Daddy was envisioned as a platform for sex workers and sugar babies to earn more money on the side. Meaning, if they already have a sugar daddy, they can find a new one here for extra cash. Or if they are already with someone, they can find a bonus for someone to support them financially.
Basically, Sugar Daddy connects its sexy models with people willing to pay for their exclusive and highly explicit content. You can choose whether you want a female, male, or transgender model, and then you need to sign up for an account in order to get in touch with them. The rest is up to you!
APClips functions largely like ManyVids, or at least the porn video store of MV. You see a model you like, you explore what they have to offer in terms of videos, and then you purchase the video that draws you in. On APClips, everyone's an amateur, which is a huge plus from me.
The prices on APClips are not too high, and you can find great content for relatively little money. You can search through the AP Models section, then AP Studios, AP Trans, and AP Gay, depending on what's your thing. If you're not averse to BBW, I would strongly recommend going through that category, as the footage is some of the best I've ever seen.
The landing page of My Dirty Hobby is a bit cluttered and it takes a moment to adjust to the onslaught of information. However, the menu to the left helps you decide where to click and what to see next. You can look through amateur content, watch webcams, buy videos or photos, or even join the My Dirty Hobby community, where fellow porn fans come to chat and meet new faces.
This site is a great source of German sexy ladies. Most – if not all – of its models come from this part of Europe and some don't even speak any other language than German. However, that shouldn't stop you from enjoying their smooth bodies and kinky videos. My Dirty Hobby may not be my first choice for a porn site, but it is not a bad ride overall.
Which One Of These Do I Use The Most?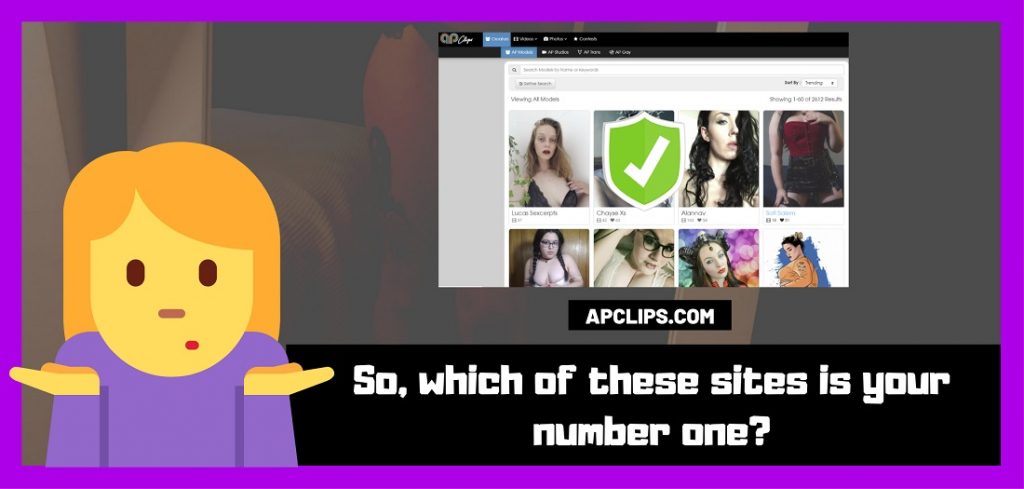 While I remain loyal to MV because I absolutely love its content and design, the one other site I use the most from my list above is APClips. It is almost exactly like ManyVids in terms of functionality and what it offers, only it's a little less creative with its content.
When I'm really bored and have nothing better to do, I will also check out My Dirty Hobby from time to time, just to see if there is a new German chick that I might want to get off to.
The Best ManyVids Models (My Favorites)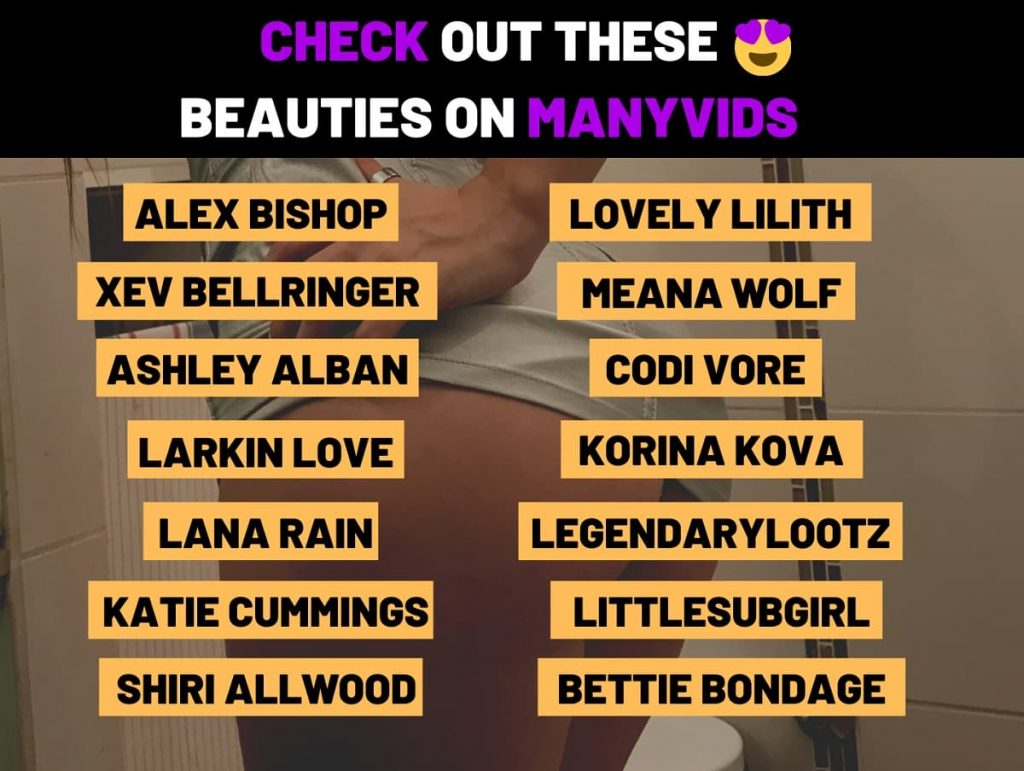 It's time to give some shoutouts to my all-time favorite models, please go and enjoy and support them!
Alex Bishop
This mature bombshell is all about her ass. She likes dirty talking and isn't afraid to use it in her videos, and her curvy body and juicy ass are something to marvel at. Alex's most frequently used tag is MILF because she is 35 years old but looks as tight as most twenty-year-olds do.
Xev Bellringer
Xev is a busty babe who is incredibly creative with her content. She comes up with sexy storylines and scenarios that tickle your imagination and make you hard at the same time. She is an expert at blow jobs, cumshots, and virtual sex, and is also older than 30.
Ashley Alban
This girl is quite daring with her videos. She often puts on different roles and costumes so you can see her as Spidey Gwen, as a sexy cop, the female version of the Joker, and more. She also adds an element of humor to her videos, such as the time when she pretended to have sex with a Minecraft Creeper.
Larkin Love
While Larkin is a girl with an amazing set of tits (genuinely HUGE), she has sadly stopped posting new videos on the MV store. She can now be found mostly on OnlyFans, where she releases porn content for the enjoyment of her followers. If you're curious about what she's like, head on over there to check her out.
Lana Rain
If you're an anime fan – rather, a hentai fan – then you will love everything about Lana Rain. This young hot thing cosplays as a different anime character in each video, and she loves playing out the most common hentai tropes for her fans, such as ahegao. She is cute and sexy, and you will love how much thought she puts into her hentai-inspired videos.
Katie Cummings
Katie is a voluptuous lady that likes to show off her big boobs and big ass. She may not be too original when it comes to her content, but her body and her Latina flair more than makeup for it. She also offers a sale every month, which you can use to shop for all of her content at ridiculously low prices.
Lovely Lilith
Lili first started out as a cam model but has since transitioned into creating original porn content and uploading it on ManyVids for you to buy and enjoy. Her boobs are huge – and I mean huge – and she's eager to expose them every chance she gets. For that feature alone, she is worth checking out.
Meana Wolf
This young woman is a smoking hot minx who is rarely alone in her videos. She is either servicing a well-equipped guy, or getting gang banged, or is even playing with a dick alongside another equally attractive girl. One thing is for sure: there is never a dull moment in her videos.
Codi Vore
Despite her (nick)name, Codi Vore doesn't actually have anything to do with the vore fetish, so keep that in mind. This is a busty lady who focuses on breast expansion. Her videos are quirky yet hot, and she often pairs with another girl for some steamy girl on girl action.
Korina Kova
Korina's curves are out of this world. I have yet to see a babe with such huge tits and such a huge ass. She is a specialist at making custom videos, so if there is something specific you have in mind but can't find anywhere, then make sure to get in touch with Korina and she might just make all of your dreams come true.
Legendarylootz
Lootz has somehow managed to keep her face hidden in all of her videos and photos while still maintaining an enviable level of hotness, to my pleasant surprise. This babe has an ethereal quality to her thanks to her smooth skin and long red hair, and you will love watching her ride various toys in her videos.
Littlesubgirl
If you have a thing for skinny Asians who are too bold for their own good, then don't miss out on Littlesubgirl. Her specialty is public masturbation and public sex, so you have the opportunity to watch her play with a dildo at an Ikea, as well as squirt all over the floor in a public store. Kinks galore!
Shiri Allwood
Shiri is a shemale, meaning a trans model. No, this isn't reserved just for porn games and hentai, shemales actually exist in real-life porn as well. If this is your kink, then Shiri will drive you wild with her intense sex acts with other girls, as well as very specific fetishes such as the Dental Braces Fetish.
Bettie Bondage
Despite her name containing the word Bondage, not many of Bettie's videos involve this fetish. However, that doesn't mean the quality is lacking. This enthusiastic babe is great at fantasy and role-play scenarios, and the one where she is squirting through the hole in her yoga pants is unforgettable.
Where can I find new models?
You may not think that Reddit is the place you would go to to find new ManyVids models, but this is just another example of how effective social media can be used for promotion.
There is a ManyVids subreddit where models can promote themselves, post their pictures and video previews and tease the audience about what's to come. (Spoiler alert: it's the audience, they will come. See what I did there.)
At the same time, this subreddit is a great way to get closer to some of the models and other users who are just as enthusiastic about ManyVids as you are.
So if you are looking for fresh faces to add to your masturbation gallery, it's time to head on to Reddit!
My Full ManyVids Review (The Secrets You Need To Know)
To find a model that works for you, aside from the above-mentioned subreddit, you can (and should) also use an elaborate filtering system to search through its stars.
You can choose from Girls, Trans, and Boys, and then you can sort them by their age, ethnicity, location, occupation, hair and eye color, breast and body type, and finally, the breast size. This ensures that you get a selection of models designed just for you.
If you're still not convinced about giving money for videos you can download, its also has an MV Tube section that largely functions like RedTube or PornHub. There are video clips to watch for free, and they are more than enough to get me hard.
The beauty of this is that, once you see a video you like, you can then visit that MV Star and explore what more they have on their profile for the ultimate porny experience.
There's Something For Every Fetish!
One of the main attractions is that it is rich with kinks. And I don't mean like the standard kinks that you can find on PornHub or xHamster. I mean hardcore femdom kinks that you will have a hard time finding anywhere else.
Here is just a taste of what ManyVids offers: Cuckolding, Goddess Worship, Mind Fuck, Taboo, Ass Worship, Strap-On, Tease & Denial, Blackmail Fantasy, Toilet Fetish, Slave Training, Sissy Training, Lesbian Domination, and so on and so forth in the same manner. There are hundreds of fetishes to choose from and, while the selection may not be as vast as on Clips4Sale, for example, it is still impressive.
So don't be afraid that all you will find is vanilla sex on MV. Trust me that there is a fair share of kinky content as well, and you will have fun exploring it all.
Should Models Use It?
While I never looked into whether or not a site is good for becoming a model on it, I have to say that MV is promising in that regard.
As I mentioned at the very beginning, this site is all about creating a supportive, safe, and ethical environment for sex workers. They are not interested in degrading or belittling anyone, let alone in taking their hard-earned money. It is a given that MV will earn a commission off of their stars, but I daresay that this is a reasonable percentage.
Moreover, there is likely not a single community or platform that is more welcoming or encouraging of their models regardless of who they are or where they come from.
For future models, I would say that you should seriously consider ManyVids as your platform for sex content because I have yet to encounter a more empowering service.