It was only a matter of time before I dedicated an entire post to this game.
However, before we dive into the tastiness and the complexities of Cunt Wars, perhaps I should make a short introduction to why I like playing porn games.
The reason might be obvious: I play porn games because they're fun, plain and simple. They provide the same level of entertainment as regular games, but they amp it up a notch by introducing some steamy sex scenes to tickle your senses.
I don't necessarily play porn games to get hard and masturbate. Sometimes it's just about a chill evening on my computer or phone, with my girl beside me, the two of us exploring smutty scenarios in the latest sex game we uncovered. This type of quality time often leads to actual sex, yes, but it doesn't always have to be the case.
That being said, if you're looking for cool games to help you relax and keep your mind off stressful days, and that satisfy you sexually, you won't regret choosing Cunt Wars.
What Is CuntWars?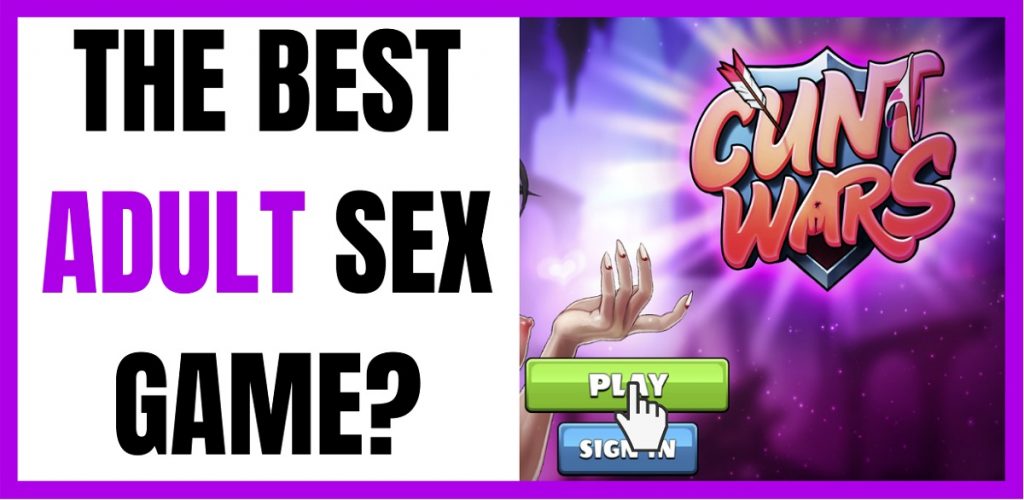 Cunt Wars is a hentai-style porn game. In it, you play Adam, a dashing, white-haired anime protagonist who needs to save the Realm of Desire and its 'bitches' from horrible monsters and dark forces that threaten to overtake them. 
You do this by battling these monsters in turn-based battles. There is a board with Adam and whatever boss you're fighting on opposite sides. Each turn, you have to select the right type of warrior to defeat your opponent's army and ultimately slay them as well.
Additional aspects of the game include leveling up your warriors – the higher the level these babes are, the fewer clothes they have on – earning gold and special items, and increasing your skills.
The overall goal of the game is to keep these enemies at the gate and prevent them from coming into and raiding the kingdom. I haven't actually gotten to the end of it – if there is an end to it – so I can't say for sure what it looks like when you're victorious.
Where To Play CuntWars For Free (The Best Place To Play It)?
Cunt Wars is a free game if we exclude the premium currency that offers you more special items and quicker advancement in the game (CuntWars for free here). 
It is developed by Hooligapps, and you can find the game on their official website. Just type in 'Cunt Wars Hooligapps', and the first or second result should be the one you're looking for.
Alternatively, you can play Cunt Wars on Nutaku, the world-renowned porn game platform. This game is called Chick Wars on Nutaku, but it is exactly the same in its concept and execution. Nutaku offers it as a browser game, as well as an Android app.
I started out playing the game on Hooligapps and haven't changed platforms since all my saved progress is on there. It is up to you which option you choose, seeing as they are both safe and trusted.
My CuntWars Gameplay (What's It Like Inside The Game)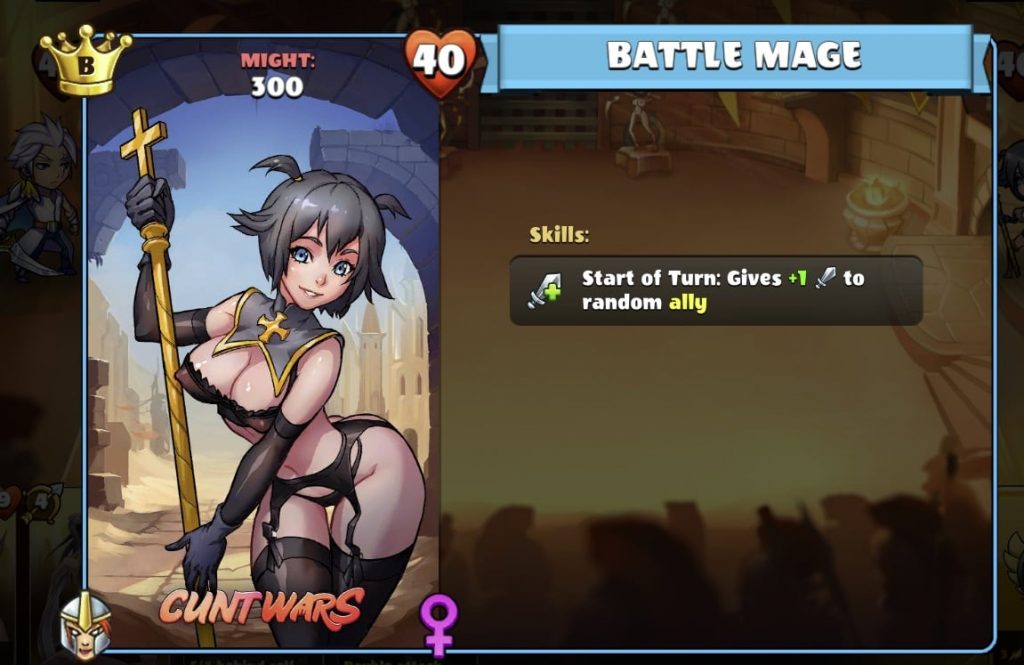 At first glance, the game might seem complicated. There's a fantasy world, new characters, warriors to keep track of, and new and different opponents in every battle. I know I was a bit overwhelmed at first.
However, I was also determined to figure it out and make the most out of it.
The key here is to be patient and read up on all the features that your army comes with.
Each warrior you collect along the way is represented by a card. You can see the warrior's stats on this card, how much health they have, how much damage they deal, and if they have any special skills. Getting familiar with these will help you in the long run, not only because you'll have a better grasp of how your soldiers behave, but also because you'll be better at defeating your enemies. (Both sides of the battle are equipped with the same type of warriors.)
All throughout the game, you are met with nudity. Curvy hentai women with their tits hanging out and their booties exposed, then sex scenes with Adam and at least two girls at any given moment, animated blowjobs, orgies, girls riding Adam, and honestly so much sex you won't be able to wrap your mind around it.
The artwork of the game is exquisite if a bit wonky at times (Adam seems to change his features from one scene to the next, but this doesn't bother me since I'm not there for the guy anyway.)
If I have to rate the porny-ness of Cunt Wars, I'd easily give it a 10/10. You definitely can't (and shouldn't) try this game out in public.
Are There Any CuntWars Cheat Codes?
While you're battling other players in the game, you might think they're cheating by their outrageous stats or Extreme Excess Cards or High VIP badges at lower levels. And chances are, they are cheating.
So yes, cheat codes for Cunt Wars do seem to exist.
However, I would not advise looking for them or using them.
The main reason for this is that the game easily recognizes when you're cheating. It will be only a matter of days before your account gets suspended and you potentially get banned from playing the game permanently.
In addition to that, many so-called sources of cheat codes are just (poorly) disguised spam and malware that you run the risk of downloading to your computer. There are tons of people online complaining about viruses and spyware they accidentally stumbled upon when trying to find cheats for Cunt Wars.
My overall view is that no cheats are worth either your account getting blocked or your computer getting corrupted because of them.
Other Games To Play If You Like CuntWars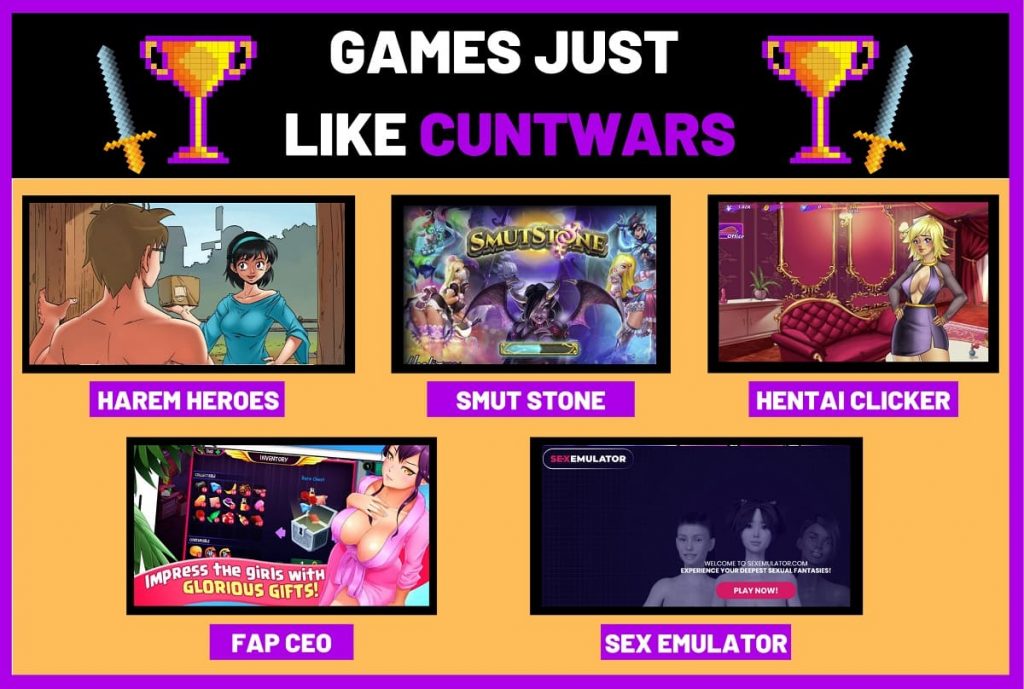 I price checked for all the best prices and deals for all the games in this article on the: 04/10/2023
No matter how good a game is, it's a given that you can't play it forever. Sooner or later, you will get bored of it and will want to try new things. If you're interested in games similar to Cunt Wars (or with the same porny vibes, at least), then check out the list below and you might just find new favorites.
God, this game. From my solo review of Hentai Heroes and the fact that I have spent over 50 hours playing it, you know that this is something outstanding. At first, I got hooked on the slightly silly and a lot porny storyline, but then I stayed for all the extra features the game offers. If you're looking for something to dedicate a lot of time to and be both entertained and turned on, then Hentai Heroes is the right way to go.
Thanks to a hot babe called Bunny Girl, you are transported into Haremverse, a place where you need to gather as many girls as you can in your harem. With these girls and their kinks and preferences, you battle your opponents and their harems, and the obvious goal is for you to come out on top. Participate in events and contests and explore this huge, sexy world of babes eager to get down on their knees for you. If you want to know more about Hentai Heroes, check out this guide I did on it.
Smut Stone is similar to Cunt Wars in many ways. It is a card game where you collect cards with heroes and warriors and go up against your enemy's cards. This isn't a turn-based game since the battles are automated, meaning that you have to make sure you've got the right cards laid out before you click on Fight.
The main reason I love Smut Stone so much is its art style. It is not hentai or anime, but rather it is similar to the Western comic book style. It is incredibly realistic and I can't even imagine how much it must have cost to include it in the game. The porn scenes leave you wanting for nothing, that's for sure.
Hentai Clicker is brought to you by the same studio that created Hentai Heroes. The story is set in the same world, Haremverse, and you will also run into some of the same characters, such as Bunny Girl. In Hentai Clicker, a Mist has settled on Haremverse, preventing any girl from achieving orgasm. Obviously, this needs to be remedied ASAP.
While I appreciate the nudity and the more-than-enticing sexy snapshots of the girls in wild positions, the gameplay of Hentai Clicker itself is a little boring. It is just what its name says, a clicker. You click to undress girls and make them climax, and by doing this, you get to level up and unlock new hot babes for your harem. While it may be good masturbation material, Hentai Clicker is not the most fun to play in general.
It's no surprise that in Fap CEO, you play a CEO. You're running a video-chat business, and your goal is to expand it, hire more hot girls to work for you, and to eventually sell the company for profit, and purchase a bigger one. The game makes it easy for you to lose yourself in the world of mergers and smart investments.
It also makes it easy for you to masturbate to hot hentai chicks. Every new hire you bring in will be happy to please you in whichever way you want. The artwork of Fap CEO is a bit unpolished, but it still meets my standards and can be a great source of salacious material.
You will find that the design of Sex Gangsters is similar to that of Smut Stone. The game has a visual novel style gameplay in which you click through lewd scenes and dialogue and also use your energy to perform sexual acts. Additionally, you need to use in-game money to buy objects that will help you do this better.
The premise of Sex Gangsters is that your playboy father urges you to go around the world and have sex with as many women as possible. Immediately when you load the game, you are treated to a sex scene involving a couple of hot women, and the game only gets steamier from there.
Developed by the same studio that brought us Cunt Wars, Fap Titans is a cross between that game and Hentai Clicker. The gameplay consists of you clicking on monsters to destroy them, an action that seems simple enough at first but quickly gets tedious. Especially because the monsters aren't keen on fighting back.
When it comes to erotic scenes, Fap Titans lags behind its competitors. You will get your fair share of naked ladies – naked hot ladies, I should say – but there won't be much more action than that. At least not at the start. If you don't have anything better to do, Fap Titans is okay, but there are a lot more interesting options out there.
Märchen Nocturne
This game with a complex name also comes with complex gameplay. Don't worry, not that complex to turn you off completely. In Märchen Nocturne, your job is to find shards of a broken Magic Mirror and to save this fantasy world filled with cute girls from curious and unsettling events.
While I haven't spent much time playing this game, I can tell you from the start that it is something you will want to devote your time to. There are more than five storylines to go through, as well as over twenty new characters to meet and just as many uncensored scenes to enjoy. You should also try the thrilling PvP battles and see whether or not you're stronger than real-life opponents!
Have you ever wondered what it's like to have your own personal hentai babe to love and to cherish, to shower with gifts, and gently make love to? Thanks to Pocket Waifu, now you have the chance to try this out! In this game, hentai girls simply walk into your home and ask you to take care of them in many different ways.
You are in charge of cooking for them, clothing them, keeping them happy and, of course, sexually satisfied. They will be all too pleased to lift their butts in the air for you to take advantage if only you play your cards right. While it may not be the most adventurous, Pocket Waifu is worth trying out just for that first-class hentai porn.
Visually, Pussy Saga isn't as pleasing as most other games on this list, as the artwork seems somewhat unfinished, but this doesn't deter from the enticing storyline the game offers. As per a hot fairy's instructions, you need to take girls out on dates and draw them in so they would have sex with you.
The game style is a cross between a visual novel and mini-game central, and you'll have fun alternating between the two. The explicit scenes have that exaggerated anime feel to them, which isn't necessarily my thing, but I've seen many people enjoy it. The game certainly offers hours and hours of horny fun!
Before you enter the game and make a profile, you can test out the general features of the Sex Emulator on their site. You can design your own sexy 3D model, choose her ethnicity, hair color, breast size, and what type of sexual activities she prefers and is good at. You can also name her if you wish to add a personal touch.
Then, thanks to the many features on the control panel, you get to instruct your flawless 3D girl on what you'd like her to do. Encourage her to suck on a large dildo or to perhaps insert a big clear one into her ass. While the demo offers only a limited number of options, you can be sure that the full game is one of a kind experience.
Places You Can Find More Adult Games
There's a few places I go to find new games, but these two are the most popular and the easiest places to safely find new porn games to play.
First Adult Games are a collection of mostly 3D games with animation so smooth that it will make your mind spin. These are heavy with soft, hard, and extreme porn, and it is up to you to select what type you like. Once you venture here, you are guaranteed to stay until you have tried out every single game this site has to offer.
If you're a returning reader, you already know all about Nutaku. You can't be a fan of porn games and not be familiar with this site. It is sex games, heaven, and for a good reason. You won't find a more reliable, high-quality selection of porn games anywhere else on the web, and for that reason alone, Nutaku deserves a standing ovation.
My Favorite Cunt Wars Alternatives from Above
The games I love to play the most out of all I listed above are definitely Hentai Heroes, the Sex Emulator, and Fap CEO. While the others all have their pros and cons and I enjoy spending some time on them on occasion, they are not as exciting for me as these three.
My Review Of Cunt Wars After Playing 40+ Hours
This subheading should be enough for you to understand my real feelings towards Cunt Wars.
I wouldn't say the game is perfect. It has its advantages and disadvantages, and the main thing that I find wrong with it is, believe it or not, that I miss a story. I miss some storyline scenes, some character interactions and development and relationship growth. Maybe it's Tiffany rubbing off on me, what can I say. I love following a plot of some kind, however trivial it may be.
Aside from this, however, Cunt Wars is a great game to try out. It will take a while before you get the hang of it, especially considering how many features and different items and cards it has, but ultimately it will be worth the effort.
Just make sure to take a look at the game Wiki page that I talk about below, and you should be all set to start your Cunt Wars porny adventure!
FAQ About Cunt/ChickWars
I had some questions before I played this game and I couldn't find them anywhere, so I've decided to answer them here.
Is CuntWars The Same As ChickWars?
Yes, it is! Cunt Wars and Chick Wars are two identical games, with the only difference being where they're hosted. Cunt Wars is a browser game on Hooligapps, while Chick Wars is on Nutaku and is also available as an Android app there.
The Cunt Wars Wiki Page (Loads Of Awesome Secrets)
Before you start leveling up in the game, don't miss out on the Cunt Wars Wiki page. It may sound silly, but if you want to get a solid start and have an advantage over your opponents, you need to read through their advice for beginners and tips & tricks in playing the game. I know this helped me a lot when I was first getting into it.
Where To Find A Cunt Wars Gallery?
If you're playing the game, you can find all the images you have unlocked in the Gallery section.
However, if you're not playing the game and are curious about what lies within, then you might want to search for the term 'Cunt Wars Gallery' on Google. This will yield mixed results, but there are some good pictures on xHamster and some other sites.
I have to ask though, why would you want to look for third-party sources of sexy images from the game, when you can simply play the game and enjoy them first-hand?
Can You Mod It?
The answer to this will be the same as the question about the Cunt Wars cheat codes. I am not tech-savvy, so I'm not sure what goes into modding a game, but I am confident some people are skilled and do this.
Any attempt to mod the game opens you up to the risk of having your account blocked and your computer to unnecessary malware and viruses.
If you do decide to look for mods and/or install them by yourself, please keep in mind that it may not end well.
List Of Cards From ChickWars
If you need a good source to brush up on your Cunt Wars card knowledge, then here is a handy link for you. Get to know the warriors on your roster, how and when to level them up, and what you can do to be the best player you can possibly be.
Can You Play It On Anything Other Than PC (Android or iOS)?
Yes, you absolutely can! As I've mentioned before, Cunt Wars is also available as an app for Android (under the name of Chick Wars). I don't think an app exists for iOS, but you might be able to play the browser version on your mobile just as easily as you would on your computer.
If you want more mobile games, you can check out this full list of adult mobile games that I created. I love mobile games and this was a really fun post to create.