My boyfriend and I have tried cam sites and we've tried dating sites. We've also tried random chat sites! All three of these are a great way for you to indulge in casual sex (with or without your partner included).
You can watch models bare their all for you in cam shows, you can find strangers who want to help bring your fantasies to life, and now you can also have easy cybersex with people you meet on a chat platform.
One such platform is DirtyRoulette. Here, I'm going to talk about how it works, what you can expect from it, and how to use it to make the most out of your sexy chat ride.
In case this is your first time reading about a site like this, let me assure you that you're in for a treat.
What Is DirtyRoulette?

So, what is Dirty Roulette? It's a site where you are paired with a random person who is currently also online and looking to meet people who are just as kinky as they are. You've heard of Omegle and ChatRoulette. This is the same principle, only made exclusively for adults.
Everyone on DirtyRoulette is looking to hook up, whether online or offline. The platform has over 2.4 million users, meaning it is only a matter of time before you stumble upon someone who is into the same kinks you are.
And that's when the fun starts!
My Boyfriend And I Love Cam Sex
Our regular readers know that my boyfriend and I have a loving, open relationship. We're no strangers to hotwifing, swinging, or any other forms of partner-sharing (research on effects of chat rooms).
At first, it had all started with camming. To make sure we weren't averse to playing with other people, we conducted little experiments with cam models. My boyfriend would have online sex with female models while I would cam with other men, just to see whether or not this was the right way to go in our relationship.
After we realized that it was, we just continued doing it!
We don't only engage with cam models. Sites like Dirty Roulette are perfect for us to meet other real people who are just as into sex as we are. I cam with other guys, my boyfriend with other girls, and we also cam together, often with other couples. Playfulness all around!
The First Time We Used Dirty Roulette
We weren't really looking to try a new site. But we kept getting recommendations for DirtyRoulette, so we figured why not give it a try.
The interface of the site is pretty easy to navigate and for our first time, we opted not to make an account to see what features we would be allowed to use. Turns out that not making an account is enough for you to have a genuine dirty chat experience!
Since then, we've created a profile because we kept returning to DirtyRoulette. But for your first time, you can easily check out what the site is all about with minimal effort put in.
We didn't find a suitable person to have fun with right away. We chatted with people for about an hour, maybe more, and we kept clicking 'next' until we stumbled upon a cute girl. She was a little younger than us, but all giggly and beautiful and obviously not against chatting with a couple.
It didn't take long before she bared her tits for us and then my boyfriend and I gave her a good show. It was largely like being in a private show with a cam model, only this was completely free!
We exchanged our contact information with the girl after and concluded that DirtyRoulette was not a bad place to be at all.
Would I Recommend It?
Yes, I would definitely recommend it! DirtyRoulette is not the most innovative of sites, as you can find similar chat platforms in many other places. (See my list below.)
However, it is still a hassle-free way of getting in touch with real people who are looking for an orgasm or two out of the whole deal.
You may meet a casual fuck buddy on DirtyRoulette. It may turn out to be just a friend. Or you might also meet a more long-term partner. You never know who you're going to get when you start the chat, and that unknown is exactly what makes it so exciting.
Sites Like DirtyRoulette That We Use All The Time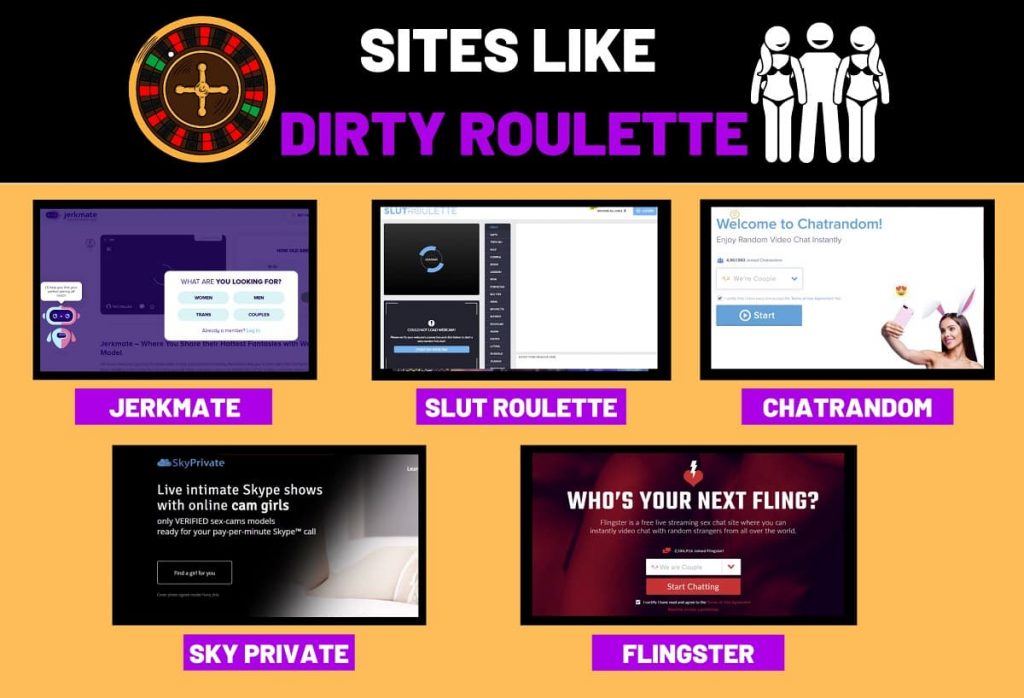 Price Checked: All the sites below have been price checked for the best deals and free trials on the: 04/10/2023
While Dirty Roulette promises fun times, it's not the only site of its kind. Far from it! I've taken it upon myself to compile this list of notable alternatives. You will find more random chat sites like DirtyRoulette, but also some random cam sites that my guy and I enjoyed over the years. All you need to do is scroll down and try them all out until you find the ones that work for you.
Enjoy!
Even though their names are similar, SlutRoulette and DirtyRoulette have a small but significant difference – while DirtyRoulette is a chat site, SlutRoulette is a cam site. The same random system applies – you get 'rewarded' with a hot girl on the other side, but don't make the mistake of thinking this is a regular person who wants to get down and dirty like you.
These are cam models who are giving public shows. To actually engage with them, have them strip for you or do any kinds of naughty things you like, you will have to pay money. So if you're looking for an authentic chat experience, SlutRoulette is not it. But it is a decent random cam site.
ChatRandom is built on the same platform as DirtyRoulette. It is a place where you specify whether you want to talk to a male person, a female or a couple, and voila! One shows up on your screen! It really is that simple. ChatRandom is an incredibly easy way to connect to new people.
However, this site is also not all about sex or porn. While you do have the option to meet others and talk to them, it's not a guarantee that they're looking for a casual hookup or online sex. They may just be in it to find friends and talk to interesting folks. So be careful how you broach the topic of potentially having sex with your chat partner!
I love the creative, original name of this chat platform. Shagle is a play on Omegle but with clear erotic undertones, and whoever came up with it is a genius. Here is where you will get paired with random strangers looking for some naughty fun. Just like you!
As is the case with most – if not all – of the sites on this list, this chat feature is completely safe and anonymous. Shagle currently has over two million members – no, you did not misread that – and so you are bound to find a kindred soul. It is free to join, so all you need to do is make an account and you're good to go!
This site puts a new, groundbreaking spin on private cam shows, and I am such a huge fan. Through SkyPrivate, you can select a hot cam model that catches your eye and arrange a Skype cam show with them whenever you like! A steamy performance just for your eyes when your schedule allows it. It can't get any better than that.
Of course, the biggest downside to SkyPrivate is that it's quite expensive. The show is paid by the minute like most private cam shows are, and it'll cost a pretty penny to have a gorgeous girl play with herself on camera for you. However, if you have the cash to spare, why not treat yourself every once in a while? It'll be worth it.
One of my all-time favorite cam sites, JerkMate, isn't so much for chatting as it is for enjoying impressive assets of a cam model of your choice. It is a random cam site, meaning that you answer questions on your preferences and a cam show presents itself to you based on those preferences. If you're not interested in it, you can always click on the 'next' button.
JerkMate isn't perfect, though. Sometimes, it happens that you wish for a certain trait, like an Asian girl or a redhead, and there simply isn't a model online who fits that description. In that case, you get paired with the next best thing. Not ideal, but still thrilling to take part in. Making a JerkMate account is free, allowing you to enjoy their public shows as much as you want.
Jizz Roulette and JerkMate share the same design. While JerkMate is more oriented towards female models, Jizz Roulette is all about the gay scene. They understand how difficult it is to find suitable partners to get off with when you're a gay man, and their goal is to make it easy for you. Jizz Roulette is filled with hot guys of all kinds.
Even though they are random, the models on Jizz Roulette are sorted into categories. Choose one that appeals to you and a random model from that category will pop up on your screen. If you have a (free) account, you can watch his public shows all day long. For private shows, however, you will need to use your credit card.
Flingster is a free online platform where you're matched with a random person for chatting. It is only for adults and promotes itself as an adult dating hub. While that doesn't necessarily mean sex, most people on Flingster are looking for quick flings. It is a completely anonymous system where you can even choose a virtual mask to wear if you're not willing to show your face.
This site comes with its own set of faults. It doesn't have a good mobile app – it's incredibly bad, in fact – which makes it difficult to meet folks when you're on the go. Additionally, it doesn't have any restrictions put in place for fake accounts. Even with all of this, though, Flingster would be a great place to check out for some hot, random fun.
CamLust is a cam site, sort of, but it works similarly to SkyPrivate. On its landing page, you are offered a selection of beautiful women of all kinds and from all corners of the world, and it is up to you to choose who you want to see in a private show. You can read their profiles and click through their (explicit) image galleries to see what they're all about.
Once you've decided on a model, you then get to contact them over Skype and arrange a private, one on one show. Every model has a price clearly displayed on their profile, so there is no confusion. Most of them ask for payment upfront, meaning there are no free shows on CamLust.
I've listed FapChat here just to warn you about the site. I wouldn't advise signing up for it in any way, for multiple reasons. At first glance, FapChat seems like a regular random chat service, complete with promises of hot teens who want to masturbate with you. It offers you to sign up for a free account, which I tried to do.
When you get your sign-up email, however, it immediately guides you to a different dating site, where you're expected to give your credit card information. This is an instant, huge red flag. Of course, I didn't give them that info, and neither should you. There are plenty of other similar and better sites to FapChat out there, so please don't waste your time with this one.
ChatSpin is more or less your standard random chat site. It isn't only for dating or sex, but rather it puts an emphasis on uniting people all over the world. You can filter your preferred chat partners by their location and gender, which is more than you can do on most other random chat sites.
This one has an abundance of features, including an Android and iOS app that you can use to meet strangers when you're away from your computer. While ChatSpin doesn't bring anything new to the table, it could be a great place to get to know people who might become your friends or even partners.
If you have a thing for Indian girls, then you will love Delhi Sex Chat. All models here are from India, and you'll need to know the language if you want to interact with them. This isn't a necessity, however, since the site itself is in English. You can always just sit back and enjoy the public shows without a care in the world.
As far as cam sites go, the layout of the Delhi Sex Chat is not the most impressive. It looks a bit cheap and unpolished, and a lot of its streams are low in quality. It can also be quite annoying with all of its pop-ups. However, it is still a great source of Indian hotness, so why not give it a go?
For this review's wild card, I'm presenting you with something that isn't anywhere near DirtyRoulette in its design. Voyeur House is a project where someone's home – a house or an apartment – is outfitted with cameras in every room and in multiple corners. The feeds from those cameras are then live-streamed on the site for you to enjoy.
It sounds a bit outrageous, but this is amateur and voyeur porn heaven. The people (willingly) participating in this project are real and their homes are real. You get to watch them eat, sleep, watch TV, dance around and, of course, have sex through all the cameras in their homes. A wild yet undeniably hot concept.
The Chat Sites You'll Find Us On The Most
Out of all of the ones I mentioned in the list above, the site I use often is SlutRoulette. I wasn't too enthused about it at first, but it definitely grew on me.
Additionally, my boyfriend and I use JerkMate a lot when we need that random cam site goodness, and he is also a fan of SkyPrivate and its scheduled cam shows. They are a bit more expensive, but we can afford them, and these personalized private shows are something neither of us can get enough of. 
Amazing Chat Method We Use

I always talk about this, but my boyfriend and I find it really fun to meet other couples and solo people on adult dating sites. We use AdultFriendFinder the most, but Ashley Madison and Alt.com work just as well.
To start meeting people on dating sites, just create a profile and get talking. Once you meet someone you like, you can arrange a Skype meeting for sex. You don't even have to talk during it, you can just get off and leave. Just be upfront with the people you're meeting about what exactly you want.
Questions I Had Before I Used This Site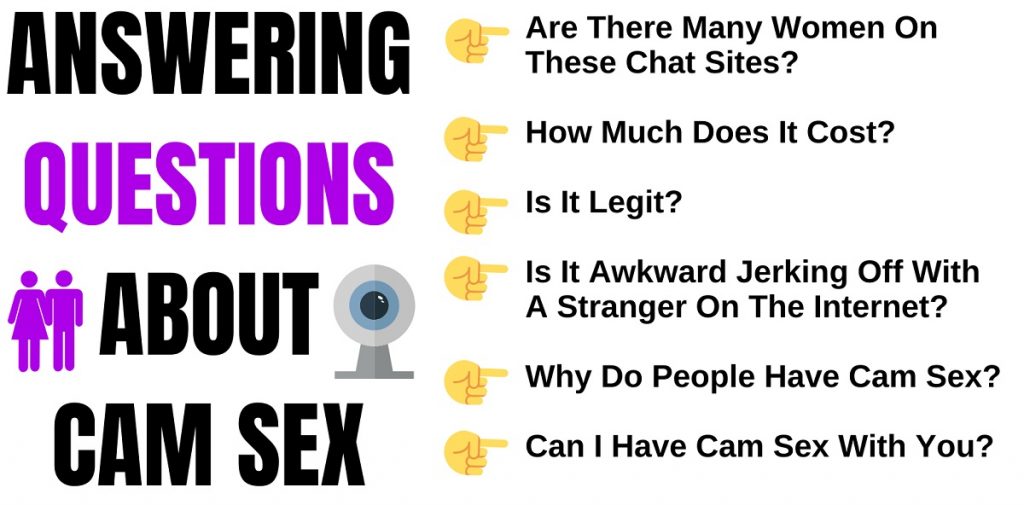 Are There Many Women On These Chat Sites?
Yes, there are many women! It is true that on most chat sites – and dating sites, for that matter – there is a majority of men. Some sites are better with this ratio than others, but that doesn't mean there are no women! You will find more than enough girls for yourself, so don't worry about that.
How Much Does It Cost?
DirtyRoulette is completely free! All you need to do is click on the 'Start' button. You don't even have to make an account!
Is It Legit?
From my experience, yes, the site is very much legit. However, I did find sources saying how sometimes the people you get aren't aware they are on an adult chat site. They supposedly logged into a different, less sex-specific chat platform, and somehow they appeared on DirtyRoulette instead.
I never had this happen to me, but this is a fair warning: make sure you're all on the same page before you start talking dirty. On the off chance that the person is unaware they ended up on a site mostly meant for casual sex, it'll spare everyone the embarrassment and confusion.
Is It Awkward Jerking Off With A Stranger On The Internet?
For my boyfriend and me – no, it's not. But we've done this many times before.
If you're just venturing into this wonderful cam world, it can be a little daunting. But think of it like a casual one night stand: you don't have to know much about the other person. You just have to find them hot, and they have to find you hot, and the chemistry will do the rest. What's important is that you both get what you came for and that you're both comfortable with the exchange.
If, for whatever reason, you find that the person you got paired up with isn't working for you, the beauty of DirtyRoulette is that you can simply skip them and move on.
Why Do People Have Cam Sex?
Why do people have sex in general? Cam sex is no different than regular sex, only long-distance. It's two people getting off with one another for the sole purpose of relaxing, having fun, and getting a little hot and heavy. It doesn't have to be any deeper than that.
For singles, especially, cam sex is a great way to unwind. You don't have the pressure of meeting someone in real life or the worry about their health status or if the hookup will result in an unwanted pregnancy. Cam sex is safer than regular sex in many ways, and for a lot of people out there, it is also more convenient.
Can I Have Cam Sex With You?
Only if we click. My guy and I have regular people for cam sex. Some of them we met on the sites above, while others we met on dating and other cam sites. Since we've been doing this for years, we've learned what type of people work for us the best and what we want in potential partners.
However, we still go back to these sites from time to time because we love the thrill of looking for someone new. If you're there and we like you (and you like us!), there's no telling what we could do.
Verdict (TL;DR)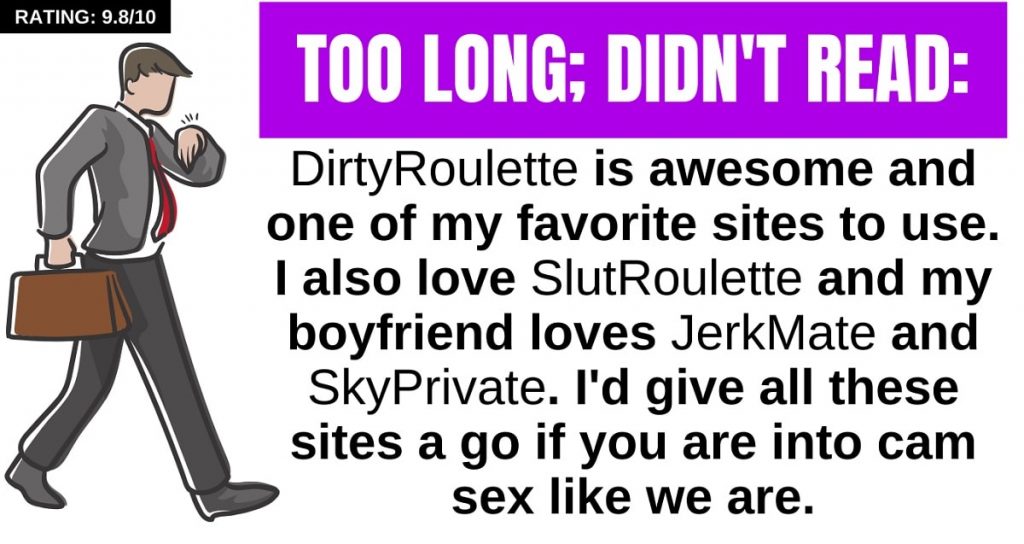 Dirty Roulette is not our number one site. There are cam sites, chat sites, and dating sites that we use a lot more and that we are a lot more in love with.
That being said, if you're bored and feeling kinky, there's no reason why you shouldn't try Dirty Roulette. In just a few clicks, you'll meet a person who could potentially give you the orgasm of your life (online or offline, if you choose to meet them in real life).
The site doesn't ask you for any personal or credit card information, and it's completely free. If you're not charmed by the experience, you can always close it and never open it again. No harm, no foul!
Let Me Hear From You
What is your favorite cam site? Where do you meet other kinky strangers? Add your favorite sites below for me to check out! Thank you for reading! 😊