It's finally here, the long-awaited list I have been working on. A vast, filled-to-the-brim list with only the best MILF subreddits, with every niche, subcategory, and interesting milf-related subreddit included. It's been a lot of fun to create and I know it will give you new erotic content, new eye-opening experiences, and new incredible things to fap to for a very long time.
If by chance I have missed your favorite milf subreddit, leave it down in the comments below and I will get it added to my extensive list. Without further ado, please enjoy this detailed, need-to-read list that will have all milf lovers in total awe and contempt…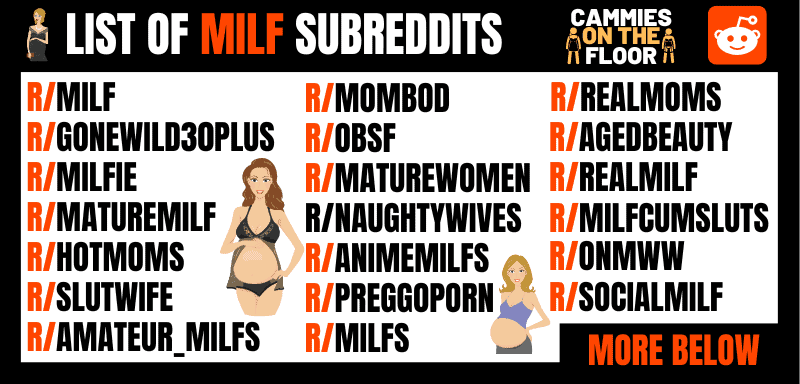 In Order Of The Most Active (Highest Members) Milf Subreddits:

r/milf – Created in 2008 this is one of the largest milf-related subreddits, it is the ultimate place to get your hot momma fix. All posters are verified so that you know they are real people posting their intimate galleries and you get to enjoy them for free. Comment, rate, and interact or just enjoy the influx of daily posts from afar.
Members: 1.9m+
---
r/gonewild30plus – For women between the ages of 30-59 to post nude and erotic photos of themselves for all members to see. It's a place for a broad range of ages to post and enjoy themselves, it's a friendly, non-judgemental subreddit with plenty of new and old posts to explore and dive into.
Members: 1.1m+
---
r/NaughtyWives – With only slightly less amount of members than the previous two subreddits mentioned and with increasing popularity this subreddit is a place for people to share intimate pictures of themselves, their wives, milfs, and naughty hot girlfriends. It's a hot place with a lot to see and I would highly recommend it if you enjoy more mature women bearing it all.
---
Members: 929k+
r/maturemilf – I love this subreddit, it's a place that recognizes beauty in maturity and it is steamy. Verified milfs post their most daring and erotic photos and we get to enjoy them all, it's popular with members and users, it's a very interactive and loveable place. If you crave realness and amateur content, this is the place for you.
Members: 783k+
---
r/HotMoms – Created in 2013 hot moms is a place where only original content is allowed so you can be sure of real, horny amateurs showing off, and only if they're a mom. The content uploaded is always steamy, and arousing and really gets your heart racing, if you like fuckable moms and illicit content, check it out.
Members: 770k+
---
r/slutwife – Although this Reddit doesn't solely focus on milfs or maturity, it is worthy of its spot on my juicy list. It's a spot for all naughty and slutty wives, hotwives, girlfriends, and milfs to hang out and post their most daring pictures, videos, and gifs. There's always something new to enjoy and it's always rammed with free slutty content.
Members: 658k+
---
r/amateur_milfs – Most users of this subreddit are verified which tells you that the picture, gif, or video is posted by a real user and milf. This subreddit is meant for amateur hot moms and although some do slip through the net, on a whole you are greeted with amateur milfs day in, and day out. With past posts to explore too, if you enjoy normal, beautiful hot milfs, you will never be bored again.
Members: 633k+
---
r/mombod – Moms and milfs young and old are celebrated here for their beautiful bodies and their uninhibited sexiness. All original content, from verified users, if you like natural, life-giving bodies then you're in the right place. I love natural amateurs, milfs or not and this is the perfect place to explore that preference.
Members: 619k+
---
r/obsf – 'Old but still fuckable' is extremely popular, with well over half a million users, you can expect constant posts, updates, and new members arriving in the bucket load. I love the ethos of this subreddit (as does my girlfriend Tiffany), anybody over the age of 30 who doesn't fit into the mainstream idea of youth is welcome here and we love it.
Members: 611k+
---
r/40plusGoneWild – Including men, grandmas, milfs, and everything in between, if you're over 40 and horny, this is the place to post new content for the internet to enjoy. It's a friendly, inclusive place for anybody over a certain enjoy to show off their good looks and mature figures in an accepting place.
Members: 545k+
---
r/Milfie – Personal, intimate, and ticks all of the hot milf boxes. This subreddit is quite a niche one but it's perfect, the entire essence of this place is milfs taking selfies and posting them here. These selfies are usually nude or semi-nude and there are thousands to enjoy already with new ones being published every single day.
Members: 503k+
---
r/AnimeMILFS – I told you I had something for everybody and if you like milfs but you want to see them in glorious 2D anime format, you've come to the right place. It's highly erotic, exciting and a real treat for anime and milf loves.
Members: 394k+
---
r/PreggoPorn – Milfs before they become mommas, this subreddit is all about hot, pregnant women, showing off their growing bodies and all of the beauty that comes with it. It's the warm-up before the milf title is given and I love hanging out here, it's so arousing and erotic.
Members: 467k+
---
r/MILFs – Filled with amateur real milfs nude or at least partially nude, all of these hot women post their own photos for all to enjoy, feel free to comment and upvote to let her know you appreciate her mature beauty.
Members: 413k+
---
r/realmoms – This subreddit is about all things mom, milfs, wives, and girlfriends, no matter where they fit into your life all that matter is that they are a mom and they are horny. Enjoy daily postings from members of their hot mommas in comprising positions and situations.
Members: 380k+
---
r/AgedBeauty – Dedicated to naked women between the ages of 35 and 65 (although there are no strict rules on this), post your own content, enjoy others' content and sit back and relax as the nude photos of more mature and older women roll in from the active members that prowl this sub.
Members: 345k+
---
r/momsgonewild – A place for moms of all ages to show off and embrace their goddess features and unparalleled beauty. Verified users only are allowed to post making sure this subreddit remains amateur, real, and extra sexy.
Members: 312k+
---
r/milfcumsluts – If amateurs and realism don't matter all that much to you, this is a great place to hang out. With copious amounts of porn shots being shared daily all featuring slutty milfs covered in cum or taking loads of cum. It's arousing, exciting, and a real head-turner.
Members: 278k+
---
r/cougars_and_milfs_sfw – All verified cougars and milfs are welcome here, posting their nudes for all to see. You don't even need to make an account, although it does help as it allows you to upvote, comment, and save your favorite posts. It's a beautiful subreddit filled with drop-dead gorgeous women.
Members: 250k+
---
r/onmww – 'Fun and playful' are words used to describe this subreddit, it's welcoming, inclusive and just loves moms going wild and letting their naughty and slutty side free. You don't have to be a mom to post here but be open and real and being a mom really helps you get noticed.
Members: 235k+
---
r/realmomsgonewild – A place for all kinds of moms to come and express themselves and their kinky side. Milfs, moms, soccer moms, wild moms, and all moms in between are invited to share their wild side and we get to enjoy every second of these wonderful beings.
Members: 177k+
---
r/pregnantgonewild – Pregnant posters share their intimate, arousing, and utterly compelling photos with us, including their round bellies and swollen tits as they make our pre-milf fantasies come true.
Members: 169k+
---
r/realmilf – Created in 2012 by a milf admirer this subreddit is fully-nude and partially nude content of the hottest milfs on the internet. Some posts are of amateurs and other posts with more professionals, however, all are deserving of being showcased on this subreddit.
Members: 157k+
---
r/maturewomen – If you love milfs you probably love more mature women and for those women aged 40 and above this is the subreddit to join if you want to post your naughtiest selfies and mid-sex shots.
Members: 156k+
---
r/CougarsAndCubs – Another one of my subreddit wildcards has to be this one. It's a safe and exclusive space for cougars and their younger men to talk. Trade experiences, ask questions, and share worries and wins, it's a great place to join in or just read through. Any cougar/cub questions you have are always answered here.
Members: 156k+
---
r/cougars – With thousands of members (not including those who scroll without an account), this cougar hangout is steaming hot. There are countless pictures and videos of hot and horny perfect cougars and it's incredible.
Members: 152k+
---
r/socialmilf – A non-nude place to post your favorite milfs and cougars fully clothed and looking as happy as ever. It can be a bit of a hit-and-miss place as the chances are you may never see the photos of the posters again but it certainly hits the spot for the milf craving.
Members: 127k+
---
r/MatureHardcore – Definitely NSFW, this hardcore page is not one to open in front of the company. It's a place to post hardcore, gifs, pictures, and videos of milfs, cougars, and mature pornstars, all high-quality and all enough to make you nut instantly.
Members: 104k+
---
r/FilthyMILFs – The clue is in the name of this subreddit, it's packed with post after post of jaw-dropping, filthy videos of cougars and milfs getting down and dirty. Post your favorite clips or just enjoy what's already on there, sorting by most popular of course.
Members: 101k+
---
r/maturemompics – If you like naked moms, slutty milfs, and cougars who make your heart skip a beat, check out this page with the greatest naked milf pictures and videos.
Members: 97k+
---
r/PrettyOlderWomen – Also known in the community as 'POW', this is a place to post your appreciation photos and videos of pretty, more mature women. You do find more clothed posts than non-clothed but there is a certain charm to the modesty of this sub.
Members: 83k+
---
r/maturewoman – Grannies, cougars, milfs, and hot mature wives are welcome to post their most tantalizing pictures and gifs to be adored and appreciated by anyone who visits this thread. It's hot, sexy, and a real crowd-pleaser.
Members: 65k+
---
r/MilfPornX – If you just want something that does the job and does it fast, this subreddit has links (so you can go directly to the porn video) and posts of the very best milf porn found on the internet.
---
Members: 63k+
r/Momslutclub – There's nothing much better than slutty moms and considering itself the best club of its kind, this subreddit is for real moms who are horny, slutty and showing us everything. It's not to be missed!
Members: 37k+
---
r/MomsSexyClothing – Not the most popular but a worthy contender to my list, there isn't much original content but for hot and erotic clips of moms being slutty and promiscuous it's a great hangout. The name of this sub isn't really relevant to its content but you won't care once you see it.
Members: 21k+
My Favorite Milf Accounts (The Ones I Go On The Most)

r/milf is definitely at the top of my list, I can't help myself when it comes to that sub, it's active, there is so much milf content and I always get my milf fix when I log on. Secondly, it has to be r/maturemilf, I love amateur content, it's really popular and there is so much to see. My final choice would be r/amateur_milfs, again, it's the homemade/amateur aspect that I love, and the fact you can interact and get to know verified milfs who are posting makes it even better for me.
Want Some Amazing Milf Porn?
If you are ready to watch some feature-length porno and amazing scenes, you need to try Mylf, it's got everything you need and you will find yourself jacking off to the most insane milf porn on the internet, both me and my girlfriend love it, and if you want even more milf-friendly sites check out the best milf porn sites list that I made for my horny, mature woman loving readers.
If you want something even more personal, check out this extensive list of the best milfs on OnlyFans, they create custom content, specialize in being a milf, and know what their subscribers are looking for.
If you have any questions or want to share your favorite milf subreddit, leave it all down below