Reddit is home to countless communities where like-minded individuals share posts and stories with each other. As such, it's one of the best places for hardcore porn, especially if you're looking for something specific and on the kinky side. Since my boyfriend and I love experimenting with all kinds of naughty stuff, I love browsing all kinds of XXX subreddits. This time around, I'll give you my list of the best subreddits that feature pegging.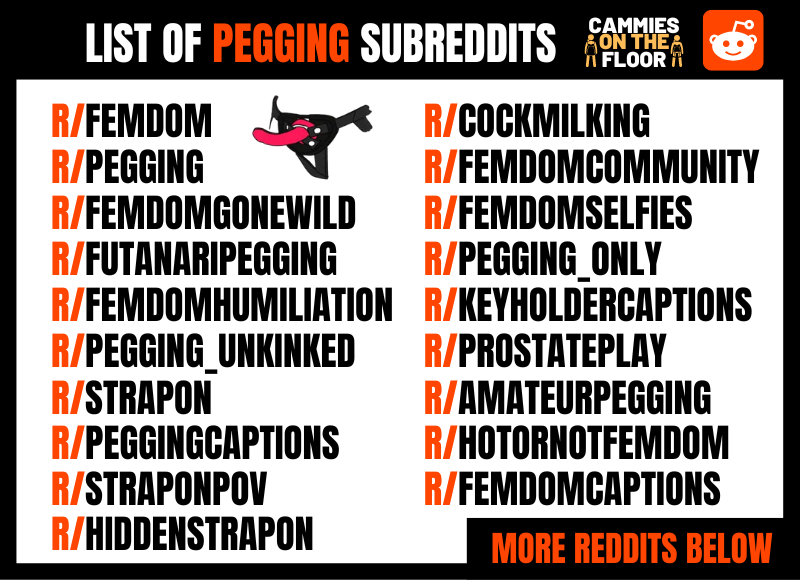 ---
r/Femdom – Members: 425k+
With more than 425k members, the Femdom subreddit is one of the biggest in this category. It might not be exclusively about pegging, and you'll see all kinds of naughty and hardcore domination there, but there's still plenty of sensual, erotic, rough, and hardcore pegging that will satisfy even the most demanding users. Top posts come with thousands of upvotes, so you know there's plenty of kinky fun on this sub.
If you want subreddits that are just femdom based, check out this list of femdom subreddits we curated.
---
r/Pegging – Members: 395k+
Since we're on a topic of pegging, why not visit a subreddit of the same name? 395k users share their pegging stories and adventures here. The sub has existed since 2009, and some of the posts are closing in on 10.000 upvotes. What I really love about the place is that it's mostly amateurs and ordinary people who post pics and videos of them going wild with all kinds of big and small strapon dildos and sex toys.
---
r/femdomgonewild – Members: 261k+
Just like the Femdom subreddit, FemdomGoneWild is another more broad sub in the niche. It has more than 261k members who post various acts of dirty and perverted femdom. The subreddit is heavily community-based and doesn't allow promotion. That means you only get actual people who love femdom and post it for their own pleasure. That kind of pure passion and chemistry is hard to find, especially in a kinky niche like this.
---
r/FutanariPegging – Members: 244k+
Let's step away from amateurs and realism for a moment as I introduce you to the FutanariPegging subreddit. Pegging is such a massive kink that it has a fantasy sub with more than 239k members where people post drawings, animation, and CGI of hot and hung futanari babes fucking submissive guys. It's something you won't see on a regular porn site, so stick around and marvel at the imagination of these horny artists.
---
r/FemdomHumiliation – Members: 184k+
Now that we've talked about an unkinky sub let's go back to the kinky one called FemdomHumiliation. The name is rather self-explanatory, and the posts are all about chicks dominating guys in all kinds of ways. Posts aren't necessarily about strapon dildos and pegging, but it's one of the easiest and naughtiest ways to go about it, so that's the majority of the content here. There's a huge variety as well, as one of the top posts is simply a particularly perverted tweet.
---
r/pegging_unkinked – Members: 182k+
Pegging Without the Kinky Stuff is the name of this subreddit that aims to bring the pure act of pegging without adding other elements to it. It's a good one to watch with your man when he's still new to the whole thing, and you want to bring him closer to it. I speak from experience on that one. The posts revolve around anal play for men in the form of a simple finger in the ass during a blowjob or pegging without masks and cages. It's one of the more popular subs with over 180k members.
---
r/strapon – Members: 129k+
Strapon is the main tool used during the acts of pegging, so it's only natural that the Strapon subreddit is one of the biggest in this niche. Around 129k members share images and videos of strapon porn and discuss anything on the topic. The sub actually forbids pegging content, but the theme is so heavily connected with the act itself that it's a must-have in anyone's pegging arsenal. This is also a good place to do research when you're buying strapon gear.
---
r/girlswearingstrapons – Members: 99k+
A strapon is only good if the girl wearing it knows what she's doing and looks hot with it. That's what you'll get on the Girls Wearing Strapons subreddit. Almost 100k fans share and enjoy pictures of girls wearing these naughty sex toys. Some pics and videos are insanely creative, while others are smoking hot. And it's perfect for both guys and girls. Us chicks get to steal some ideas for our next pegging endeavors, and guys get to marvel at those hotties in kinky outfits.
---
r/FemdomCommunity – Members: 94k+
FemdomCommunity is more about the actual community and less about simply sharing pornographic pics and images. They pride themselves on being inclusive to anyone who gets turned on by the kink, who wants to share their stories or get support and advice. There are 94.6k members at the moment and the top post, which has more than a thousand upvotes, is a guide offering 101 femdom ideas.
---
r/FemdomSelfies – Members: 88k+
FemdomSelfies is a naughty subreddit where even rules match the theme. By that, I mean that dominant ladies get to post whenever they want, while submissive guys and girls only get to post on Sundays. There are more than 86.7k selfie-takers who post multiple new pics and videos every day. There will always be a new domina showing off or putting you in your place through a simple selfie.
---
r/Pegging_Only – Members: 79k+
As you can tell by the name of this sub, all of its content revolves around pegging. That doesn't necessarily mean that Pegging Only just shows the acts of pegging. There are also hot chicks putting their massive and sexy strapons on display, teasing and promoting their services. This sub, with 79.1k members, actually came to life in response to other pegging subreddits not allowing promo material or limiting content. Fewer rules mean a bigger variety of pegging content.
---
r/keyholdercaptions – Members: 71k+
KHC subreddit (short for KeyHolderCaptions) is a subreddit for chastity captions. It's incredible how a simple caption can turn the most innocent image into a beacon of pure perversion. And while some images are rather naughty on their own, some of the most upvoted posts on this sub that has around 71.1k members are just regular images or even memes. But it's those captions that really spark your imagination and take you to a dark, naughty place.
---
r/ProstatePlay – Members: 67k+
Prostate Play is the perfect sub if you've ever thought of trying this. The sub is for both guys and girls, but it's perfect when you browse it as a couple. All it takes is a bit of open-mindedness; you'll dive into the world of pleasure. It's not a simple porn subreddit where people post pics and videos, but more of a place for civil discussion where you get to ask questions, talk about your successes, find tips, and more.
---
r/AmateurPegging – Members: 64k+
Amateur Pegging tries to be as genuine as possible. There are around 64.9k members at the moment, all posting their pegging endeavors. You can be sure it's all actual amateur stuff created by users since the whole page is set to manual approval, and everything needs to be reviewed before being posted. On the one hand, that means fewer uploads than other subs with less strict rules. On the other, you can be sure it's all the best stuff.
---
r/HiddenStrapon – Members: 54k+
Hidden Strapon is a creative subreddit in the pegging niche. It allows us ladies to act like guys when they are trying to hide their boners poking through their pants. And sometimes, they might actually be showing off. Anyhow, the whole point of this sub that has 54.4k members is to tease and seduce instead of being blatantly perverted. Some of the posts here have made me so wet that I can't remember the last time I've been that horny.
---
r/StraightPegging – Members: 48k+
Straight Pegging is described as all things pegging without porn. It's another community focused on discussing pegging and sharing experiences and knowledge as opposed to just posting porn pics and clips. It's an amazing sub if you actually plan on trying pegging out, and there are more than 48.6k members asking questions and giving answers, guides, and opinions.
---
r/femdomcaptions – Members: 48k+
Femdom Captions is another subreddit that focuses on captions. This time, it's a broader topic than the last. This sub features erotic captions where females are dominants and males are submissive. That means much more than just pegging. Still, there are lots of strapons and plenty of pegging to satisfy even the most curious.
---
r/Straponpov – Members: 42k+
Strapon POV is mainly made for submissives who want to be dominated by ladies with strapons. The POV part puts you in the shoes of a sub who is about to be railed by a naughty goddess. The girls are hot, the dildos are massive, and every post brings something new to the table.
---
r/HotorNotFemDom – Members: 40k+
The Hot Or Not FemDom subreddit comes with a simple premise. If the people in the post aren't hot, they aren't allowed there. That's how you get a sub in the femdom niche with some of the sexiest ladies and hottest guys. A lot of the posts aren't about pegging, and sometimes it's not even a girl dominating a guy, but another girl. Still, it's one of the sexiest subs with the naughtiest content.
---
r/PeggingCaptions – Members: 38k+
If you're a sucker for captions like I am, but you want them to be exclusively about pegging, then Pegging Captions is the place to be. 38.1k members come up with new erotic captions on a daily basis. Some are fun, and others are so rough, hardcore, and naughty that they get me wet in a matter of seconds.
---
r/RandomActsOfPegging – Members: 32k+
RandomActsOfPegging is made for those who want to have some anal fun but don't have a partner to do it with. This subreddit is basically a meeting and dating platform where like-minded users post their interests and various information that could help them connect with people for some naughty mutual fun. They have more than 32.9k members, with hundreds active at any given moment.
---
r/CockMilking – Members: 22k+
Now here's one of my boyfriend's favorites. If you ever want to get your man into femdom, but you aren't sure how to go about it, start with Cock Milking. For guys, it's all pleasure as they get to cum over and over. For us girls, we get to slowly get kinkier, tie them up, play with their asses, insert a finger or to, and end up pegging them. As you can assume, it's not all about pegging, but there's still plenty of it.
---
r/reversepegging – Members: 17.5k+
As we get to the end of the list, it's only natural we talked about the Reverse Pegging subreddit. Reverse pegging is when a guy uses a strapon dildo to fuck a woman. And while, at first glance, that might seem like he's in charge, this one is usually also about female domination. Reverse pegging means a guy doesn't get to use his cock to fuck a chick, so she denies him pleasure while getting some herself. It's a smaller sub with 17.5k members, but it's a passionate one.
---
Which Ones Are My Favorites?
You can't have pegging subreddits without the r/Femdom and r/Pegging subs themselves. As for the rest, I particularly like r/FutanariPegging because I'm a sucker for anime and hentai. The r/HiddenStrapon sub is another one that gets me going like no other. And I'm also into r/FemdomCaptions. My man, on the other hand, loves r/CockMilking.
Want More Pegging Porn?
The list I gave you just there is massive, and it will be a while before you'd need anything more in the pegging genre. Still, we've created a whole guide on the best pegging porn sites, so be sure to check that one out. There's a lot more content on the topic, and a lot of it is pure, kinky, hardcore, perverted pornography.