Reddit is one of the best places on the internet to explore your interest, even if they happen to be as kinky and naughty as a femdom. I've grown rather fond of this perverted genre as of late. On top of that, the boyfriend seems just as eager to enjoy it with me. As a matter of fact, he helped me make this list.
Full List Of Amazing Femdom Subreddits

There are countless subreddits on this famous website dealing with anything that comes to your mind. It surprised me just how many subs there are related to femdom. Even though it's just a part of the BDSM kink, it still offers variety. There's everything from more general femdom subreddits to those more niche that deal with particularly obscure activities, making them all the more interesting.
---
Starting off with a bang, r/femdom should be the first stop for anyone from those just testing the waters to experienced BDSM enthusiasts. This is a more general sub but has all the juicy stuff you'd want, which is why it's also the biggest. If you're going to become an active member, be sure to read the rules before going wild.
Member: 370k
---
This sub might just surprise you with what it offers. I didn't even realize how much I loved femdom stuff long before I started taking an actual interest in it, but r/gentlefemdom showed me that everything could be soft and subtle. Even cuddling or giving erotic handjobs, under the right circumstances, is femdom.
Member: 260k
---
Now we get to the part where my boyfriend's eyes lit up. If you haven't tried face-sitting, then you don't know what you're missing on. The sub is packed with posts, pics, and clips of horny ladies sitting on their partners' faces. There's everything from gentle sitting to complete and hardcore smothering. Plus, it works for both straight and lesbian couples.
Member: 350k
---
Orgasm control is something that has always interested me, and the more I learn about it, the more my man appreciates my skills as well. The feeling of control where you don't allow your sub to cum the way they want is something r/RuinedOrgasms portrays perfectly. Bringing him to the absolute limits and watching him explode without me touching anything is a sight to behold.
Member: 255k
---
If you want to spice things up and check out a different take on femdom, visit r/hentaifemdom. It features all the juicy stuff we've come to know and love, but in that beautiful anime style. Both of us love hentai as it has everything from gorgeous babes and cute guys to the most hardcore and perverted action, and this sub is just perfect.
Member: 250k
---
Femdom Gone Wild is where people like you and I gather to post our BDSM endeavors. It's filled with hot and horny amateurs doing the dirty. I've always found amateur porn more captivating than professionally done scenes because there's natural chemistry, and that's what's happening on this sub as well. Oh, and also, expect a bunch of OnlyFans users to promote their sexy content.
You can also check out this massive list of other gone wild subreddits we put together.
Member: 220k
---
With Femdom Humiliation, we're diving into the more dominant part of the genre. I aspire to be like one of these ladies who won't take no for an answer. Their partners are their sex toys as dominas do whatever they want to them. Some humiliation bits might not be for everyone, but when they do hit, they hit just right.
Member: 140k
---
If you want one of the finest online collections of real mistresses, then check out this fantastic sub. Dominant ladies from all over the world post their kinks and pictures, looking for a submissive who will worship them. They look so sexy that even I wanted to submit and let them "teach" me.
Member: 98k
---
Those who want to become active members of the femdom community will find no better place than this subreddit. This sub is more about discussion and creating relationships than it's about dirty content, pics, videos, and porn. It's perfect for finding new ideas and connecting with like-minded people, as well as discovering and learning about things you don't know.
Member: 80k
---
You can deduce from the name of this subreddit what it's about, but to experience the content completely, you need to check out some of the posts. The way these dominant chicks ride and fuck their partners into creampies is mindblowing. There's something thrilling about being so good at sex he has no willpower to resist your advances. Or take a rougher approach and simply don't allow him to pull out.
Member: 75k
---
Femdom Personals is one of the main topics in another post I've made where I talk about the full list of femdom dating sites. What you need to know about this sub is that it's kind of an advertising platform where people (both guys and girls, doms and subs) post their kinks, likes, and preferences looking for each other to connect and go dirty.
Member: 70k
---
I'm yet to find a chick who doesn't like taking selfies, but FemdomSelfies took things to a whole new level. The concept is not unique to me since my boyfriend, and I have recorded each other multiple times, but taking selfies while dominating him is something else. And this sub has some of the sexiest pics I've ever seen that you'll enjoy even if you aren't into the kink.
Member: 67k
---
The world could always use more dominatrices, and what better way to find them than through the Dominatrix subreddit. Even I get wet just watching these flawless chicks in the sexiest, kinkiest outfits, so I can only imagine how my boyfriend feels. He might not be just as thrilled about some of their huge strapon dildos, but they make my mind run wild.
Member: 50k
---
Femdom Captions subreddit is here to spark your imagination. It offers that perfect mix of funny and relatable memes interlaced with kinky and perverted femdom. Some posts are more on the comedy side, and others are much more porn-like, but they all offer multiple layers of fun.
Member: 39k
---
Hot Or Not FemDom gamifies the experience. In essence, you have to be hot or not in the picture. That ensures every single post on this sub will blow your mind. The ladies are as beautiful as they are perverted, the sex toys are mouthwatering, and don't even get me started on all those fetish outfits.
Member: 36k
---
Don't think for a second that the femdom community has forgotten about furry lovers. This sub brings all those pervy kinks and concepts but shows them through the lens of beautiful furry characters. There are even more possibilities when you realize these characters come with fluffy tails, pointy ears, cocks of different shapes and sizes, and more.
Member: 28k
---
Now here's a must-see sub for any girls in the audience. After all, it's in the name- Femdompornforwomen. Surprisingly my boyfriend loved it almost as much as I did. I guess there's something mesmerizing about a more sensual, romantic, and erotic approach to domination. Another neat thing is that there are photos but even more illustrations in various art styles.
Member: 24k
---
GFDpersonals subreddit is another one that focuses on finding your perfect match. It's a smaller but tighter community, making it ideal for those who want to post about themselves or go through what others have posted and find someone who suits them. In my experience, there are more guys looking to be dominated by chicks, so if you're a girl, knock yourself out.
Member: 23.4k
---
The act of facesitting is so hot and perverted for both parties that just one sub on the list wasn't enough. FacesittingPOV takes things further by allowing you to see things from the perspective of a submissive, as a lustful domina places her bottom on their face. I don't need to explain how my boyfriend probably loved this one more than I did.
Member: 23k
---
If you thought gentle femdom offered a different take on the femdom dynamic, then check out r/ExtraGentleFemdom. Even I was surprised to realize that merely petting someone's hair, softly kissing them, praising, pampering, and training them to be a good pet is femdom. And now I'm all for it. Spoil them with kindness, ladies!
Member: 21k
---
Girls are always more sensual, even when it comes to domination. Sensual Femdom shows just how incredibly soft and erotic domination can get. It's filled with posts that are guaranteed to turn you on no matter your preferences. It's safe to say it's one of my boyfriend's favorites in the genre as well.
Member: 16k
---
Found Femdom takes a different approach to XXX femdom content. Through these posts, you'll find everything femdom-related that isn't hardcore, professionally produced pornography. There's a ton of amateur content, real-world action, and even stuff from mainstream movies. All of it gives it a dose of realism and immersion you can't get through regular porn.
Members: 6k
---
Other Femdom Related SubReddits

All the subs that we've talked about so far are us barely scratching the surface. There are so many subreddits out there that deal with much kinkier and obscure fetishes within this massive genre. Dig deep enough, and you'll not only find all of them hidden around the web, but you might discover new fetishes for yourself.
---
Pegging is one of those polarizing "activities." Granted, it's not for everyone, and I completely understand the reluctance, but keep in mind that there are more than 300 thousand members here, all enjoying kinky pegging content. Who knows, I might just talk my man into it.
For all the subreddits that include pegging check out this list of pegging subreddits.
Member: 356k
---
If you want to dip your toes into the humiliation fetish and see all the wonders that it has to offer, there's no better place than r/HumiliationCaptions. It's almost a meme-sharing platform but for like-minded individuals who explore erotic pleasure and perverted satisfaction gained from sexual humiliation. And some posts will make your blood rush.
Member: 44k
---
Cock and Ball Torture goes deeper into the rough aspects of BDSM and femdom. It's much more physical than some other activities in the niche. Love it or hate it, the inventiveness of some people, the complexity of contraptions they come up with, and the toys they use are mind blowing. Not to mention all the mischievous fun you can have when both parties are heavily into it.
Member: 24k
---
We've talked about ruined orgasms, but r/HoldingIt takes that to a whole new level. Guys, chicks, and trans hotties go the lengths to edge themselves until they literally can't hold it in. Something is mesmerizing about watching a person explode in orgasm from the slightest touch.
Member: 40k
---
While the previous subreddit mainly was about people controlling their own orgasms, r/orgasmcontrol is all about bringing a domination aspect to it. Skilled dominas here know how to work their men and women and bring them to the brink. Once there, it's up to a dominatrix to stop, push them over the edge, or ruin their orgasm completely.
Member: 237k
---
Small Penish Humiliation is one of those particularly naughty niches in the BDSM world. And while I can't really apply it to my partner, it's still fun and sexy to watch a bunch of willing subs being humiliated by their much more hung peers. What can I say? This fetish is an acquired taste.
Member: 106k
---
So far, whenever we talked about orgasm control, it was mostly about stopping or ruining it. Forced Orgasms, on the other hand, offer the exact opposite, with submissive guys and girls being literally forced to cum as many times as a dom wants.
Member: 375k
---
Which Subs Do We Use the Most?
We've had our fair share of dirty fun on every sub mentioned here. However, we visit a few of them much more frequently. Femdom, being the biggest, also has the most stuff that we love. GentleFemdom is the next best thing, and it really depends on the mood. Ruined Orgasm sub is always a fun time because we also love to tease each other and explore our boundaries. Finally, being eager amateurs who are dipping their toes into the world of femdom, Femdom Gone Wild is also at the top of our list.
The Best Places to Get Femdom Porn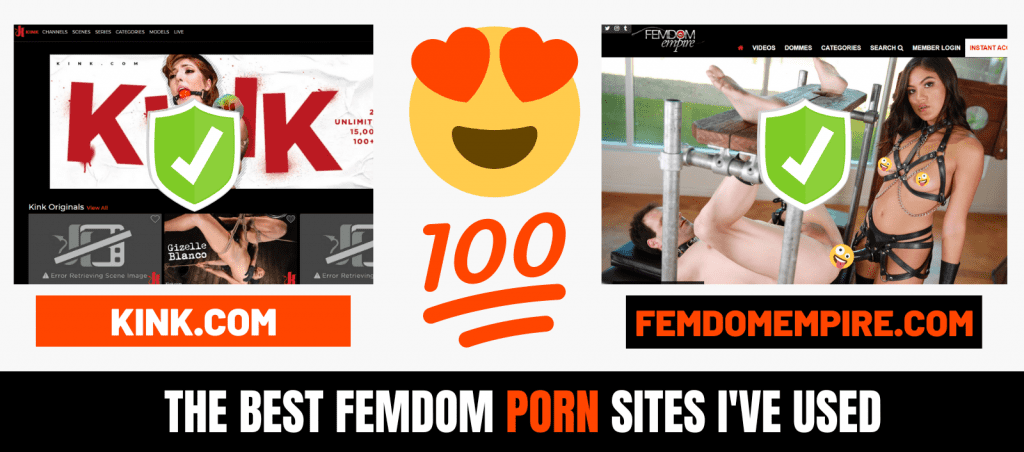 Apart from Reddit and all the femdom goodies it has to offer, be sure to check out femdom OnlyFans accounts which are often better than amateur posts on Reddit. Plus, you can check out a handy guide to femdom porn. And if you want to see the highest quality professionally done femdom porn, both Kink.com and Femdomempire.com offer breathtaking pics and videos my man and I thoroughly enjoy.
Did I Miss Any?
I love Femdom, so I feel like I did a good job of including all the best subs, but if I missed any please put them in the comments and I'll add to the list right away.