It is that time again, ladies and gentle people, when we review another porn game that might be worth your attention.
You already know by now that I'm somewhat of a porn game connoisseur, given how many hours a week I spend playing them. It's still not as much as I'd like to, but unfortunately, real-life obligations are a thing. I also enjoy some other hobbies, like playing regular video games, hanging out with people, and, unsurprisingly, writing this blog!
So if you ever wonder where you can get your hands on some juicy adult content that isn't just scrolling through pictures or watching a potentially boring clip, then you should definitely check out the game reviews I've done so far. They feature some of the best, naughtiest games you will ever come across, and they're bound to leave you hot and bothered.
The beauty of playing porn games is that it tickles your senses and your brain, especially if the game is as engaging as it is filled with sex. I like a good balance of explicit content, an interesting storyline, and fun gameplay, and that is what I look for in every new porn game I uncover.
The one I'm going to talk about today, SmutStone, has all of that in perfect harmony, and I'm actually excited to present this magical, fantastically smutty gem to you.
What Is SmutStone?
SmutStone is a porn game, meaning a video game with explicit content sprinkled throughout the storyline. It is an action-adventure with elements of magic and fantasy, visual-novel style gameplay, and card battles.
At the very start of the game, during a wild night out with your mates at a strip club, one of the dancers gets abducted through a magical portal by an evil sorceress. If you think this premise is a little out there, wait till your main character gets pulled through the same portal in an effort to save the poor, hot dancer with her exposed boobs.
SmutStone is an almost gothic world of strange winged pig-like creatures, evil mages, and sexy girls of all kinds who are all too eager to help you fight that evil. There is nudity galore, and the sex scenes are nothing to sneer at. Within the first few minutes of playing the game, you're already treated to xxx scenes.
How Many People Play SmutStone?
I first didn't think SmutStone was a popular game, since I've never heard about it before accidentally finding it on Nutaku. However, when I dug deeper in search of tips and tricks on how to get better at the game, I realized that there are not thousands or tens of thousands there's over 8 million people playing it at any given moment.
It's big enough to have its own wiki page with regular contributors! So you don't have to worry about a small community or a ghost town of a game if you're just starting out.
Is SmutStone Completely Free?
Technically speaking, yes, SmutStone is completely free. If you wish to save your progress and not keep starting from scratch, then you have to make an account – either on the official game site or on Nutaku – but this account doesn't cost anything.
The game uses a premium currency, as most games do, but you don't need to spend a single cent to get to the end of the game. Of course, that premium currency makes things easier and a lot quicker, but it's not required for the full gaming experience.
The Best Place To Play SmutStone!
There are several websites you can play SmutStone on.
One of them is the official game site, smutstone.com. If you like the game and wish to become a regular player, you can make an account here and keep coming back to it to continue your saved progress.
You can also play the game on Nutaku, the coolest porn game platform on the web. This is where I stumbled upon SmutStone, and where I am still playing it to this day. It requires you to have a Nutaku account (again, completely free!), which I already had. That makes it so much easier to play any game you'd like to try on Nutaku.
Whichever one of these places you choose to play the game at, you'll be fine. (Please note that I'm not sure whether you can continue your game on Nutaku if you've been playing it on the official website up until then or vice versa. It would be best to stick with one website once you've started.)
Games Like SmutStone (What I Play When I'm Bored Of SS)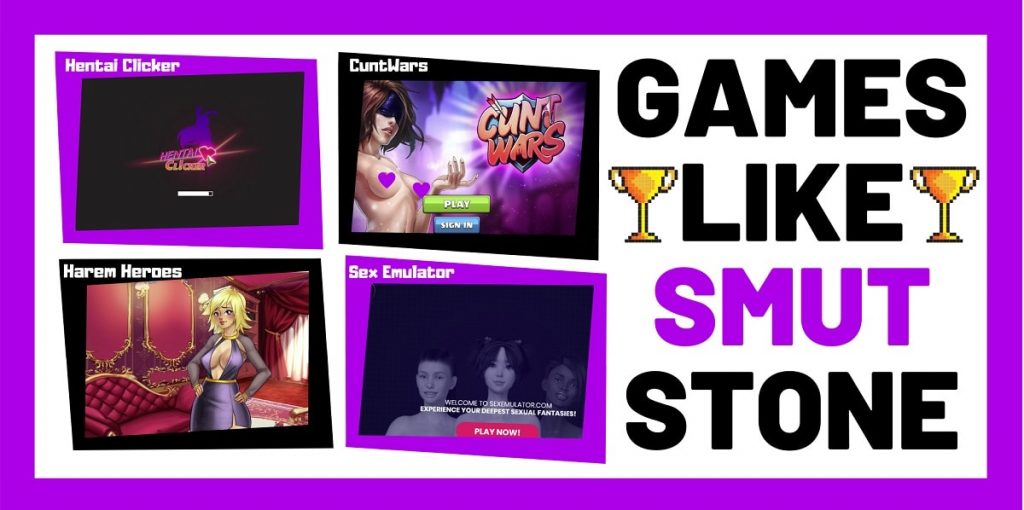 SmutStone is amazing in both the gameplay and the erotic scenes, but sooner or later you're bound to want to try something else. If you like this game and are thirsty for more porn titles of that type, why not check out this extensive list of similar ones? Some are just like SmutStone, but there are also some with different gameplays that are equally as porny and will satisfy all of your urges.
Behold, the best porn games you can find online!
Cunt Wars comes with a couple of different titles. You can play it as Cunt Wars on its official website, but you can also find it as Chick Wars on Nutaku. Apart from the slightly different names, the two games are exactly the same. This is a card battle game similar to SmutStone, and it has some magnificent hentai artwork to come with it.
In Cunt Wars, you play Adam, an anime protagonist who is in charge of keeping an entire realm safe from dark forces. He collects cards along the way, recruits women into his harem, and the stronger the harem is, the more chance he has to win against his opponents. If you want more of what SmutStone is, Cunt Wars is a worthy alternative.
Easily one of my favorite porn games in this entire list, Harem Heroes will immediately hook you in with its highly explicit scenes the moment you load the game. The art style is a little cartoonish and takes some getting used to – at least it did for me – but there's no doubt that you'll spend many an hour masturbating to this game.
Here, you are a regular fella who gets transported into the world of Haremverse. Much like in Cunt Wars, the purpose of Harem Heroes is to build your harem of sexy girls. These will be more than willing to please you, but also to win battles for you against storyline enemies and other live players. Hours and hours of enticing gameplay await you in Harem Heroes!
As a combination of a clicker game and a dating sim, Fap CEO puts a new spin on the standard gameplay styles. You are the owner of a video-chat company and your goal is to hire the sexiest girls to work for you, earn more money, and build an entire business empire! Once you reach the top with your company, you can then sell it and start a new, better one.
Fap CEO at first seemed a bit childish to me. The artwork was too over the top, too exaggerated, but I quickly adjusted thanks to all the bouncy breasts the erotic scenes offer. I love a good resource management game and this one incorporates many kinks, such as anal sex and creampie, for an unforgettable experience.
Translated from an original Japanese game, Kamihime Project R features girls who talk in Japanese, so that you get that full hentai ride. They sound sweet and innocent but are more than eager to get down on their knees for you. The fantasy world of Kamihime Project R is not a game you should pass up.
In this universe, a second apocalypse is on the horizon. You are a hero who, together with your friend Alyssa, needs to gather the Kamihime, special god-like girls who can stop this apocalypse. This turn-based battle game features animated sex scenes, an epic story, and girls so hot that you won't know what hit you.
This game takes you to the Naughty Beach, where you meet Andriella, a mermaid that was just freshly turned into a human. Unfortunately, to stay in her new form, Andriella needs a special ingredient from other human girls, and you're the only one who can get this ingredient. How? By going on dates with as many girls as possible, of course!
Booty Calls is a dating simulation where you get to take cute and curvy girls out on dates, to seduce them, give them gifts, and ultimately have sex with them. Andriella will be most grateful when you return all satiated and with the ingredient she needs to stay on land.
This is the only clicker game I'm willing to make an exception for and say that it's actually a great title to spend your time on. Instead of fighting monsters by clicking on them, you use this feature to make girls orgasm, which makes it infinitely more fun. Hentai Clicker is made by the same people who created Harem Heroes, and you'll see a lot of the same characters here.
Haremverse needs your help to restore balance. Its girls can no longer achieve orgasm because of a Mist that's descended on their world. Through mighty clicking, leveling up, and enjoying dirty pics of gorgeous hentai girls, you might just have what it takes to help Haremverse get back on its feet.
The first thing you need to know about 7 Angels is that its artwork is out of this world. The second thing you need to know about 7 Angels is that there are over 500 photos for you to unlock, of the main girls in so many different sex situations that you won't be able to stop playing until you get to them all.
In a fairly straightforward storyline, an evil succubus – a demon in the form of a sex-hungry girl – has cursed you. To lift this curse, you need to seduce seven angels and have sex with them using a dating app! The game has multiple endings, so be careful what kind of answers you give. If you get a bad ending, you can always go back and try again, unlocking even more hot pics in the process!
Fap Titans is not a particularly challenging game, but it is a decent pastime if you have nothing better to do. I'm not a big fan of it for several reasons, as this clicker game doesn't offer anything revolutionary. Nonetheless, it could be a decent break from your everyday life that includes a spicy hentai image or two.
What I don't like about Fap Titans is that the gameplay is very one-dimensional. As a clicker game, in its essence, it isn't too interesting, but it's also a pretty dull example of a clicker game. The artwork you unlock looks unpolished, and overall, the entire game leaves a lot to be desired. I suggest trying this one out only when you're out of all other options.
Moving away from the classic hentai games, the Sex Emulator is something on a completely different level. The gameplay consists of a 3D model that sits pretty for you and who you can play with however you like. You can choose her ethnicity, hair color, size of her boobs, and what skills and preferences she has when it comes to sex.
Then you can have her perform all sorts of kinky sex acts. My favorite commands are Anal, when she uses a large clear dildo to insert into her ass, and Tits, where she plays with her tits. Make a free account to unlock all the other commands you'd like her to do.
Another game that doesn't fit the hentai mold is Life Selector. This isn't so much a game as it is interactive porn. You choose what role you want to play (what type of guy you want to be), and then you go through life seducing hot women and having sex with them in any way you want.
This is a game that features real actors and real-life scenes. It is essentially POV porn, only you get to choose who you want to have sex with and in what positions. A dating sim with real girls – an entirely fresh take on porn and porn games that leaves you grabbing for tissues to clean yourself up.
The Alternatives From Above I Play The Most
Even though I love playing most of these games regularly, the two I keep coming back to over and over again are Cunt Wars (or Chick Wars), and Harem Heroes. You'd be hard-pressed to find games as well-executed and as abundant in both porn content and interesting gameplay as these two.
Of course, don't take my word for it! Make sure to try all of the games on my list, and perhaps even some unmentioned ones, to really get a sense of what you like and what you're looking for in adult games.
My Verdict of SmutStone After Many Hours Of Playing (Review)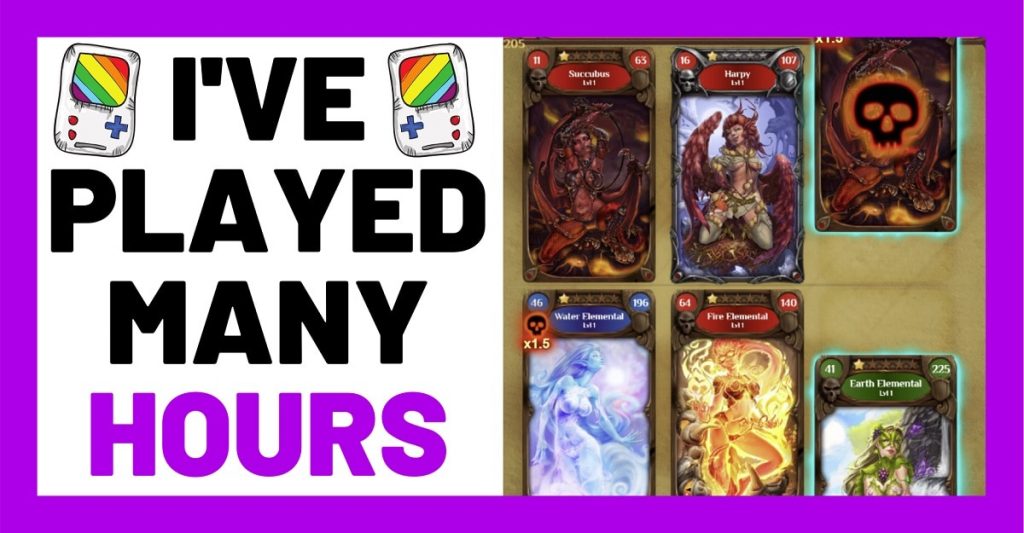 In short, SmutStone is easily one of the best porn games I've ever played. The main two reasons for this are the quality of its artwork and design, and its exciting gameplay.
Design
While Nutaku is famous for hentai games, SmutStone's artwork has a distinctly Western feel to it. It's the type of style you'll find more commonly in a Marvel comic than Japanese manga.
That doesn't mean that SmutStone is in any way lacking. Quite the contrary, I have yet to encounter a game with such high-quality art. The girls are hot, the anatomy is realistic, and there's not a single scene that breaks the immersive experience. A lot of time and effort (and money) must have gone into visualizing this game, and it shows.
SmutStone is one of the most aesthetically pleasing porn games currently available. For that reason alone you shouldn't hesitate to give it a go.
Gameplay
At first, you may think that the gameplay of SmutStone is easy and doesn't require a lot of thought. In the beginning, it really is easy and not requiring a lot of thought.
However, once you venture further into the game, you realize that you need to figure out some sort of strategy. There is a finesse to collecting cards for your battles, choosing which ones go into your deck, leveling them up, earning more gold, and so on and so forth.
The battles you fight in the game are automatic, so the outcome is really already decided with what cards you've laid out and what cards your opponent has. This requires you to be a tactician to ensure a win each time you participate in a battle.
To give yourself the highest chance of becoming a strong player later in the game, you'll need a solid foundation. Read about SmutStone's wiki page below, and how it can help you make the most out of the gameplay.
Any Downsides to the Game?
The main drawback to the game is that it has a clear ending.
I haven't gotten to this ending yet, even after countless hours of playing it, but I've read about it often enough on various forums and on SmutStone wiki. Once you power up all of your cards, you don't really have much else to do. This is a big turn-off for most players, especially long-time ones, and sooner or later, they drop the game in favor of something new and shiny.
And I don't blame them.
The second problem would be that it can become more about the intricacy of the gameplay than about the porn. While there is porn, and plenty of it, at some point it might not be enough to keep you coming back for more. The card battles and the strategies of when to level up or not or which chest to open and why it can get overwhelming if you don't get all of your basics right at the start.
Finally, there have been issues with the game's developers and the way the game constantly tries to get you to spend money. SmutStone developers are known for implementing features they haven't tested yet, causing all sorts of glitches in the game. They also love to prevent players from advancing quicker or getting any kind of meaningful rewards by introducing innovative limitations and changing gameplay aspects. I can't say I'm a real fan of that.
Final Thoughts
SmutStone is a great option to play when you want something that will make your brain work for the porn scenes. It's a fantasy story that keeps you engaged and its design is truly outstanding. You may not want to get too invested in the gameplay because of how it might not be worth it in the end, but for casual play, SmutStone is one of the best titles out there.
FAQ About SmutStone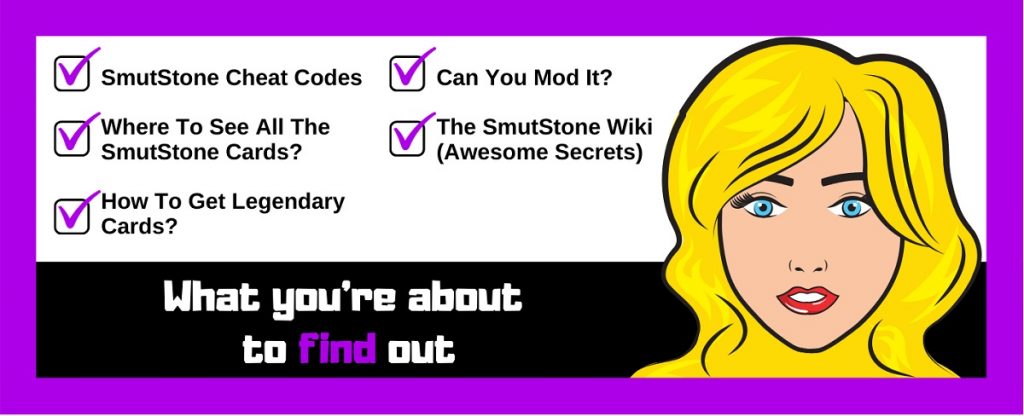 Here are some of the questions that I had before I tried SmutStone.
SmutStone Cheat Codes
Like with all other games on this blog, I have to discourage you from looking up cheat codes for SmutStone. While you do run the risk of getting banned from the game if you're discovered to be using cheats, in my opinion, there's a much greater risk of downloading malware and computer viruses through all sorts of shady 'cheat sources'.
In a game that's as much about strategy and outsmarting the opponent as it is about the resources you have, it's not worth potentially corrupting your computer over a handful of gold or rubies. 99.9% of those so-called hacks and cheat codes you'll encounter online are just looking to scam you.
Is There A SmutStone Wiki? (Awesome Secrets)
There definitely is! SmutStone Wiki is a glorious place if you want to become a pro at the game. My advice would be to check it out even before you start playing because there's an amazing beginner's guide that tells you all you need to know to start off on the right foot.
A strong start is important to avoid headaches later and win the battles more easily.
Where To See All The SmutStone Cards?
In the game itself, you can see the cards you own and the cards you have yet to acquire by clicking on the Cards tab at the bottom of the game screen. However, here you can't see the stats of the cards you haven't yet come across in the game.
The best place to see all SmutStone cards would be on its wiki page. Home > Gameplay > Table of Cards is how you get there, and you get to see all playable cards found in the source code of the game. One important thing to note is that the health of the cards in the game is actually 3x higher than what you'll see in this table.
How To Get Legendary Cards?
Legendary Cards are notoriously difficult to obtain. Depending on the card, there are several ways to do this: by purchasing Gold & Silver Boxes in the game store (rarely Bronze ones as well), or by opening Duel Chests. The drop rate is quite low, however, so don't be frustrated if it takes you a long time to get your hands on a Legendary.
You can also get some Legendary Cards by participating in events, such as tournaments. To win these cards as a prize, you need to earn one of the top spots – usually one of the top three – in the entire tournament.
Can You Mod It?
As you all know, I'm not a master at coding or tinkering with anything on the back end of the game. In my research on SmutStone mods, I've run into one called the SmutStone UI Mod, the link for which you can find on SmutStone wiki. It promises to increase the font-size of the game's UI, to remove ads, place chest trackers, auto-refresh tournament rankings, and more.
I have to warn you to use the mod with caution, however. I haven't tried it out myself, but I've read that it can behave unexpectedly in the game and give some unwelcome results. Use this mod and any other only at your own risk!