Here's the thing: my girlfriend and I love cam sites and cam shows. Absolutely love them. They introduce a new, unpredictable element to our sex routine and spice things up when we're feeling like our regular one-on-one sessions are getting a little stale.
The advantage of cam shows is that it's like porn, but interactive porn. You watch a broadcaster perform for the audience, but – through the power of money or tokens in this case – you have the option of encouraging the broadcaster to do specific things that you want them to do.
Of course, some rules go into that. No one can force a broadcaster to do what the broadcaster doesn't want, but my lovely lady and I enjoy both watching and interacting with cam girls of all types.
We watch them together, but we sometimes also watch them separately. We watch them while we're having sex. We tip them and we pay for private shows, and let me tell you, there's not much that gets me going as having my hot girlfriend beside me and another hot girl pleasuring herself just for the two of us.
But let's start from the beginning.
What Is Chaturbate and How Does It Work?
Simply put – Chaturbate is a cam website. This means that people of all gender identities and all walks of life gather here to perform sexual acts online for a broad audience. They have public shows, which anyone can join and participate in, but they also have private shows, where you (and whoever you're watching with) can pay for the broadcaster to perform a specific act.
Cost and Payment
One of the best parts of Chaturbate is that it is completely free. For you to simply watch a public show without participating, you don't even have to sign up. (Although having an account on Chaturbate is also free!) You just open the site and choose which show you're interested in.
However, if you want to be an active participant in a public show, to pay for a private one, or to just be generous and tip your favorite performers (my girlfriend and I do this all the time because good broadcasters deserve to know they're good!), then you will need to purchase tokens, which I will go into more detail later in the text.
Public Shows
Public shows are those that anyone can watch. As I said before, all you need to do is choose a performer to your liking and start watching their show.
The structure of a public show is as follows: usually, the broadcaster sets some goals. For example, if she is starting off fully clothed, for her first goal – after a specific number of tokens is donated to her – she will take off her blouse. For the next goal, she will take off her skirt; for the third goal, she might slip off her bra, etc.
Public shows are not all about stripping, of course. Broadcasters are creative performers, and by participating in their goals, you can get them to use sex toys, to perform various sexual acts (if they're a couple) and much more.
Private Shows
If you ask me (and my girlfriend), private shows are where the magic happens. If you find that a particular performer tickles your fancy and you want a little alone time with them, you can initiate a private show.
My advice would be to arrange the show with the broadcaster in question previously. It would be best to talk to them and tell them what you'd like and they can see if it works for them. If both parties come to an agreement, then the steamy private show can begin.
Here, you are charged by the minute, and you can ask the performer to do pretty much whatever you want, within the rules of the site and, of course, as long as they're comfortable with it.
You can also spy on private shows that are in progress, to check out what they look like, though you need a certain number of tokens in your account to spy on them.
Sites Like Chaturbate that I Love
I price checked for all the best prices and deals for all the cam sites mentioned in this article on the: 04/10/2023
If you're curious if there are more sites like Chaturbate – there are! Here are some of the most popular ones. But fair warning: not all of them are our favorite. Read along to find out which one's my girlfriend and I like the best.
This is a cam site similar to Chaturbate in many ways, but also different in some others. On LiveJasmin, you have the option of not only talking to your favorite model (as the broadcasters are called) but also to share your own cam video with them (in a private show, of course). This opens up a whole new world of porny options for you and the performer.
However, if you're looking for that amateur feel, as though you're peeking into a naughty girl's bedroom and catching her masturbating, you won't find much of that on LiveJasmin. This site is geared more towards the professional streamer, complete with studio photoshoots and near-perfect models.
If You like LiveJasmin, you can check out this review I did of LiveJasmin.
JerkMate has a somewhat different user interface than both Chaturbate and LiveJasmin. Right off the bat, the site offers you only one cam to watch at a time, and you have to scroll down to the tags to find a selection of performers currently online.
While it looks modern and cool, one of the main downsides to JerkMate is that no guests are allowed. Very few cam shows are available to watch without an account. Signing up is free, you don't need to pay anything, but it leaves a bad impression when you have Chaturbate and LiveJasmin that let you watch however much you want without even having to make an account.
I also did a post of sites like JerkMate, so if you want more JerkMate check it out.
Cam Soda may appear a bit spammy, in the sense that it is loaded with ads and has a basic interface, but rest assured that it is packed with cool features. Its live streams are available 24/7, and you don't have to make an account to watch them! The models are divided into many different categories for you to choose from, and they even have VR cams.
These VR cams allow you to explore a porn house on your own and watch virtual reality live porn shows. These are not only for sexy stuff – with the VR cams, you can also watch the models sleep, shower, or do anything in between (for tokens, of course). We love how you can really get to know your broadcaster on Cam Soda.
I did a full review of my experience with CamSoda, if you want to know more about it, check it out.
If you thought that Cam Soda was basic in terms of aesthetics, then you certainly won't be impressed with MyFreeCams. We admit that it took us a moment to get our bearings on the confusingly designed landing page and find what we're looking for. Compared to the previously mentioned cam sites, MyFreeCams is somewhat inferior.
It doesn't offer previews of the streams so you can't actually see what's going on in the show before you click on it. The chat is childishly designed, and the streams themselves are lagging and not very high in quality. There's a nice versatility to the models, and the ones we saw are really good at performing, but overall, it's not a cam site we visit often.
When it comes to ethnic and age versatility, ImLive is probably one of the most diverse cam sites there is. Here you will encounter women ranging from (legal) teens to MILFs, from white women to Latinas, to Asian bombshells. They vary in terms of professionalism, and you may run into a downright porn star.
What's less impressive about ImLive is that it hosts only women broadcasters. Yes, my girlfriend and I mostly enjoy female performers, but if you're into men, couples, or trans broadcasters, this may not be your place.
Through a handy side menu, StripChat (The review I did for StripChat) easily lets you navigate through their selection and choose what you want to watch based on your preferences. There are women, men, couples and trans people, and they're all sorted according to their age, ethnicity and even body types, should you have an inclination towards a particular build.
There is a large number of models who broadcast in a foreign language, which limits communication with them a bit, but you can always simply sit back and enjoy the show without much engagement. However, my girl and I still have the most fun with models we can talk with.
When I'm looking for a quick and easy way to get off – usually without my girlfriend present because our playtime tends to last long – I log into SlutRoulette. To make the most of this site, you need to make a free account, after which you will have all the access you need.
SlutRoulette is different than your typical cam sites, in that it offers only one cam show at a time. You can select the category you want, but the site itself randomly provides you with a girl in that category. If you're not happy with the model, you can always click on the 'Next' button. Instead of spending a long time deciding what show to watch, simply enter SlutRoulette and satisfy yourself with a hot girl selected for you.
So maybe you're reading this, thinking: that's all great, Chris, but where am I supposed to find something more… extreme? Where are the fetishes, the hardcore live streams? Well, the answer is: they're right here, at Flirt4Free. This cam site specializes in fetish shows only, and you have a wide range to choose from.
From feet to domination to humiliation to bondage to role play, latex, leather, pain and punishment, anal training… There's bound to be something for your kinky soul. I'll admit that my girlfriend and I don't visit this site often because we need to be in a certain mood to enjoy a rougher scenario, but if this is your thing, make sure to check out Flirt4Free.
MyDirtyHobby markets itself as an adult social network, and the largest one at that. It doesn't host only live cam shows but porn videos as well, so if you don't feel like waiting for the model to get to the good stuff, you can choose a clip to watch and be done with it. Your favorite models may put up photos, videos, and stream live. If they're not currently online, there's a lot for you to enjoy regardless.
However, and this is just personal preference, my girlfriend and I have agreed that some – if not many – streams on My Dirty Hobby appear robotic, rehearsed and/or fake. We like our broadcasters genuine, as it is important for us that we all have fun while having sex. My Dirty Hobby streamers often appear bored by their work, which tends to put us off.
I talked about cam sites where you don't have to register to watch shows (or chat in a show), and about those where you have to create a free account to even click on a public show. BongaCams is somewhere in between – it doesn't require you to register to watch, but you can't talk in the chat or in any way interact with the model if you don't have your own account.

On BongaCams some of the models have their social media accounts clearly displayed, so you can even follow them on different platforms. Personally, I would advise being wary of the couple streams here, as in some of the ones we briefly watched, the broadcasters didn't seem too interested in putting on a good show.
RoyalCams uses the same interface and platform as BongaCams, which tells us that neither of these two cam sites is too innovative. The set-up is largely the same, and we have even encountered some of the same models on both sites. It is still easy to approach them, especially on social media, but overall, the impression of RoyalCams is that it's something we've seen time and again when it comes to cam sites.
Before you dip your toes in either of these sites (BongaCams and RoyalCams), we would definitely suggest first taking a look at any of the other ones in this list.
My Favorite Chaturbate Alternative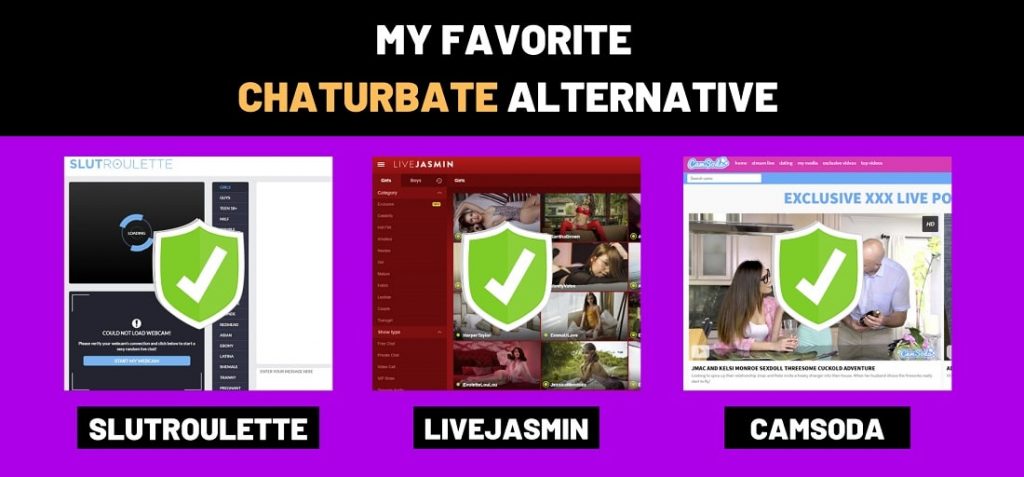 Out of all of the sites similar to Chaturbate here, I would have to single out LiveJasmin, SlutRoulette, and Camsoda as three of our favorite alternatives.
LiveJasmin is perfect if you're looking for a more professional model, a girl who knows how to seduce and get you hard (or wet) in seconds.
SlutRoulette is great if you're someone easily overwhelmed by choice. By seeing only one cam show at a time, you will have no problem deciding whether you're moving on or staying.
Finally, with Camsoda you're venturing into fetish territory, which can definitely bring more interest to anyone's sex life, camsoda is one of the best all-round cam sites around.
Chaturbate Review (What it's like inside)
It goes without saying that you need to be older than 18 to access Chaturbate, and you need to confirm this before you enter the site. On the landing page, you're greeted with a grid of currently ongoing shows that you can choose to watch. There are tabs for Featured, Female, Male, Couple, Trans broadcasters, and the ones you follow (if you have an account).
To make an account, click the Sign Up button. The good news is that you don't need to provide your credit card information or even an email address to make a free account. This is required only if you want to purchase tokens.
As for what's going on in the show itself: there's a chat on the right-hand side that you can take part in and talk both to the performers and to other viewers. You may notice that different users have different colored names, so let me break this down for you:
Orange names are Broadcasters
Red names are Moderators
Light Blue names own or have purchased tokens
Dark Blue names have tipped at least 50 tokens in the past 2 weeks
Light Purple names have tipped at least 250 tokens in the past 2 weeks
Dark Purple names have tipped at least 1000 tokens in the past 2 weeks
Green names are fan club members
Grey names have no tokens
Some broadcasters may choose to mute specific users, such as those who have grey names.
If you want to take part in the goals set by the broadcaster for the show you're watching, you should click on the Send Tip button underneath the video frame and give them some tokens. Even if you don't care much about goals (or if the broadcaster doesn't have any goals), if you like what you see, it's still preferable to tip the performers. They deserve to be rewarded for a good show.
Remember that for private shows, you are charged by the minute and, as I mentioned, my girl and I always arrange the details of the private show beforehand so that no one leaves unsatisfied. If you wish to see a particular activity from the performer, first check if they're willing to do it before you start the private show.
Spying on a private show also costs tokens! You usually can't enter an ongoing private show if you don't have a certain number of tokens in your account (determined by the broadcaster), and they're also deducted from your account by the minute if you continue watching the show.
What Makes Chaturbate So Good?
To answer this question, I actually had to consult my girlfriend for her opinion. And here's what she said: Chaturbate is great because it promotes a fun, relaxed atmosphere. And I can't agree more. You won't find such an accepting, tolerant vibe anywhere but on Chaturbate, and all of the broadcasters we've talked to and had private shows with just made us feel good.
Their positive attitudes and willingness to engage with their tippers and viewers is exactly what we love. At the end of the day, sexual activities are meant to be easygoing as well as hot, and Chaturbate broadcasters definitely encourage you to relax and just go with the flow.
Moreover, they're some of the most genuine performers we've come across. While watching a Chaturbate show, you don't have the impression that the broadcaster is doing it just for the money and that they'd rather be doing something else. Their playfulness and teasing and sexiness feel authentic, which turns us on even more.
What Makes Chaturbate Suck?
For Chaturbate, I feel that suck is too strong of a word. (Even though some broadcasters do it marvelously.) There are downsides to the site, which include the inability to voice chat with the performer, as well as to share your own cam video in a private session. My girl and I used this wonderful benefit on other cam sites, and it really makes us feel like we're having a hot threesome, even though one of us is long-distance.
However, this little detail still doesn't deter us from Chaturbate. To get our voice chat/cam sharing fix, we go to other cam sites, but the laid-back, easy-sex atmosphere of Chaturbate is difficult to find anywhere else.
How Much Are Chaturbate Tokens?
The site offers several token packages, and here are their prices:
100 tokens for $10.99
200 tokens for $20.99 (5% Bonus)
500 tokens for $44.99 (22% Bonus)
750 tokens for $62.99 (31% Bonus)
1000 tokens for $79.99 (37% Bonus)
1255 tokens for $99.99 (38% Bonus)
2025 tokens for $159.99 (39% Bonus)
My girl and I both have our own accounts on Chaturbate (obviously, when we're together, we use either one of these to chat, tip, and pay for private shows). We usually go for the 750 tokens deal and use them until they run out, which can be quite a long time, depending on how often we watch cam shows.
Any way to get free Chaturbate tokens?
Chaturbate offers promotion deals and random membership upgrades that could give you 200 free tokens (roughly $21 in value). Additionally, when you verify the spending limit on your credit card, you also get 200 free tokens to start you off.
Aside from this, as of yet, I'm not aware of any other ways of (legally) obtaining free Chaturbate tokens.
Best Chaturbate Models
If you still want to use only Chaturbate, here are some of our favorite models that you should check out:
Annais_Chaturbate
Mila_Chaturbate
Caylin_Chaturbate
Doxie Chaturbate
Bunni buns
Marcelinee
Emilybrowm
Missmina
debralee
Beryl18
AustinHoney
Anabellastar
Teddyfleece
Ezra
If you're a Chaturbate model, leave your handle down below and I will add you to the list if my girlfriend and I rate your room.