Let's talk some more about cam sites! These intense nuggets of live porn are just what you need if you're getting fed up with regular porn but don't feel like going through the trouble of finding a hot kinky partner to satisfy your cravings.
There are countless advantages of using cam sites, and here are just a few:
Live porn available any time, any place
Hot wet ladies whenever you want
Connecting with models and arranging private shows
Leveling up you and your partner's sex life
The moment Tiffany and I started using cam sites, our sex transformed. I'm not kidding. We were suddenly reinvigorated, so much kinkier and freer with each other than we've been in the years prior. Watching cam sites together (and sometimes by ourselves), has added a whole new layer to our intimacy.
Our favorite is definitely paying a model to perform in a private show for us. If the cam site has a cam2cam option, we also love sharing how we play with each other while we watch the performance.
So, without further ado, let's see what the cam site StripChat is all about and whether or not it is worth looking into.
What Is StripChat?
StripChat is a cam site. If you're not sure what a that is by now, here's a breakdown: these are online platforms where hot babes or people of any kind perform live sexual acts for their audience to watch. This can be anything from stripping, teasing, masturbation, and even full-on sex if there are multiple models on the other side of the camera.
StripChat is pretty standard in its layout. Once you confirm that you are of age and enter the site, you are greeted with a grid of models who are currently online. You can choose to sort them by the following filters: Strip Ranking, StripScore, Rating, Trending, New Faces, or those who have just come online.
The little video thumbnails show you what is going on in the video, what the models are like and what they're doing so you have an easy time choosing what you want to watch. I find this preferable to what most other cam sites have, which is just a model picture as the thumbnail. This makes it difficult to see what's going on inside.
There are free public cams you can watch on StripChat, but to start a private show or get a more personalized approach to the models, you will need to spend actual money to buy tokens.
This is true of any cam site, however, so StripChat is nothing out of the ordinary when it comes to its basic features and offers.
Pros & Cons Of This Cam Site
So, what are some of the things that I like about this cam site?
Pros
Incredibly hot models
Wide range of model types and nationalities
Easily accessible categories for filtering
Token giveaways
Clearly displayed prices
VR shows
Cons
Lackluster customer support
Not many HD shows
No cam2cam on mobile
It's that simple, there's good and some bad.
What Does It Cost To Use StripChat?
If you're just curious about the public shows, without any intention of interacting with the models you're watching, StripChat is absolutely free here. You don't even have to make an account to click on a show and start watching.
However, there are plenty of reasons why you would maybe want to make an account. They are free, for starters, and they allow you to chat with the model using the public chatroom.
And then, if you are keen on rewarding your model for a good show – as is only polite, because they are earning a living from this after all – then you will need to purchase some tokens to do this.
The token prices on StripChat go like this:
90 tokens = $9.99
200 tokens = $19.99
520 tokens = $49.99
1085 tokens = $99.99
2255 tokens = $199.99
How much you tip your model during a live show depends on your mood and generosity.
Different models charge differently for private shows and cam2cam shows, and the prices generally start from 8 tokens per minute. Cam2cam shows are more expensive than private shows, and some models also have higher prices than others.
Overall, StripChat is considered an industry standard when it comes to its prices. It is not too expensive, but it is not too cheap, either. I'd say it's a decent balance of cost and value.
Is It Just Tokens And Is There Any Way To Earn Them?
On StripChat, the only way to pay for anything is by using tokens. They allow you to tip the models, pay for exclusive shows, and to buy images and videos of the models you like the most.
Fortunately, unlike some other cam sites, StripChat likes to give away free tokens every hour. If you choose to participate in an ongoing giveaway, you get a chance to win 50 free tokens.
Additionally, StripChat often offers discounts on its token packages, especially around holidays, so keep an eye out for those!
It's One Of My Girlfriend's Favorite Sites
Who says that cam sites are just for guys? This type of porn is for everyone, regardless of their gender identity or sexual orientation, and StripChat is no different.
My girlfriend particularly enjoys this site because the models are attractive and yet very nice and friendly (once you start tipping them, of course). They are open to most things you suggest, and if you have the tokens to pay for a private show, chances are they will be excited to fulfill your requests, provided they don't make them uncomfortable for whatever reason.
Other Sites Like StripChat (Alternative Live Cam Sex Sites)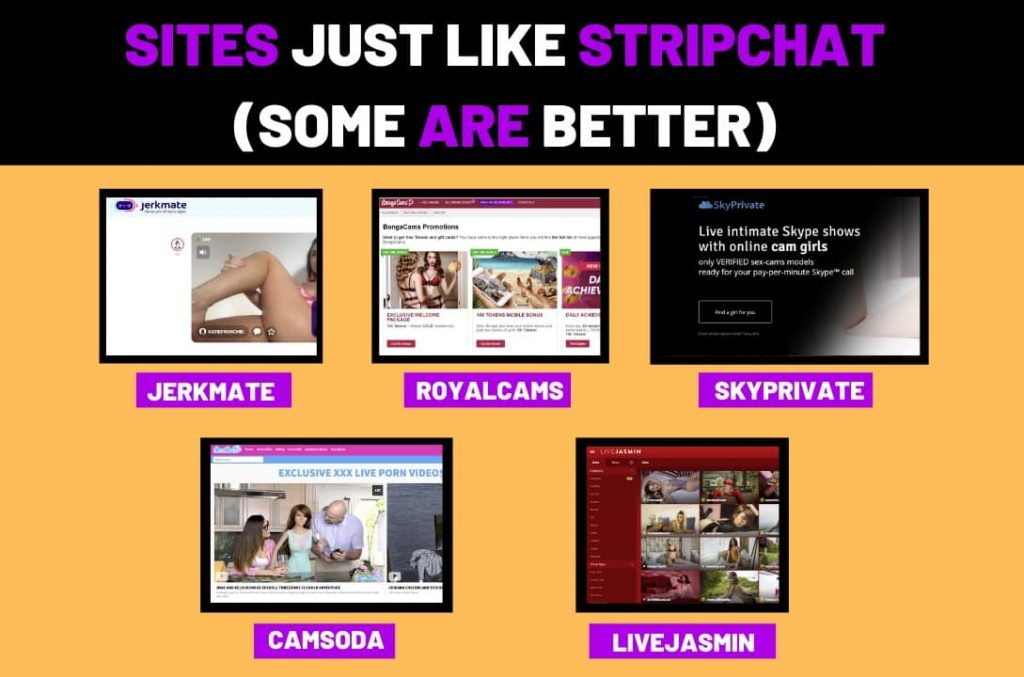 I price checked for all the best prices and deals for all the cam sites in this article on the: 28/11/2020
StripChat is just one of many, many sites of its kind. It is not revolutionary and it doesn't stand out in any way, but it is far from the worst. If, however, you decide that you've had enough of it, maybe you'd like to check out some alternative cam sites below. This list is filled with sites that are better than StripChat, as well as some that are not so good, so that you know what to expect if you run into any of them on your live porn journey.
Jerkmate

(One Of My Favorites)
Even though my girlfriend and I were slow on the uptake, Jerkmate has eventually become one of our favorite sites for live action. It's differently organized than other cam sites – no familiar grid design, no obvious categories you can look through. Rather, it has a tiny robot assistant who is happy to ask you a few questions and then provide you with a cam that you will enjoy.
The questions you need to answer are about yourself, how old you are and what your gender identity is, as well as what your preferences are, what ethnicity you want your models to be, what you'd like for their hair color and body type, and similar. With this preliminary check, Jerkmate ensures that you will get paired with the best live cam it can possibly give you. A neat trick! If you want more tricks read this guide I did on JerkMate.
This is a lovely source of international cam models. They can be young or mature, slim, fit, or chubby, and they perform various sex acts, some even quite ambitious in terms of fitness and flexibility. You won't find covergirl perfect models here like you would on LiveJasmin, for example, but there's nothing wrong with engaging in a little real-women love every now and then.
I'm not a frequent visitor on Cam4 for the simple reason that it showers you with ads every chance it gets. Every link you click is followed by a pop-up, and your live stream is occasionally interrupted by an ad, much like on Youtube. Sure, you can watch public shows without making an account, but you can also do that on many other sites that are not as riddled with ads.
Skyprivate.com is not your ordinary cam site. It is not a cam site at all, technically. On SkyPrivate, you get to see profiles of a multitude of models. They are abundant with pictures and short video clips of the models, as well as general information about them and what type of shows they offer (and at what price). All you need to do is choose a model that you think you'll enjoy.
Then, you sign up for SkyPrivate and get access to the model's Skype name. That's right, this website is sort of a match-making service, where it pairs you with a model that offers private shows through Skype. These shows are charged by the minute, and you can schedule them in advance and also work out the details of each show with the model beforehand. Convenient!
CamSoda is easily one of the most popular cam sites currently online. It is easy to navigate, so you don't waste too much time learning your way around the site, and it has a good balance of amateur models and porn star models. In fact, it probably has more porn star models than most other cam sites.
When you register for CamSoda (my review of CamSoda), you get free tokens to try out the site. The models here are incredibly welcoming and chatty, and just a little tip goes a long way. While the site could benefit from more HD shows and perhaps more active customer support, overall, it is a great place to dive into.
There are poor cam sites. There are decent cam sites. There are even good cam sites. And then there's LiveJasmin, completely in a league of its own. If you're looking for extravagance, for models that are no less beautiful or hot than real porn stars, if you're interested in spoiling yourself with a hot show as you've never seen before – then this is where you should be.
LiveJasmin operates just like any other cam site, only it does so on a higher level. They carefully select their models to be the most attractive they can be, and the entire aesthetic of their website speaks of elegance and wealth. Yes, this is one of the more expensive cam sites out there, but it's worth splurging on once in a while to get that exquisite first-class live show experience. You can find more sites like LiveJasmin, here.
Wouldn't it be hilarious if Apple actually ran a cam site? But no, iCams has nothing to do with the tech magnate. Actually, this is a somewhat generic cam site, where you're not likely to find anything groundbreaking in terms of models or the experience. However, the girls I've seen are gorgeous, and they have a nice range of young ones and more mature ones that will still get you going.
On the left-hand side of the landing page, there's a list of categories so you can immediately take your pick of what you're into. You can choose from Asian Babes, Redheads, BBW Cams, Foot Fetish, Group Sex, and so many more. Keep in mind that not all girls allow guests to watch their public shows, meaning you will have to make an account to access these if you get the desire to do so.
The tagline of ImLive is Always Hot, Always Live, and while I'm not sure about the second part, I'm definitely sure about the first part. The girls on ImLive are curvy, juicy yet firm, and stunningly beautiful. They like to tease and have fun, and chatting with their audience is one of their favorite things to do. You won't find a single bored face on this cam site, that's for sure.
When you sign up for ImLive, you get a bonus of 50 free tokens to spend however you want. There is a great customer loyalty system; however, it takes quite a while to climb up the ladder in it. If you're not keen on staying long on ImLive, then this feature might not be of interest to you. But the overall site is definitely one you should try out at least once.
Without beating around the bush, RoyalCams is one of those sites that I advise you to avoid. There's nothing too wrong with it, it just falls short of many – if not all – of the others I mentioned here. Its design is shared with another cam site, BongaCams, and it seems as though a lot of the models are shared as well, which I don't appreciate.
RoyalCams is nothing special. It is your standard, run-of-the-mill cam site, and it doesn't do itself any favors by alerting you to sign up with frequent pop-ups. A good quality, however, is that the site recognizes your location and automatically translates the content into your native language if it happens to be different than English. Small mercies.
DirtyRoulette (I Prefer Using SlutRoulette)
DirtyRoulette is all about anonymity and free live online sex. You don't even have to make an account to start chatting with someone – just press the Start button, and you'll be connected with a person at once! You can choose whether you want just girls or if you are fine with any gender identity.
If you run into someone you like, you can message them through the chatbox, or you can activate your camera and microphone and start talking to them. DirtyRoulette is not just for fast, no-strings-attached sex, but it can also be a place where you meet new friends and perhaps even romantic partners! 
We actually spent a week using DirtyRoulette and this is what happened.
Chaturbate

(One Of The Best Cam Sites Ever)
Any cam site list that we put together on this blog wouldn't be complete without mentioning Chaturbate. The best cam site in terms of value, Chaturbate is where you go if you're not feeling like spending too much money but still want a supreme live cam service. You don't have to sign up to access the public shows, but making an account has its perks.
Models on Chaturbate are hot and eager to please. They like talking to visitors, and they'll definitely remember you if you're a tipper. The site isn't loaded with ads, which I love, and most of its shows are in HD. The downside to Chaturbate is that you can't set up cam2cam. Fortunately, this doesn't diminish your experience here whatsoever. IF you want to learn more about Chaturbate, check out this guide I did.
With a similar premise to DirtyRoulette, SlutRoulette is where you go if you like playing 'get a random cam and see if you like it'. Unlike DirtyRoulette, where you're not paired with models but with regular people, SlutRoulette offers you a model cam to watch. It appears as though you and the model are one on one in the chatroom, but this is just a trick.
SlutRoulette doesn't accept guests and without making an account, all you can have is a several-second preview of a cam before it either switches to another one or the site asks you to join. An account is free, but for truly private shows, where you are alone with the model, you have to pay just like on any other cam site.
Cams.com is ahead of the curve when it comes to viewer-to-model interaction. You can not only control the sex toys the model is using in their show, but you can also buy a complementary toy (like a fleshlight for the gentlemen), which syncs up to the model's toy and you get transported into simulated sex with the sexy chick masturbating on your computer screen.
This particular feature is called Connexion, and while I personally haven't tried it, I've read raving reviews about it. However, aesthetically, Cams is incredibly similar to iCams, and even shares some of the same models with that site. As I mentioned before, I don't particularly like this so much, but to each their own I guess.
ThotsLive (Don't Recommend This Site)
For all of our internet slang challenged friends, thot is an acronym for that ho over there. Thots.org markets itself as a video chat site where anyone can talk to horny women. You can choose the models you want to watch by their physique, personality, and kinks. You can also watch solo models or couples.
ThotsLive says that it is free for guests and that even making an account is free, but obviously, there are some benefits to subscribing. However, when you click on any webcam it has on offer and the site tries to direct you to a sign-up page, nothing happens. (A blank page opens.) I hope they fix this glitch soon.
The Sites I Recommend You Try The Most Out Of The Above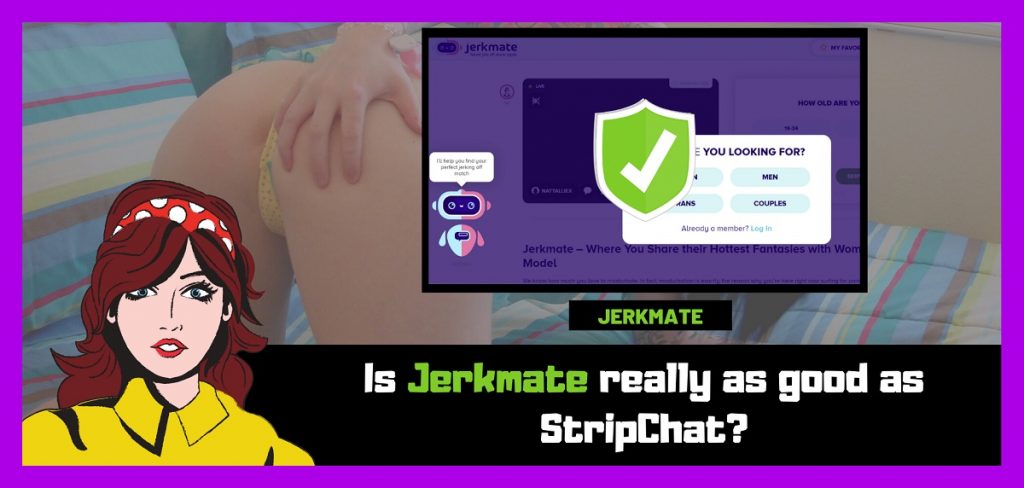 For one on one sessions, such as private shows, I would highly recommend Jerkmate.
For free cams, there is still no site as amazing as Chaturbate (thank me later), and the best overall cam site would be CamSoda.
Again, these are all just my personal opinions based on what I like when it comes to this type of porn. If you're new to the cam site world, I would definitely suggest looking through all of the options before you settle on the ones that you like the best.

My Full Review Of StripChat
Okay, it's now time to put my hours of using StripChat to some good and tell you what I really think about this site.
The Categories (What You Need To Check Out)
The categories on StripChat are highly specific. You can choose models based on their age (Teen, Twenties, MILF, Mature, Granny), ethnicity (Arab, Asian, Ebony, Indian, Latina, White), body type, hair color, how much they charge for private shows, and other popular features, such as whether they use interactive toys or are mobile-friendly.
What you need to try out are the Fuck Machine and the Big Ass categories because, my oh my, the wonders you will see there.
VR Live Shows (What They Are Like)
StripChat is currently the only cam site that still offers VR shows. This means that if you have a VR headset, such as Oculus Rift or HTC Vive, you can start a private show in which you will feel as though you're in the same room as the model performing for you.
Beware that these shows cost a pretty penny, but they're worth trying out at least once if you have the equipment.
Using Interactive Toys (Is It Really A Thing?)
Interactive toys are indeed a thing! They're not popular only on StripChat, but on many other cam sites as well.
How it works is that a model gets a specific sex toy from the cam site. During a show, the model's audience can then control the toy with their tips. Each tip increases the intensity of the toy's vibrations or their duration until the model eventually orgasms (if that's the goal).
You'll have a lot of fun playing with this feature on StripChat.
What Does Private Chat Mean (My Experience)?
Private chat or a private show is what you initiate to have some alone time with the model. (Though this isn't truly alone time either, because there are always those who pay to spy on private shows.)
During this private show, the model basically performs whatever you ask of them. It is customary to arrange the finer points of the show and what you'd like to see before it starts so that the model has a chance to refuse if they're not willing to meet your needs. That way, they don't feel uncomfortable, and you save money.
Private shows can be pretty pricey and they're on a pay-per-minute basis. But they are a great opportunity to bond with the model and to get some fantastic kink-fulfillment. My girl and I regularly partake in private shows and it's a great way to include a third person in your sex life without going through the hassle of searching for them online and gauging whether they'd be a good fit to meet or not.
What Is A Cam2Cam Sex Show (One Of The Hottest Experiences)
A cam2cam show is a type of a private show, but one where you can turn on your own webcam and have the model see you at the same time that you can see them.
It costs even more than a private show, but it is no different than having real, actual online video sex. Easily one of the steamiest sessions you'll ever have with a cam model.
The Best Models On StripChat
So far I've found a few models that I love watching and I decided to give them a shoutout so you can enjoy their content too.
Hope you enjoyed this review, breakdown and some of the alternatives I mentioned, if I missed anything let me know in the comments below.