Long before more inventive porn sources came along, such as porn videos and porn games, in the beginning, it was all about the picture. From explicit cave drawings in the prehistoric era to sexy vase art in ancient times, over naughty paintings and sculptures, mankind has always been curious and excited about sex. It's no surprise that porn images are still the most sought-after source of porn on the web.
If you don't have time to watch a video or play a game (or read or listen to a hot story), then you might spare a few quick seconds to look at a picture or two. I don't recommend doing this in public, but an image of a breasted babe riding a guy or a zoom-in on someone's crotch might just be what you need to recenter in the middle of your busy day.
There are countless, and I mean countless sources of porn pics online. They are waiting for you at every turn with hundreds of categories at your disposal, free for you to browse through as much as you want.
Yes, premium porn image sites exist. They promise high-quality photos and exclusivity, but in this day and age, you don't need to pay for something you can get for absolutely free on so many other sites.
Sites such as ImageFap, for example!
What Is ImageFap And Why Do I Use It?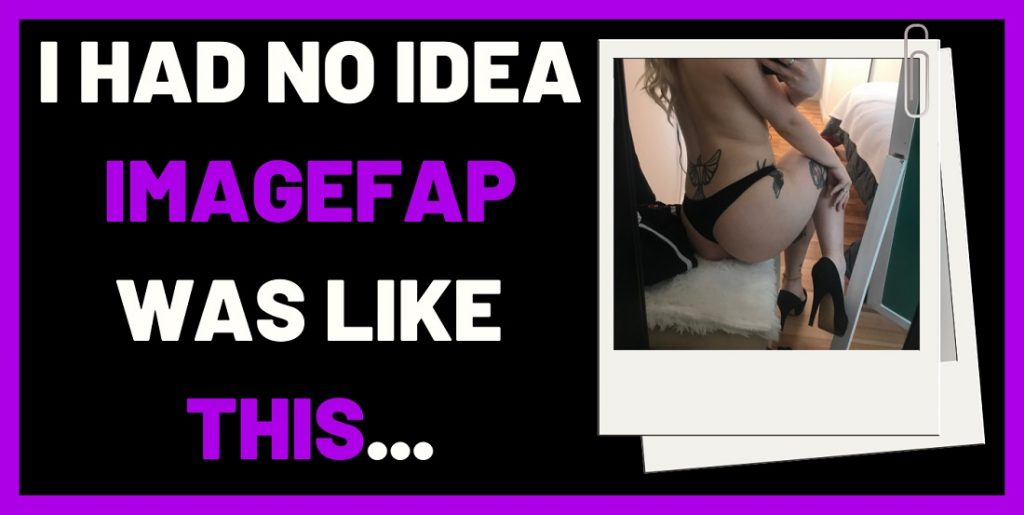 As per the site's own description, ImageFap is one of the biggest adult hosts of porn pics on the internet. And the biggest epithet is not exaggerated.
All of the pictures on this site are posted by its members/users. They are organized into galleries and sorted by categories. Categories include Amateur, Big Tits, Bukkake, Computer Generated, Double Penetration, Granny, Insertion, Oral, Pregnant, Shemale, Uniform, Voyeur, and honestly so many more than what I've listed here. The categories are not overly specific, but they help you narrow down your search.
ImageFap also includes a collection of videos (though not as extensive as some other porn video archives you've seen on our blog), blogs written by its members, as well as a forum so those who are interested in connecting with other porn enthusiasts have the opportunity to do so.
The newest feature on ImageFap is Live Sex, a cam show section. I have to say that neither my boyfriend or I have tried this out, as we have better sources for our cam show needs.
The main reason I use ImageFap is that I like it! I like the authenticity of it, the amateur feel of most of the pictures, and I love getting to know what other members are like. You can learn a lot about a person and their kinks just by clicking through the galleries they make on ImageFap.
However, aside from being an interested observer, I also like to anonymously share pictures of myself, my boyfriend, and the two of us together.
Sharing My Own Pictures
Chris is also into the whole pic sharing business, but I admit that I'm the one who uploads the most images in my free time.
For safety reasons, we never show our faces in the picture. Chris has a prominent upper arm tattoo, which I either blur out in a picture editing program, or I take the pictures in such a way that the tattoo is not visible. We don't mind exposing our bodies for the world to see, but we prefer to retain our anonymity during it.
Sharing your nakedness and explicit sexual acts with strangers on the internet is not an easy thing to do. I understand that this is not for everyone, but Chris and I get a hell of a thrill from it.
I guess you could tie this to our partner-sharing and hotwifing activities as well. While we are confident in our relationship and our love for one another, we do get a special kind of excitement when we watch other people lust after our partners or even have sex with them.
What can we say, reading comments on our profiles and growing our 'fanbase' on ImageFap and interacting with others who find us hot (together and separately) really gets us going. There's no such foreplay as uploading a gallery of our intimate moments and then waiting for the positivity to roll in.
Should You Share Your Pictures?
That's a great question!
If the thought of other people, strangers, seeing your porn pics makes you uncomfortable and/or squirmy, then definitely don't do it. You can enjoy looking at other people's pictures, you can even leave them nice comments and talk to them, but absolutely no one should ever pressure you into posting your own pictures if you don't feel like it.
However, if exhibitionism is something you get off on, then that's a whole other story.
Posting your first few pictures online might feel a bit intense even if you're into it, but if you find that it's more thrilling than scary, you have nothing to worry about.
As long as you follow the recommended safety measures, there is no reason to believe anything bad will happen from you anonymously posting your pictures or pictures of your partner(s) (with permission!) online.
Here is what you have to keep in mind:
Don't reveal your face!
Hide any distinctive tattoos or birthmarks or scars.
Reveal as little of the background/surroundings as possible.
In communication, never give out any personal information, including your real name and where you're from.
Yes, some people reveal their faces on sites like these. They're doing it at their own risk. My boyfriend and I are not in a position where we can take that risk – that of someone recognizing us – so we make sure that there are as few defining characteristics of us as possible in our naughty galleries.
Be smart, take a deep breath in, and if you're getting turned on just by the mere thought of sharing your nakedness online, don't hesitate to go for it!
Sites Like ImageFap (Recommended List)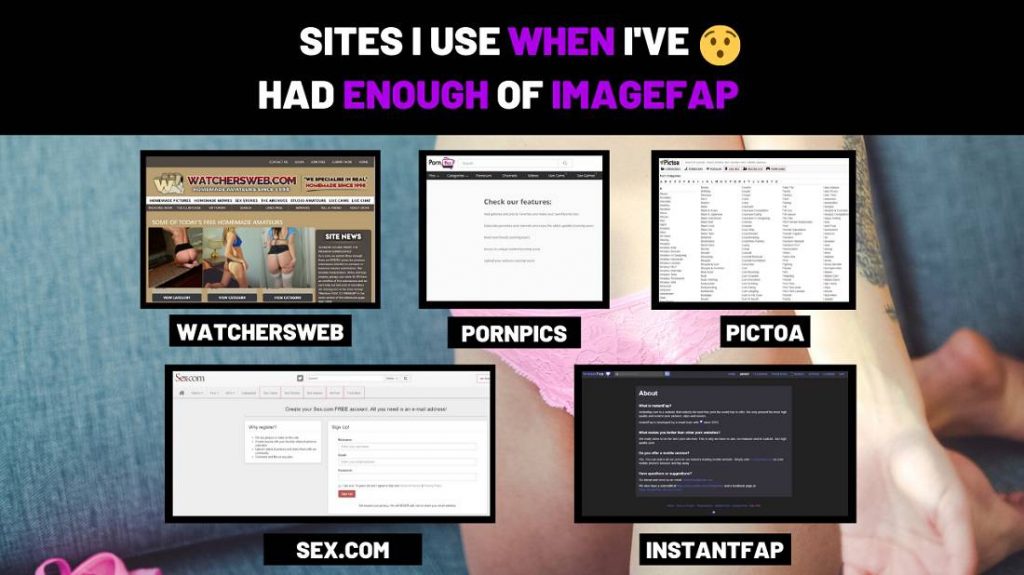 If you visit ImageFap and find that the site isn't for you for whatever reason, rest assured there are plenty of alternatives for you to browse through. Thanks to the vastness of the internet, you're not limited to only one online source of porn pics. Take a look at what else there is to feast your eyes on!
My absolute favorite when it comes to porn pics is WatchersWeb. It is a site that's been up since 1998, yet thankfully its layout has been upgraded since then. Right off the bat, you get explicit pictures of real women and real couples playing with each other, homemade and with that authentic feel that both Chris and I enjoy so much. There's no room for professional porn on WatchersWeb!
On this site, you will find pictures, homemade videos, sex stories from those willing to share them, and even live cams and live chat. A cool feature is a contest, where every month, dozens of the sexiest submitters get a chance to win cash prizes! What a great deal: you get to satisfy your exhibitionist kink and you win money!
InstantFap
InstantFap is exactly what its name says it is – a place for you to quickly click through the content without much thought or deliberating and find clips that are short and dirty to get off to. This site has image collections, as well as short animated clips and longer videos (beware, however, that there is some miscategorizing and that you might find images in the video section and vice versa).
When it comes to the images, they range from sensual and tame to quite explicit (but not hardcore). The downside to InstantFap is that there seem to be no restrictions – you will find professional porn pics, amateur pics, even anime porn artwork, and just random (non-porn) images of Hollywood actresses… Generally, not the type of content that turns me on right away.
YourDailyGirls
The girls on Your Daily Girls are drop-dead gorgeous. The pictures you get here are not amateur or homemade, but are snapshots of porn actresses and babes either in the middle of the action or assuming a sexy pose. They are busty, curvy, with smooth skin and silky hair, just waiting to seduce you through the screen.
Your Daily Girls is not just about solo girls. Keep in mind that you'll get your fair share of dicks, as well as couple and group shots, anywhere from lesbian porn to straight to threesomes and orgies. If for whatever reason, you're unable to watch HD pro-porn clips, Your Daily Girls is the next best thing, so don't miss out!
Pictoa
Will Pictoa satisfy your porn pic needs? Does it have enough homemade shots for your amateur-loving soul? Yes. Are these shots original pics from real people? No. While Pictoa does offer an endless supply of amateur pictures of all kinds of women and couples in all kinds of situations and backgrounds, there's actually no guarantee that the people who post these pictures are the ones in the pictures themselves.
This means that these pictures were taken elsewhere off the web without permission of their owners, and this is the type of behavior I don't condone. My best advice would be to avoid this site – regardless of its good selection of amateur content – for the simple reason that its ethics are questionable at best.
PornPics
If you're not a fan of the authentic amateur vibes, then you might be more inclined to visit a site that is home to professional porn studio shots such as Porn Pics. Here, you will find galleries and galleries of high-quality pictures of porn chicks in all sorts of positions. Some of the categories are Cheerleader, Facesitting, Gloryhole, Nurse, Pegging, Saggy Tits, Socks, Threesome, and so much more.
The pictures are obviously arranged carefully so that everything important is in the shot, and the people you see here are amazingly attractive, regardless of if they're young or old. Most of the galleries seem to be taken during the filming of actual porn videos, so it's almost as good as watching actual porn.
Sex.com
Sex.com definitely offers nothing but sex from the moment you open its homepage. Gifs, images, videos, whatever type of porn you like, Sex.com has it. Its content is sorted into categories, and you can easily view what's popular this week, this month, this year and what's popular since the inception of the site.
However, I have the same issue with Sex.com as I did with Pictoa. This is not a site where real people upload their real content. It isn't even a site where professional studios upload their content. It is a site where random strangers collect things off the internet and upload them on Sex.com, sort of like porny Pinterest. You can even arrange all of what you see on your personal boards. That sort of site organization doesn't impress me.
88Gals
At first glance, 88Gals is a site filled with hot chicks showing off their bodies. They're by themselves, naked or in sexy lingerie, they're with other girls, kissing and touching, and they might even be giving a blowjob or riding some fortunate guy. Behind each cover picture is a gallery with the same theme, so you will have an easy time choosing what you want to see.
88Gals looks like a glorified MySpace page and honestly, it's not much better than that. It comes with a wide range of attractive young girls and you're sure to find something that you like here. However, 88Gals is also filled with ads and pop-ups on every corner that might ruin your experience of this website.
JpegWorld
Jpeg World is another site filled with pro photoshoot porn pics. These porn stars are beautiful and fit and they know their way around all sorts of toys, objects, fruits (yes, you read that right), and of course, dicks. Each gallery has a great progression of pictures, from teasing foreplay to hardcore shots near the end that will have you climaxing in no time.
The content on Jpeg World is categorized so that you can find your kinks more easily. My favorite categories have to be Ass Fingering, Chubby, and Strapon. There are dozens of these to choose from, so take your time in going through all of what's on offer. I don't spend too much time here because there are no amateur shots, but sometimes a just girl needs a pro porn fix to get through the day.
xHamster Pics
Did you know that great porn sites such as xHamster and PornHub also have extensive collections of pictures? Homemade pics might be more your speed than homemade videos, and so why not visit these porn staples and see what they have to deliver on the subject. XHamster, in particular, is a great source of kinky amateur shots of people from all walks of life.
What I love is that on xHamster you will often find verified users. Meaning those who in one of their pictures in their gallery throw up an xHamster sign, clearly showing they are authentic and real and actually doing everything just as you're looking at it in the pictures. As a sucker for that original content, I can't get enough of these verified amateurs.
PornHub Pics
Yes, as I mentioned, PornHub also has a vast collection of pictures, not just video clips. (Though, arguably, their video clips are a lot more popular.) You can search through them by segments – solo female, straight sex, solo male, gay, transgender, miscellaneous, uncategorized – and by tags, such as Tits Amateur, Hentai, Anal, Pornstar, Fetish, BDSM, and more.
As you can see from the categories, not all of the pictures are by real people. However, you will find a fair share of galleries of all types. Some of my favorites are those that include mature amateur ladies showing off their imperfectly perfect bodies.
PicHunter
PicHunter has a similar layout to Jpeg World and Sex.com. People in these pictures are pornstars, and there is no trace of that amateur flare that I love. Some interesting categories at PicHunter are Cuckold, Celebrity, FFM, and Upskirt, though you can find many more to your liking. Interestingly, the categories on the landing page aren't sorted alphabetically, which is a bit annoying.
PicHunter may not offer anything new or revolutionary when it comes to porn pictures, but it will certainly tickle your imagination enough to get you going.
Reddit
Thanks to our blog, you must have already come to understand that Reddit is a porn paradise. Here are some adults-only subreddits that you have to check out if you want to satisfy your cravings:
r/gonewild
r/realgirls
r/BustyPetite
r/milf
r/OnOff
r/trashyboners
r/GWCouples
r/gonewild30plus
The Site From Above I Always Use
While ImageFap has its pros and cons (more on that after the jump), I have to admit that the site I visit the most is WatchersWeb. Unlike most others, it's not entirely free, but it is the best porn site of its kind, and both Chris and I love coming back to see what new temptations were posted while we were away.
My ImageFap Review (Truth Exposed)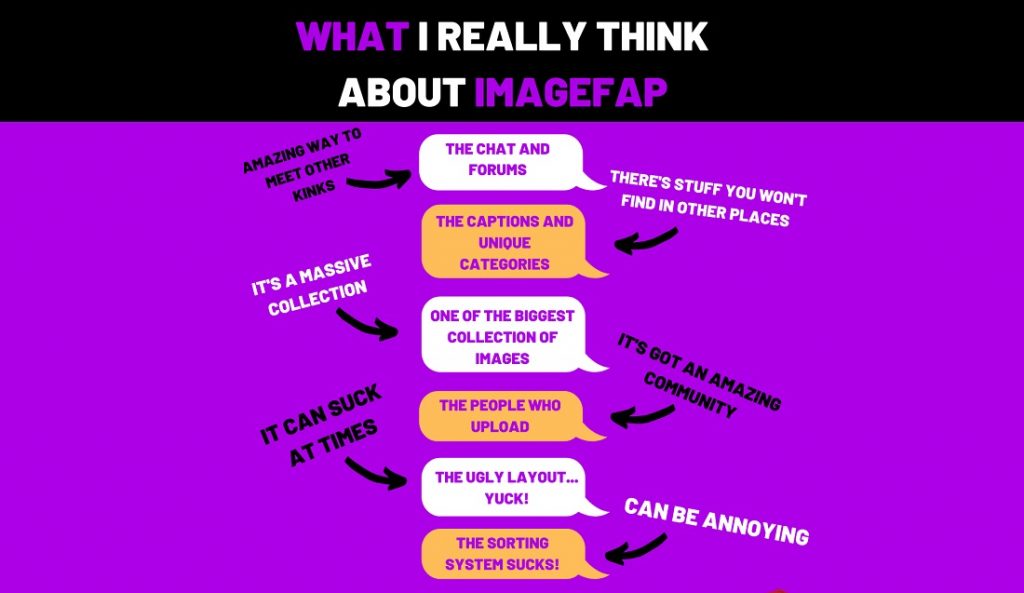 No porn site of any kind is perfect. Therefore, it stands to reason that ImageFap is not perfect, either. Here is what I like the most about this site, and what I hate about it.
What I Love:
These are some of the things that I love about imagefap.
The ImageFap chat and forum
You know that I'm a sucker for human interaction and meeting others who like the same sexy things as I do. This is why the chat and the forum features on ImageFap are my favorite. I get to post my opinions, read other people's stories and react to them, leave encouraging comments, flirt a little… It's amazing.
The Captions, BBW, and Mature categories are amazing
I've already mentioned some of the categories you can find on ImageFap, but let me steer you in the direction I love to go in on this site: the categories of Captions, where you can find both humorous and sexy captions to go with the porn pictures (and gifs), BBW, and Mature, where unconventionally gorgeous ladies reside. I could spend hours in these three categories and still not get enough.
They have one of the biggest collections of adult images
In case this wasn't obvious from ImageFap's own tagline, the image archive they have collected over the years is vast. Vast. So big that it would take you months and months to go through it all if you're determined enough. And new pictures are being added every day! In terms of the number of pictures on offer, ImageFap is incredibly hard to beat.
The Members Who Upload (Good Community Of Real People)
Aside from providing you with pictures of amazingly hot real people, ImageFap is home to a community where these same people are also friendly and open for chatting. I love sex-positive spaces where there's a relaxed, easygoing atmosphere filled with members who are supportive, willing to help, and excited to make new friends. You will rarely find a more welcoming space than ImageFap.
The popularity (It's really popular)
Despite its outdated design (more on that in the next section), ImageFap is still getting new members every single day. Its popularity has only increased over the years, and it's not showing signs of stopping any time soon. New galleries are popping up left and right, and thanks to the sheer number of members and newcomers, you'll never feel like the content on ImageFap is getting stale.
What I Hate
These are the things I actually hate about imagefap.
The layout is ugly and looks spammy
Let's be honest for a second: ImageFap doesn't do anything for us when it comes to its design aesthetic. There is no design aesthetic, to be more precise. The site looks like a boring spreadsheet-style directory of a mass corporation, not a kinky porn site where everyone comes to get their freak on.
For this reason, I prefer WatchersWeb. It may not be completely free, but I prefer to pay a few dollars a month and have a usable, at least somewhat organized site than pay nothing and have to endure it looking like ImageFap.
A bad sorting system
Something that goes hand in hand with the previous point – with the lack of structure to the site – is the fact that ImageFap doesn't have a good sorting system. You can filter galleries by their size and by the time they were posted, but not by their popularity or ratings. There is a selection of featured members on the landing page, but there's no way to know how these featured members were selected.
If you wish to have some sort of a 'Best Of' collection of ImageFap galleries, you'll have to make it yourself.
The site is 10x better when you sign up
Even though ImageFap is free and you don't need an account to access most galleries, it bears mentioning that your experience here will be a lot better when you make an account (which is also free).
With an account, you will have the option of saving your favorite galleries, following other members and what they post, interacting with them, and posting on the forum. All of this makes for a much more fun ride spent looking at all these fetish-filled pictures and getting to know new and exciting people in the porn world!