We love cam girls, cam boys, and cam couples over here, we just can't get enough, especially when every day it seems another new and exciting cam site pops up and lures us in. That's something I love about the world of online sex, it's ever-changing and although Skyprivate is a fabulous, well-designed, and popular cam-sex site, it still can get tiring and if you're anything like me, you enjoy changing things up and getting a new taste of things every now and again.
My girlfriend and I are always looking for ways to entertain ourselves and by finding new sites to enjoy, it never gets boring. It can be a difficult task to find similar sites to satisfy that same urge but we have done it and today we are going to be sharing our favorite sites that are just like SkyPrivate, if not…better.
What Is Skyprivate?
If you're not sure, it's good to know before we dive right in that SkyPrivate is a sex camming site, that's a little bit different from everything else on the internet. You pick your favorite model (there are literally thousands) and once you're happy you enter a private Skype room with her and have some fun. You pay for this privilege but if you want some one-on-one action with a gorgeous woman who just wants to please, it's an incredible cam site.
It's private, it's unique and because each girl has her own fees, you can find any room that suits your budget. There's no waiting around, there are no hordes of other men trying to access your private room, it's all for you and the model. It is an experience tailored to you and I really enjoy that when it comes to masturbation and needs.
Any downside to Skyprivate?
Both me and my girlfriend love SkyPrivate, it's the uniqueness that makes it stand out, however, if I had to pick one downside it probably would be the lack of 'deals', by that I mean, I would like for models to express more of a set fee for a certain amount of time with her on Skype, rather than paying per minute. It would give more time to relax into it, however, it isn't too much of an issue.
List Of Sites Like Skyprivate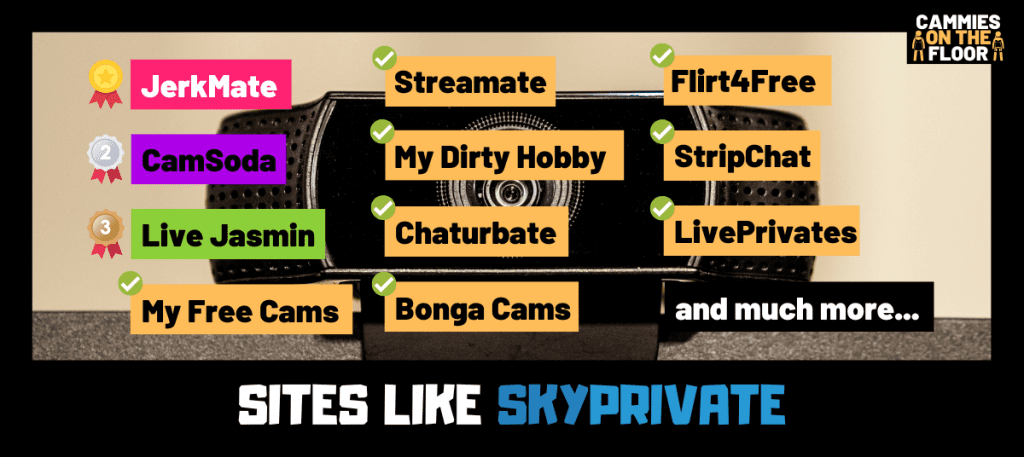 Now it's time for my favorite sites that are just like or similar to SkyPrivate, all have their own quirks, good, and bad, some are free to use and some require payment, however, all are equally as fun, arousing, and a step up from regular porn. Being able to watch real-life, live hotties doing their thing from anywhere in the world is one of the best things to have on the internet.
In Order Of Most Similar To SkyPrivate:
---
One of my favorite camming sites online, Jerkmate is an incredible experience. It's free to use, however, if you want to enjoy this site to its full potential making an account is crucial. It is also worth noting that although buying 'coins' to spend on models is encouraged, these coins become cheaper the longer you spend on the site, rewarding you for your loyalty, which I think is great. I didn't always love JerkMate but since using it more frequently and really getting to know the site, I love it. The streams are always HD, it's affordable and there are so many performers to choose from. you can check out the full review of Jerkmate here.
---
On this site, token packages can start for as little as $5.99 for 50 and this allows you to tip your favorite models and enjoy private and other premium erotic shows. You can enjoy the site for free too, so if you're on a budget it's ideal, however, I do recommend making an account (you don't have to spend anything) that way you can interact with models, and get more access to hidden features. I even mentioned all of our favorite CamSoda models here so be sure to check that out. I love the huge array of different models on this site and the way you can filter to find just what you're looking for.
---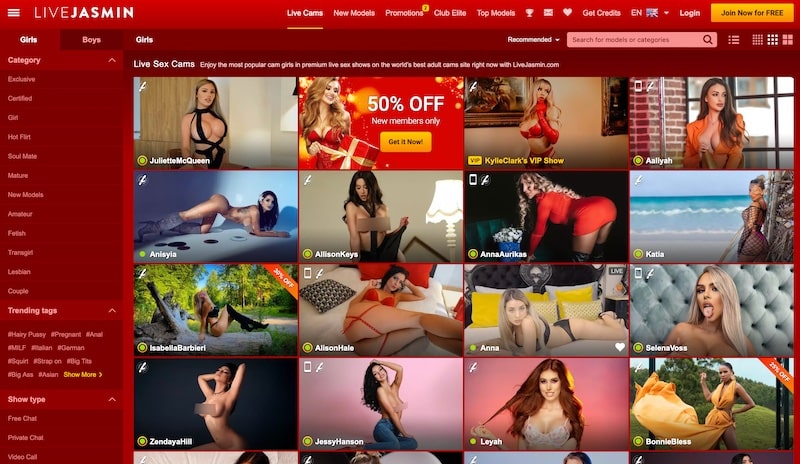 An alluring and seductive site that captures you from the moment you click on it. It's an elite sex camming site with incredibly hot models. It is worth mentioning that this is one of the paid sites, you get 10 minutes free and then you must purchase credits to continue watching however those credits do go a long way when it comes to spending them on your favorite performers and for the quality of the streams, you really can't go wrong with this site. The customer service is also always friendly and helpful if you have any issues. Both my girlfriend and I love this cam site and we like to enjoy VIP shows together and spend credits on our favorite models, who are all listed in this LiveJasmin review.
---
Completely free to use and packed with mostly horny amateurs and pornstars who broadcast themselves and give you tremendous daily live shows. It's really easy to use, as soon as you click on the site you are given the trending rooms at the time as well as options to find models that better suit your preferences and desires. Although it is free to watch the shows, you can buy tokens to use to tip with as well as to use to go into private rooms (100% worth it). The models are from all over the world so there is so much variety and fun to be had.
---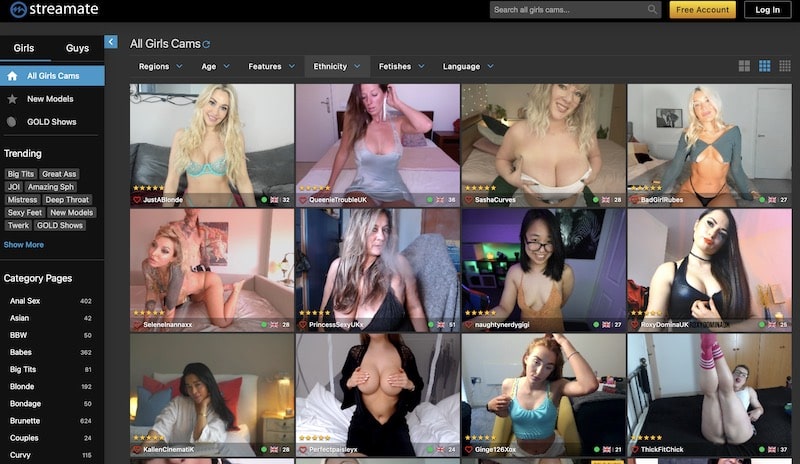 You can enjoy this site as a free or a premium member, you do need to make an account but you don't need to pay anything if you don't want to, although seeing the girls and what tips get you, always changes peoples minds. There are thousands of webcam girls waiting for you on this site, you can explore the categories (conveniently located) and I like that you can find out a little about your model before committing to her show as there is a nice description box for them to leave their wants, dislikes and turn on's so you know exactly what you're getting from the show.
---
We love this cam site, you can really get to know your chosen model and when she is offline you can enjoy the videos and pictures uploaded to her profile that keep you seriously entertained and horny. If you sign-up by clicking the link you will also get 100 free 'dirty coins' that you can use and spend on your favorite performer. It's free to sign-up and there are always sexy girls online ready to play.
---
Completely free to use, this cam site is extremely popular with models online 24/7 and 365 days of a year. You can watch the show for free or make a free account and interact with your favorite performer and spend tokens to help her reach her sexual goals which are always clear and control her vibrating Lovesense sex toy (if she has one connected to her tip jar). If you have already tried out this site, check out these 11 sites just like Chaturbate that will definitely satisfy that delicious cam sex urge.
---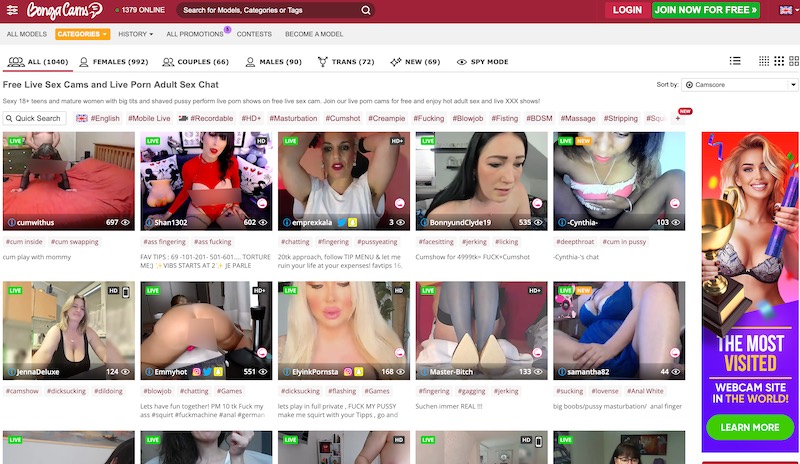 You can watch cam shows and live sex for free, you don't need to sign-up just simply sit back and enjoy. However, if you sign up through our link you get access to free tokens (all you have to do is put your email in) and these tokens can then be used on your favorite model. I love how descriptive each profile is on this site, you get a clear and concise idea of what the model wants and how much a tip is worth on her stream.
---
Filled with pornstars and amateurs from around the world, this cam site doesn't play around when it comes to giving you exactly what you want. It's free to sign-up and you even get free credits for just making an account which is totally worth it for you and for your chosen room. Models can be categorized with your preferences in mind, as well as having features that allow you to get notified when your favorite model is online, it's a great cam site that doesn't cost a fortune to buy coins from and is always appreciated by the performers.
---
One of the more affordable webcam sex streaming sites, Stripchat allows you to view cams for free with no sign-up necessary however if you want to leave comments or tip your performer, you do need to use tokens. The good news is you get free tokens when signing up and when taking surveys on the site, which is great if you're on a budget or if you just want to try before you buy. You can also find performers who require a small number of tokens or those who need big tips to perform, the choice is yours and it is plentiful.
---
With girls, couples, and trans models along with a plethora of irresistible categories to use to find your perfect show, this cam site is not one to miss. It is cheaper than some of the other options we have seen and you can join and chat for free with some models (looking out for the free icon on your favorite performers). If you do buy credits you are going to get a much better and hotter show and it encourages and helps your models to get horny and do nasty things for their viewers.
---
This is a bit of a wildcard but I just had to include it because I love finding something to suit everyone. This cam site works just as Chatroulette does, you and a random hot woman from around the world are matched and you can skip or choose to watch your chosen stranger perform. Always be polite, patient, and courteous to your performer and reap the rewards of a hot, intimate show. This site feels really similar to SkyPrivate so I definitely wouldn't pass it up!
If you liked this and you want an even bigger selection of sex cam sites, check out this list of the best free and paid cam sites where I give you all of my favorite cam sites for incredible masturbation sessions and couple bonding moments.
---
Finding Women For Skype/Private Cam Sex
If you want a private show, as you get on SkyPrivate, a lot of models offer this on their profile, however, it can be pricey and some sites don't offer it, especially free and extremely popular sites.
Something a lot of people do is speak to the models and offer to pay them for private skype cam sex away from their live show. It's pretty common, they will usually ask for the money upfront, so be careful with scammers and be sure you know what you're doing as doing anything on the website doesn't insure you against any mishaps.
If that doesn't suit you, stick to the sites that offer private cam sex as part of their show as it's safer and quicker to do.
TL;DR (Conclusion)
If you came straight down here because you felt as if it was 'too long didn't read' let me give you a quick breakdown of what was mentioned.
SkyPrivate is a sex camming site where you can pay to talk and masturbate with hot women on Skype, I wanted to share with you some alternatives to this that will keep you aroused and satisfied. My top like-for-like cam site was Jerkmate, their tagline is 'never jerk off alone', and with their thousands of live cams and easy-to-use website, it couldn't be more true as you flirt and have cam sex with incredibly hot models.
My second top recommendation was CamSoda, you can make a free account and enjoy the live sex cam sex shows or register for some affordable coins and spend them on your favorite models to make the show an even hotter experience.
In third place, we had LiveJasmin which is a hugely popular site with the hottest cam stars around. It isn't available for free (you get 10 minutes) but it's worth making an account for how much variety and sensuality you get from the shows.
Let me know if I have missed your favorite cam site like SkyPrivate and we will definitely check it out. Peace.