Welcome to your comprehensive guide on all things cuckold and hotwife! Pull up a chair and take a breather from your busy day, as here is a post that will ease your way into the world of partner-sharing.
Cuckolding is a word that's been around for decades, yet today it means something different than it used to. Speaking in fetish terms, cuckolding is the act of a wife or a long-term girlfriend having sex with a man who is not her partner, while her partner is either in the same room and watching, or somehow in the loop and updated on the situation (say, through pics and texts.)
Cuckolds are husbands, or long-term boyfriends, who get off on the knowledge (or the scene) that their partner is having sex with someone else, especially if that someone else is superior to the cuckold in some way.
Hotwifing is a similar term. It describes a woman in a committed relationship having sex with someone outside of that relationship with the full knowledge and permission of her partner. Sort of like… allowed adultery, if we have to put a label on it.
These two fetishes are subsets of BDSM, but they also fall into the category of swinging.
If you're here to learn all about cuckolding and hotwifing, then you've come just to the right place. Sit back, my friend, and scroll down to find out everything you need to know to begin your cuckolding journey!
What I Look For In A Cuckold/Hotwife Dating Site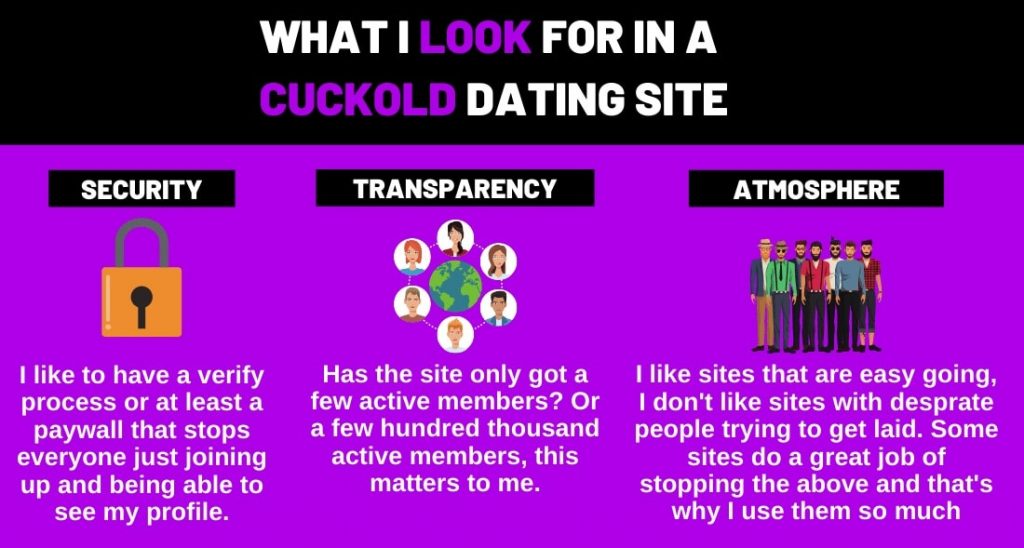 It's no secret that the best place to find partners for this type of kink are dating sites or online communities where like-minded people gather. In the years that my boyfriend and I have been partner-sharing, I'd say that roughly 95% of the couples, bulls, and ladies we've played with came from the friendships we made online. Only a few of them – two that I can recall – we first met in person and decided to proposition.
Before I list my favorite online places to look for the best partners, here are some things I pay attention to when I'm new to a dating site.
Transparency
In order to gauge whether or not the community will be able to help me, or whether or not it's worth investing my time into, I like to know how big it is. Are we talking a couple of hundred members or tens of thousands or even hundreds of thousands of members? (Yes, there are forums and groups for cuckolding housing hundreds of thousands of members, as you'll later see.)
There's no point in posting and trying to find a sexual partner if the community is a wasteland.
Security
Many forums and chatrooms have the option to 'verify' their members. It's a process similar to the one on twitter: you post a pic of yourself with your username written on a piece of paper (you don't necessarily have to show your face, just enough that it's obvious there's a real person behind the username), and the forum verifies you as an actual human being.
It sounds weird, perhaps, but it's the first step to making sure the person you're communicating with online is really who they say they are.
Atmosphere
The community needs to be welcoming. I like relaxed, easygoing vibes where people appreciate new members and really want to help. Given the nature of the fetish, it's normal to be a bit naughty and teasing, but it all needs to be within the limits of respect and politeness.
If someone is making other members uncomfortable or is being rude, I like to know that there are moderators who regulate that and who won't hesitate to keep their community friendly and accepting.
The Best Cuckold And Hotwife Dating Site
The first, and so far the best site we've been on for finding potential partners is AdultFriendFinder.
It's a place where you can make your profile for free, post in forums, engage in chatrooms, watch live cams of real people performing various sexual acts, make your own blog, and so much more.
AdultFriendFinder is not cuckold/hotwife specific, but rather people with all types of sexual fantasies can come to share their experiences and stories and ask for help in fulfilling those fantasies.
The two main reasons why AdultFriendFinder is our favorite site are as follows:
Most Of Our Successful Hook-ups Have Been From This Site
As I mentioned before, so many of our hook-ups came from the internet, but the majority of them came from AdultFriendFinder specifically. It's amazingly easy to find what you're looking for, especially if you're direct and honest about your needs and boundaries.
Loads Of Men Who Understand Cuckolding & Hotwifing
Speaking of boundaries, cuckolding and hotwifing, the same as any other sexual fantasy, must have some rules and guidelines to it. Chris and I have been careful to set our own list of rules that work for us, and it's only enhanced our partner-sharing experience.
That being said, you will find a staggering number of men who are respectful of these boundaries. At the end of the day, they are there to have a good time too, and they understand they're serving a purpose. The purpose is to satisfy the wife and, as a direct result, satisfy the husband as well.
So far, we've had no problems with anyone who wanted more than we were willing to offer in any given situation.
Other Amazing Dating Sites I Use To Find Bulls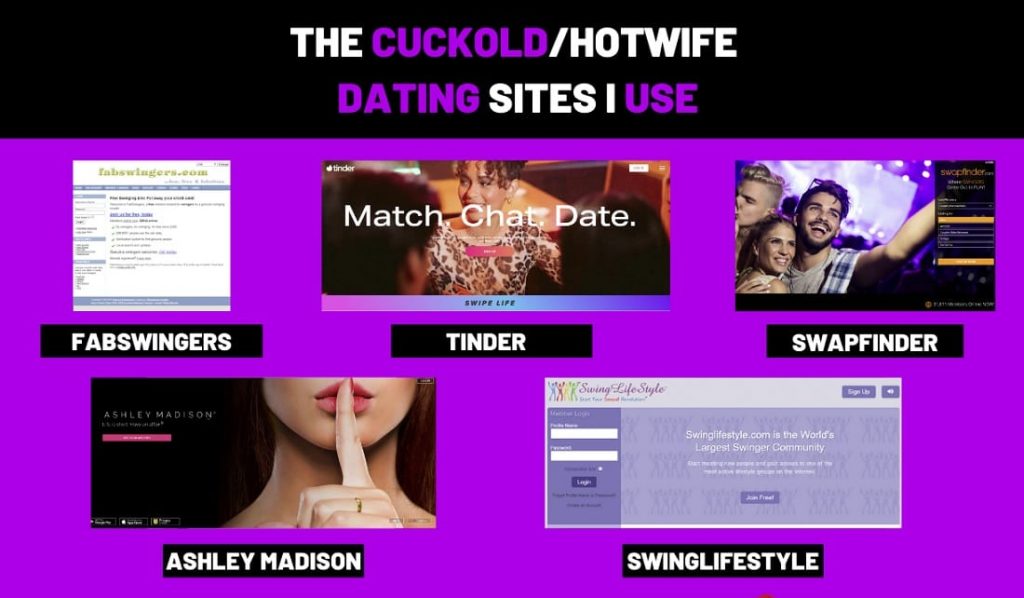 I price checked for all the best prices and deals for all the hotwife dating websites mentioned in this article on the: 04/10/2023
If you're not thrilled with AdultFriendFinder or wish to expand your horizons a bit, here are some other sites and apps that may help you get that perfect partner you're seeking.
This sleek, modern site is the go-to place for swingers. In order to use alt.com, you need to make an account, but it is completely free. Once you do so, you unlock a world of instant messaging, video and picture posts, and even two-way camera chats that help you find the right couple to swing with.
At times, you may also run into some singles looking to join a couple for a threesome. Personally, I never used the site for that, as my boyfriend and I also swing, so we mostly focus on couples here. SwapFinder makes it ridiculously easy for you to hit it off with another pair looking to enrich their sex life. You can also check out these sites like alt.com.
Okay, there is definitely some hesitation when it comes to this dating site. It is a great place to find clean, reliable men who are down to play – though usually solo with the wife – but there is the moral dilemma inevitably associated with the site.
Namely, this site has been under fire in recent years because it clearly promotes adultery and having extra-marital affairs in the opposite way of what cuckolding and hotwifing represent. So the chances are that, if you find a decent guy for your fantasies, he might be married and his wife might not be in on the fantasy and wouldn't be too happy to find out that her partner has been sleeping around.
So use this site with caution and you can even check out these other options to Ashley Madison.
BiCupid is easily the largest site on this list. It is a community for bisexual and bi-curious people, as well as couples looking to have a good time. However, it also welcomes members of other groups, such as BDSM-enthusiasts, straights, and LGBTQ+ people. If you're polite and friendly, there's a place for you on BiCupid.
Because this website focuses on anything from hookups to long-term intimate relationships, I have to emphasize how important it is to clearly state what you're there for. If it's just to make your fantasy come true, don't hesitate to declare that on your profile or at the start of the conversation, so that the other person (or people) know what they're getting into and whether or not it works for them.
SwingLifeStyle is a prime source for everything related to swinging and partner-sharing. There are thousands of swingers online at any given moment, ready to provide you with a kind word or advice, and willing to talk about your mutual fantasies. All you need to do is make a free account and you're in!
SwingLifeStyle offers swinger forums, groups, clubs, blogs, swinger stories, and articles, as well as swingers sorted by state, so you have an easier time finding partners local to you. It truly is an essential resource in your swinging journey, and you shouldn't wait to join this great, ever-growing community!
CuckoldPlace is a forum for all things related to cuckolding and hotwifing. It hosts over one hundred thousand members, so you know it is well-populated and that it offers high chances of finding a good match. Signing up is free, and with access to this community, you get loads of helpful information to improve your cuckolding journey.
The categories you will find at CuckoldPlace include Cuckold Stories, Cuckold Captions, Interracial Cuckolds, a separate group for beginners and one for advanced cuckolds, then those with specific fetishes such as a foot fetish, intergenerational cuckolds, and more. There are also groups for different countries, like Germany, France, Spain, Turkey, Russia, and others, so you can meet potential bulls even internationally.
If forums are your thing you can check out the list of hotwife forums I use.
3Somer is an app available both for Android and iOS, and it is completely free to download. It advertises as a quick and easy way to find a third person for a threesome, should you be interested in spicing up your sex life. All you need to do is make a profile, set your preferences and what type of person you're looking for and voila! Meeting the right partner is as easy as pie.
4Club is another dating app, only it's made solely for iPhone. Thanks to it, you can find new friends, hook-ups, and even long-term relationships. Browse profiles of thousands of singles or people looking to meet others in their area, message and share photos, and create your own network of friends! Since it's not created specifically for dating and sex, you might have less fortune finding a good sex fantasy partner here than on other apps and sites.
Tinder

(For Solo Hookups)
This list wouldn't be complete without the massively popular dating app that is Tinder. It is free to download and make an account on, it is available for Android and iOS, and people use it all over the world.
However, it's a bit more difficult to specify that you're a couple looking for a third partner on Tinder. This is why perhaps the app is better suited if you're going for a solo meet, for example, the wife meeting a guy and later updating her husband on how it went.
No part of FabSwingers can be accessed if you're not logged in. But making an account takes only a few clicks and costs nothing, so you don't have much to lose but have a lot to gain.
FabSwingers has thousands of members from English-speaking countries waiting to bring their fetishes to life. There are men, women, and couples who advertise on this site, so you can find exactly what you're looking for.
Home to millions of different topics, Reddit is also great at finding friends in the cuckold and hotwife lifestyles, as well as getting more familiar with the whole concept. I explore subreddits dedicated to this in a more detailed review, but here I'm going to briefly describe two that are important in finding playmates.
CuckoldPersonals is a great place to post if you're looking for a bull or a couple (or a hotwife) to have fun with. Take a peek at the ads already posted to see the general format, and make sure to stick to my rules about safety outlined later in this post.
This is a similar subreddit as the previous one, where people from different countries post what they're offering and what they're looking for. It is abundant with NSFW pictures, so be careful about opening it in a public place.
I created a whole list of hotwife and cuckold reddits, so check them out.
Other Option: Sex Bars/Clubs
Depending on where you're at, it's highly likely that the city you're in or live close by has a sex club or a bar of some sort. Again, it may not be specialized for cuckolds and hotwives, but people venturing here tend to be more open-minded and more accepting of unconventional sexual encounters.
A sex bar would be a great place to start. You and your partner can get dolled up for a fun night out, where you can meet potential playmates and test the waters, so to speak. You don't have to commit to anything right away; simply entertain the idea of maybe taking a person to a private location (such as a hotel) and seeing what it develops into. If either of you is not okay with it, it doesn't have to happen.
How To Stay Safe While While Finding Someone To Share Your Wife With
Meeting internet strangers in real life can be a frightening prospect, what with all the horror stories related to stranger danger. This is why you must take some precautionary steps to make sure you and your partner (or only you, if you're the third person) are safe at all times.
Throughout our two years of swinging and hotwifing, my boyfriend and I haven't had any problems when it comes to this. There have been a couple of people that gave us creepy vibes, but we didn't even consider meeting them in person. So here are some tips that will increase your safety both online and off.
Use Alter-Ego information
When you're posting online, stick to your username or nickname that preferably has little to do with your actual name.
Don't upload pictures of your face. Or not your whole face anyway. Go with the pictures of your body, if you're posting pictures and all, and make sure to cover any distinct characteristics, such as scars, birthmarks, tattoos, and similar.
When you're arranging a meet-up, try a neighboring town or city. This is both for your safety and for privacy reasons. If you're not open about your open relationship (and not many of us are, frankly), you don't want your friends or anyone from your social circles finding out what you like to do in your downtime.
Always go on Skype before meeting
Video calls are a surefire way to see that the person you're in touch with is real and existing and whether or not they're exactly how they present themselves. You don't have to talk on Skype, but some facetime is a great additional layer of safety.
Safe Sex Is Always Best
Needless to say, always have the condom talk before meeting up with the person, and make sure you bring condoms.
Unprotected sex is definitely a thrill of its own kind, but this is something that should be saved for a regular bull or partner when you're sure they're clean. If you're still feeling out the person, it's best to be safe.
If cum play is your thing, you can always have the guy pull out and take the condom off, but, again, perhaps you should wrap it until you get to know each other better.
Home Visits?
One of the basic rules here is that you don't bring your bull or a couple you're meeting with to your home. Not on the first date, at least.
This is what hotels and motels are for. Book a nice room for the night, again preferably in a town that's adjacent to yours, and you don't have to worry about cleaning before or after, about being a good host(ess), and definitely not about your safety.
Once you build a solid relationship with the partner(s), you can always bring them back to your place for some intimacy.
Don't use fake or old photos
Just as you wouldn't like finally meeting a person and discovering they're nothing like their photo, it wouldn't be a wise idea to do it to others, either. Video calls largely solve this problem, but if you can't have a video call beforehand, pictures are all you have to go on.
Don't lie or catfish, and use real photos that are up to date. I promise that most men looking for hook-ups don't really care, as long as you're clean and friendly and down for some kink.
How To Find A Bull Using These Dating Sites (FAST)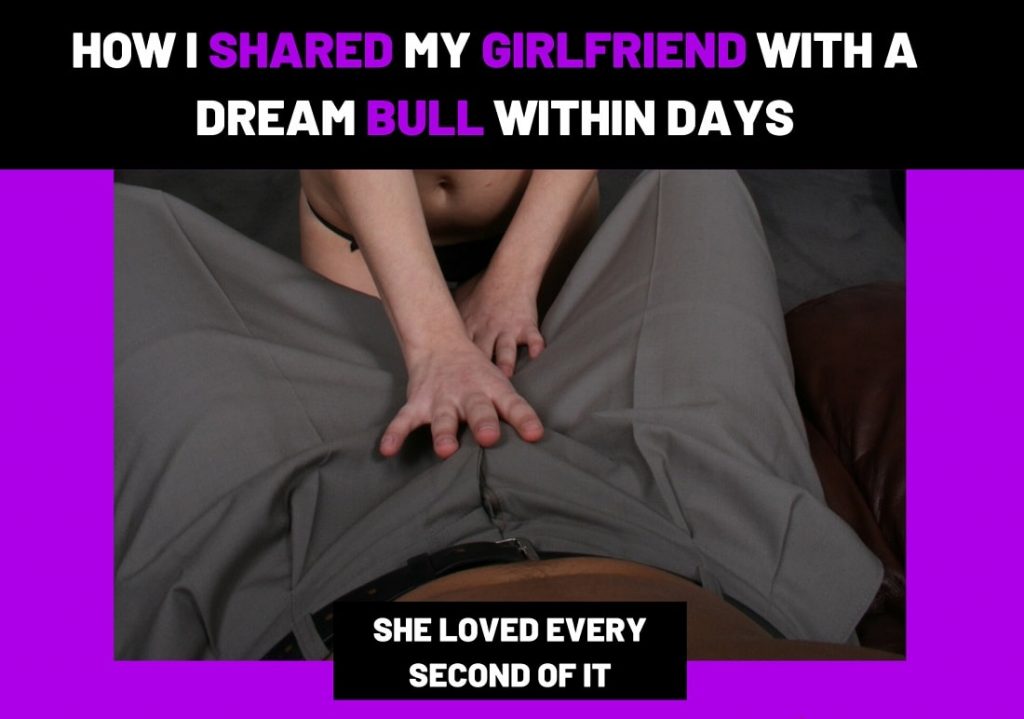 With such a good selection of websites to find potential partners, it's only fair that I help you by giving you advice on how to make the most of them. It's not as difficult as it might seem, and you will get the hang of it, quickly becoming a real pro in hotwifing!
Know What You Want
Do you want a guy to have threesomes with?
Do you want to watch a guy have sex with your wife?
Do you want your partner to go dating on her own?
These are all the questions you need to discuss amongst yourselves before even thinking of finding a partner. Be clear on exactly what type of fantasy you want and what you're looking for.
If you're not sure what you want, then how will people know how to meet your needs?
Say Exactly What You Want
Do you enjoy being social? If so, then perhaps directly stating your fantasy may not be a problem.
However, maybe you're shy and want to skip drinks and just have the guy meet you in the hotel room.
It doesn't have to be over drinks, but I do advise at least one thorough conversation on the subject of the fantasy. Talk through exactly how you want things to go – the more info the bull has, the better he will be able to make your fantasy come to life and the more fun it will be.
Always arrange the details of the meet-up before it actually happens.
You can get better at talking by using some of these cuckold chatrooms.
Start Slow
No one says sex – or even sexual things – have to happen right away. Guys are in abundance on these dating sites, so you don't need to offer everything at once to secure a date.
Instead, you could just ask to go for drinks. (This could be the opportunity to discuss your fantasy, as mentioned in the previous step.)
Then if that goes well, you could start with your wife giving the guy a blowjob.
Do this a few times, see what it feels like once the experience is over.
Then level up.
On most of these sites, you could literally have a guy come to your hotel room just to massage your partner. So decide what your level of comfort and speed is and find people who will accommodate it.
Experience Is Sometimes A Good Thing
If you're new, it can be tempting to go for someone as inexperienced as you, just so you feel less insecure about the whole thing. But sometimes it's best to go with someone who knows what they are doing and how to approach everything.
Chris and I actually learned a lot from one of our first bulls, since he has been doing that for years before we came to the scene. It's incredibly valuable to have someone show you the ropes through practice.
Obviously, this doesn't always have to be the case, but people with less experience are usually flakier and tend to back out and stand you up more often than not.
TL;DR: Verdict Of The Whole Article (For Busy People)
TL;DR: I prefer using AdultFriendFinder to find hookups, especially for threesomes with two men or while my boyfriend watches. However, Ashley Madison is amazing and can be one of the safest ways to meet someone for cuckold, as you both have something to lose, however, there is a moral dilemma.
If you do decide to meet someone it can be a good idea to find a local sex club (they are everywhere) to meet them and always be sure to use a sex club or hotel if you decide to have sex, keeps them from knowing your home address.
Finally, don't rush, when you sign up to any of the sites above, you'll be flooded with tons of messages and it's very validating, especially for a woman, so take your time and don't just jump on the first man who ticks a box, also try soft swapping first (letting your partner kiss and be flirty/playful with another man) before you decide to go full in, it will help you see what feelings arise with a lot less risk.